£40,000 Compensation For A Broken Metatarsal Bones
Broken Metatarsal Bones From A Foot Crush Injury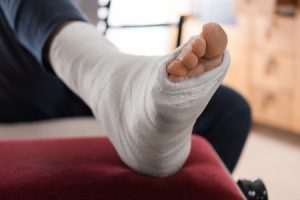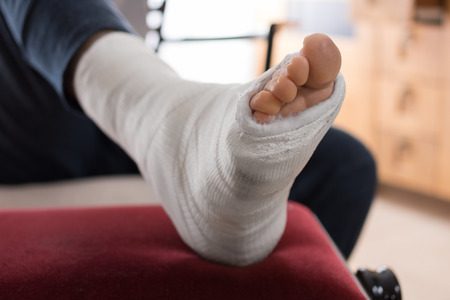 Metatarsal bones, sometimes called metatarsus are bones that connect the tarsal bones of the hind and midfoot, to the phalanges toe bones. Metatarsals function as a join in the foot. Broken metatarsal bones can be common in sport, or in foot crush injuries.
Have you suffered a broken metatarsal bone in an accident that wasn't your fault? Did you suffer a foot pain, metatarsal foot pain, metatarsal fracture or a metatarsal break due to the negligent actions of another party? If you can prove that your injury was due to negligence, of an employer, road user, or the proprietor of the public establishment where you were injured then you could claim thousands of pounds in compensation from them. Trust us, Legal Expert, to match you with the right personal injury solicitor to handle your case, and get you the compensation that you are entitled to. Call Legal Expert today on 0800 073 8804, for your free consultation and to see if you could make a valid personal injury claim.
In this case study, we are going to look at the case of Mr L, whose name we have abbreviated to protect his privacy. At the time of his injury, Mr L worked as a plant operator on a construction site. On the day of his accident, Mr L was operating a digger. He stopped to load some tools into the bucket at the front of the digger. At that moment, a forklift truck collided with the digger, making the bucket of the digger fall and trap Mr L's foot underneath.
What Injuries were Sustained During this Case?
Mr L sustained a serious open crush injury to his right foot. The neck of his 2nd, 3rd, 4th and 5th metatarsal bones on that foot were fractured. He also suffered a segmental fracture of the shaft of his third metatarsal and a fracture of his big toe's proximal phalanx. He also experienced various lacerations.
For his injuries, Mr L had to endure several operations under general anesthetic. This included operations to clean his wounds, a Kirschner wire fixation insertion and another operation to remove dead tissue.
As well as these immediate injuries, Mr L was unable to work for 6 months and when he returned he was unable to fulfill all his previous duties, as he was unable to operate the heavy pedals on the digger. As well as all of this, Mr L suffered from depression in the aftermath of his injury and was diagnosed with post-traumatic stress disorder (PTSD).
The Allegation, Establishing Liability and Compensation Award
The Defendants, the operators of the construction site were Mr L was working admitted liability shortly after his accident. Mr L's legal team negotiated an interim payment of £6,500 to cover the loss of wages he would experience after his accident.
Mr L's legal team obtained medical evidence on Mr L's behalf, which included working with an orthopaedic trauma surgeon, a consultant in reconstructive microsurgery and a consultant in psychiatry. Following this evidence, the Defendant awarded the claimant £45,000 compensation for his broken metatarsal and other injuries. This included: compensation for the injuries sustained, compensation for lost income as Mr L would now have to change career due to his injuries making him unable to work in construction and to cover the cost of future surgery and metatarsal fracture treatment he may need in the future.
No Win No Fee Solicitors
If you have suffered a broken metatarsal or fractured metatarsal in an accident that was caused by someone else's negligence then you can claim compensation. Choosing a no win no fee solicitor is a less stressful option, as there is no financial risk to you, because with no win no fee, you only pay your solicitor's fee if you win your claim for compensation. Legal Expert can match you with the right personal injury solicitor to handle your case and can offer you a no win no fee service. Call us today to speak to one of our friendly advisors about your case.
Contact Legal Expert Today
Have you suffered from a broken metatarsal bone, fractured metatarsal or metatarsal foot pain, due to an accident that wasn't your fault? Legal Expert can help you claim the compensation that you are entitled to, due to your injuries. We can help you claim compensation to cover the costs of your broken metatarsal treatment or metatarsal fracture treatment, and for your pain and suffering. Seek justice for your metatarsal break, call Legal Expert on 0800 073 8804 today and one of our friendly advisors will let you know if you have a genuine case for compensation, advise you on how much compensation you could claim and match you with a personal injury solicitor who can take on your case.
Useful Links
NHS Guide to Foot Pain
View this guide to foot pain and foot care from the NHS.
A Guide to Foot Injuries from the Health and Safety Executive
How to handle and avoid foot injuries with guidance from the UK's Health and Safety Executive
How Much Compensation For A Fractured Or Broken Bone?
Help and advice for claimants involved in an accident which left them with a fractured or broken bone. Advice for claiming compensation for fractured bone injuries, or broken bone injuries.
How Much Compensation For A Foot Injury?
Help and advice for claimants involved in an accident which left them with a foot injury, including a toe injury. Advice for claiming compensation for a broken toe, broken big toe, and other foot injuries.