How Much Compensation For A Foot Amputation Claim?
By Daniel Worthington. Last Updated 9th August 2021. Many of us take our feet for granted, but few of us go through the pain and torment that losing a foot can cause. If you have lost a foot due to an accident that was not your fault, then it is likely to cause not only pain and disability but may also have psychological repercussions. However, you may be able to take some of the financial difficulty away from the situation you find yourself in, by claiming compensation for your foot injury.
Select a Section
A guide to foot amputation injury claims
Losing a foot can be an extremely traumatic experience, whatever the reason for the amputation. Whether you have received a traumatic amputation because of a road traffic accident, or accident at work, or any other reason, it is likely to leave you not only in pain but also with a lot of new experiences to cope with. What can be even more devastating is if the accident that led to your amputation was not your fault and could perhaps have been prevented.
Foot amputations have a marked effect on both the physical and psychological health of the person that has been affected. Not only that, but because you may have had to have an extended period of time off work, you may be in a precarious financial situation, which will only likely get worse the longer you are away from work.
If an accident that is not your fault has led to the loss of your foot, then it may be possible to ease your financial burden by making a claim for compensation. Whilst no amount of money will compensate fully for the loss of your foot, it may be possible to make life easier for you now, and in the future with a No Win No Fee loss of foot compensation claim. Our guide covers information you may be unaware of regarding loss of foot claims, including a foot injury compensation payouts table, and an explanation of how to make a No Win No Fee claim.
So get in touch with us today. We can help you discover what your next step could be.
Call us on 0800 073 8804
To find out if you have a claim online, fill out the form on our website
There's a pop-up live chat window in the bottom right, you can use this to speak to our team in real-time
What is a foot amputation?
Foot amputation claims come about because of the loss of a foot, usually due to traumatic injury to the affected area. Whilst amputation may be required due to a medical condition, in most personal injury claims involving amputation, the reason for the loss of a foot is due to military accidents, slips, trips and falls, road accidents or medical negligence.
There are many different types of foot amputation, and the loss of limb payment amounts may be different for each type. Here, we outline the basic types of foot amputation.
Partial toe amputation – This involved the amputation of any portion of one or more of your toes.
Toe Disarticulation – This is the loss of the toe at the site of the MTP joint
Partial foot amputation/ ray resection – This involved the resection of the third to the fifth metatarsal and digit
Transmetatarsal foot amputation – This involved the amputation across the mid-section of every metatarsal
Syme's amputation – This involves the amputation of the foot that attaches the pad of the heel to the end of the tibia
Immediately after your amputation, whether it is via traumatic amputation or a medical amputation, you will experience swelling at the stump. This is usual and should eventually pass, but you may be left with scarring and phantom pain, although a compression stocking should help to reduce these symptoms.
Whichever type of foot amputation you have encountered, it is sure to leave you with pain for some time after recovery, along with requiring you to undertake extensive physiotherapy, along with time and effort to get used to the fact that the foot is no longer there. Recovery can be stressful and it is important to understand that foot injury compensation amounts do not just take into account the physical trauma, but also the mental trauma of losing this part of your body.
The length of time it takes you to recover from a foot loss largely depends on your general health and the type of amputation you have suffered. You may need to have your home adapted to make it easier for you to get around, and in some cases you may be offered a prosthetic limb. However, in order to receive a prosthetic, you will have to go through intensive rehabilitation and physiotherapy. Foot amputation compensation may help towards the cost of this in some cases.
What to do if you are involved in a foot amputation accident
If you are involved in an accident that causes the loss of your foot, then whether you are intending to pursue a loss of limb compensation claim immediately, or may be thinking of doing so somewhere along the line, it is best to collate the following evidence in order to support the loss of limb claims.
Photographic proof – It may seem obvious to others what has happened to your foot, but taking photographs of the initial injury may be useful. This is because these photographs will show the level of immediate injury, rather than the person assessing limb loss claims only seeing your injury once it has been partway through the healing process. Taking photographs of the scene of the accident can also be useful in proving your claim, particularly for road traffic accidents.
Proof of incurred costs – It is very likely that you will have had to pay out of pocket costs immediately after your injury, and whether this is private counselling sessions, rehabilitation or physiotherapy, or travel to appointments and prescription costs, it is a good idea to keep all documentation and receipts.
Details of witnesses and persons/vehicles involved – If someone has witnessed your accident, it may be useful for them to provide their contact details to you so that we can contact them for a witness statement as part of your amputated foot injury claim. It is also vital you take down any details of people involved in the accident. If it is a road accident, then driver, car and number plate details need to be noted too. If a commercial vehicle is involved, the name of the company that owns the vehicle may be useful.
If you're unsure as to whether any evidence of your accident could help with your foot loss claims, or want to know more about proving you have paid out of pocket because of your injuries, then we can advise you. Simply call us to enquire and we will offer you free actionable advice.
How to begin a foot injury claim
Foot amputation claims can be complex, but beginning one by using our service is easy. Even when it comes to military amputation claims, all you have to do is call us and we will make the process as stress-free as possible. After all, we know you are dealing with enough already. We can initially take you through a few questions regarding your injury, explaining the compensation guidelines for personal injury, as well as answering any questions you may have about the loss of foot compensation process.
Once we have explained our No Win No Fee details, and you have signed the agreement, we will be in a position to arrange a local medical appointment, whereupon you will be assessed by a professional who will note down a complete medical history, as well as looking at your injury, and writing a full report on your injuries, your prognosis and your mental health. This will be used in the claims process as a professional's opinion on your medical status.
Then, we should be in a position to take your claim forward. In terms of the timescale for settlement, this can differ depending on the complexities of the case and your injury. We will, however, ensure we keep you updated every step of the way so you know how your claim is progressing. If at any time during the process, you have any further questions, we will always be happy to answer them.
Foot amputation at work claims
Whether you have suffered a road accident at work that has led to the loss of your foot, or whether it is due to machinery used as part of your job, or even a slip or fall, if your accident at work was due to the failure of your employer to provide adequate protection or training, then you could have cause to file a compensation claim against them.
We know taking action against an employer can leave you worried about the future of the company, and indeed your job, but we are here to put your mind at rest when considering this type of claim. Firstly, it's important to understand that most employers have insurance to cover this type of claim.
Secondly, there are laws in place to prevent you from being treated differently for pursuing a claim. Thirdly, and perhaps most importantly, lessons will be learned by your employer if they have been found to be negligent in their duty of care to you, and making a claim could help ensure that what has happened to you does not happen again to someone else.
For more information about claiming against your employer, simply call us with your query and we will be happy to give you information and advice.
Statistics For Foot Accidents At Work
Stats from RIDDOR show us that lower limb injuries in the workplace are fairly commonplace. In 2019/20 alone, there were over 18,000 cases reported. Below, you'll find a graph that displays in more detail the percentage difference of how common injuries in the area of the foot are.
Whilst it does not state how many of these injuries were foot amputations, it serves to illustrate the frequency of foot injuries a work.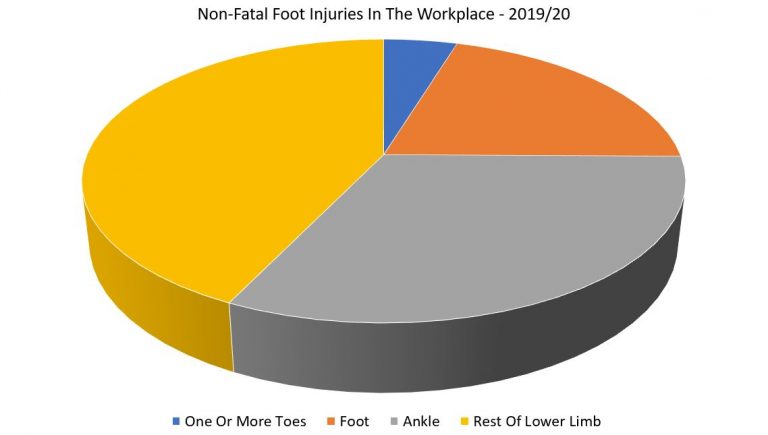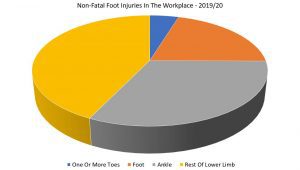 Foot amputation after a car accident or road accident
One of the most common accidents that lead to the loss of a foot is road accidents. Whether you have been knocked over by a car that was driving dangerously, been injured as a result of a motorcycle crash or in a head-on collision with any vehicle, if the accident was not your fault, then you may be able to make a claim for compensation.
Whether the other driver has stopped at the scene or not, you may be able to submit a claim to help cover some of the costs you've incurred as a result of your accident, as well as compensating you for the pain, trauma and injury you have had to deal with.
Foot amputation slip, trip or fall claims
Perhaps not as common as the preceding type of accident, slips, trips and perhaps more commonly falls, can lead to the loss of a foot through traumatic amputation. Whether this has happened at work, in a car park, or another commercial building, if someone else is found to be responsible for your accident, then you could make a claim for compensation.
Foot amputation in military claims
If you've been injured in the military and lost your foot, then you may face life after injury either in or out of service with a range of difficulties due to the amputation. We have experience in dealing with military personnel who have been injured either in training or from combat and know the intricacies that dealing with this sort of claim that not all personal injury firms know.
We also know that if you have been injured in combat, that PTSD might form part of your claim. If you would like PTSD compensation examples, we will be happy to give you more information on what can be claimed for, alongside your foot amputation.
Using part of your compensation to get help with PTSD as well as rehabilitation and physiotherapy after your injury will allow you to heal both from the physical and mental scars this can leave, allowing you to live a better life that if this were to go unchecked, or untreated due to lack of funds.
Foot amputation medical negligence claims
Sadly, whilst most medical treatments make us better, in rare cases, things go wrong. If medical negligence has led to the loss of your foot, then you may have cause to claim against either the NHS or the private clinic that has treated you.
Whether it is a surgical mishap or a misdiagnosis, a compensation award could help you afford better rehabilitation and specialist treatment, allowing you to regain, in some cases, better mobility than you could on the NHS, by allowing you access to specialists you may not have been able to afford otherwise.
How long do I have to make a foot amputation claim?
Depending on your age at the time of your accident that has caused your foot amputation, there are different limitations on how long you can leave between the time of your accident and the amputation itself.
If you are a child at the time the foot is amputated but no adult has made a claim on your behalf, you have up to three years from your 18th birthday to make a claim. If you are an adult, the time limit is three years from the date of your accident. If you would like to make a claim for either yourself or a minor in your care, then do not hesitate to call us.
What can be claimed for after an accident causing a foot amputation?
There are a few things that compensation can be awarded for following a foot amputation. For example, the pain and suffering that the injury has caused must be accounted for. The payment that covers this is known as general damages. The figure is calculated by legal professionals by consulting a publication known as the Judicial College Guidelines (JCG).
Listed alongside an extensive compendium of injuries are figures that could be awarded in compensation. Circumstances such as the severity of the injury and how long it takes to recover are just two of the things that can affect the value of your general damages payment.
There's also a way that additional costs that have occurred due to your injuries can be reimbursed to you. This figure is known as special damages. Costs that can be reclaimed via the special damages payment include:
Medical expenses – prescription costs, other treatments not available for free on the NHS
Travel costs – you may need to travel to and from check-ups, for example
Damage to property – the cost of repairing or replacing your property that sustained damage during your injury
Loss of earnings – if you miss time at work, you could lose out on wages that can be reclaimed
Remember to hold onto receipts and other forms of evidence so that you can prove these expenditures took place.
For more information on what else could be reclaimed, get in touch today.
The most common accidents causing foot amputations
There are many different accidents that can cause a foot amputation but here, we list the most common. Whether you have had one of these types of accidents, or something completely different, and someone else is to blame, you might be able to claim compensation.
Road traffic Accidents – Whether head-on collisions, pedestrian hit by a vehicle, motorcycle crash or other types of RTA.
Construction site accidents
Factory accidents involving machinery
Warehouse accidents
Agricultural accidents (including those involving lawnmowers)
Combat injuries
Firework accidents
Whatever the accident, we will be able to advise on whether you have a case for compensation. We can give you free, confidential advice no matter whether you are looking to pursue a claim or just want to know more about the process.
How much compensation will I get after an accident causing a foot amputation?
Whilst a foot amputation may seem like a straightforward, if devastating injury, you may be surprised to find that no two cases are the same. Therefore, payments for compensation can differ wildly depending on a variety of different factors such as the physical and mental trauma you've experienced, the prognosis for the future, and whether you can carry out the same job you did before your injury and many more factors.
However, we can offer you a general guide to the sort of payments that are typically awarded in certain types of injuries like yours. Take a look at the table below to find the specific injuries that relate to your cases, and do not hesitate to call us should your injury not be listed or if you need some clarification. The figures included in this table have been taken from the latest update of the Judicial College Guidelines (JCG). The last update took place in 2019.
| Injury | Description | Amount |
| --- | --- | --- |
| Feet | (a) both feet amputated | £158,970 to £189,110 |
| Feet | (b) one foot amputated | £78,800 to £102,890 |
| Toe | (a) all toes amputated | £34,270 to £52,620 |
| Toe | (b) only the big toe amputated | In the region of £29,380 |
| Toe | (c) crush injury leading to the amputation of one or two toes (not including the big toe) | £12,900 to £29,770 |
| Psychiatric Damage | (d) Less severe - higher amounts tend to be awarded to those whose daily life has been affected more drastically | £1,440 to £5,550 |
No Win No Fee foot amputation claims
Whatever type of accident it is that has led to the loss of your foot, it is important that you are compensated for your injuries and the marked effect they are likely to have on your future if the accident was someone else's fault.
We know the effect that this type of injury can have on your finances, both immediately after an accident and well into the future, and whilst we will aim to get you compensation for your injuries quickly and to the highest amount possible, we will not take any money upfront to do so.
Unlike some solicitors that charge an hourly rate, whether your case is successful in gaining you compensation or not, we will not collect any funds from you should your case not be successful. Our No Win No Fee service is transparent, and you will know exactly what is due to pay once your compensation claim is successfully settled.
For more information about what this involves, including our rates, please don't hesitate to call us. We want you to be clear on all costs and charges, and want to assure you that should your claim be unsuccessful, you will not be left out of pocket through legal bills.
Why choose us as your claims service for a foot amputation claim?
It's essential you are comfortable and confident in your choice of representative when pursuing a claim for compensation for a foot amputation. We aim to put your mind at ease every step of the way, making the process of making a claim as easy on you as possible,
Our solicitors have years of experience handling thousands of different types of injury claims. We will match you with the best possible solicitor for your case so that you can be confident they will have experience handling claims of your type and be able to do the best job possible to secure you as much compensation as they can.
We also promise to be transparent at all times, whether you require answers on any part of the No Win No Fee service, or an honest assessment on whether your claim has a good chance of success. We believe this honesty is why many of our previous clients recommend us to those close to them, and we are proud that much of our business comes from word of mouth recommendations.
To ask us anything about our service, the claims process or how many clients like you we have helped to make a claim, simply call us today, and we will be happy to answer any question you put to us.
Call for free advice and to start a foot amputation claim
It could not be simpler to obtain more information on leg amputation claims. Whether you are wondering about what sort of compensation you could possibly receive, want more information on our injury compensation calculator, or would simply like to start a claim with us, call 0800 073 8804 today and will be happy to help you.
We promise to deal with any query you have in the strictest of confidence, with understanding and professionalism at all times. Whether you are ready to make a claim or not, we will not push you into taking any action unless you decide it is in your best interests to do so, so why not call with your questions today to receive professional, no-obligation advice that you can trust.
Helpful Links
National Health Service amputation advice
The NHS has provided a guide to amputation, including helpful explanations of how the healing process might go.
Informing the DVLA about an amputation
It is important to inform the DVLA of any injuries that may affect your driving. This link takes you to the government's guidance page on this.
Service personnel stats on amputations
For service personnel, this link may be of interest. It details statistics for amputation while in service.
How much compensation for an amputation?
We have produced a guide on how much compensation you may receive for amputation injury claims.
Work accident compensation guide
If your amputation was a result of a work accident, then our guide may help you understand more about making an accident at work claim.
Our general guide to the process of making a personal injury claim.
Other personal injury claim guides