Post traumatic stress disorder solicitors – How to start a No Win No Fee PTSD claim?
By Daniel Winder. Last Updated 20th October 2021. Throughout this guide, we are going to discuss post-traumatic stress disorder solicitors in length. In doing so, we will provide free legal advice and outline how a personal injury solicitor could offer to handle your case.
Post-traumatic stress disorder is a serious disorder and can manifest itself in different ways, depending on the person it has affected and the incident that has caused it. Whether you have suffered PTSD due to being in combat, or as a result of a serious accident, or even due to abuse you have been subjected to, specialist post-traumatic stress disorder solicitors could help you claim compensation. This guide tells you all you need to know about PTSD lawyers and how you can start a claim for compensation with an experienced specialist solicitor.
Contact Details
Get in touch with us today. This is the best way we can offer you assistance. The more information we have regarding your potential claim, the better guidance and advice we will be able to offer.
If we think you have a valid claim, we could connect you with one of our expert post traumatic stress disorder solicitors.
You can speak to us on the phone by dialling 0800 073 8804
Write to us about your claim online.
Use the pop-up chat window in the corner.
PTSD claim time limits
If you're thinking about making a claim for post-traumatic stress disorder (PTSD), it's important to familiarise yourself with the claim time limits that could affect your ability to claim compensation.
All personal injury claims have a time limit of 3 years within which legal proceedings can be made for them. This means that you have up to 3 years from the date of the incident that triggered your PTSD or the date of knowledge to make a claim.
However, as PTSD is a complex psychological condition that can present symptoms sometime after the incident that triggered it, extensions to this time limit can be granted. For example, if you suffered PTSD after this 3-year period had already lapsed, you may still be eligible for compensation as you only just realised that you were affected. Extensions could also be granted in cases of historic abuse, for example, where the victim doesn't realise how they've been impacted until some time later when symptoms of PTSD begin to appear as a result of their trauma.
For a free consultation on whether you could have grounds to claim within the claims time limit, please get in touch today.
Select a Section
A guide to using a Post Traumatic Stress Disorder solicitor
Post traumatic stress disorder, often shortened to PTSD, is a complex and debilitating disorder. Extremely stressful and often upsetting events can bring it on. Whilst PTSD is commonly thought of as something only those in the military suffer with, it can also occur after a car accident, assault or if you have been a witness to something horrific.
For this reason, service personnel such as the fire service, the police and ambulance service, and military personnel make up a large portion of the population that has or still is suffering from PTSD.
Whether you are a member of the armed forces or work for the police, ambulance or fire service, or not, PTSD can have long-lasting effects on your health and cause you financial loss (such as loss of earnings) especially if you are forced to miss work of your PTSD. If you are suffering with PTSD after a traumatic experience that happened within the last three years, then it may be worth you contacting PTSD personal injury solicitors to see if you might have a valid compensation claim.
What is a Post traumatic stress disorder solicitor?
A PTSD injury solicitor is a trained lawyer who has experience dealing with claims that involve Post traumatic stress disorder, or PTSD. They will have gained knowledge through their experience in their field. They will have a specific understanding of the complexities that come with making claims for post-traumatic stress disorder and filing claims for service personnel since they make up the larger number of PTSD claimants and military personnel.
If you were to claim for PTSD compensation with a trained solicitor specialising in this area, they will advise you on the best course of action for your claim. For example, if you suffered PTSD after abuse in foster care, they will be able to advise whether the claim should be filed against your abuser, against the foster care service provider or against CICA. It is important to note that every case is different,
Can my post traumatic stress disorder solicitor file my compensation claim against my employer?
Your employer is duty-bound to protect you while you are in the course of your working duties, both mentally and physically. If they have failed to do so, you may be able to make a claim for compensation for injuries you have suffered due to this.
Whether you have witnessed a traumatic event or been involved in one and have developed PTSD as a result, if your employer is found to be liable, you should be able to claim compensation with PTSD at work solicitors.
I work in the emergency services – can I claim compensation for PTSD?
Those who work in the emergency services can experience mentally distressing situations on a regular basis. This can have an impact on their mental health in a number of ways. Figures from Mind, a UK mental health charity, show how much of an issue this is.
1,600 volunteer workers in the emergency services completed an online survey. 62% of those who worked for the fire, police, search and rescue, and ambulance services reported experiencing a mental health problem at some point whilst carrying out their role. Whilst PTSD was included in these stats, they also mention disorders such as depression and obsessive-compulsive disorder (OCD).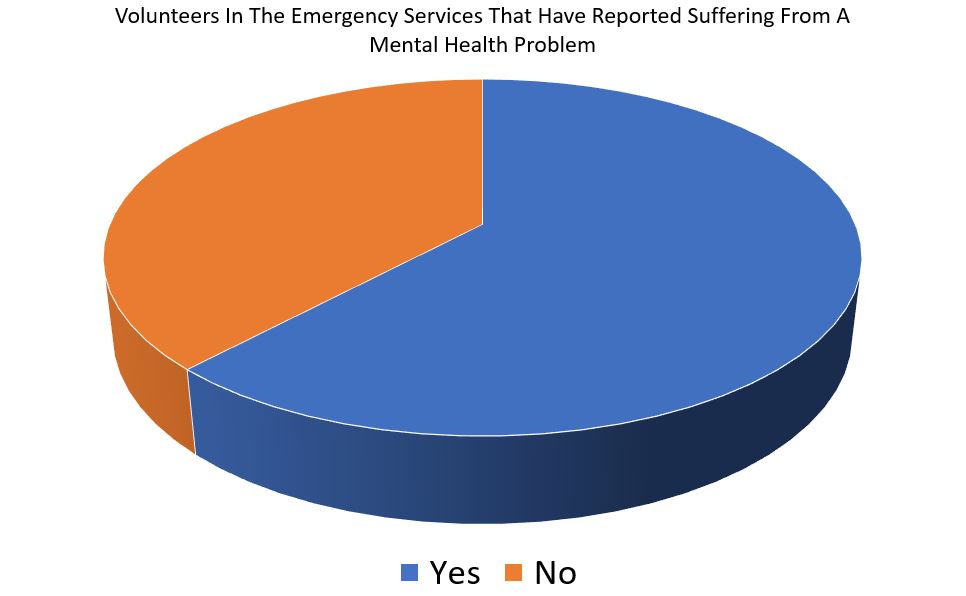 Can my post traumatic stress disorder solicitor file my compensation claim against the military?
Military claims can be a little more complicated than some other personal injury claims, particularly when it comes to PTSD. However, it is possible to claim the military if they are found not to have protected or supported you during your time in service. To build a solid case against the military, you will therefore need to prove that your PTSD has developed directly because of your military service, as well as demonstrate that you were not promptly diagnosed and treated.
Alternatively, you will need to prove that your PTSD developed due to the negligent action of the Ministry of Defence employees, or the MOD themselves. Specialist solicitors with experience of PTSD claims against the military will know the ways in which this can be proven and will work hard to secure the most robust possible case for compensation before presenting it.
After I start my claim with my PTSD solicitor, what would I then need to do?
As every case is very different from another, and cases are assessed on their own merits, when you start your case with a No Win No Fee PTSD solicitor, they will explain the No Win No Fee service to you, making sure that you know exactly what is expected. You will not be required to pay legal fees upfront to begin a PTSD compensation claim – all legal expenses will only be due once a successful award has been given. If your claim does not result in a compensation award, you will not be expected to pay legal fees.
Once you have reviewed and put your signature on the No Win No Fee case agreement, then your solicitor will more than likely arrange for you to go to a medical appointment with someone who is seen to be impartial. This appointment will usually be arranged somewhere local to where you are based so that you will not have to travel too far to attend it.
At the appointment, the professional, such as a doctor or GP, will likely take a medical history from you, before asking you questions to determine the severity of your PTSD. They will then write up a medical report, which will be used as part of the evidence that supports your compensation claim.
I suffered PTSD following a car accident – do I have a claim?
Car accidents can be severe indeed, and many people suffer PTSD based partly on the fear that they had at the time that they were going to die in the accident. If you have suffered flashbacks, panic attacks, depression, panic attacks, social anxiety or feelings of detachment from reality, it could be that your crash has caused you to develop PTSD.
Just as with any physical injury, if you have suffered PTSD due to an accident that was not your fault, then you should be able to make a claim for compensation for PTSD after a car accident. Specialist PTSD solicitors will be able to assess your case and recommend whether it is likely to lead to a payout. A specialist PTSD car accident solicitor will then be able to work on your behalf to lodge your claim.
How long do you have to claim for a Post traumatic stress disorder?
To make a claim for PTSD compensation, you will need to have acted within three years of the date of the event that caused your PTSD in most cases. However, there are exceptions, particularly if your PTSD was not diagnosed quickly. If a child has developed PTSD, then as an adult in charge of them, you can also claim on their behalf within this three-year event limit. Alternatively, they may make a claim within three years of the date they turn 18 on their own behalf.
If you are unsure whether your PTSD can be claimed in your case, why not speak to our experts in order to find out.
Can I get free advice from a Post traumatic stress disorder lawyer?
Whilst many people believe that getting free advice from a solicitor is not possible, that is not the case. By calling our team of PTSD experts, you will be able to ask all the questions you want about making a PTSD claim including what it involves, how long it takes, and how much compensation is typically awarded for cases like yours. While we cannot guarantee a specific payout, we do have guide amounts to give you a general idea. Whatever your question, and whatever the advice you are given, you will not be under any obligation to act on it, nor will you be put under any pressure to make a compensation claim should you not be ready to do so.
What is the benefit from using a specialist post traumatic stress disorder solicitor compared to a non-specialist solicitor?
As previously mentioned, PTSD claims are extremely complex, significantly when you add in factors such as claiming against the military, your employer or even CICA (for victims of violent crime). Solicitors for post traumatic stress disorder will be able to wade through this mass of complexities, drawing on experience from previous cases to provide the strongest case possible, giving you much more chance to get the maximum compensation payout potential for this debilitating disorder. They will also have much more of an idea of how PTSD can affect a person, thereby giving them more of an idea about how you have suffered and the effect it has had on your life.
Choosing a solicitor that does not specialise in these types of cases, carries somewhat of a risk. If they were not up to date on the latest legislation, or have experience of topics similar to yours, then there is a possibility that mistakes could be made or information overlooked that could lead to your case being deemed unsuccessful. Therefore, we would always advise that you choose a solicitor with experience relevant to your specific circumstances and your condition.
The most common types of claims that our PTSD solicitors regularly work on
Whilst many different events can cause PTSD, there are two main areas that are more common than others. Firstly, it is quite common for military personnel to suffer PTSD, especially if they have seen active service. Whilst there was once a stigma attached to speaking out about mental health conditions, PTSD in the military is no longer a 'secret' battle that soldiers have to face.
With more support available to military personnel than before, as well as much more of an understanding of PTSD and the effects that it can have on service personnel, claims for PTSD from those who have served their country in The Army, the MOD, RAF, or the Royal Navy are more common than they were before.
The other common cause of PTSD that specialist solicitors work on is violent crime. This involved in most cases filing claims to the Criminal Injuries Compensation Authority. Many victims of violent attacks have been known to suffer PTSD.
Whether it is a physical or a sexual assault, you must choose a solicitor that has experience in dealing with CICA as well as one that understands your PTSD, as this will mean they are able to put together a claim that shows an accurate picture of your suffering as well as backing this up with legal arguments to gain you the compensation you deserve.
Other cases involve PTSD accident solicitors who work on compensation claims for those who have developed the condition after an accident.
No Win No Fee Post traumatic stress disorder solicitors
When it comes to PTSD claims, the claimant will often have lost money in terms of loss of earnings from being away from work because of their symptoms. Alternatively, they may have paid out of pocket for medical bills such as treatment fees.
This can lead to a worsening financial situation that will not leave many people in the position to afford legal bills. Therefore, some PTSD specialist solicitors work on a No Win No Fee basis, in order not to let this situation preclude those suffering from claiming the compensation they deserve.
In general, No Win No Fee arrangements require no monies upfront from the claimant, instead of taking the legal fees from any settlement that is reached upon completion of the claim. If the claim is found not to be successful in obtaining an award for the claimant, then they will not be expected to pay for the legal fees out of their own pocket, so taking action will not be likely to make their financial situation any worse, and in most cases, will help considerably towards their financial situation.
This is because No Win No Fee PTSD solicitors will only take on cases that they believe will lead to a favourable result for their client. If they do not feel your claim is likely to lead to a payout they will inform you, in order that your time – and their time – is not wasted.
Why choose us as your claims service for a post traumatic stress disorder claim?
If you are looking to speak to experts who truly understand PTSD, its effect on a person's relationships, mental health and ability to work, then using our claims service could be the best choice you make. We are experienced in dealing with even the most traumatic cases, asking questions to ascertain the facts, whilst also being sympathetic and understanding. We do our best to take as much stress as possible out of making a claim for compensation, whether it is against the MOD, CICA or your employer.
We will thoroughly explain the benefits of doing so, whilst also addressing any concerns you may have, especially when it comes to claiming from your employer. We will explain the legal rights you have to be treated the same as everyone else at work, whilst and after you make a claim, and we will explain where the funds will come from for your payout. If you are claiming against an employer, for example, they will more than likely have liability insurance that will settle your claim.
Whatever the questions you have regarding your claim, we will work with you every step of the way to ensure you understand the process, the timescales, and keep you up to date with your claim's progress at all stages.
Thousands of satisfied previous clients will testify to the fact that we put you first at every part of your claim. We are also proud to say that we work with some of the best PTSD solicitors in their field, who have fought and won compensation for people in similar positions to you.
Call for free advice from our post traumatic stress disorder experts and to start a claim
Whether you are ready to start a claim and want to begin as soon as possible or have some pressing questions about certain aspects of the claims process, there is only one number you need. By calling 0800 073 8804, you will be connected to a trained expert who will be able to give you the answers to any questions you may have about making a claim.
Whether you want to know more about who you will be claiming against, how it can be proven that your employer would be liable, or want to know more about making a claim against the MOD if you have suffered PTSD during or after active service, we will take the time to answer any question you have for us – no matter how simple or complex it may be.
If, on the other hand, you have decided that you would like to make a claim, we will help here too. We will take the necessary details from you and advise you on the next steps to ensure you are well-informed about what happens next.
Either way, you have nothing to lose by calling us to enquire about PTSD compensation claims, so why not do so today?
Helpful Links
The government can issue a fine if you have not informed them about certain medical conditions that can affect your ability to drive. PTSD can affect driving, so it is essential to read the information here and complete an M1 form if necessary.
NHS guide to Post Traumatic Stress Disorder
This guide, published by the NHS, details PTSD, the symptoms, how it is treated and offers a brief history of PTSD.
Our detailed guide to PTSD claims offers guidance and advice for those who have suffered or are suffering from PTSD, including a PTSD claim calculator and want to make a claim for compensation for this condition. Please note that the PTSD claims compensation calculator works as a general guide and does not guarantee claimants the exact sums mentioned.
Take a look at our guide to learn more information about a No Win No Fee guide.
Fatal Road Traffic Accident Guide
Why not take a look at our guide where we discuss how a personal injury solicitor could offer to handle your fatal road traffic accident claim.
Forklift Truck Accident Claims
A helpful guide on forklift truck accidents at work.
Other personal injury claim guides
Post traumatic stress disorder solicitors
FAQ
Can I claim for post-traumatic stress disorder?
If you have suffered PTSD due to someone else's fault, you could have grounds to make a claim. Thankfully, our specialist team of a solicitor could assist you when claiming this nature, so please reach out and contact our team to learn more.
What does PTSD do to a person?
PTSD can affect a person in numerous ways. For instance, if you are involved in a serious accident, you could experience flashbacks, nightmares, sadness, and you may also feel estranged or detached from others.
How much compensation do you get for PTSD?
There is no specific amount of compensation that could be awarded for a PTSD, as every claim considers the unique circumstances at hands. For instance, when pursuing a case, the claim will take into account the cause of PTSD, it's impact, the severity, and much more.
Thank you for taking the time to read our guide on post traumatic stress disorder solicitors.