£30,000 Compensation For A Pedestrian Hit By A Car
By Daniel Archer. Last Updated 5th May 2022. At Legal Expert, our panel of expert solicitors has helped people across the UK claim compensation for a pedestrian hit by a car accident. Pedestrian accident claims can involve everything from mild to serious, severe and even fatal injuries. Pedestrian accident claims are common in the UK as thousands of people are hit by cars each year across the country. Our dedicated personal injury specialist solicitors will work hard to recover the compensation you deserve.
In this pedestrian hit by a car personal injury case study, we are looking at a case where a pedestrian was walking home when he was hit by a car. The accident caused several severe injuries, including fractures to the ribs, the pelvis and a fracture of the clavicle. As a result of these injuries, the claimant suffered a loss of mobility as well as depression. Both the physical and emotional injuries were temporary. Solicitors acting on behalf of the claimant were able to recover £30,000 in damages.
If you have any questions at any time, contact us. You can do so by:
Select A Section
How Common Are Pedestrian Accident Claims?
Whilst most of us think nothing of taking a stroll down the street, through the park or crossing the road, there are a variety of common hazards that can cause injuries to pedestrians. These can include accidents and collisions with a variety of vehicles, including bikes.
Pedestrians fall under the category of "vulnerable road users." This is due to their lack of physical protection when involved in a collision with a vehicle. Motorcyclists and pedal cyclists also fall under the same category.
Government statistics tell us that in 2020, vulnerable road users made up over half of the fatalities on the road. In fact, pedestrians alone made up almost a quarter of this figure, coming in at 24%.
Establishing Liability In Pedestrian Accident Claims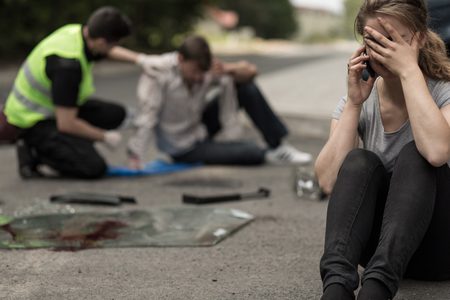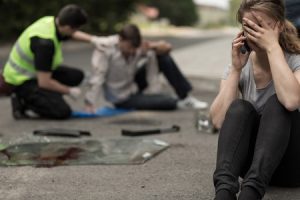 For most road traffic accidents involving pedestrians in the UK, your claim will most likely be brought against the offending driver of the vehicle which hit you. Depending on the circumstances of your accident and injury, what happened and how it happened, you might also (or alternatively) be able to bring a compensation claim against the local authority. Should the pedestrian accident have occurred on private land, the owner of the land may also be liable for the accident and your injuries.
Solicitors acting for the pedestrian injured by the accident will need to establish that the driver of the car was negligent and that they were not acting in a reasonable manner, in that, the driver had not taken the reasonable steps necessary to monitor the road and pavements for pedestrians crossing the street, or that they had driven recklessly and mounted some part of the pavement or another pedestrian place. Once a solicitor has been able to do this, they can then establish liability on the part of the driver. In this pedestrian hit by a car case study, the pedestrian (claimant) was hit by the car. Liability was alleged and was admitted by the driver and their insurance provider.
Injuries From Road Traffic Accidents Involving Pedestrians
Accidents and injuries involving pedestrians are common in the UK. In the year 2013/14, there was an increase in the number of fatalities for pedestrians. This went up from 398 to 446. Over the same period, 5,063 pedestrians experienced serious injuries.
A further 19,923 people sustained minor injuries. As a result of the car accident, the claimant sustained multiple injuries, including fractures of the ribs, fractures of the clavicle and, most seriously, a fractured pelvis. These injuries caused the claimant to lose some mobility for a period of time. As a result of the accident, the injuries sustained and the resulting consequences, the claimant became depressed. The case did show that the loss of mobility and depression were temporary.
How Much Compensation For Being Hit By A Car Was Claimed For?
In this case, liability was admitted by the driver and their insurance company. The pedestrian hit by a care settlement, UK, was initially offered at £15,000. Solicitors acting on behalf of the claimant rejected this initial offer and the case proceeded to the claims court.
As a result of the hearing, the claimant was awarded double the initial offering, receiving £30,000 as their pedestrian hit by car compensation UK settlement. Solicitors and the claimant accepted this increased offering, bringing the case to a close.
The amount of compensation you will receive from the defendant or their insurance provider will depend upon the nature, severity and extent of the injuries. The amounts that courts determine as an award for a compensation claim will be in line with guidelines produced by the judicial college.
Pedestrian Compensation Examples
We have included some figures from the Judicial College Guidelines (JCG) in this section. This is a publication that's used by legal professionals as part of the process of valuing your settlement. The figure that's awarded for the pain and mental suffering caused by your injuries is known as general damages.
As an additional resource, we also have a compensation calculator on our website.
| Injury | Description | Amount |
| --- | --- | --- |
| Face | (a) Scarring of a very severe nature | £27,940 to £91,350 |
| Face | (e) Only trivial scarring | £1,600 to £3,310 |
| Teeth | (iv) when back teeth are damaged or lost - per tooth | £1,020 to £1,600 |
| Jaw | (ii) The fracture will be serious and there will be lasting damage  | £16,860 to £28,610 |
| Foot | (b) One foot amputated | £78,800 to £102,890 |
| Knee | Severe - (ii) where a leg fracture extends into the knee and causes lasting damage/pain | £48,920 to £65,440 |
| Leg | (c) Less serious - (iii) simple tibia/fibula fracture or injuries to the soft tissue | Up to £11,110 |
| Finger | Loss of thumb | £33.330 to £51,460 |
| Wrist | (e) Uncomplicated Colles' fracture | In the region of £6,970 |
| Post-traumatic stress disorder | (a) Severe | £56,180 to £94,470 |
There are also other sums you could be awarded. For example, special damages. This is when you are reimbursed for certain costs your injuries have caused you. However, you will need evidence in order to claim them.
Examples of special damages include:
Get in touch for more information.
Top Tips For Proving A Pedestrian Accident Claim
If you are a pedestrian who has been hit by a car, then you could be owed compensation. Although, this can depend on whether or not you can prove that your injuries were a result of the driver's negligence. This means that the driver needs to have breached their duty of care.
All road users have a duty of care to one another. The steps that should be taken to keep each other safe are listed in the Highway Code. To give an example, drivers should always obey the speed limit. Otherwise, they can run an increased risk of colliding with other road users. If an accident were to happen due to a breach like this, any injuries inflicted are said to have been caused by negligence.
Below, we have included some good examples of proof that you can gather to help support your pedestrian accident claim.
Dashcam footage – Video evidence can be pivotal in establishing negligence. CCTV footage is another piece of visual evidence you could obtain if there were cameras in the area. You have the right to request CCTV footage that features you.
Witness statements – Others may have seen the accident that caused your injuries. If so, you can ask for their contact details and they can later go on record and given an official account of what they saw.
Medical records – Your injuries will be documented when you receive treatment for them. You can then present this information as evidence during your claim.
Get in touch if you have any questions about other forms of evidence you could acquire. If you choose to hire us to give you legal assistance, our solicitors can help you with this stage, and others. We can even help if you have been involved in a hit and run accident claim or another type of road traffic accident.
It is still possible to claim if you've been hit by a driver that immediately flees the scene. You would do so through the Motor Insurers' Bureau (MIB). Get in touch to learn more.
Common Vehicle Injuries To Pedestrians
Common vehicle injuries to pedestrians range from fractures and broken bones to more serious and severe injuries, even fatalities. At the other end of the scale, lower impact speed accidents can result in more minor cuts, bruising and whiplash. If you are a pedestrian and you need to cross the road, there are a few guidelines which you should follow to ensure you do so in the safest possible way.
Make sure that you always cross the road in a safe place. This could be at a pedestrian crossing, a pedestrian footbridge or an underpass.
Ensure to use the crossing correctly. If there are traffic lights, wait till it is green for pedestrians. Before you step onto the road, check the traffic in both directions.
If traffic could be obscured, make sure to also listen for any traffic as well.
When it is safe to cross the road, walk across the road as quickly as you can. Make sure you don't pause when crossing.
No Win No Fee Pedestrian Accident Claims
No Win No Fee services are provided to claimants without any need to make either upfront or containing payments through the case. Your injuries could already mean that you have lost earnings or had to pay for out of pocket costs, such as prescriptions, travel to medical appointments or other expenses.
As such, the last thing you need is to have to pay to recover the damages you could be owed. No win no fee services mean that you won't have to pay anything unless and until we win your case. If we win your case you will keep a minimum of 75% of the payout by law. Our fee is taken from the remaining 25%.
Frequently Asked Questions
Does a pedestrian have the right of way in the UK?
Due to recent changes to the Highway Code, pedestrians are now at the top of the hierarchy of road users. This means that they have a right of way in certain instances.
So, if a pedestrian wishes to cross at a junction or is already crossing, drivers must allow them to, if it is safe to do so. Otherwise, if the car were to collide with and injure the pedestrian, the driver would be said to have been negligent. This is because they didn't adhere to the guidance in the Highway Code.
Can a driver claim from a pedestrian?
There are certain circumstances in which a driver can claim against a pedestrian. The pedestrian needs to have clearly breached their duty of care to other road users and been responsible for any injuries caused. They'd also require the correct insurance or funds to compensate you.
Get in touch today and we can tell you whether or not you could claim against a pedestrian given your circumstances.
What happens if a car hits a pedestrian?
This could lead to the pedestrian making a personal injury claim against the driver. If the driver is found to have injured the pedestrians due to a breach of their duty of care, then the pedestrian will receive compensation for their injuries. The settlement is awarded by the driver's insurance policy.
If the driver is uninsured, then the pedestrian may still be able to make a claim through the Motor Insurers' Bureau (MIB).
Contact Us For Free Advice Today
Call 0800 073 8804 today to speak to one of our dedicated advisors. We are ready to talk to you seven days a week and start providing you with free advice on how to start your claim. You can also talk to us by sending a message using our contact form, or the chat feature and request a callback. You can also send an email to us with the details of your case.
Useful Links