How Much Compensation For A Fatal Car Accident?
By Lewis Cobain. Last Updated 28th March 2023. In this guide, we'll explain death due to dangerous driving compensation. The death of a loved one can be a painful and traumatic experience. With so much to think about, the very thought of compensation claims might never have crossed the minds of the friends, family, or loved ones of the deceased. But a claim might be necessary. This fatal car accident claims guide will explore the issue in great detail.
In some instances, fatal car accident victims are not at fault for the road accidents that claim their lives. If someone is killed in a car accident and another party is to blame, then someone close to the deceased victim may potentially be able to claim compensation on their behalf.
This fatal car accident claim guide examines the issue in great detail and will try to answer all the questions you may have thought about. If you have any questions, you can contact our legal advisors on the phone by calling 0800 073 8804. Alternatively, you can reach us online using our contact form or our 24/7 live chat service.
Jump To A Section:
What Is A Fatal Car Accident?
A fatal car accident is a type of road traffic accident where a car collision results in one or more fatalities. In order to claim for a fatal car crash, you must meet the following criteria:
You were owed a legal duty of care. The Road Traffic Act 1988 states that road users must take reasonable care when using the roads to avoid causing accidents and harm to others.
This duty of care was breached. For example, the defendant was driving over the speed limit when the car crash fatality occurred.
You were injured as a result.
Something else to keep in mind is that there is usually a time limit for starting a fatal car accident claim. Under the Limitation Act 1980, the time limit for starting a fatal car accident is three years from the date the victim died or three years from the date a report on the victim's death from a coroner or inquest is published.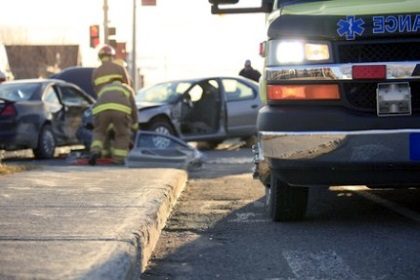 If you're looking to claim for a car crash fatality, we recommend you seek legal advice. Our advisors can provide you with a free eligibility check and compensation estimate. Our advisors may be able to put you in touch with our specialist car accident solicitors if you have a valid claim. Get in touch using the contact details found in this guide.
Potential Causes Of A Fatal Car Accident
There are several ways a fatal car accident could occur that may be linked to negligent behaviour by at least one party involved in the incident. Examples of potential causes that could potentially lead to a fatal car accident claim include:
A negligent driver may have been distracted (because they were texting or another reason) and therefore were driving without due care or attention
The driver who caused the fatal car accident was speeding or drove dangerously in another way.
The guilty party was drunk driving or driving under the influence of other drugs.
Fatal car accidents can also happen due to the conditions of the road at the time. Factors such as the time of the day or if it was raining or snowing on the road at the time may be taken into account when determining if anyone was liable for a fatal car accident. If the road the accident occurred on has been poorly maintained then issues such as potholes could contribute to the incident. This could potentially lead to a claim against the organisation (such as the local council) responsible for maintaining the road.
You can contact our advisors if you're seeking advice on establishing negligence and whether you can start a claim if a loved one has died in a car accident.
Making A Fatal Accident Claim On Behalf Of The Estate Of The Deceased
When claiming compensation for the death of a family member, it is important to remember that only certain qualifying parties can make a claim. Firstly, in fatal accident claims, only the deceased's estate can make a claim on behalf of the deceased for their pain and suffering. They can also make a claim on behalf of the deceased's descendants. They are the only party who can make a claim for the first 6 months after the deceased's death.
After this point, the deceased's dependents can make a claim for how the death has impacted them. The following people qualify as a dependent under the Fatal Accidents Act 1976:
A civil partner, wife or husband (current or former).
Someone who lived with the deceased for two years before their death and who lived together during this time as spouses.
A parent or someone who was treated as the parent of the deceased.
A child or someone treated as a child of the deceased, such as a stepchild.
A sister, brother, aunt or uncle of the deceased.
Certain relatives can also make a claim for a bereavement award. This is a lump sum and is split if more than one person claims. It can be awarded to:
A wife, husband or civil partner.
Someone who lived with the deceased for two years prior to their death as a husband or wife.
The parents of the deceased if they were an unmarried minor.
Do not hesitate to contact our advisors today if you have any questions about claiming fatal accident compensation for death in a car accident. Our team is available 24/7 and could offer you free legal advice regarding your specific claim.
What Evidence Can Support A Fatal Accident Claim?
There are certain key pieces of evidence that could help you in establishing negligence. We have included a few examples below. However, this is not a comprehensive list. There are other forms of proof that you could acquire.
Medical evidence – Coroner's reports can be presented during the process of your claim. Documents such as these will contain important information such as the cause of death, and how long after the injuries it took for the deceased to pass away. This can also assist those responsible for calculating a fatal accident claim. For example, it can help them calculate how much compensation is owed to the person after dying on impact in a car accident.
Visual evidence – Footage from sources such as CCTV cameras and dashcams can be obtained. These can be helpful forms of evidence when establishing who was responsible for the fatal accident.
Witness contact details – For example, there may have been people who saw the accident. If you gather their contact information, a solicitor can contact them at a later date to see if they are willing to submit a witness statement.
Get in touch if you have any questions. It can be difficult to know what happens when someone dies in a car accident, from a legal standpoint. However, we are here to inform you about making a claim.
Compensation Payouts In Fatal Car Accident Claims
The final settlement total resulting from every compensation claim will be different. The figure will be arrived at due to the unique circumstances of the case. However, there are a number of common factors. These expenses, costs, and charges include:
General Damages: These damages cannot be quantified in terms of money. The pain, the grief, the trauma and the psychological problems sustained as a result of the fatal accident are taken into consideration.
Medical Expenses: This involves the medical expenses that were incurred prior to the death of the victim.
Funeral Expenses: The entire cost of the funeral can be claimed in the case.
Special Damages: This could be the loss of financial support from the deceased to the spouse, children, or other dependents.
During the process of filing for compensation, it is important to keep a record of the many ways in which the accident has affected you financially. Receipts, invoices, and so on can be used when claiming damages.
Compensation Payouts In Fatal Car Accident Claims
If you've lost a loved one due to a fatal car accident, you could potentially make a claim on their behalf for their pain and suffering. The head of claim that's calculated for this is known as general damages. When valuing a general damages payment, legal professionals consider factors such as the level of pain and suffering experienced by the deceased before they passed away.
To assist them during the calculation process, legal professionals look to resources such as medical evidence, and a publication called the Judicial College Guidelines (JCG). We've included some figures from this document in the table below that may relate to fatal accident claims.
| Injury | Notes | Potential Compensation |
| --- | --- | --- |
| Fatality Plus Add On Claims | Awards may include the compensation for the deceased person's pain and suffering as well as any losses affecting dependents, such as loss of income. | Up to £550,000 and over |
| Brain Damage - Very Severe | The person may be able to follow basic commands, but they will show little meaningful response to their environment and will need full time care. | £282,010 to £403,990 |
| Tetraplegia/Quadriplegia | Someone who experiences physical pain and their ability to communicate and senses have been affected will be applicable for the higher end of this bracket. | £324,600 to £403,990 |
| Paraplegia | Various factors will impact how much is awarded, such as the extent of pain experienced, degree of independence and impact on sexual function. | £219,070 to £284,260 |
| Psychiatric Damage - Severe | The person will have serious problems coping with daily life and maintaining relationships among other issues. | £54,830 to £115,730 |
| PTSD - Severe | All aspects of the person's life will be negatively affected, with the person suffering with permanent issues. | £59,860 to £100,670 |
| Death - Full Awareness | The person will be fully aware for a short period before falling unconscious and dying within a couple of weeks or within 3 months. | £12,540 to £23,810 |
It's possible in certain circumstances that you could also be owed special damages. This is when you could be reimbursed for the financial impact of the death of a loved one. For example, if they had dependents, then the income of the deceased could factor into a special damages payment. However, you would need evidence such as payslips to support this.
There are other examples of special damages that could be claimed following a death in a car accident. Reach out to our advisors to find out more.
Can I Get A Statutory Bereavement Award?
When making a fatal accident claim, you may also be entitled to receive a statutory bereavement award. However, not everyone is eligible to receive bereavement compensation. It's important to check if you meet the criteria before you begin your claim for fatal car accident compensation.
Those who can claim the award under the Fatal Accidents Act 1976, include:
Spouse or civil partner
Parents whose child was under 18
Unmarried partner who was together with the deceased for at least two years prior to death
If you would like to check your eligibility to make a fatal car accident claim, speak to our advisors at any time. They'll be able to verify whether you are eligible for bereavement compensation at no extra cost to you.
Make A No Win No Fee Fatal Car Accident Claim
Making a claim for compensation for death in a car accident can be difficult in many ways. As well as the grief and the upheaval in your life, we have found that one of the major hindrances for people is the lack of funds to pay legal fees from the claimants. This financial burden in the event of a death can be particularly trying.
This is why we offer a Conditional Fee Agreement (CFA), also known as a 'No Win No Fee' arrangement. If you have a valid claim to make, we could potentially provide the services of one of our No Win No Fee solicitors. We only charge you when the case is successful and we take the fees from your compensation amount. If the case is not successful, we will not charge you.
This can greatly reduce the financial burden placed on those who have recently lost a person close to them and it can ensure that you're able to work with the best legal team available, without the monetary risk.
Start A Claim Or Get Legal Advice
Making a claim for compensation does not need to be difficult. Even in the most arduous moments, following the death of a loved one, you can turn to our team for expert, informed assistance. We can answer questions such as "does car insurance pay for death?" and "how much compensation am I owed?"
You can either call us now on 0800 073 8804 or you can contact us online by using either our 24/7 webchat or by filling out a contact form. Whichever method suits you best, we'll arrange a consultancy session for you. Get in touch now and find out how much we can offer you and your claim.
Learn More About Personal Injury Claims
If you'd like to learn more about personal injury claims, you may find these links below useful:
The Citizens Advice on What to do after a death
This Citizens Advice page also has useful information about what to do after the death of a family member or loved one.
Car Accident Claims – Compensation Amounts?
LegalExpert.co.uk general page on Car Accident claims and compensation amounts
Motorcycle Accident Claims How Much Compensation Can You Get?
Death caused by a car crash that has hit a motorcycle causing the motorcyclist to die for more information and free advice contact us today.
Who Is Liable In A Multi-Car Pile Up?
Read this to learn more about claiming if you've been injured or a loved one has passed away from being involved in a multi-car pile up.
Other Useful Compensation Guides
If you still have any questions about death due to dangerous driving compensation, please feel free to contact Legal Expert using the contact details highlighted above.