How To Claim Compensation For A Slip And Fall In A Toilet or Bathroom
Updated by Max Mitrovic on 8th April 2022. Slips, trips, and falls can be painful and even embarrassing accidents, having slipped in the toilet might be more embarrassing for claimants than other types of slip, trip, and fall injuries. Toilet floors are often wet with both water and other substances. As such, bathroom slip and fall accidents may happen more times than you might think. This guide will show you what to do if you slip in the bathroom if you want to see if you could be owed compensation for your injury.
In this article, we will look at your rights when it comes to making a slipped in the toilet injury as well as a slip and fall personal injury compensation calculator. Claimants might even be able to make compensation claims for having slipped in the toilet on a wet floor even when there are no witnesses. However, without any evidence at all, it becomes very unlikely that you'll be able to make a successful No Win No Fee claim.
Get in touch with us today. We are here to answer any questions you may have and to help you on the path toward claiming the compensation you deserve.
Call us on 0800 073 8804
Find out if you have a claim online by filling out our webform
Chat to us using the pop-up window in the bottom right
As this guide shows, bathroom slip injuries can severely impact your quality of life. Whether you've suffered a toilet bowl break injury or a slip and fall due to no warning signs being present, this guide could help. Please read on to learn what to do if you slip in the bathroom.
Select A Section
Can I Make A Slip On A Wet Floor Compensation Claim?
Claimants who have slipped on a wet floor in a toilet cannot make an accident claim simply because they have had a fall. The claimant and their solicitor will need to establish that there was a duty of care present, and whether it was violated by those in charge of the site the injury took place. This could be the owner or operator of a restaurant, bar or other public space, or it could be a workplace. It needs to be shown that someone is at fault in some way and that the party must have been reasonably able to rectify the situation, preventing any accidents or injuries from occurring.
The 'reasonable' definition can be quite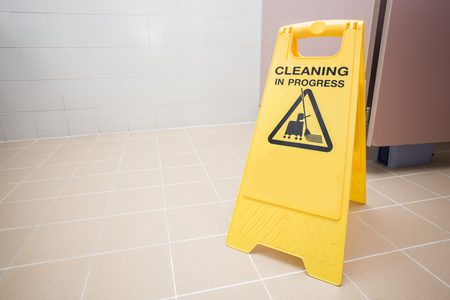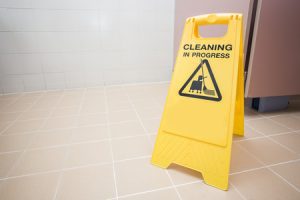 flexible and it can depend upon factors such as how busy the toilet is. The Occupiers Liability Act 1957 can usually be applied. The Act imposes a duty of care to take all reasonable steps on the toilet owners to ensure visitors are not injured in the toilet. Your solicitor will need to show that the responsible party failed to take the necessary or reasonable steps.
Therefore, making successful claims for bathroom slip and fall accidents rely on: 
The third party responsible having a duty of care. 

Their actions or inaction cause them to breach this duty. 

This breach of care leads to you suffering an injury. 
Read on to learn more about bathroom slip injuries. If you prefer, you can contact us for free legal advice to see if you're eligible to claim.
Claim For Slipping On A Wet Floor In A Toilet At Work
As with any slipped on a wet floor at workplace injury, if you have slipped in a toilet at work you may be able to make a claim against your employer. The same legislation which protects people in public toilets can also be applied to workplace toilets. The first step claimants should take is to report the accident to the workplace and record it in their accident report book. Claimants should also photograph the toilet floor, clearly showing it was wet and/or unsafe.
Even if there are no witnesses, you or your solicitor can gather evidence such as cleaning logs to check when the toilet was last checked or cleaned. If the toilets are not cleaned often enough or had not been cleaned for a while, this may serve as evidence of negligence. Claimants who have suffered a slipped on a wet floor injury at work should contact a solicitor as early as possible.
You could claim directly for injuries caused by a broken toilet seat or by slippy public toilet flooring. However, one of our solicitors with experience handling similar claims could help you collect evidence and build a case. 
Slips And Trips At Work Statistics
Statistics from the HSE show that on average, slips and trips at work lead to 2 fatalities a year. They also show that 95% of slips you could describe as "major", result in fractures.
There's also the issue of missing time from work, which can lead to a loss of earnings, or loss of income. The same source states that slips and trips and work are responsible for 20% of absences lasting more than 3 days.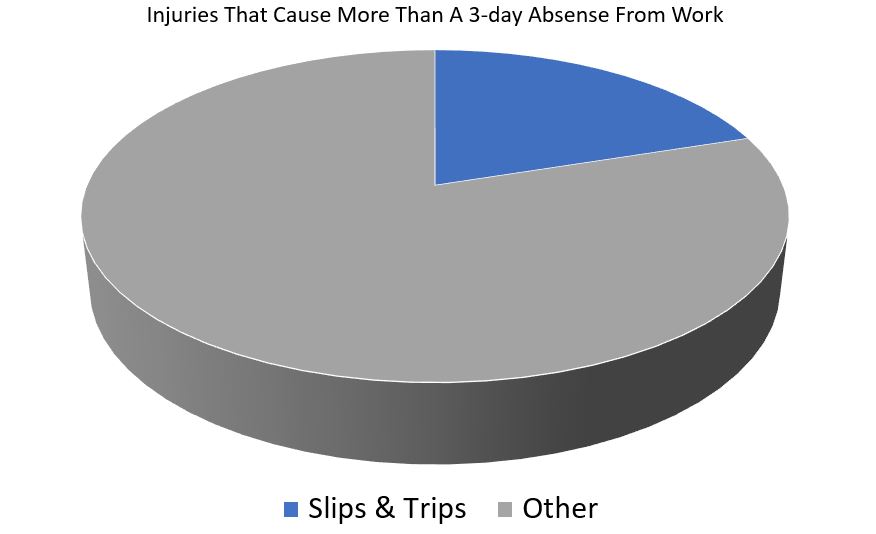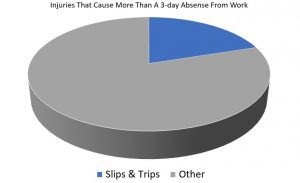 What Reasonable Steps Should Have Been Taken To Prevent Accidents?
Reasonable steps which can expect to have been carried out include having an appropriate system of inspection and cleaning. If you have had a slip or fall and there was no wet floor sign, this could be indicative of the operator not having taken reasonable steps. Checks should be carried out at regular intervals to check the condition of the floor.
Many toilets do so on an hourly basis and there should be a check sheet in place to show inspection times as well as whether the inspection was carried out. Cleaning should be carried out and signs put in place when needed. If these are correctly filled in, it can sometimes make your claim more difficult, and their ability to defend against the claim easier.
As you can see, providing evidence is vital when claiming for bathroom slip and fall accidents. An important part of the claims process is showing that third-party negligence led to the bathroom slip injuries you've sustained.
How To Make A Slipped In The Toilet Accident Claim
Your first step is to talk to an experienced personal injury solicitor who has the knowledge to work on a slipped in the toilet injury, as well as helping a claimant to reach their maximum claims potential. These claims can be complicated and securing the maximum amount of compensation, or succeeding in the claim, requires the best legal representation available.
Slipped On A Wet Toilet Floor Injuries
In this section, we have compiled a table containing some example figures from the latest edition of the Judicial College Guidelines (JCG). This is a publication that's often used by legal professionals to help settle on a value of the portion of your compensation known as general damages. This figure is awarded to you due to the pain and suffering associated with your injuries.
The value of your general damages payment can often be affected by things like how long you take to recover and how severe your injury is.
| Injury | Description | Amount |
| --- | --- | --- |
| Leg Injury | (c) Less serious - (ii) a simple femur fracture with no joint damage | £8,550 to £13,210 |
| Knee Injury | (a) Severe - (i) a fracture to the leg that extends into the knee, leading to constant and permanent pain and/or other disabilities | £65,440 to £90,290 |
| Hand Injury | (f) Severe finger fractures that could lead to partial amputations and lead to things like impaired grip and reduced function | Up to £34,480 |
| Wrist Injury | (b) injury that results in significant disability on a permanent basis, but some useful motion will remain | £22,990 to £36,770 |
| Elbow Injury | (c) Moderate/minor - many fractures to the elbow will fall under this bracket - can include other injuries like laceration | Up to £11,820 |
| Arm Injury | (c) Less severe - significant disabilities will have occurred, but a very good degree of recovery will have taken place | £18,020 to £36,770 |
| Neck Injury | (c) Minor - (iii) where a full recovery is made within 3 months | Up to £2,300 |
| Back Injury | (c) Minor (i) - full recovery or almost full without surgery in about 2 to 5 years | £7,410 to £11,730 |
Alongside general damages, there are often other payments that can be paid to you. For example, a sum known as special damages. This figure is put together to reimburse you could any financial losses or additional costs that have occurred due to your injuries. For example, you may have medical costs to cover. These costs are just one of the things that could be considered viable for reimbursement via special damages.
Please remember, however, that the compensation settlement you receive for bathroom slip and fall accidents could differ from what is presented in the table above. Much as the severity of bathroom slip injuries can vary, so can the compensation awarded in a case. This is because every case is unique and assessed based on the evidence provided. There are many factors that could dictate your compensation award should your claim be successful.
To find out more about what else could be reclaimed as part of your compensation payment, get in touch with our advisors today.
No Win No Fee Slipped In Toilet floor Accident Claims
No Win No Fee agreements are also known as Conditional Fee Agreements, or CFA's. They are a special type of contract that will set out the relationship between the solicitor and client. It details what work the solicitor will carry out on the case, what the client may be expected to do and how the solicitor will be paid.
It should also set out that the client does not have to make any upfront or ongoing payments, and that if the claim is not successful, that the claimant would not have to pay solicitors fees. It will detail the fees the client will pay only if the case is successful. This will usually be a percentage of your compensation. This amount is legally capped and often referred to as a success fee.
How Legal Expert Can Help
The expert legal solicitors we work with at Legal Expert are based across the country and have years of experience in helping people to get the compensation they deserve. You can start your claim or find out more information on how we can help you by calling today on 0800 073 8804. Talk to us today to start your claims case.
Useful Links
Find out more about making a successful accident at work claim as well as what you may be able to claim for in our guide.
Reporting Accidents And Incidents In The Workplace
View the Health and Safety Executive (HSE) guidelines on how to report accidents in the workplace.
Slipping On A Wet Floor Accident Claims
Find out more information about the process of making slip, trip and fall accident claims.
Our general guide to the process.
Find out how someone else could pursue your claim for you.
Advice from the HSE regarding how to clean safely.
To learn more about claiming for bathroom slip and fall accidents, please contact us for free legal advice at a time that works for you.