Can I Be Sacked For Making A Claim Against My Employer?
By Daniel Graham. Last Updated 26th July 2021. Welcome to our guide which sets out to answer the question: "will I lose my job if I make a claim?" If you have had an accident at work, have suffered from an illness due to or caused by your working environment, or have been injured, you may be hesitant to make a compensation claim against your employer. The main reason people are often hesitant to make work injury claims is the fear that they could or will be sacked for bringing their claim against the employer. However, are these fears justified, and should they stop you from bringing a claim against your employer?
Will I Lose My Job If I Make A Claim?
Put simply, you cannot be dismissed for simply bringing a personal injury or accident at work claim against your employer. No matter your relationship. In any circumstances where one person has a duty of care for another; that duty has been breached and an accident, injury, or illness results; the person who has been injured has the right to seek compensation. The employee-employer relationship is the same as any other in this regard.
If you have suffered an accident, illness or, work injury in the workplace whilst carrying out your day-to-day tasks, or the incident was caused by someone else, you may be thinking about making a work injury claim against the negligent party. Personal injury claims do not just provide compensation for your pain and any suffering. They are also there to recoup any financial costs you have endured as a result of your injury.
However, many employees are still concerned about bringing a work injury claim against their employer. Whilst you can't be dismissed for bringing your claim, people worry that the case could foster an atmosphere of bad relations in the workplace, forcing them to quit.
How Common Are Accidents At Work?
There are thousands of workplace injuries that are reported every year. Whilst this report should be made to RIDDOR by the employer of the injured party, the employee can make the report themselves.
According to statistics from the Health & Safety Executive (HSE), there were roughly 4,000 reports of non-fatal workplace injuries made by employees in 2000/01. Since then, there seems to have been an overall, steady decline. Most recent figures show that there were roughly half as many by the time 2019/20 arrived, with around 2,000 cases.
Whilst the graph below doesn't state how many of these injuries led to personal injury claims, it serves as a dependable guide to how often accidents that lead to injuries can occur in the workplace.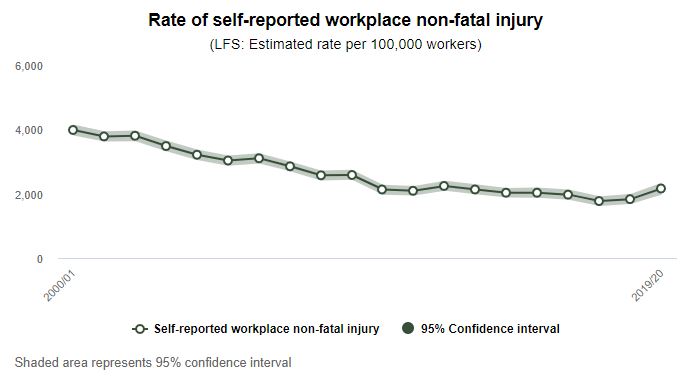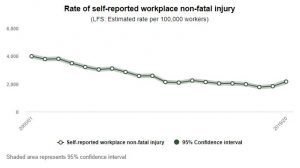 If you've suffered an injury at work and want to pursue justice and compensation, our personal injury claims team is standing by to help. We operate 24 hours a day, 7 days per week, providing free legal advice and support with no strings attached. Our lawyers also operate on a No Win No Fee basis.
So to ask a question or to begin a No Win No Fee claim against your employer:
Call us on 0800 073 8804
You can see if you have a valid claim online by filling out the form on our website
Or chat with us now using our live chat app, in bottom right
Select a section
What Is My Employer's Responsibility?
It's only natural to wonder "will I lose my job if I make a claim?" after suffering the likes of an accident at work.
Every employer, no matter the size of the company, is responsible for the safety of their employees. They are responsible for your safety in the workplace whether this is the premises or car park, entrance/exit or other spaces. According to the Management of Health and Safety at Work Regulations 1999, employers must ensure the safety of all employees in the workplace. As such, your employer should follow these steps;
They need to do all they can to ensure a safe workplace for employees.
This includes carrying out risk assessments to make sure that the correct procedures and equipment are in place for staff to carry out their work with minimal risks.
Ensure that all members of staff are not harmed during the course of their work.
Fully train you in the use of materials and provide all necessary personal protective equipment in order for you to do your job without the risk of illness or injury.
If your company is not carrying out their duty of care, and this results in you being injured, having an accident or becoming ill due to exposure to something you should have been protected from, you may be entitled to make a personal injury at work claim against them. So, don't feel like you can't make a claim against a company, it happens more than you'd think.
What Is Constructive Dismissal?
By law, you can not be forced to leave your job or be dismissed for bringing a claim against your employer. Your employment status is protected by law, including if and when you bring any claims against your employer. This means you cannot be sacked if you need to make a claim against your employer or their insurance for any pain, injury or financial losses.
Similarly, you can not be forced to leave your job by other means. This can often include being made to feel that you have no option but to leave your job and the company. This amounts to what is called 'constructive dismissal'. In this case, you would be able to bring an additional action against your employer for forcing you out of your job.
Remember, your status as an employee is protected by law. This continues when you are making a personal injury claim. If you feel that your employment status is being threatened in any way by your employer, we can also bring a second case against them for constructive dismissal. You may have heard this more commonly referred to as unfair dismissal.
Whilst this situation can occur, incidences are rare and we have settled numerous accident at work cases where both parties return to a good working relationship. We have also worked on many cases taken out against a former employer. In these cases, dismissal is not usually an issue.
Employers Insurance And My Claim Against My Employer
If you work for a small company or if your employer does not have many resources, you may be concerned about the costs your employer could face when you make a claim, and their ability to cover them. By law, your employer is required to have insurance in place to cover any costs of any work injury compensation claims which are brought against them. The employer's insurance should payout and cover any compensation costs and legal fees which are incurred when an employer brings an accident at work or personal injury claim against them.
As such your employer, with adequate insurance in place, your employer should not be left out of pocket as a result of your claim against them. They may face higher insurance premiums in the future as a result of this. The process of making your claim will be managed through your solicitor, and that of your employer's insurance company.
Financial Burdens And Your Company
Any claim that you make against your employer is covered by their insurance policy. When you bring a claim against your employer it is their insurance which will pay your claim, just like if you made a claim against another driver after a road traffic accident. The law is designed to protect employees and injured parties in these situations. As well as entitlement to compensation, it also allows you the legal right to claim for any loss of earnings you have suffered as a result. One of the biggest reasons we have found for people needing to bring a claim against an employer after an accident or illness is the financial hardship that they have encountered. This financial hardship is often caused by being unable to work for extended periods of time due to injuries sustained.
The law is clear. You should never be left out of pocket after you have been hurt in a workplace accident that wasn't your fault. We can arrange for you to have interim paid out. This is to cover your expenses whilst your claim is being processed. And victims should receive the compensation they deserve.
Who Pays If I Receive Compensation For My Accident At Work Claim?
All employers must have some kind of insurance policy in place to cover them in the case of workplace claims. This means that if they have been following their legal responsibilities, they will not be paying out your compensation personally. By claiming workplace personal injury compensation, you are exercising your rights to be reimbursed for injury and losses. The insurance company and your solicitor will deal with your claim. This means that you and your employer do not need to be personally involved in the claim.
The table below shows potential compensation payout figures for various injuries as a result of a workplace accident. The figures below are examples of what are known as general damages. This figure is awarded to the claimant to address the pain and suffering caused by their injuries. The amount is calculated using a publication that is updated semi-regularly, known as the Judicial College Guidelines (JCG). These guidelines consist of an extensive list of injuries and what they could be worth in compensation, depending on things like the severity of the injury.
It's important that the figures below are not absolute. Your injury could be worth more, or it could be worth less. Get in touch for a more accurate valuation.
| Injury | Notes | Amount |
| --- | --- | --- |
| Quadriplegia | Also, known as Tetraplegia | £324,600 to £403,990 |
| Brain damage (severe) | | £282,010 to £403,990 |
| Brain damage (moderately severe) | As well as brain damage causing partial paralysis. | £219,070 to £282,010 |
| Brain damage (moderate) | Driven by considerations such as effect on concentration, cognitive ability, memory, and senses (sight, hearing, etc.) | £43,060 to £150,110 |
| Brain damage (less severe) | | £15,320 to £43,060 |
| Brain damage/head injury (minor) | | £2,210 to £12,770 |
| Neck injury (severe) | Contingent upon severity of break, and ongoing pain or permanent adverse effects. | In the region of £148,330 |
| Neck injury (moderate) | Contingent upon actual neck damage suffered and loss of motor movement and ongoing pain. | £24,990 to £38,490 |
| Neck injury (minor) | | Up to £2,450 |
| Leg injuries | Below knee amputation of a single leg | £97,980 to £132,990 |
| Back injury (severe) | Contingent on ongoing pain, severity of initial damage and long-term adverse effects. | £91,090 to £160,980 |
| Back injury (moderate) | Contingent on ongoing pain, severity of initial damage. | £27,760 to £38,780 |
| Back injury (minor) | | Up to £2,450 |
| Foot injuries | Contingent on severity | £8,960 to £109,650 |
| Knee injuries | Contingent on severity | £69,730 to £96,210 |
| Ankle injuries | Contingent on severity | £50,060 to £69,700 |
| Damage to jaw bone (very serious fracture) | | £30,490 to £45,540 |
| Damage to jaw bone (simple fracture) | | £6,460 to £8,730 |
| Damage to cheek bone (serious fracture) | | £10,200 to £15,780 |
Additionally, there's the matter of special damages. This figure makes up the rest of the compensation payout. It's calculated and awarded to reimburse the claimant for any financial losses or additional outgoings caused by their injuries. For example, if time is missed at work then the claimant could miss out on wages. These lost wages could be included in the special damages payout. Some other things that can be included are things like medical expenses and travel costs.
It's vital to maintain detailed records and obtain evidence of these expenditures. Otherwise, it becomes very difficult to you to reclaim these costs.
Managing Relationships With Your Employer
"Will I lose my job if I make a claim?" is something we believe everyone would ask themselves if they had an accident and were considering making a claim. We rely on our jobs to support our lives, pay bills and buy nice things. And many of us love our jobs and wouldn't want to jeopardise our relationship with our employer.
However, when it comes to making a claim against your employer, laws exist to protect both you and them. The Employers' Liability (Compulsory Insurance) Act 1969, for instance, imposes a legal obligation on all employers to take out employers' liability insurance.
If anyone has an accident, this means they can claim against the insurance policy. It also means the employer doesn't have to pay significant legal fees and compensation. So provided your employer has complied with the law, all parties will be protected in the event of a claim.
When considering making a claim against an employer, many people can be worried about the current and future relationship with their employer, company as a whole and other employees. By law, you are entitled to make a claim for an accident at work.
Your employer is also not entitled to dismiss you for exercising your statutory rights to bring this claim and doing so could count as unfair dismissal. If your employer does attempt to dismiss or sack you for starting a claim, you would also be likely to win an unfair dismissal case.
However, some employers might see you bringing the case against them as an excuse to make things at work difficult for you and to try and force you out of the job. If your employer starts to make your work life difficult you may feel that your only choice is to hand in your notice and resign. Effectively you would have been forced out of your job. If this has happened to you, you may have a reasonable case to claim your employer's actions constituted constructive dismissal.
Will My Accident At Work Claim Be Kept Private?
In today's world, people can often worry about privacy. People can often worry about how their relationship with the business and other staff will be affected by bringing a personal injury claim. You may even be concerned that a future employer will hold this against you when considering you for a role.
As such, people often want to keep these things private. Effectively the only people who need to know about your claim are your employer and any parties involved directly in recording this in the company, their insurance company, and your solicitor.
Recording an Accident at work
All accidents that happen at work need to be logged in the employer's 'Accident Report Book'. This logs any and all accidents and injuries. As such, your employer and some employees will already know the accident has happened, prior to you making the claim. The log can be used to help support your claim.
It keeps an accurate record of the accident and any resulting injury or illness. If you then need time off or have associated medical expenses, your employer and your solicitor can both refer to the accident report and what happened in the original incident. The accident report book is there to help your employer to identify the potential risks and/or hazards that caused your accident. This helps them to address what went wrong and prevent it from happening to others in the future.
Notifying Your Employer
When you start your claim, your employer will be notified in writing either through your solicitor, or their insurance company. The employer's insurance provider will then investigate the accident in tandem with your employer. They will gather all the relevant evidence and put together their assessment of the employer's liability.
Recording of Accidents In The Workplace
Your employer is required to report serious workplace accidents, injuries, illnesses, disease cases and dangerous workplace incidents to the Health and Safety Executive (HSE). This is used to help inform practices in the future, not just for your employer but for the wider sector. This duty comes as part of the 'Reporting of Injuries, Diseases and Dangerous Occurrences Regulations' or RIDDOR for short. You might hear this mentioned when you report your accident to your employer. Ask your solicitor for further information about this if you need it.
The DWP, Benefits and Your Claim
Any personal injury claim needs to be recorded with the (DWP) Department of Work and Pensions Compensation Recovery Unit (CRU). If your claim is successful, your employer's insurance provider has to repay any benefits you have been paid as a result of the accident.
What If Your Employer Has Gone Out Of Business?
Following an accident at work, there is a three-year window in which you can make a personal injury claim. If the business has since closed down, you can still make a claim. If the company is no longer on the list of registered companies or has been dissolved, we can make an application for it to be reinstated. This adds it back to the list of active companies, enabling us to make your claim against the employer.
How Can We Help With Your Claim?
If you have been injured in a workplace accident, it is a good idea to talk to an experienced personal injury solicitor to discuss your concerns, your accident and any potential claim you may have. Once your accident has happened, you have three years in which to bring a claim against them. As such, it is recommended that you seek advice and start your claim as soon as possible after your accident.
The lawyers on our panel also with all of their clients on a No Win No Fee basis. This means that you wouldn't be obligated to pay their legal costs unless the claim is successful. If the compensation is not awarded, then you will not owe your lawyer any money. In the event of a successful No Win No Fee claim, your lawyer is paid via a small, legally-capped percentage of your winnings.
How To Make A Claim Against Your Employer
Thank you for reading our guide which set out to answer the question "will I lose my job if I make a claim?" We hope we've cleared matters up for you.
If you have been hurt in an accident or incident whilst at work or in the workplace, you need to discuss your case with a solicitor experienced solicitor who specialises in personal injury claims. At Legal Expert, our professional solicitors are always on hand to talk to you about your case, providing any advice you may need to go about making your claim. Hopefully, you now know how to claim.
You can contact us now using the 'chat' feature on the website. Alternatively, you can always send us an email or talk to us over the phone via 0800 073 8804 and talk to an expert now.
Useful Links
In this final section of our guide, we've included some extra links on personal injury claims you may find useful, as well as answering a few frequently asked questions.
How To Start Your Accident Claim
Find out the best way to make an accident at work claim for compensation.
How To Make A Claim Against Your Employer
Making a claim against your employer can be tricky. We help you navigate the legal hurdles you may face and support you in your claim.
Find Out Much Your Workplace Injury Claim Could Be Worth
This is our general guide to workplace accidents, addressing things like the value of a potential claim,
The HSE has a wealth of information on workplace accidents, what your employer should do and steps to take.
Dismissal And Your Rights As An Employee
Find out more information about your rights when facing dismissal from the Government website.
If your accident was captured on CCTV, then you have a legal right to request the footage. You can use it as evidence during the claims process.
Other Personal Injury Claim Guides
Claim Against Your Employer FAQs
Can I be fired for having an accident at work?
No. Legally you're protected from your employer taking any action against you for having an accident at work. Even if you decided to make a claim, you would be protected from being fired.
Do I get full pay if injured at work?
This isn't guaranteed. It all depends on your contract of employment. Some employers may commit to pay you full pay for a set period of time. Others may pay half-pay, some may not pay anything. If you don't receive money while you're off work injured, you could claim Statutory Sick Pay (SSP).
If only receiving SSP is affecting you financially, you may also be eligible to enrol for universal credit. This is a scheme set up by the government to assist those on low incomes.
Will I lose my job if I make a claim?
No. It is illegal for your employer to take action against you for making a claim. If you do experience any form of discrimination or dismissal, you may be able to claim compensation for that too under employment law.
Will going back to work affect my claim?
It could not only impact your claim, but it could also impact your health to do this.
What are my rights if I have an accident at work?
You have the right to receive Statutory Sick Pay (SSP) while you're recuperating. You also have the right to make a claim for compensation if you sustain injuries that were caused by someone else's negligence.
What should you say when making a workers compensation claim?
You should only stick to covering basic vital information about the nature of the accident.
Can I sue my employer for stress and anxiety?
Yes, this is a possibility if it is severe and if you have evidence to back such claims up.
How long do I have to report an accident at work?
You have up to three years after the accident in which to make a claim.
Thank you for reading our guide on making a claim against your employer, which set out to answer the question: will I lose my job if I make a claim?