I Had An Accident But Did not Report It, Can I Still Claim Compensation?
If you have just suffered an accident or injury, either in the workplace, on public premises or in a shop or other commercial space your first thoughts might turn to how badly injured you are and seeking treatment, rather than reporting the accident to the relevant party. Whilst you should report accidents and injuries straight away, not reporting it does not mean that you can't claim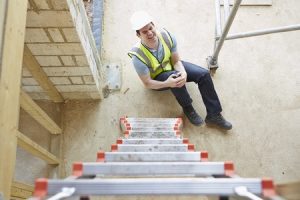 compensation for the injuries you have suffered.
There can also be instances after an accident when you may either have forgotten to report the accident or not had the opportunity to do so. If this has happened to you, you can still claim compensation for your injuries. However, you will need a good personal injury claim solicitor to help you do so.
Who Is Responsible For Filling In Accident Book?
When an accident happens in places such as a workplace or public space, the party responsible for filling in an accident book is the employer or the occupier of the premises if you are a member of the public. This should be recorded in an approved accident book. The book has several functions. It records all accidents and helps to identify and manage health and safety problems. It also acts as supporting evidence in personal injury claims.
When you first contact a solicitor they will want to check how likely your case is to be successful, especially if they are offering a no win no fee service. If there is not a record in the accident report log, the case may be weaker, though you can still claim compensation. However, you may need more supporting evidence to do so.
If you have had an accident and not been able to record it or report it at the time, this guide will help you navigate making a personal injury claim and to claim compensation.
What Are Accident Report Books Used For?
Accident report books are a key part of proving where, when and how an accident happened and what (if any) injuries were caused by it. Not only does the accident report book confirm that the alleged accident and injuries did happen to the claimant, it is also an important piece of evidence in helping to demonstrate the defendants' liability for the accident or even negligence on their part. An accident report book helps to fulfil this by recording factors such as the date, time and location of the accident, the details of anyone involved in and injured by the accident, a description of the event and what happened and the details of any treatment which was offered to the injured party at the time of the accident.
When the accident happens, the accident report book or log be filled out straight away – or as soon as possible. The person injured should be shown how the accident has been recorded and be given the chance to confirm that the details recorded in the book are correct. These records should then be kept for at least three years. This is because a claim for compensation may not be pursued immediately and the records need to be in place for the whole three-year window in which a claim can be made.
What Claims Rely On An Accident Report
The most common types of accidents which rely on an accident report book are; slip, trip, and fall claims, accidents in the workplace and accidents in public places. These three claims can be the most contentious claims to be contested and will generally pitch two versions of an event against each other. The accident report book will help to confirm the details of the incident, clarifying what happened when a claim case is made. This record should be made automatically, but may not have been done in all cases.
What Evidence Can I Use To Support My Claim?
If you were not able to record your accident, or if there was no accident book at work there are other ways in which you can support your claim with supplementary evidence. Whilst not having a record in an accident book can be due to negligence on the part of a claimant or the party responsible at the accident location, failure to record the accident can also be a genuine error. This could be due to the nature of the accident itself and due to tending to injuries.
Where no official record of the accident at the location exists there are still ways to claim compensation for an accident. Solicitors can build a case around other evidence which relates to the injury and accident circumstances.
If the injury was serious enough for you to be taken to hospital by ambulance, the hospital records can be used to support your claim, even if there was no accident book at work. This can be used to stop the defendant claiming that the accident did not take place on their property/ premises that they are responsible for. If you have medical evidence, such as being collected by an ambulance from the accident site it can improve your chances to claim compensation successfully. Medical records can include the cause of an injury, ambulance location, and other onsite information.
Other supplementary evidence you may be able to secure or use to claim compensation are things such as CCTV footage. If your accident occurred in a public place or space with CCTV, there could be tapped footage of the injury happening. If there were CCTV cameras present, you should request a copy of any relevant footage. If the defendant will not send you a copy, ensure you tell your solicitor that you have requested a copy and that it was denied. They may be able to secure the footage for you. Similarly, you or another party may have been able to take photographs of the injury and the hazard which caused the accident. If there was no CCTV and no pictures were taken you can also ask anyone else present to provide a witness statement. Generally, if they are independent this will better help your case. Make sure that you talk to them and get their contact details and that they will be happy to provide a witness statement.
If your accident happened whilst you were at work your employer should have recorded the accident for you in the report book. This should always be done after any workplace accident.
What Can I Do To Increase My Chances Of Success?
To claim compensation, there are a variety of steps that you can take which will increase the chances of successfully claiming compensation after an accident without a record.
You can write a letter to the owner or manager of the premises where your accident occurred. In this, you should explain in detail the circumstances of your accident and the nature of the injuries that you have sustained. This will ensure that you have notified them of the accident and your injuries so they are aware of them having happened. This means that once received they can not later deny knowledge of the accident. You should type the letter and print it out, keeping a copy of it for your records and sending one to the other party. Make sure to send the letter by recorded delivery and keep your proof of postage. This can be used later to support your personal injury case.
If you don't take an ambulance to a hospital or visit your GP instead, make sure that you tell your GP or the A&E where you were treated how your injuries were caused, the date, time and place as well as the cause. This may also be able to be used as evidence of the accident and injury happening and can be used to support you as you claim compensation.
How Long After An Accident Can I Still Claim Compensation?
You can claim compensation for an accident or injury up to three years after the accident occurred or three years after the injuries present, or three years after you establish the relationship between the accident and the injuries suffered. Whichever is the later date will be the one which applies. As there is always a time limit within which you need to make your compensation claim, we recommend that you contact a solicitor as soon as possible to start your case. The earlier you can start making your claim, the easier it is to prove any direct link between the injuries that you have suffered and your accident.
No Win No Fee Accident Claims
At Legal Expert, we work with a panel of specialist no win no fee legal solicitors who specialise in personal injury claims cases. They can help people who have had an accident in the workplace, in shops, restaurants or other commercial, public or other spaces to claim compensation after a personal injury. A no win no fee agreement is a special type of contract drawn up between a claimant and their solicitor. Also known as a Conditional Fee agreement, or CFA, they set out what services the solicitor will provide and what work they will do for the claimant. It will also set out when and how the claimant will be charged for the solicitors services.
No win no fee services are provided without any upfront fees or charges. Claimants can also expect to not to have to make any payments during their case towards legal fees. This type of service has helped people who may already be facing financial pressures as a result of their injury to be able to make a compensation claim. If the case is successful and damages are awarded, the solicitors fees will be deducted from this. The percentage should be specified in your agreement and by law must be 25% or less. If your personal injury compensation claim is not successful, then you should not be charged any fees or costs by the solicitor.
No win no fee solicitors have helped people from across the country to secure the compensation that they are entitled to and which they may not be able to recover if they had to pay upfront for legal services. You can view compensation claim amounts by reading our guide to making a no win no fee claim. To start your compensation claim, speak to Legal Expert today.
How Legal Expert Can Help
Contact the dedicated professionals at Legal Expert today to start your compensation claim and recover the personal injury damages that you are entitled to. The specialist legal solicitors who we work with at Legal Expert have worked to help claimants from across the country to recover the compensation that they were owed after an accident which was not their fault, even if they did not report the accident straight away.
At Legal Expert we ensure that we always provide you with all the information necessary to make an informed decision about how to proceed with your case, helping you to make a successful claim. The panel of solicitors we work with have years or even decades of experience in helping people with successful personal injury claims. Contact us today by calling 0800 073 8804 or by sending us the details of your accident and injury via email to info@legalexpert.co.uk. You can also use the online chat feature on our site to talk to us straight away.
Useful Links
Personal Injury Claims Time Limits
If you have suffered an injury as a result of an accident which was not your fault there is a time limit within which you must make your claim. Find out how long you have with our guide.
No Win No Fee Claims
Read our guide on how to make a successful no win no fee compensation claims
No Accident Report Book
Find out what to do if you are injured at work or in other spaces where there should be an accident report book, but which does not have one.
Accident At Work Claims How Much Can I Claim?
If you have had a accident at work find out the compensation amounts you could claim.