I Had An Accident But Did not Report It, Can I Still Claim Compensation?
By Stephen Hudson. Last Updated 30th March 2022. In this guide, we explain what can happen if you had an accident but did not report it and how that may impact on a potential compensation claim. If you have just suffered an accident or injury, either in the workplace, on public premises or in a shop or other commercial space, your first thoughts might turn to how badly injured you are and seeking treatment, rather than reporting the accident to the relevant party.
Whilst you should report accidents and injuries straight away, not reporting it does not mean that you can't claim compensation for the injuries you have suffered.
There can also be instances after an accident when you may either have forgotten to report the accident or not had the opportunity to do so. If this has happened to you, you can still claim compensation for your injuries. However, it's recommended you get a good personal injury claim solicitor to help you do so. Please read on to learn more about potentially claiming for accidents that weren't reported. If you would like to speak to an advisor, you can contact Legal Expert online by using our contact page or our live chat service. You can also call us on 0800 073 8804.
Select a section
Who Is Responsible For Filling In Accident Book?
When an accident happens in places such as a workplace or public space, the party responsible for filling in an accident book is the employer or the occupier of the premises if you are a member of the public. This should be recorded in an approved accident book. The book has several functions. It records all accidents and helps to identify and manage health and safety problems. It also acts as supporting evidence in personal injury claims.
When you first contact a solicitor, they will want to check how likely your case is to be successful, especially if they are offering a No Win No Fee service. If there is not a record in the accident report log, the case may be weaker, though you can still claim compensation. However, you may need more supporting evidence to do so.
If you have had an accident but did not report or record it at the time, this guide will help you navigate making a personal injury claim and to claim compensation.
What Are Accident Report Books Used For?
Accident report books are a key part of proving where, when and how an accident happened and what (if any) injuries were caused by it. Not only does the accident report book confirm that the alleged accident and injuries did happen to the claimant, but it is also an important piece of evidence in helping to demonstrate the defendants' liability for the accident or even negligence on their part. An accident report book helps to fulfil this by recording factors such as the date, time and location of the accident, the details of anyone involved in and injured by the accident, a description of the event and what happened and the details of any treatment which was offered to the injured party at the time of the accident.
When the accident happens, the accident report book or log should be filled out straight away – or as soon as possible. The person injured should be shown how the accident has been recorded and be given a chance to confirm that the details recorded in the book are correct. These records should then be kept for at least three years. This is because a claim for compensation may not be pursued immediately, and the records need to be in place for the whole three-year window in which a claim can be made. This means that ensuring the incident is reported at the time of the accident could strengthen your claim.
For more information on what to do if you have had an accident but did not report it, please read on or get in touch with our team today for free legal advice.
What Claims Rely On An Accident Report
The most common types of accidents that rely on an accident report book are; slip, trip, and fall claims, accidents in the workplace and accidents in public places. These three claims can be the most contentious claims to be contested and will generally pitch two versions of an event against each other. The accident report book will help to confirm the details of the incident, clarifying what happened when a claim case is made. This record should be made automatically but may not have been done in all cases.
Reporting a Road Traffic Accident
It's not just accidents in work or public places where accident books are present that should be reported. If you've been involved in a car accident which has involved injury to someone other than you, or damage to property or another vehicle, then you're legally obliged to stop according to the Road Traffic Act 1988.
After an accident, you should make sure that you and the other vehicle owner have exchanged details, including vehicle and insurance details. You should also report the accident to your insurance company.
Each year, over 140,000 accidents involving personal injury are reported to police forces in Great Britain. Around 20% of these reports are made in police stations.
What Evidence Can I Use To Support My Claim?
If you have had an accident but did not, or were unable to, report it, or if there was no accident book at work, there are other ways in which you can support your claim with supplementary evidence. Whilst not having a record in an accident book can be due to negligence on the part of a claimant or the party responsible at the accident location, failure to report or record the accident can also be a genuine error. This could be due to the nature of the accident itself and due to tending to injuries.
Where no official record of the accident at the location exists, there are still ways to claim compensation for an accident. Solicitors can build a case around other evidence which relates to the injury and accident circumstances.
Medical records
If the injury was serious enough for you to be taken to the hospital by ambulance, the hospital records could be used to support your claim, even if there was no accident book at work. This can be used to stop the defendant from claiming that the accident did not take place on their property/ premises that they are responsible for. If you have medical evidence, such as being collected by an ambulance from the accident site, it can improve your chances to claim compensation successfully. Medical records can include the cause of an injury, ambulance location, and other onsite information.
CCTV evidence
Other supplementary evidence you may be able to secure or use to claim compensation are things such as CCTV footage. If your accident occurred in a public place or space with CCTV, there could be tapped footage of the injury happening. If there were CCTV cameras present, you should request a copy of any relevant footage. If the defendant does not send you a copy, ensure you tell your solicitor that you have requested a copy and that it was denied. They may be able to secure the footage for you.
Similarly, you or another party may have been able to take photographs of the injury and the hazard which caused the accident. If there was no CCTV and no pictures were taken, you can also ask anyone else present to provide a witness statement. Generally, if they are independent, this will better help your case. Make sure that you talk to them and get their contact details and that they will be happy to provide a witness statement.
If your accident happened whilst you were at work, your employer should have recorded the accident for you in the report book. This should always be done after any workplace accident.
Accident at Work Statistics
One of the places where an accident is likely to be reported in an accident book is in the workplace. In 2019/20 there were approximately 38.8 million working days were lost because of illness and injury in workplaces in Great Britain, according to the Health and Safety Executive.
As the graph below shows, the majority of the injuries reported to RIDDOR in Great British workplaces that resulted in an absence of 7 days or more occured to 45-54-year-olds. The same can be said for specified injuries, although the volume of these is much lower.
The number of self-reported accidents in work has been on the decline since 2001; however, it's been broadly flat in recent years and in 2019/20 showed a slight increase in previous years, as shown by the graph below.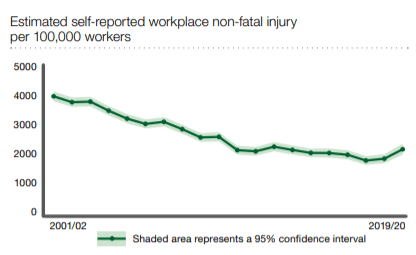 What Can I Do To Increase My Chances Of Success?
In this section, we'll look at ways to increase the chances of a successful claim if you've had an accident but did not report it. To claim compensation, there are a variety of steps that you can take, which will increase the chances of successfully claiming compensation after an accident without a record.
You can write a letter to the owner or manager of the premises where your accident occurred. In this, you should explain in detail the circumstances of your accident and the nature of the injuries that you have sustained. This will ensure that you have notified them of the accident and your injuries, so they are aware of them having happened. This means that once received, they can not later deny knowledge of the accident. You should type the letter and print it out, keeping a copy of it for your records and sending one to the other party. Make sure to send the letter by recorded delivery and keep your proof of postage. This can be used later to support your personal injury case.
If you don't take an ambulance to a hospital or visit your GP instead, make sure that you tell your GP or the A&E where you were treated how your injuries were caused, the date, time and place, as well as the cause. This may also be able to be used as evidence of the accident and injury happening and can be used to support you as you claim compensation.
How Long After An Accident Can I Still Claim Compensation?
You can claim compensation for an accident or injury up to three years after the accident occurred or three years after the injuries present, or three years after you establish the relationship between the accident and the injuries suffered. Whichever is the later date will be the one that applies. As there is always a time limit within which you need to make your compensation claim, we recommend that you contact a solicitor as soon as possible to start your case. The earlier you can start making your claim, the easier it is to prove any direct link between the injuries that you have suffered and your accident.
If you'd like to know more about No Win No Fee claims if you've had an accident but did not report it, please read on for more information.
How Much Compensation Could I Receive?
Valuing a compensation claim without knowing all of the details of the accident is a very difficult task, whether you have reported the incident in an accident book or not. As well as the payment you'll receive for pain and suffering, known as general damages, your claim will also consist of special damages, which will reimburse you for any expenses you've incurred that you wouldn't have if not for your injuries.
Because injuries and accidents affect everyone differently, it's hard to come up with a value for a claim without collecting all the details. However, we've included a table below with some common injuries and estimated compensation payouts for your information. These estimates are based on our history of dealing with compensation claims.
| Injury | Value | Notes |
| --- | --- | --- |
| Brain damage- very severe | £264,650 to £379,100 | This bracket will include little, if any, evidence of meaningful response to environment, little or no language function, double incontinence and the need for full-time nursing care. |
| Brain damage- less severe | £14,380 to £40,410 | In this bracket, there may not have been a restoration of all normal functions so there may still be persisting problems such as poor concentration and memory or disinhibition of mood, which may interfere with lifestyle, although the injured person will have made a good recovery |
| Injuries affecting sight- severe | Around £252,180 | This bracket includes total blindness |
| Injuries affecting sight- minor | £3,710 to £8,200 | This bracket includes minor injuries, such as being struck in the eye, exposure to fumes including smoke, or being splashed by liquids, causing pain and temporary interference with vision |
| Deafness/Tinnitus- Severe | £85,170 to £102,890 | Total deafness. Higher awards in this bracket will include cases where there's been an affect on speech or tinnitus. |
| Deafness/Tinnitus- Minor | Up to £6,580 | Slight noise-induced hearing loss without tinnitus, or tinnitus without noise-induced hearing loss |
| Hernia- Severe | £13,970 to £22,680 | Continuing pain and/or limitation on physical activities |
| Hernia- Minor | £3,180 to £6,790 | Uncomplicated indirect inguinal hernia, with no other associated damage |
| Shoulder injuries- Severe | £18,020 to £45,070 | Damage to the brachial plexus resulting in significant disability |
| Shoulder injuries- Minor | Up to £7,410 | Soft tissue injury to shoulder with considerable pain but almost complete recovery within two years |
| Leg injury- Severe | £91,950 to £264,650 | Amputation of one or both legs, above or below the knee |
| Leg injury- Less serious | Up to £11,110 | Simple fractures to tibia or fibula or soft tissue damage |
If you'd like a more precise value of your claim, don't hesitate to get in touch with us today to chat with someone about your claim.
No Win No Fee Accident Claims
At Legal Expert, we work with specialist No Win No Fee legal solicitors who specialise in personal injury claims cases. They can help people who have had an accident in the workplace, in shops, restaurants or other commercial, public or other spaces to claim compensation after a personal injury. A No Win No Fee agreement is a special type of contract drawn up between a claimant and their solicitor. Also known as a Conditional Fee Agreement, or CFA, they set out what services the solicitor will provide and what work they will do for the claimant. It will also set out when and how the claimant will be charged for the solicitor's services.
What does No Win No Fee mean?
No Win No Fee services are provided without any upfront fees or charges. Claimants can also expect not to have to make any payments during their case towards legal fees. This type of service has helped people who may already be facing financial pressures as a result of their injury to be able to make a compensation claim.
If the case is successful and damages are awarded, the solicitor's fees will be deducted from this. The percentage should be specified in your agreement and by law must be 25% or less. If your personal injury compensation claim is not successful, then you should not be charged any fees or costs by the solicitor.
No Win No Fee solicitors have helped people from across the country to secure the compensation that they are entitled to and which they may not be able to recover if they had to pay upfront for legal services. You can view compensation claim amounts by reading our guide to making a No Win No Fee claim. To start your compensation claim, speak to Legal Expert today.
Our next section will look at how Legal Expert can help if you've had an accident but did not report it.
How Legal Expert Can Help
Contact the dedicated professionals at Legal Expert today to start your compensation claim and recover the personal injury damages that you are entitled to. The specialist legal solicitors who we work with at Legal Expert have worked to help claimants from across the country recover the compensation that they were owed after an accident which was not their fault, even if they did not report the accident straight away.
At Legal Expert, we ensure that we always provide you with all the information necessary to make an informed decision about how to proceed with your case, helping you to make a successful claim. The solicitors we work with have years or even decades of experience in helping people with successful personal injury claims.
Contact us today by calling 0800 073 8804 or by sending us the details of your accident and injury via email to info@legalexpert.co.uk. You can also use the online chat feature on our site to talk to us straight away.
Useful Links
Personal Injury Claims Time Limits For Accident at Work 
If you have suffered an injury as a result of an accident at work that was not your fault, there is a time limit within which you must make your claim. Find out how long you have with our guide.
No Win No Fee Claims
Read our guide on how to make a successful No Win No Fee compensation claims.
Claiming for a slip, trip or fall
Find out what to do if you are injured at work or in other spaces following a slip, trip or fall accident.
Accident At Work Claims How Much Can I Claim?
If you have had an accident at work, find out the compensation amounts you could claim.
Other Personal Injury Claim Guides
I had an accident but did not report it – FAQs
In this final section of our guide on claiming for accidents that were not reported, we've answered some frequently asked questions on this topic:
What happens if an incident is not reported?
The specific issues you could face if an accident you were involved in is not reported can vary depending on the type of accident which occurred and certain other details. It would likely be more difficult to claim for the accident, even if you were hurt and it was another party's fault. You may also breach certain laws which required you to report the incident.
Is it an offence not to report an accident?
Whether or not it's a legal requirement to report an accident depends on what type of accident has occurred and whether injuries and property damage have been caused.
Is it an offence not to report a car accident?
Yes. According to the Road Traffic Act 1988, if there's been any injury or damage to property in an accident it must be reported
Do all accidents at work have to be reported?
Not all accidents in work need to be reported to RIDDOR, but it's good practice to keep a record of all accidents in the accident book, however minor.
Do you have to report an accident within 24 hours?
If you are in a road traffic accident and need to report it to the police, then you should do so within 24 hours of when it took place. If you need to report a work accident under RIDDOR, then the report should be made within 15 days of the incident.
What's my employer's responsibility as far as workplace accidents?
Your employer has a duty of care to take reasonable steps to reduce the risk of harm to you and your colleagues. They should do this through risk assessment, appropriate training and providing proper PPE.
What are my rights if I have an accident at work?
If you have an accident at work, you have a right to seek compensation for your injuries. You can't be sacked or disciplined for making a claim.
How much compensation could I receive for an accident at work?
The amount of compensation you could be owed for an accident at work will depend on how severe your injuries are and how you've been affected financially by the accident.
How long do I have to make a personal injury claim?
The time limit for making a personal injury claim is three years.
Can a child make a personal injury claim?
Under 18s can't make a personal injury claim themselves, but can be claimed for by a litigation friend. Once they turn 18, they have 3 years to make a claim themselves.
Can I make a claim on someone else's behalf?
If someone lacks the mental capacity to make their own claim, you can claim for them as a litigation friend.
If you would like to speak to an advisor about potentially claiming when you've had an accident but did not report it, you are welcome to contact Legal Expert. You can reach us using the contact details included in this guide.