Injured In A Accident At Work due to no safety shoes or steel toe caps boots – Can I Claim Compensation?
By Edward Robinson. Last Updated 1st March 2021. Welcome to our guide on no safety boots claims. Health and safety at work requirements should protect you from harm and ensure that your employer exercises a duty of care towards you. Employers are expected to make risk assessments of your workplace and take steps to protect employees, and members of the public, from the risks identified. In some cases, this will mean ensuring that you are provided with appropriate PPE – personal protective equipment.
Sadly, safety footwear accident claims are all too common. Either inappropriate footwear has been provided or the risk has not been identified prior to the accident taking place. And although it sounds like in the worst-case wearing the wrong shoes will simply be a few bruises, a bad fall can lead to serious and lifelong consequences.
Your employer should provide you with the correct footwear to enable you to perform your job. In addition to providing you with a copy of their health and safety footwear policy, you should be informed of exactly what PPE you are required to wear, when you are required to wear it and the consequences for not doing so.
If you have been involved in an accident where safety shoes, or lack of them, was to blame you may have a claim against your employer. Read on to find out more about how to start a claim and how our friendly team of advisers can help you today.
You can speak to them any time, day or night, via any of the methods below:
Call us on 0800 073 8804
Chat with us now about your case using live chat
Select a Section
A definitive guide to safety footwear accident claims
Your feet are one of your most important limbs. If you sustain damage to your feet you can find everyday tasks such as walking, driving, standing – even taking a shower or using the toilet – can become difficult or painful to complete.
According to health and safety footwear regulations, your employer should provide adequate PPE – in this case safety footwear – should all other measures to eliminate risk have been undertaken. There are many jobs where risk cannot be eliminated through changes to procedure and where suitable footwear must be worn. This could include construction jobs, work in wet areas, working in icy conditions or working with horses or large machinery.
This guide will help you decide if your injury at work was caused by the footwear provided (or not provided) and who was responsible for the accident. There is a section on amounts claimable and how to start a claim if you think you have a case.
What constitutes a lack of safety footwear accident claim?
According to the Personal Protective Equipment At Work Regulations 1992 (PPE) Personal Protective Equipment's definition is that the intent is that it be held or worn by a person in the workplace and that it protects them from risks (whether one or more than one) to their safety or health or both.
Common pieces of PPE that we are all familiar with include hard hats, gloves, safety goggles, hi-viz clothing and safety boots. These protect against specific risks and may be available in different types depending on the nature of the risk.
Where PPE is required it is the responsibility of the employer to provide the equipment, at their own cost. An employee is should not be asked to provide mandatory PPE, nor should they be expected to bear any cost of provision the employer may incur.
Nonetheless, employees have a duty to ensure that, where provided, safety shoes or boots are worn. The employer, likewise, has a duty to ensure that the boots are suitable for the task. Anti-slip footwear appropriate for working in wet conditions may not offer enough protection to be used on a building site for example. Employers must ensure that safety equipment is well-maintained and up-to-the job. Boots or shoes that have become worn should be replaced as, and when, required.
Footwear can be a major factor in two main types of injury:
Crushing or puncture injuries
Trips, slips and falls.
Shoes or boots must have a defined shoe pattern that gives good grip in order to prevent slipping and tripping. Where crushing or puncture injuries are an identified risk the boot should also be reinforced, for example with steel toe caps and shanks, to encase the foot protectively.
Statistics on lack of safety footwear accidents
Under RIDDOR, reporting regulations accidents involving footwear, whether or not there were any safety footwear accident claims involved, must be reported. Between 1996/97 and 2002/03 a study was made to create a data set to quantify the hazard of not wearing PPE. The data set contains 24,182 accidents with an accuracy of around 95%. The PPE RIDDOR data tool draws upon this data to provide an indication of the risks, and to inform risk assessments in the future.
The construction industry is, due to the risky nature of work performed, one of the largest reporters of PPE-related accidents and is the largest reporter of fatal injuries. Of the 9,000 incidents each year the manufacturing and service industries report the largest number of major injury accidents. The agriculture industry is also a large reporter of PPE-related accidents.
As shown in the chart below, accidents involving foot (£85m) or hand/arm (£75m) PPE are some of the most significant contributors to the £252m annual costs incurred due to accidents. Slightly over a third (£96m) of the costs are due to incidents where the PPE provided could neither prevent nor lessen the damage sustained. Not using provided PPE resulted in around £65m of costs, compared to only £49m for not considering PPE at all.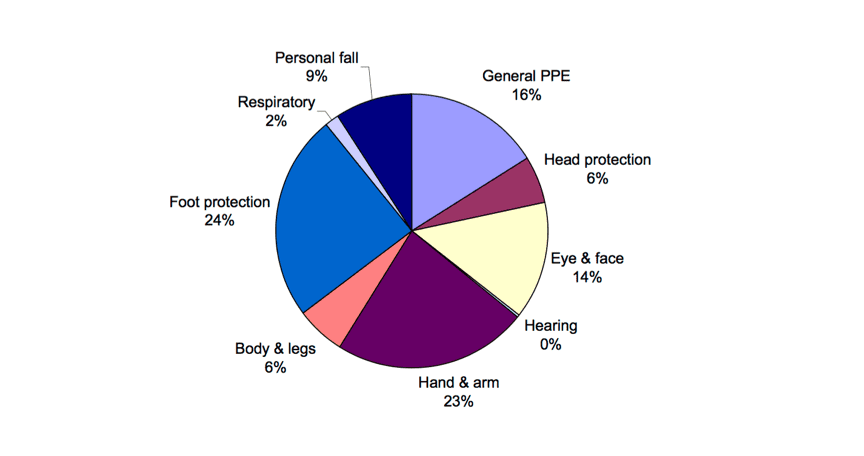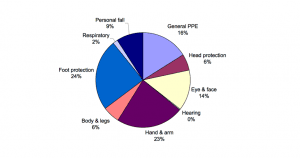 We've also put together the table below using the latest RIDDOR data published by the HSE. This table illustrates the rates of injuries to the lower limbs, in particular the foot, sustained in accidents at work during 2019/20.
As you can see, there are a significant number of foot injuries each year, many of which could have been prevented if correct safety shoes had have been worn.
So if you've had an accident at work over no safety shoes, get in touch with our team for free legal advice today.
Does my employer have to provide safety boots?
There is a clear answer to the question "does my employer have to provide safety boots?" UK PPE regulations state that if the safety equipment is provided solely for use while the employee is at work then the employee must not be charged for the equipment. Some employers may have a boot allowance policy. This is to allow you to choose the footwear most suitable for your feet and you should either be instructed which styles to choose from or have your boots checked for suitability before starting work.
Furthermore, if the provision of safety boots has been identified as a necessary risk avoidance strategy then it is insufficient to simply provide the equipment somewhere on site. The employer must make sure that employees know how to obtain safety boots and that they are wearing them correctly.
Do agencies have to provide PPE?
If your agency is your legal employer, then they will have to provide you with the necessary PPE you require in order to perform the duties you are contracted to do.
Does my employer have to pay for safety boots?
The answer to the question" do employers have to pay for safety boots?" comes down to whether or not the health and safety risk assessment has identified a risk which can be controlled by the use of special footwear. If the employer provides safety boots, then the employer must pay for them and is not permitted to pass the cost onto employees.
However, there is more to the issue of working feet and footwear than whether or not your employer pays for safety boots. They must also ensure they are of the correct type for the risks identified, and if no special footwear is required, the employee should be free to choose suitable footwear for the duties they are expected to undertake.
Hazards of not wearing PPE
Your employer must undertake, at least annually or more frequently if required, a full health and safety risk assessment. Risks that have been identified must be eliminated or controlled. Where all other forms of risk management are unsuitable personal protective equipment should be worn. This is to protect you from injury – or even death.
Some possible risks include:
Being struck by falling objects or debris.
Impacts and collisions.
Breathing in contaminated air.
Cuts and punctures.
Chemical burns.
Electric shocks.
Exposure to excessive noise or vibration.
Projectiles or chemicals harming the eyes.
Slipping or tripping on uneven or slippery surfaces.
Not all PPE is easy to wear. In order to armour the foot and protect it against crushing and puncture risks safety boots are made of heavy materials and incorporate steel toecaps and midsections. This can make them heavy to wear. This, in turn can lead to employees asking "can I wear my own safety shoes at work?" or even refusal to wear ppe. Not using provided safety equipment increases your chance of a serious accident and may mean you have no claim, even if you suffer major injury or death whilst working.
Health and safety footwear regulations
Under the provisons of the PPEWR 1992 Regulations, employers must ensure that footwear meets basic EU regulations. Such footwear will be CE marked. For further protection against fraudulently marked, substandard footwear, it is important to look for the BSIF Registered Safety Suppliers logo.
Footwear must fit the user and be suitable for the conditions in which it is being used. If special actions need to be taken, for example ensuring that straps are tight, then the employer must ensure that the employee has been provided with sufficient training in the use of the shoes or boots provided. Where other PPE is also worn they must also be compatible. For example, if safety trousers need to be worn they should not be affected by the use of safety boots and vice versa.
Injured due to no safety footwear in a warehouse – can I claim?
Although the work is indoors warehouses can be dangerous environments. Your employer will have addressed the question of "do you have to wear safety boots in a warehouse?" in their health and safety risk assessment.
Most warehouses will have the potential for foot injuries due to stored goods being dropped or knocked from a height. In some warehouses, depending on the nature of the goods, there may be the potential for slips due to wet or icy surfaces or for chemical leaks to contaminate the ground.
If you have been injured in a warehouse and your employer neither provided you with safety footwear, nor instructed you in how to obtain PPE then you may be able to claim damages for the injuries suffered. You may also be able to claim if you were issued with footwear without ensuring you knew the situations in which you should use it, or how to wear them if special precautions need to be taken.
Injured on a building site with no safety boots – Would I have a claim?
The construction industry is inherently risky to work in so if you asked your employer "do I have to wear safety boots at work?" you would expect to be told you needed to do so and be provided with suitable boots.
On a building site, the main risks are crushing and puncture injuries so boots with a steel toecap and midsection are essential. It is also important that your employer pays attention to the conditions and provides footwear that can cope with wet, muddy or icy ground. If your employer asks you to work without safety boots or provides you with overboots to add extra grip that are not compatible with your safety boots, and you are injured then you may be able to make a claim for compensation.
Common injuries due to lack of safety footwear
One of the most common PPE injuries involving footwear is crushing due to heavy objects being dropped onto the foot. A steel toecap will help prevent crushing from up to 200 joules of pressure. Without safety boots, broken bones, torn ligaments and even amputation could occur – and in extreme cases, even safety boots may be insufficient to prevent damage.
Slips and trips are also a danger, especially in outdoor working environments. Bruises may form immediately but underlying damage to muscles, ligaments or even the spinal cord or head may take a few hours to a few days to become apparent.
Where the ground is uneven or sharp objects are present there is also a danger of cuts and lacerations. In severe cases toes or even the whole foot could be amputated.
There is also the risk that chemical spills could damage the foot, as could extremes of cold or heat in certain workplaces.
What different compensation types are there?
There are five areas in which compensation can be claimed. Not all types of compensation will be applicable in some cases. The five areas are:
General damages
Care claim
Loss of earnings
Travel Expenses
Medical Expenses
General damages cover the area of your claim most people will think of when considering compensation. The amount payable is in proportion to the severity of your injuries and the amount to which you are suffering long term effects from them. It can also include an amount of mental suffering.
A care claim may be made by someone who has had to alter their life in order to care for you as a direct result of your injuries. For example, this could be your spouse or children if you have been unable to care for yourself while injured.
Loss of earnings can be divided into the amount you have actually lost through being unable to work once injured and an estimated amount to compensate you for loss of earnings in the future, should you be unable to return to work or unable to return to the same career.
Travel expenses include taxis, car parking, petrol money, train journeys and other expenses that you have incurred obtaining medical assistance for your injury that you otherwise would not have needed to incur.
Medical expenses compensate you for the cost of treatments and therapies that you may have had to pay for, and also for any equipment such as crutches or walking aids that you may have had to buy.
Once a figure for each area has been calculated it is possible to determine the total sum that you will be paid as a result of your claim being successful. To learn what else you can factor into no safety boots compensation claims, please get in touch with our team.
Claiming against an employer for lack of safety boots
You may be worried about claiming against your employer for fear that it looks disloyal or that they may go out of business. Employers have to take out various forms of insurance which ensures that they can afford to meet compensation claims.
You may also be concerned that you will face disciplinary action for not wearing PPE or you may lose your job. Your employer cannot treat you differently because of a claim and our team of advisers can help you to understand what your rights are in regard to a claim.
Compensation is there to ensure that you aren't left out of pocket due to an incident that was not your fault. By making a claim you are also bringing to light an issue that, previously, may have been hidden and which can now be rectified so that others don't have to suffer as you have done.
How much of a payout will I get for lack of safety footwear claims?
The amounts payable in safety footwear accident claims vary depending on the nature of the injuries received. Serious injuries or those that leave permanent effects will attract higher rates of compensation. The table below shows a few types of injury that could result from inappropriate footwear and typical compensation amounts. If your exact injuries are not listed, then do not hesitate to call our team to discuss how much you could be entitled to.

| Injury Type | Typical Award Bracket | Any Further Information |
| --- | --- | --- |
| Below-knee amputation of both legs | £153,200 – £205,300 | |
| Below-knee amputation of one leg | £74,575 - £101,075 | |
| Severe leg injuries | £29,800 - £103,250 | Where the leg is retained but mobility and use is extremely limited or absent. |
| Serious fractures | £13,650-£21,100 | Where recovery is made but a limp may remain. |
| Severe knee injury | £19,900-£73,125 | |
| Ankle injury | £10,450-£53,000 | Where some residual damage remains |
| Serious damage to Achilles tendon | In the region of £29,200 | Where movement is restricted, and lifestyle changes are required. |
| Amputation of foot or feet | £83,325 – £153,200 | |
| Loss of toes | £23,800 - £42,600 | |
| Other leg injuries | Up to £13,650 | |
| Severe Back Injuries | 53,000 - 122,350 | Extreme pain, damage to spinal cord leading to paralysis, loss of sexual function or bladder and bowel control. |
| Other back injuries | Up to 53,000 | Where complete recovery is expected within a few months |
No Win No Fee Accident due to No Safety Footwear Claims
If you are worried about starting a claim because of the cost of legal advice, then choosing a No Win No Fee provider could be a smart move. We won't take a single penny from you until your claim is decided. If you win, then your legal fees will be paid from the claim. If you lose you owe us nothing.
Why call us for guidance on safety footwear accident claims?
We are experts in compensation claims and have years of experience. Our team of advisers are ready to take your call, at any time of day or night, and answer any questions you may have about making a claim.
Getting started with safety footwear claims
If you have suffered an accident at work that wasn't your fault and you weren't provided with safety footwear or it wasn't the right type for the risks you faced then you could have a claim. Call us now on 0800 073 8804 to discuss your case with a trained advisor.
Helpful links
Need more information on accidents at work? Visit the link above
What is the maximum weight I can lift at work?
Need more information on manual handling accidents? This guide will tell you what you need to know.
Slips, Trips and Falls at Work
A guide on how to claim for slips, trips and falls at work.
Aren't sure if you were issued with the correct footwear? See above for more information.
Want to check what the law says about PPE? Find out more by clicking above.
Thank you for reading our guide to no safety boots compensation claims.