How To Make A Chemical Burn At Work Compensation Claim
By Daniel Archer. Last Updated 19th April 2022. A chemical burn injury at work can be a frightening experience. The sudden burning of acid or a caustic spillage can be panic-inducing and distressing. If you came into contact with dangerous substances whilst doing your job and were injured due to employer negligence, it's possible that you may be entitled to a chemical burn at work compensation amount.
Acid burns can cause scarring and, in severe cases, damage skin tissue to the point that it affects joints, muscles and even organs. The health implications of this can be very far-reaching.
Stringent laws in the UK exist to protect your rights in the workplace with chemicals and could enable you to claim damages if an employer failed to protect you properly.
To find out more about how a chemical burn at work compensation claim could help you today, get in touch with our advisors at Legal Expert. Simply call or write to us by:
Select A Section
A Guide To Chemical Burn At Work Compensation Claims
In this guide, we explain what a chemical burn is and how one might happen at work. By examining laws, it's possible to clearly define what an employer's responsibilities are to keep you safe whilst handling hazardous substances. If you have solid evidence that they failed to provide you with a duty of care and it directly resulted in causing you injury, you could have grounds to claim compensation.
We understand that suing your employer for negligent work practices may seem a serious and daunting step. However, you have a legal right to be protected and compensated if you were harmed at work.
Estimates for compensation are achieved by calculating up to two types of damages on your behalf. General damages compensate for the injury itself. Special damages compensate you for the financial losses caused by your burn injury.
Working with an experienced personal injury solicitor under a No Win No Fee agreement enables you to access legal representation at no upfront cost. You could start a chemical burn at work compensation claim after calling today.
What Is A Chemical Burn?
A chemical burn in the workplace is usually the result of skin contact with a hazardous substance. This could be acid, alkaline or caustic chemicals that are not intended to come into contact with unprotected human skin, eyes, nostrils or mouths. These chemicals can cause burn damage leading to lifelong issues in some cases.
Although similar in appearance to the effects of burns by fire, water or steam, chemical burns have to be treated slightly differently. For example, contaminated clothing should be carefully removed so that the chemical isn't spread.
There can be a very grave level of danger to internal health in cases of prolonged contact. Contact with chemicals is something that is strictly regulated in the workplace. For example, there should be clear identification and storage, usage and transportation of chemicals.
A chemical burn can also be the result of inadequate personal protective equipment (PPE) as well. Correct training and adequate health and safety provision are required by employers as a duty of care.
Chemical Injury Statistics
The Health and Safety Executive (HSE) provides safety and well-being guidance for employers in order for them to protect their employees' well-being.
Burns recorded in HSE statistics are those that cover over 10% of the body or cause serious eye damage, respiratory system damage or damage to other vital organs. The graph below reflects non-fatal burn injuries to employees in Great Britain as reported by employers between 2014/15 and 2019/20.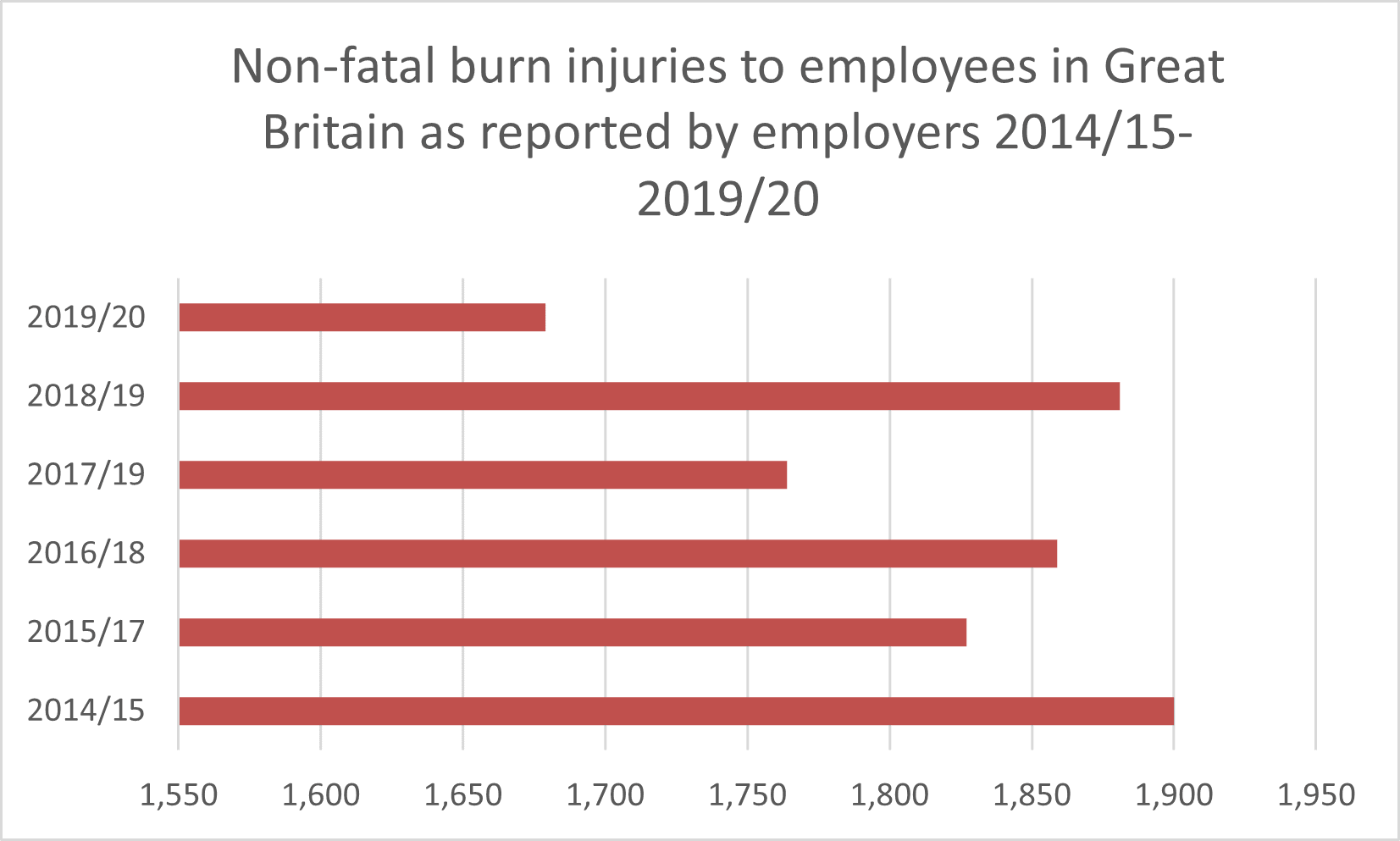 As you can see, the amount of injuries reported in 2019/20 were lower than in previous years. This could be due to the time many employees spent out of the working environment due to lockdowns.
Types Of Chemical Burn Injuries
What are the symptoms of a chemical burn? Given the wide breadth of different chemicals used in modern workplaces, a symbol chart can be a simple way to group relevant chemicals in order of toxicity. Furthermore, this system can offer an instant visual aid to:
Identify the chemical
Describe how toxic it is
What treatment needs to be instantly administered in cases of contact
Danger labels seek to instantly explain if the substance process produces a gas, any fumes, dust, vapour or mist when being used or stored. Is it dangerous to inhale or could it harm your skin? How likely is harm in the correct and normal use of this substance? What immediate actions need to be taken if there is contact with skin? Clear and easy to access advice and information is key to the correct prevention of chemical injury.
Despite adequate warnings, when a chemical comes into contact it can:
Burn the skin; from first (superficial) to third-degree burns (burning tissue and nerve endings). Exposed areas such as fingers, hands and forearms can be most at risk as can eyes, mouths or noses.
Cause caustic burns on the inside of the lungs if inhaled
Create organ damage
Lead to long term health conditions (such as leukaemia)
Common Causes Of Chemical Burn Injuries
Accidents can happen in the best-run factories and workplaces, but a rigid adherence to health and safety procedures can greatly reduce risks. In view of this, employers need to conduct regular risk assessments and work practice reviews to limit dangers before they happen.
Meeting with safety representatives and listening to the concerns of staff could also be an essential way to pre-empt possible accidents.
Under the Health and Safety at Work etc. Act 1974, employers have a duty of care to protect the health and safety of their employees. Unfortunately, despite clear recommendations and rules, some common causes of accidents can still be:
Unsafe storage arrangements
Poorly labelled chemicals
Inappropriate handling or transportation
Failure to check the information that came with the product, such as the safety data sheet
Inadequate training or lack of supervision
Failure to be provided with personal protective equipment (PPE) where necessary
As the innocent victim of a chemical burn at work, you may know all too well how needless the accident was. If you have actual evidence to support a claim that your employer failed to owe you a duty of care and you were injured as a result, your chemical burns at work compensation claim could start sooner than you reliase. Speak with our advisors for help.
Chemical Spillage Injuries
Certain commonly-used substances are more likely to cause burns in a workplace environment when they spill or fall or leak from containers during use, transportation or storage. Any of the following regularly accessible chemicals could cause chemical burns and may be found in any number of typical workplace environments:
Ammonia
Battery acid
Bleach
Concrete mix
Drain or toilet bowl cleaners
Metal cleaners
Pool chlorinators
Although less commonly encountered, other hazardous substances can carry even greater risk. A huge array of chemicals can be used in modern manufacturing processes. Each presents its own particular set of hazards. Suffice to say that each one should always carry its own particular warning and be stored or handled according to strict regulation.
Any container or receptacle that is not maintained or fit for purpose runs the risk of allowing that chemical to leak onto surfaces or be breathed in. Furthermore, changing containers or mixing chemicals is strongly advised against unless proper precautions are taken.
Corroded tins or leaking canisters can be a prime concern. Spillages should be attended to promptly, where reasonable, and the correct methods for cleaning up that particular substance should be deployed as per guidance.
Unsafe Transportation And Storage Of Hazardous Chemicals
The transportation, storage and disposal of dangerous spillages is also something that is regulated carefully. The Control of Substances Hazardous to Health Regulations 2002 provides legal guidance for the proper storage and moving of dangerous or toxic substances so that spillages and accidents can be avoided. 
It's essential that chemicals are never swapped or put into different containers without appropriate precautions taken. This runs the risk of them (depending on the chemical) eroding unsuitable receptacles and also being inaccurately identified during an emergency.
Employers (and employees) have a responsibility to understand the properties of hazardous chemical waste and how to handle or dispose of them correctly. Anyone who produces, transports or receives hazardous chemical waste should treat it in accordance with The Hazardous Waste (England and Wales) Regulations 2005.
Under certain circumstances, any business involved in recycling or waste procedures may have obligations under Registration, Evaluation, Authorisation and Restriction of Chemicals (UK REACH) to ensure chemicals are handled with the observance of safety. Organisations should identify and control the risks of substances that are manufactured and marketed in Great Britain.
Signs And Symptoms Of Chemical Burns
Whilst each chemical or hazardous substance may affect the body differently, there are general signs and symptoms that can apply to them all. After coming into contact with a hazardous chemical, you could experience any or several of the following:
Skin redness and irritation
Burning on the point of contact
Localised pain or numbness
Headache
Blisters or black dead skin
Vision disturbance, stinging if in contact with eyes
Coughing and shortness of breath
Faintness or dizziness
Irregular heartbeat
Cardiac arrest
The impact of exposure to chemicals cannot be underestimated. For example, prolonged contact with wet cement can cause dermatitis which may be a fairly straightforward illness to remedy, but exposure to benzene in crude oil can cause leukaemia. It's essential to get the chemical in question properly identified and treated, whatever the signs and symptoms of your chemical burn. You can do this by:
Seeking immediate medical attention after an accident
Retain evidence of the chemical that you came into contact with, such as via a photographs
Alert the relevant party immediately and report the accident
Chemical Burn Treatment And Recovery
A chemical burn could constitute a reason to seek medical attention and (depending on the severity) report the accident at work under the RIDDOR reporting process. Emergency first responders are trained to know how to safely address a chemical burn scenario. You may be taken to an Accident and Emergency ward at the hospital for further assessment. It can help if the team there are told:
How the injury happened
Name, strength, volume or quantity of the chemical that caused the burn
Length of time of contact with the chemical
In the emergency room, the patient would undergo an initial evaluation and their condition could be stabilised in the following ways:
IV fluids
Drugs administered to halt the chemical poisoning
Water irrigation of the burn sight
Wounds bandaged and medicating creams given
Breathing issues may require a tube in the airway
A tetanus shot
Also, after assessing the chemical involved, blood tests will be taken to see the extent of internal damage. In addition to this, the burns can be treated in a similar way to heat injuries with suitable medications like bandaging, creams and painkillers.
Long-Term Complications
It's important to note that there can be long term complications after exposure to chemical burns. Depending on the toxicity of the chemical and the length of time that the worker was exposed to it, they could require:
Surgery for severe burns
Skin grafts and reconstructive procedures
Plastic surgery requirements and skin grafting
Physical and occupational therapy to prevent scar tissue from limiting the range of motion
Counselling and psychotherapy for the shock or trauma
Many people suffer pain and scarring after a chemical burn accident. You could lose your eyesight or swallow harmful substances that lead to lifelong issues with your gastrointestinal tract.
A permanent disability could be the result of fingers or toes being burned away or needing to be amputated. In addition, the emotional trauma can create depression, anxiety and insomnia.
Just like fire burns, the consequences of an accident such as this can be life-altering and profound. People affected by injuries caused by chemical burns may take years to adjust to the change. Ongoing treatments and counselling services might be necessary long after the initial accident.
Chemical Burn At Work Compensation Calculator
Under the Health and Safety at Work etc. Act 1974, employers are potentially liable for costs associated with your injuries if their negligence caused them. Therefore, calculating compensation is possible by, firstly, sitting for a medical assessment with an independent medical professional.
The expert can look at the full extent of your injuries and then provide your personal injury lawyer with something called a medico-legal report. This report can act as evidence to prove:
The accident caused or worsened your injuries.
The severity of your injuries.
Impartial and unbiased, it aims to provide an accurate account of injury and prognosis in your case. Your solicitor can also use the report to help value your injuries.
In addition, a solicitor can cross-reference the report with injuries listed in a publication called the Judicial College Guidelines (JCG). The JCG provides award bracket amounts that aim to offer a consistent figure for various injuries. These figures can be based on the following:
Pain and suffering caused
Impact on mental health
Damage to personal relationships
Amenity in life
Mental health damage
Serious burns could detrimentally affect you in all the areas mentioned above. Because of this, the JCG reserves some of its highest award brackets to acknowledge just how devastating burn injuries can be. The compensation table below illustrates this.
Injury
Severity
JCG award bracket
notes
Dermatitis
(a) Both hands
£12,900 to £18,020
Cracking and soreness, persistent issues for years
Dermatitis
(b) One hand or both
£8,110 to £10,710
Significant period of recovery, but settling with treatment and/or use of gloves
Burns
Serious burn injuries
Likely to exceed
£98,380
Continuing pain and psychological injury
Scar
One noticeable or several small scars
£2,220 to £7,350
On the hand(s), arm(s) or leg(s) with some cosmetic deficit
Injuries affecting sight
(e) Complete loss of sight in one eye
£46,240 to £51,460
This takes some risk of sympathetic ophthalmia into account
Eye
(h) Minor
£3,710 to £8,200
Exposure to fumes such as smoke or splashed with liquids
It's important to note that these amounts are not certified or guaranteed. They are merely a guide amount.
What's more, if you can't see your injuries in the compensation table above, reach out to our advisors. They give free estimates of what you could claim.
Compensation For Medical And Other Expenses
After a serious chemical burn in the workplace, you could be subject to many additional demands on your finances as you try to cope and adapt. Compensation for financial losses caused by an injury is known as special damages.
A few examples might be:
Experiencing a loss of earnings due to from being unable to work
Loss of future income if your injuries mean you can no longer work in that role
Damage to your pension or attendance allowance
Extra help is needed as you recover at home
Adaptations to your home or car if you've suffered a disability that necessitates them
Travel costs to hospital or therapy appointments
Cosmetic surgery costs
Counselling and therapy costs that aren't covered by the NHS
Pain medications and creams
Forfeited deposits for events you could not attend
A No Win No Fee lawyer can work closely with you and help track and record this lost money both now and in the future. By compiling the actual cost of your injuries with receipts, bills, bank statements and invoices, it's possible to present an accurate picture of the full impact of the accident. You can then include this in your claim against your employer and potentially recover the costs.
No Win No Fee Chemical Burn At Work Compensation Claims
As you learn to adjust to life after your chemical burn accident, you may be considering claiming. It is not unreasonable to expect that employers should safeguard your safety at work and if a simple and avoidable failure caused all these problems, you could take steps.
When considering your options, you may decide that claiming against your employer is the right course of action, but how? A No Win No Fee legal arrangement can help.
When you work with a lawyer in this way, you enter into an agreement whereby their fees are only payable if your case wins. This means that there are no lawyer fees due upfront to secure their services or while the case progresses. It also means that if the case fails there are no lawyer fees to pay them at all.
No Win No Fee agreements can offer people the opportunity to access legal representation at no immediate cost. Consequently, this means there's little to stop you from starting a claim for compensation that can help with the expenses the accident caused.
Start Your Claim
If you suffered chemical burns and it wasn't your fault, we can help you seek compensation today. A chemical burn at work compensation claim could be possible with the right advice. Get in touch with our advisors today by:
Our advisors are available 24/7. What's more, they give free legal advice and you won't be under any obligation to proceed with the services of our personal injury solicitors. However, if you have a solid claim, our advisors could connect you with them.
Read More
Thank you for reading our guide and we hope that it has provided useful advice on chemical burn at work compensation claims. As well as personal injury guidance on this topic, we can help if you with:
Chemical Burn At Work Compensation FAQs
Below, we examine some commonly asked questions around this topic. Please don't hesitate to get in touch with our advisors if we can answer any other questions you might have about chemical burn at work compensation claims.
Can I claim for a burn at work?
Yes, it is possible. Although, simply sustaining a burn is not enough for you to be eligible to claim compensation. The injury must have been caused by negligence. Additionally, the negligence must have been carried out by somebody who owed you a duty of care.
Your employer owes you a duty of care under section 2 of the Health and Safety at Work etc. Act 1974. Therefore, if you have evidence to support your claim, then you may be awarded compensation if you can prove your injuries were caused by your employer's negligence.
You can also sometimes be partially responsible for a burn injury. If the remainder of the blame rests with your employer, then you could still be awarded a partial settlement.
How serious is a chemical burn?
The answer to this question can depend on a number of factors. For instance, different chemicals may react with your skin differently. Additionally, the amount of time that the chemical is in contact with your skin could influence the severity of the injury.
Some chemical burns may only be minor. However, some can be much more serious and can leave lasting damage with ongoing issues. The impact the burn has on your life going forward can affect how much compensation you receive as a result.
What type of injury is a chemical burn?
Chemical burns may cause damage to your soft tissues such as skin and muscle. Additionally, they could also injure your eyes or other parts of your body if hazardous chemicals come into contact with them.
In some roles, working with hazardous chemicals is part of the job. If so, it is up to your employer to supply you with necessary personal protective equipment (PPE) such as protective gloves and safety goggles. These can reduce the risk of chemical burns.
How long does it take for a chemical burn to heal?
It depends on the severity of the burn and the chemical involved. Very caustic acids and agents can cause severe skin damage and injury to tissue. Burns like this can take months to heal.
What personal protective equipment should I be given?
By law, your employer has a duty to properly assess the risks of your role and if there's a requirement for personal protective equipment, they should supply it free of charge. However, employees also have a duty to use it properly and as intended.
Is my employer always responsible?
Employers are not automatically liable or responsible for chemical accidents in the workplace. Staff have a duty to ensure that they follow training guidelines and behave accordingly when handling chemicals. Therefore, check with our advisors to see if your employer is liable.
How long will a personal injury claim take?
There are no absolute timescales for a personal injury claim. It is reasonable to expect to hear something within 6 months of a claim. There is generally a three-year time limit for starting a personal injury claim for compensation. This timescale can commence from either the exact day of the accident or from when you first became aware of negligence at least contributing to your injuries.
Thank you for reading our guide to chemical burn at work compensation.
Written by Waters
Edited by Victorine