Make A Claim If Injured When Working Through An Agency
By Danielle Jordan. Last Updated 17th July 2023. Working as an agency worker can sometimes lead to injuries or illnesses with many people wondering if they can file a work-related compensation injury claim and to who it should be filed against. The answer is yes you can, and you may be entitled to file an agency worker injury compensation claim.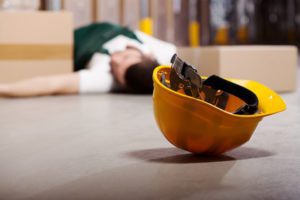 Select A Section
What Are My Employment Rights As An Agency Worker?
Let's take a look at your employment rights as an agency worker.
Under UK law, all employees, workers and staff must be treated equally because they are entitled to "workers employment rights". These rights come into effect the moment you begin working for an employer. The law applies to all employees regardless of whether they are full time, part time or agency workers. Employment rights encompass personal injury claims for accidents in the workplace. Should you be injured whilst at work through no fault of your own, you may be entitled to file for compensation for the injuries you sustained. Under UK law, you may be entitled to agency worker injury compensation.
UK legislation clearly states that all employees, workers and staff are treated equally and that they have the same worker's employment rights from the first day they start start work for an employer as those of permanent staff. Agency workers along with temporary staff and contractors must be treated in the same way as permanent staff by employers and their work colleagues.
Agency workers, part time staff and contract workers who use the same facilities as permanent employees have the same worker's employment rights which includes having to use the same car park, canteen facilities, pick up and drop off services and/or any other communal facilities and services an employer provides and this includes a workplace crèche.
If you have worked for the same employer for an extended period of time, your situation changes from temporary to permanent. Your agency worker's rights after 12 weeks of employment for the same employer where your duties are the same as those of permanent staff, allow you to qualify for the right to be paid the same salary as that of a permanent employee. You would also be entitled to the same annual leave and you would automatically be enrolled into a company's pension scheme. As such, agency worker rights to permanent employment after 12 weeks remain the same with the difference being you would be entitled to all the benefits that come with a permanent job structure.
It is also worth noting that as an agency worker, an agency is obliged under the law to draw up a contract of employment that clearly stipulates whether you are under a contract for the services you provide or whether the contract is one of employment and it must include details of your agency worker notice period amongst other things.
Our team of our legal advisers can help you through the process of lodging a claim having successfully won many agency workers injury compensation claims for clients in the past. We would assess your case and advise you whether you have a strong case to claim agency worker compensation.
Can I Make A Claim For An Accident At Work?
If you are working through an agency and injure yourself, you may wonder if you are eligible to claim personal injury compensation.
According to the Health and Safety Executive (HSE), an agency worker refers to an individual who is supplied by an employment agency to work for another employer. Once the employment agency has introduced the worker to an employer, the relationship between the worker and agency ends, and the employer has a responsibility for worker's health and safety in the same way they do for any employee. If this duty is not upheld, it could lead to a workplace accident in which you're injured.
In order to be eligible to make a claim for an accident at work, you must be able to prove that:
You were owed a duty of care.
This duty was breached.
You suffered an injury at work as a result.
The duty of care that employers owe is found in the Health and Safety at Work etc. Act 1974 (HASAWA). This means that your employer must take all reasonably practicable steps to ensure your health, safety and welfare at work.
If you have evidence that this duty was breached, and you became injured as a result, call our team on the number above.
Do Employers Have A Duty Of Care To Agency Staff?
Employers have a duty of care to all people in their employment which includes agency staff. The Health and Safety at Work Act 1974 clearly lays out that all employers have a duty of care to ensure that employees, staff and workers whether temporary, permanent, contracted or agency are kept safe whilst in their employment.
Under the Health and Safety at Work Act of 1974, all employers have a responsibility towards their staff and this covers all aspects of an employee's rights. As such, they have the duty of care to ensure the following:
To ensure that all employees work in a safe environment
To provide relevant training to all employees
To provide the correct protective clothing and equipment to suit the job
To ensure that all machinery, equipment and tools are correctly maintained and are in good working order to minimise the risk of potential injury
To ensure that the workplace complies to all current health and safety standards as set out by law
To ensure that all staff/employees are made aware of potential hazards and dangers in the workplace and how they can minimise the risk of injuries occurring
To provide PPE for temporary workers as well as permanent staff
When an employer fails to comply with any of the above and you are injured through their negligence, you could be entitled to file an agency worker injury compensation claim for any damages you sustained through no fault of your own. Many agency workers ask us who their claim should be filed against and whether it should be lodged against the agency that contracted them to work for an employer or the employer directly.
Agency workers also ask us "can agencies charge for PPE"? The answer is no, whether it is returnable or not. However, if an agency worker's employment is terminated and the PPE is not returned, providing their contract of employment clearly stipulates its return, an employer could deduct the cost of replacing the PPE from an agency worker's pay.
Who Is Liable If Injured When Working Through An Agency?
When filing an agency worker injury claim, there are several things that factor into who would be held responsible for your accident. However, when working through an agency, the person in charge of the business, company or facility would give you all the instructions relating to the job you are contracted to carry out. As an agency worker, you would be seen as an "employee" of the company you are contracted out to. Therefore, you are entitled to receive employee "protection" as well as any relevant "benefits" which could include sick pay for agency workers. In short, if you are injured in the workplace, the company that hired you through the agency would be held responsible for the incident because they are the owners or managers of the business and you could be entitled to sick pay for agency workers.
This means that when you are employed as an agency worker in an office or other workplace and you suffer an injury through no fault of your own whilst at work, you could be entitled to file for temp agency workers compensation from the business owner or its operator. You would not file your claim against the agency that contracted you to work for the business where the incident occurred.
So, when do temp agencies pay workers comp? When an agency controls how the work you are contracted to do is carried out, the agency could be liable for your injuries. The agency is responsible for ensuring that all their agency workers are equipped with the correct tools for the job and that they are provided with appropriate protective clothing as well as given the proper training to carry out the work. In short, if your injury occurs while you work under the direct instructions of an agency, the agency would be responsible for the incident and would be liable to pay compensation for the agency worker injury you sustained while under their control.
Our team of legal experts can provide the right guidance as to who would be liable for your injuries and would walk you through the process of filing a No Win Fee compensation claim once your claim has been thoroughly assessed and we establish that you have a strong case for employment agency workers compensation against an employer or an agency.
What Steps Should You Take After Suffering An Accident Or Injury?
If you suffered an agency worker injury, there are specific steps you must take at the scene of the incident as quickly as it is feasibly possible. These are as follows:
Take down witness details: These details may be required when filing for compensation for an agency worker injury
Take photos of the incident and where it occurred: Having photos of the accident and the injuries you sustained strengthens an agency worker injury compensation claim
Make sure the accident is reported: It is essential that the accident be reported to an employer or person in charge who must record the incident in the company's accident report book
Seek medical attention as soon as possible: It is also important that you seek medical attention as soon as possible. An agency worker injury solicitor may appoint a medical professional to carry out the examination who would file an official report on your injuries, all of which strengthens a compensation claim and would have a direct impact on the settlement you are awarded having suffered an agency worker injury
Working With An Agency – How Long Do I Have To Claim If Injured?
You may be wondering, 'can I claim compensation at any time after my accident?'. You must start the legal process within the personal injury claims time limit. This is set as typically three years by the Limitation Act 1980. The time limit starts the day you suffered your workplace injury.
However, there are exceptions that suspend this time limit. These include:
Children under the age of 18. The time limit is suspended until their 18th Once the time limit starts, it is set at three years.
Adults who lack the mental capacity to start their own claim. However, should they regain their capacity, they will have three years from that date to start a personal injury claim.
In either of these cases, a litigation friend can be appointed to start a claim on behalf of the injured party at any point during the suspension. However, if a claim is started by a litigation friend, the injured party cannot start one once the time limit ceases suspension.
If you suffered injuries while working with an agency, call our advisors for a free claim evaluation. We can help you get started right away if your claim seems valid.
Compensation Payouts If Injured When Working Through An Agency
The amount awarded would depend on several factors which includes the following:
The severity of your injury
Whether you need to undergo further treatments
The pain and suffering you experienced
Special damages
When it comes to special damages, these refer to any further costs you might have incurred which includes the following:
Medical fees
Travel expenses
Loss of earnings
It is also worth noting that you could also claim compensation should the injury you sustained while working as an agency worker negatively impact a pre-existing health condition. Below is a graph showing the levels of compensation you might be awarded should you have suffered an agency worker injury.
| Injuries and other reasons for compensation | Compensation awarded for slight to more severe injuries | Details |
| --- | --- | --- |
| Back injuries - minor to very severe | Up to £2,450 to £160,980 | Slight back injuries that heal relatively quickly to life altering, debilitating back injuries |
| Arm injuries | £6,610 to £130,930 | Slight arm injury where recovery is achieved in 3 months to more debilitating upper limb injuries that are life altering |
| Chronic pain | £21,070 to £84,010 | Moderate pain to complex regional pain sydrome (CRPS) |
| Asthma | Up to £5,150 to £65,740 | Mild asthma to more permanent, debilitation asthma |
| Elbow injuries | Up to £12,590 to £54,830 | From slight injuries where recovery takes 3 months to more debilitating elbow injuries resulting in significant disability |
| Hearing loss (d) (i) | £29,710 to £45,540 | Severe tinnitus or partial hearing loss. |
| Dermatitis | £1,710 to £19,200 | Mild dermatitis to very serious dermatitis that will last for years |
We would assess who is responsible for your accident and answer any questions you may have which includes "do temp agencies pay workers comp"? We would establish that an agency has staffing agency workers comp insurance. We would establish if a business owner could be held liable to pay the compensation you rightly deserve having filed a claim against them.
Can I Claim On A No Win No Fee Basis?
Legal advice is expensive which puts people off making a claim for compensation which they deserve after suffering an injury through no fault of their own. No Win, No Fee solves the problem because there are no upfront fees to find.
The structure means anyone who sustains an injury in the workplace, can seek compensation. These days, many solicitors work on a No Win, No Fee basis taking on the risk and you only pay if your compensation claim is ruled in your favour. You would not pay a solicitor any money at all if your claim is unsuccessful.
A No Win No Fee solicitor recovers all costs directly from the amount awarded which is typically agreed in advance. A Condition Fee Agreement or CFA is drawn up detailing the percentage you would have to pay if your case is successful. The CFA is a legally binding document between a solicitor and the claimant.
Talk To Us Today
To find out more about our No Win No Fee structure and to obtain the fastest response to a personal injury query, your can either contact us by telephone or you can email us at the email address below.
Call us on 0800 073 8804, the advice line is available 24-hours, 365 days a year and you can request a "call back" if more convenient
Email: office@legalexpert.co.uk – we endeavour to answer emails within 3 hours, Mon-Fri.
Useful Links
The link below takes you to the Government website where you will find lots of valuable information about your agency worker rights:
The link below takes you to the ACAS website which offers a lot of information about workers rights when working through an agency:
ACAS advice on agency worker rights
Below, you can find a list of guides which may tell you more about accident at work claims: