Royal Navy Accident At Work Claims Guide
Have you been involved in a Royal Navy accident at work? Do you feel that the accident that lead to your injuries could have been prevented had the right health and safety procedures been followed? This is something that Legal Expert could help you with. We have many years of experience in the industry, and a knowledge base that spreads over decades. You can call us to discuss the specifics of your case – the number you need, 0800 073 8804, will put you through to a knowledgeable member of our team. However, before you do so, we advise you to read on to find out information you may need to know about making a claim for a Royal Navy accident at work.
Select A Section
A Guide To Compensation Claims For An Accident At Work In The Royal Navy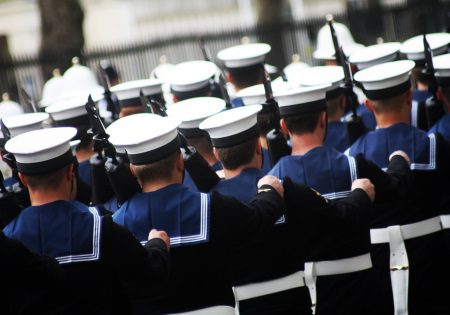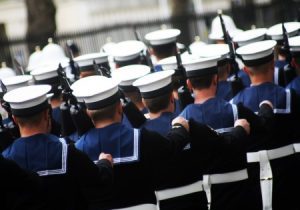 If you have been involved in a Royal Navy accident at work, this guide should give you all of the information you may need if you are thinking about making a claim. We will take a look at some examples of accidents that could occur, from armed forces exposure to asbestos to Royal Navy helicopter crash. We will also explain the process of making a claim, as well as giving you an insight into the amount of compensation that you may be awarded. If you still have queries by the time you get to the end of the guide, all you need to do is give us a call and we will explain further.
What Are Royal Navy Accidents At Work Claims?
A Royal Navy accident at work claim is an unexpected incident which has presented itself causing a member of the Royal Navy to become injured or made ill due to negligence on the part of the Armed Forces who have breached their duty of care. The first thing a personal injury solicitor will want to establish is whether you have a valid claim. There are three things you must look at. Firstly, it's important to be able to show that someone else who owed you a duty of care was responsible for the accident you was involved in which subsequently lead to your injuries. The Royal Navy owe all employees and military personnel a form of duty of care which if breached could lead to injury or illness.
It's also advised that you see a doctor for your injuries, as the medical report they provide is quite often the most imperative piece of evidence in any case. If you have not seen a doctor yet, though, this is something your lawyer, once you have one, can arrange for you  – often locally within your area.
Finally, there is usually a three year limit on most personal injury cases. Meaning you have three years from the date of the accident or three years from the date you became aware of the diagnosis.
What Workplace Accidents Could Happen In The Royal Navy?
There could be different scenarios which may cause an accident which may result in an injury or illness involving an employee of the Royal Navy. In this guide we are not only talking about negligent accidents that may occur we will also discuss about being put in certain situations that may lead to illness due to exposure of dangerous substances. Below we have provided information on potential situations that could cause injury or illness due to negligence.
I Was Injured During Military Training What Am I Entitled To?
There is no denying that training for the military can be rigorous and even dangerous. However if the accident causing the injury during training could have been prevented possibly if you had been better supervised or given more instructions, made aware of possible dangerous hazards then call Legal Expert today to discuss you eligibility for claiming.
Illness Caused By Exposure To Asbestos In The Royal Navy
Asbestos exposure could cause severe illness. If you have become ill due to previous exposure to asbestos and are unsure what you could do next, call Legal Expert and we can offer you free legal advice on what your next steps could be.
Below we have provided some information that may be of use if you are suffering an asbestos related illness;
What is asbestos?
This is a naturally occurring mineral, which was used on an extensive basis prior to 1970. It was thus used in cement, felt, cloth, tape, paper and more.
What can happen if you are exposed to asbestos?
Exposure to asbestos can be very dangerous. There is no 'safe level' of exposure, anything is deemed too much. Let's take a look at some of the diseases that could occur due to this mineral…
Asbestosis – This is scarring or fibrosis of the lungs. It causes increased coughing and breathlessness.
Pleural Thickening – This can cause your lungs to be impaired due to the thickening of the lung's lining. This causes trouble breathing and breathlessness.
Mesothelioma – This is an extremely fatal cancer of the abdomen or lining of the lung.
Lung disease or cancer – Lung disease or cancer could be associated with exposure to asbestos.
Claims for asbestos exposure
As you can see, the risks associated with asbestos exposure are not minor. It is widely accepted that prior to 1965 employers did not have the necessary knowledge to know about preventing such illnesses, and when you consider the typical three year time limit on personal injury cases, you may expect that it would be virtually impossible to claim for an injury from so long ago. Yet, there are indeed exceptions, especially when the effects of asbestos exposure occur over time. The personal injury claiming time limit for asbestos related illnesses begins when with the date of the diagnoses and not from when the exposure occurred.
Damaged Or Defective Equipment
If you are not provided with the right equipment, or you have been given equipment which is in need of repair, you could be injured. It is your employer's responsibility to make sure that all equipment is suitable for use. If you have been provided with equipment that was not fit for purpose and as a direct result it has caused you to injure yourself or become ill you may have the basis for a Royal Navy accident at work claim.
Industrial Deafness Or Hearing Loss
Deafness is not something we tend to think we will end up suffering from until we get a lot older. However industrial deafness could affect people who work in noisy environments or are exposed to noisy or load incidents while at work.
There is no denying that industrial deafness is the type of injury that can be extremely distressing. The thought of hearing loss is something that is very upsetting to some people. Sadly, industrial deafness is an injury that affects thousands of individuals situated in the United Kingdom every year. There are many different environments whereby hearing loss could occur. It is your employer's responsibility to ensure you are protected from such a possibility. They should provide protective equipment and such like. If they have not, and you can feel yourself losing your hearing, you could begin to explore workplace accident claims for industrial deafness.
So, what do you do if you believe your hearing has been damaged because of your workplace? The first thing you must do is see a medical professional. It's wise to go to see a doctor as soon as possible when you notice symptoms. It is imperative that an expert diagnoses you with industrial deafness if you are thinking about making an accident at work claim. They are also likely to provide some insight into whether your working environment caused the injury.
If you are suffering from industrial deafness due to being a member of the Royal Navy as you was not provided with the correct protective wear call out experts today and they could advise what to do next.
I Was Involved In A Helicopter Accident In The Royal Navy, Could I Claim?
Helicopters are often used in conjunction with the Royal Navy. Most warships have landings for helicopters, and those in the navy will often use helicopters to carry out their activities. It is vital that helicopters are constantly maintained and serviced so that any potential damage or hazards can be spotted right away and repaired, If you have been injured while using a helicopter in the Royal Navy and you feel that your injuries suffered could have been prevented had the correct procedures been followed we would like to hear from you. We can offer you a free consultation and advice on whether you are eligible to claim
Royal Navy Duty Of Care For Workplace Safety
The Royal Navy has a duty of care to protect its employees and military personnel from hazards of health and safety. The duty of care will come from the Ministry of Defence who are responsible for all Armed Forces. However it is important to note that when in combat the sense of duty of care may not apply.
Royal Navy Accident At Work Claims Through The Armed Forces Compensation Scheme
The Armed Forces and Government have established numerous compensation schemes, meaning your case could be handled slightly differently. The schemes are as follows:
Armed Forces Compensation Scheme (AFCS)
War Pension Scheme (WPS)
Criminal Injuries Compensation (Overseas) scheme
Compensation Calculator Accident At Work Claims
If you have experienced a Royal Navy accident at work, you might want to know about how much compensation you are going to receive. This is something that can be very confusing. Personal injury claims calculator tools that are available online might help, but we've done something on this page that we feel you might find easier to digest.  We have had a look at the guidelines amounts that have been presented by the Judicial Court for injuries that you may sustain at work. We have presented this information on the table below. If you cannot find what you are looking for, please do not hesitate to give us a call and we will shed further light for you.

| Injury Type | Amounts in Damages | Injury Information |
| --- | --- | --- |
| Brain Damage - Moderately Severe Brain Damage | £192,090 to £247,280 | Very severely disabled, the need for constant professional care. Disabilities present will be physical such as limb paralysis and also mental impairment. The level of the award will reflect on physical limitations, future deterioration, ability to communicate, dependence in others, behavioural problems, and future risk of further development of other illnesses. |
| Moderate Brain Damage | £37,760 to £192,090 | Brackets will start at how concentration, memory and ability to work are affected, intellectual deficit, some risk of epilepsy to a personality change, affect on senses but the dependence on others is lower than the above category. |
| Severe Neck Injury | £39,870 to £130,060 | Injuries starting with soft tissue damage, fractures and dislocations, ruptured tendons leading to chronic conditions, damage to discs in the cervical spine, which give rise to disabilities, substantial loss of movement in the neck and loss of function in a limb to neck injury associated with incomplete paraplegia or resulting in permanent spastic quadriparesis. |
| Moderate Neck Injury | £6,920 to £33,750 | The bracket starts off with moderate soft tissue damage, permanent recurring pain, stiffness, discomfort, possible need for further surgery, serious limitation in movement of the neck to fractures and dislocation causing immediate pain. chronic conditions, severe soft tissue damage. |
| Moderate Back Injury | £10,970 to £34,000 | Disturbance of ligaments and muscles, prolapsed discs, possible exacerbation of previous condition. The figure will reflect severity of the injury, degree of pain, extent of treatment. |
| Loss of One Arm | No Less Than £120,270 | Amputated at the shoulder. |
| Total or Effective Loss Of One Hand | £83,310 to £96,150 | Crushed hand that needed surgically removing, or fingers and most of the palm have been traumatically removed. |
| Amputation of One Leg | £91,910 to £120,530 | Amputation of one leg above the knee. Amount will be associated in regards to phantom pain, the use of prosthetic and any side effects. |
| Amputation of One Foot, | £73,620 to £96,150 | Amputation of one foot including loss of ankle joint. |
| Facial Scarring Very Severe | £26,120 to £85,340 | Cosmetically very disfiguring and affects on psychological reaction being severe. |
| Less Significant Scarring | £3,460 to £12,050 | One scar or smaller scares that could be covered up. |
| Severe Post-Traumatic Stress Disorder | £52,490 to £88,270 | Permanent effects which prevent sufferers from continuing with normal life activities and functions. |
| Moderate Severe Post-Traumatic Stress Disorder | £20,290 to £52,490 | Significant disability for the foreseeable future. |
What Can I Claim If Injured In A Royal Navy Accident At Work?
A lot of people may not realise that compensation for a Royal Navy accident at work is separated into two distinct categories. Firstly, you have those damages that cannot be quantified, which are general damages. This is the money you could receive in order to compensate you for the injury itself. It will usually be calculated based on your suffering and the impact the injury is going to have on your life. The other type of payout that you could receive is special damages. This is money you could receive for any out of pocket expenses you have suffered because of the incident in question. This might be anything from treatment costs to loss of income.
No Win No Fee Workplace Accident Claims Against The Royal Navy
We believe we are one of the UK's leading firms of this type. We have successfully helped personal injury victims for many years now. Therefore, you can be more than certain that we have the experience and the capability to deal with your case, no matter how unique the situation may be. The only thing you need to do is get in touch with us on our free legal helpline and we will answer any of the queries you have and ensure you are on the right path to getting the compensation you may deserve.
You will be pleased to know that all of our personal injury solicitors work on a no win no fee basis. This is extremely beneficial for you for several reasons. You can ensure you will benefit from a really good level of service, as the solicitor will also be impacted by the outcome of your Royal Navy accident at work case. Moreover, you do not need any money to begin your accident claim, which is usually a hurdle for many. A lot of people may also be worried about the huge financial risk associated with using a traditional solicitor, as the implications can be great if the case is lost. Using a no win no fee solicitor for your naval accident could lower this worry significantly.
Why Make An Accident At Work Claim With Our Team?
Have you been involved in a Royal Navy accident at work? Perhaps you have recently been diagnosed with repetitive strain injury? Maybe you were involved in a slip or trip accident? Perhaps you have been diagnosed with hearing loss? If you are unsure if your accident at work that lead to an injury or illness was due to negligence call Legal Expert they can offer you a free consultation.
It is wise to inform your employer and/or safety representative of what has occurred. By law, employers are required to have an accident book where they report any incidents, injuries, illnesses and such like. If you do not ensure your incident is recorded in this book, you could potentially experience hurdles later down the line if you decide to make an accident at work claim.
Legal Expert are one of the well-known firms here in the UK who are able to handle this type of case. We were established many years ago, and since then we have built up an exceptional reputation for helping personal injury victims to get the compensation they deserve. All of our solicitors work on a no win no fee basis, so get in touch today.
Contact Us Today
If you want to make a claim for a Royal Navy accident at work, all you need to do is give us a call on 0800 073 8804 to get started. You will speak to one of our friendly advisors. Or, you can leave your contact details via our homepage, as well as your preferred time for a call, and we will ring you. We also have a live chat feature on our website if you would rather chat to us via this manner.
Helpful Guides
Injured in the navy? Guidance for claimants can be found here.
Safety statistics from the MoD – You can see the statistics on this page.
Information on no win no fee – More information on the benefits of using this type of service.
Other Accident At Work Claims Guides