Principality Stadium/Millennium Stadium (Cardiff) Personal Injury Claims
Have you been injured in an accident at the Principality Stadium? This guide has been designed to answer any questions you may have if you are considering making a compensation claim for an injury suffered at a stadium.
Here at Legal Expert, we have many years of experience in the industry and we have helped many people to secure payouts for an assortment of personal injury accidents. Before you call us, at 0800 073 8804 though, read on to discover if you could make an injury claim for an accident at the Millennium Stadium.
Select A Section
A Guide To Personal Injury Claims At The Millennium Stadium
The Millennium Stadium, which people commonly refer to as the Principality Stadium, is home to the Welsh national rugby union team and the Welsh football team also play some matches there. It has also hosted many concerts, as well as other sporting events, such as boxing events. If you have been involved in an accident at the Millennium Stadium, or should we say an accident at the Principality Stadium, this guide provides information for what accidents and injuries may qualify for damages. This includes details on examples of potential accidents, from food allergies to slips and trips, as well as details on how to make a claim.
What Is An Accident At The Millennium Stadium?
An accident at a stadium could involve a spectator, employee, contractors, sportsperson etc and could relate to an event that is unexpected and causes an injury and damage.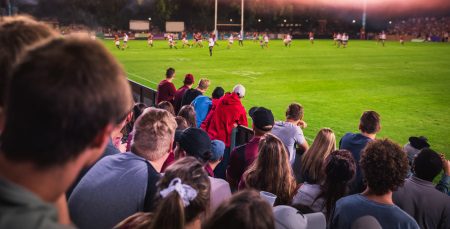 In order to determine if your accident at the Principality Stadium is worthy of compensation, there are a few things to consider as not all accidents are caused by a breach of the duty of care:
Who caused the accident at the Principality Stadium? The first thing you need to do is establish responsibility for the football stadium accident. Who is to blame for the incident that took place, if anyone? You need to show that someone else was responsible for the accident which caused your injury. Perhaps you suffered an accident at work at the stadium as your employer did not provide you with the right level of training? Maybe you were involved in a spectator accident that was caused because of poor health and safety.
Have you seen a doctor for your injuries? It is imperative to see a doctor, as they will put together a medical report, and this is essentially proof of your injuries and your suffering. This is sometimes the most important piece of evidence in a personal injury claim and it is often used to determine how much compensation you could receive. If you have not seen a doctor yet, don't panic, as this is something that we could organise for you.
When did the accident at the Millennium Stadium occur? Last but not least, the date of the accident is imperative, as there is a three-year personal injury claims time limit on most claims. There are some exceptions to the time limit. If you are unsure what the time limit is for your case call Legal Expert and they can shed further light on this.
Health And Safety At Stadiums And Arenas
If you have sustained an injury in an accident at the Principality Stadium due to negligence or a breach in legislation there are several pieces of legislation you could make a claim under. This includes:
Health and Safety at Work etc Act 1974
What Duty Of Care Does The Stadium Have To Spectators And Employees?
All stadiums owe their employees and spectators a duty of care. This means that they need to do everything in their power to assess health and safety risks and to reduce them. If they have failed to do this, it could possibly lead to an accident causing an injury.
Accidents Which Could Happen At A Sports Stadium
In the upcoming sections, we are going to take a look at examples of accidents and injuries that could potentially occur in stadiums in more detail. If you cannot find the accident and injury you have sustained, please do not panic. Call us and we can discuss your case with you using our free consultation.
I Slipped At A Football Stadium, Could I claim?
If you have been involved in a slip or trip accident at the Principality Stadium, and it has caused you an injury in order to be able to pursue a personal injury claim your injury solicitor will have to prove that it was caused due to a breach of duty that was owed to you. You certainly cannot claim if you have fallen due to your own clumsiness. There are so many different ways that slip, trip and fall accidents could happen, for example, you could have fallen because of a broken pavement or pothole, you could have slipped because the cleaner had mopped the floor and not put the wet floor sign up, you could trip if the floor or stairs are defected or if a handrail is missing or loose when using the stairs.
Accidents Caused By Poor Maintenance Or Disrepair
If grounds and facilities are not properly maintained at the stadium, but are left in disrepair people could be injured. It is vital that all facilities at the stadium are well maintained, serviced and repaired or replaced if necessary to stop spectators as well as employees and anyone who has a reason to be on the stadium premises from getting injured or harmed.
I Was Injured Due To A Broken Chair, Could I Claim Compensation?
If you are injured due to a broken or faulty chair, maybe you injured your back when the chair collapsed, maybe another spectator fell into you causing an injury when their chair broke, soft tissue injuries as well as fractures could be potentially caused due to broken chairs causing victims to fall on the floor. If you have suffered an injury to a broken chair call and speak to one of our expert advisors who will be able to tell you straight away if you are eligible to pursue a claim.
Injuries Caused By Assaults
Suffering an injury is always distressing, but it could be made even worse when the injury experienced was due to an attack when you least expect it. Accidents are, of course, upsetting and could have a negative impact on a person's life. Yet, the worry tends to be maximised when you have suffered an injury as a part of an attack.
Nonetheless, we don't want you to fret. Legal Expert could take the worry off your shoulders with our excellent and proven service. But first, let's get rid of all of those questions you may have by revealing some of the most frequently asked questions regarding making a personal injury claim for criminal injuries.
Could I claim without reporting the matter to the police? If you are to claim through the CICA the incident must be reported to the police.
Would I have to go to court? Again, there are no guarantees, as it all depends on your case. Nonetheless, it is very unlikely that you would have to go to court.
The police decided to take no further action with my case, could I still claim? Yes, if you have reported the matter to the police but they have decided to take no further action, you could indeed still claim for an attack.
If you have suffered an unprovoked attack while watching a football match at the Principality Stadium and would like to pursue a criminal injury case please contact one of our advisors today.
Food Allergy Illnesses
It may be difficult to establish who may be liable if you suffer an allergic reaction to food or drink at a stadium. But we could help with that, by calling us we could advise who would be liable if anyone for you suffering an allergic reaction.
I Suffered A Workplace Accidents Working At The Millennium Stadium, What Am I Entitled to?
If you have been involved in an accident at the Millennium Stadium while working there, you could be able to make a claim if your employer or another member of staff in some way is responsible for your accident which has caused you to be injured. Your employer has a duty to provide a safe and healthy work environment. This includes conducting risk assessments, providing PPE, offering the right level of training, and much more. If this has not happened, and as a result you have suffered an injury or illness you could be able to make an accident personal injury claim.
Injuries Caused By An Event On The Pitch
Pursuing a compensation claim due to the actions from the pitch can be complex and difficult. For examples, if you are hit by the ball that has come off the pitch within the terms and conditions when buying a ticket you are made aware that such actions could take place and possible waiver you right to claim. If you are unsure whether this applies to your accidents the easiest way to get an answer is to call Legal Expert they will be able to tell you right away if you are eligible to claim or not.
Steps To Take If Injured At A Sports Stadium
Read on to discover some top tips for strengthening your case if you are making a claim for an accident at a stadium.
Get Medical Attention – It is imperative that you go and see a medical professional after your accident. A lot of people may make the mistake of failing to do this. Of course, if you have suffered a severe injury you could have no choice. However, a lot of people may suffer minor injuries and so they may elect to cope with them themselves. This may be error, as you may need proof of your injury in order to claim successfully. Don't worry if you have not seen a doctor yet, though, as this is something your chosen lawyer could organise for you.
Get A Good Solicitor – It's a good idea to have a quality personal injury lawyer on your side if you are to have a really good chance of making a successful claim. Luckily this is what Legal Expert could help you with. Give us a call and we could match you to a quality no win no fee personal injury solicitor from our team that could handle your case for you.
Keep Note Of Any Expenses – If you receive compensation it could be split into two areas. Aside from being compensated for your injuries, you could also receive compensation for out of pocket expenses. This includes costs you endured because of the accident. Therefore, this could be anything from loss of income, to childcare fees, to travel expenses, to medical costs, and much, much more.
Witness Details – If there were people who witnessed your accident at the Principality Stadium you should try and get their details. This could help your case massively. Of course, it is not always possible. If you didn't think to do this at the time of the accident it could be very hard to get the details of the people that were there.
What Could I Be Compensated For?
How is compensation calculated? Compensation for falling at a football stadium or any other type of accident is calculated based on two things.
Firstly you could receive money for your injury. The amount is determined based on the severity of your injury and the impact the accident at the Principality Stadium has had on your everyday life.
The second bit of compensation is calculated based on the out of pocket expenses you have encountered because of the accident.
Personal Injury Calculator For Accident Claims And Injuries
You may wish to know how much compensation you are going to get if you make a claim for an accident. You may have assumed we would present you with a  personal injury claims calculator.
Instead, we have given you something a little different. Here, you can take a look at the guideline amounts that have been offered by the Judicial Court for certain personal injury claims injuries. You may find this information in the table below. If you have any further questions, simply give us a call.
Type Of Injury
Compensation Amounts
Notes
Severe Fractures to Fingers
Up to £36,740
Fractures to multiple fingers. The amount will be concerned with whether there will be future amputations of the fingers, deformity and impairment of grip.
Facial Scarring
£9,110 to £30,090
Significant scarring to the face reduced by plastic surgery leaving cosmetic disability.
Moderate Knee Injury (i)
£14,840 to £26,190
Dislocation, torn cartilage or meniscus which results in minor instability, wasting, weakness or other mild future disability.
Moderate Achilles Tendon Injury
£12,590 to £21,070
Rupture or significant injury to the tendon. The amount awarded will be based on recovery, pain, functionality and any disability.
Moderate Psychological Injuries
£5,860 to £19,070
A person's ability to be able to function and cope with work, family and other parts of life. Possible future vulnerability. However improvement is expected and future prognosis is good.
Fracture of Clavicle
£5,150 to £12,240
The award will be concentrated on the level of the fracture, disability, symptoms and if there will be any permanent effects.
An Uncomplicated Colles' Fracture.
In the region of £7,430
Distal forearm fracture in which the radius is bent.
Food Poisoning (iv)
Up to £3,950
Pain, cramps and diarrhoea continuing for some days or weeks.
Minor Neck Injuries (ii)
£2,450 to
£4,350

Soft tissue injuries that will fully recover in 3 to 12 months.
No Win No Fee Compensation Claims For Accidents Against The Millennium Stadium
Cost is always an important factor when using any service, and there is no difference when it comes to seeking a personal injury solicitor. In fact, it is even more so important, as you need to discover whether the cost of their service is worth the potential gain. In fact, one of the things you could do is use a no win no fee solicitor.
Why? Well, you don't need any money to begin your claim for the accident at the Principality Stadium you were involved in. Moreover, the financial risk that is associated with using a traditional solicitor is eliminated. Here at Legal Expert, we promise a no win no fee service every time.
Contact A Solicitor Today
If you have been involved in an accident at the Principality Stadium, and you are ready to make a claim, or you simply have a query about the duty of care to spectators at sporting events in the UK, please do not hesitate to get in touch with us.
There are many different ways you could do this. We have a live chat feature on our website. This will connect you with an advisor immediately. Aside from this, you could enter your contact information and we will call you back. Or, why not give us a call on 0800 073 8804? We look forward to hearing from you.
Related Resources
More information on Football Stadium Claims – Another definitive guide on football stadium accidents.
Spectator injuries – Information on spectator injury claims
Edited By Melissa.