Mountain Bike Activity Personal Injury Claims Explained
Mountain bike activity personal injury claims may be something you need to consider after being injured? Do you work at an outdoor activity centre and were hurt by poor standards of health and safety?
Perhaps you are a customer or service user who was given a mountain bike to use that was damaged? Or did a negligent instructor take you or your child on a hill or forest trail that was too rigorous for your level of experience?
In this guide, we explain what you can do to seek compensation from the party who failed to apply proper health and safety precautions. Looking at the severity of the injury and how this has impacted your finances, evidence can be used to calculate a compensation amount. Our advisors can assess your mountain bike activity personal injury claim in minutes. Find out more by:
Speaking to our advisors who can offer free legal advice on 0800 073 8804
Contact us and request a call back online
Use the 'live support' option below
Or read the sections below and click on the highlighted text for more advice
Select A Section
What Are Mountain Bike Activity Personal Injury Claims?
What exactly is a personal injury claim involving a mountain bike? At work and in public leisure venues there are laws that apply a common duty of care to employers and service providers to ensure they have taken reasonable steps to keep those who use their services or who are employed safe.
The Health and Safety At Work etc Act 1974 requires employers to take all reasonably practicable steps to keep employees safe. So an eligible claim can be started by any employee of an outdoor activity centre who is harmed if expected to use a faulty mountain bike or traverse an unsafe terrain.
The Occupier's Liability Act 1957 likewise expects all those in control of spaces accessible to the public to apply similar safeguards. This means ensuring that all public facilities are safe, fit for purpose, and used in accordance with health and safety guidelines.
The Adventure Activities Licensing Authority (AALA)
In addition, under the Health and Safety Executive (HSE) The Adventure Activities Licensing Authority (AALA) programme ensures that activity providers follow good safety management practices that allow users (especially young people) to experience thrill-seeking outdoor activities like mountain bike riding without being exposed to avoidable risks of disabling injury or death.
There are limits to what employers and operators can be held liable for. Both employees and members of the public have a duty to safeguard their own well-being, follow instructions and use facilities in the correct way.
However, if you were injured because of an obvious lapse in the expected standards of health and safety, you could start a mountain bike activity personal injury claim against that party.
Types Of Mountain Bike Activity Injuries
Mountain bike accidents can be of a serious nature. This type of activity takes place on terrain that can be quite treacherous. Not all accidents will mean that another party is to blame. It is only when accidents caused by a breach in the duty of care that the injured party becomes eligible to pursue a claim
Some examples of injuries that could be caused by a mountain bike accident include:
Cuts and abrasions from falling off the mountain bike.
Joint Sprain issues can arise when a ligament is torn or stretched.
Knee or lower back pain can be triggered by overuse on a route that is too demanding.
Fractured sternum from impact with heavy handlebars
Concussion from falling off a bike on difficult or overly rugged terrain
Fractured clavicle (broken collar bone) injuries or other broken bones
Multiple injuries can arise from collisions with other riders on a poorly organised course.
Speak to our team for guidance on mountain bike activity personal injury claims if you are unsure about your case.
How Common Are Mountain Biking Accidents?
The British Journal of Sports Medicine provided some statistics that show the type of injury sustained in rural mountain bike accidents out of 84 patients in one year: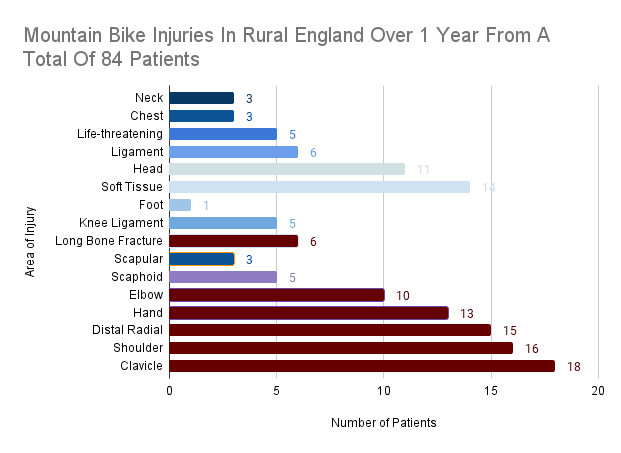 Source: https://bjsm.bmj.com/content/35/3/197
How To Claim For A Mountain Bike Activity Accident
Mountain bike activity personal injury claims need to show that either your employer (if you were injured at work) or the activity provider where you were riding failed to safeguard your health and wellbeing as much as they should have. In order to do this, there are some steps that you can take to gather supporting evidence:
Firstly, have your injuries properly attended to and if an employee, log the accident formally
Ask others if they would give a witnesses statement to your solicitor (if you choose to use one)
Try to obtain CCTV footage if possible
Access your medical records to have ready as proof
Take pictures of the faulty bike or signposts of the track you were on
Connect with a personal injury specialist to start a claim or commence one independently.
How Long Do You Have To Claim?
The Limitation Act 1980 applies time limits to personal injury claims. With this in mind, there is a three-year period to commence a mountain bike activity personal injury claim normally. This period can start from:
Either the date of the accident or injury itself
Or the date that you first began to suffer symptoms.
In addition to this, there are some exceptions. If the injury happens to someone under the age of 18, the three-year period can commence from the date of their 18th birthday. Effectively giving them until age 21 to start a claim. Or an adult can start a claim on behalf of a minor or someone who lacks the mental capacity to represent themselves.
This role is that of a litigation friend. It can enable an adult or concerned party with the person's best interests at heart to assume the duties of the case for them.
Mountain Bike Activity Personal Injury Claims Calculator
Claim calculation uses two types of damage called general and special. General damages require a medical report that shows how badly injured you are and then compares your injuries with those listed in a publication called the Judicial College Guidelines.
These amounts offer an estimate, not a guaranteed amount to acknowledge the pain and suffering or loss of amenity caused by the injury. Below is an excerpt from the JC Guidelines to show what may apply in a personal injury claims:
Type of Injury
Severity and JC Guideline Award
Supporting Notes
Head
(c) Moderate Brain Damage (i) - £140,870 to 205,580
Damage to personality, intellect, sight, speech or senses
Head
(e) Minor Head or Brain Injury - £2,070 to £11,980
Takes into account length of recovery and any continuing symptoms
Neck
(a) Severe (ii) - £61,710 to £122,860
Cervical spine fractures causing permanent nerve damage and loss of function
Collarbone (Clavicle)
(e) Fracture of the Clavicle - £4,830 to
£11,490
Depends on severity and extent of fracture, if temporary or permanent
Back
(b) Moderate (ii) - £11,730 to £26,050
Disturbance of ligaments and muscles that may exacerbate pre-existing conditions
Wrist
(b) Wrist Injuries - £22,990 to £36,770
Cases of permanent disability but some remaining useful movement
Pelvis
(b) Moderate (ii) - £11,820 to £24,950
Injuries sufficient enough to warrant hip replacement surgery
Knee
(b) Moderate (i) - £13,920 to £24,580
Dislocations, torn cartilage that leaves instability, wasting and worsens other conditions over the years
Ankle
(c) Moderate - £12,900 to £24,950
Ligament tears and fractures that cause walking or standing problems
Foot
(f) Moderate - £12,900 to £23,460
Metatarsal displaced fractures causing permanent symptoms and deformity.
Special damages are the second amount that may apply. In order to claim for these, receipts, statements, and other documentation must show financial loss attached to the injuries. So, for example, you may be able to prove:
Medical costs
Physiotherapy or counselling sessions
Travel expenses to get to hospital or work
Damage to your bike
Talk to our team for more help on this. Alternatively, you can use the compensation claims calculator we provide.
How We Could Help With Mountain Bike Activity Personal Injury Claims
At Legal Expert, all our solicitors work under a No Win No Fee arrangement. They can assess mountain bike activity personal injury claims and possibly take yours up under a No Win No Fee agreement. Generally with a No Win No Fee service there are no up front fees, only a maximum 25% fee from the settlement if you win. Nothing is due to your solicitors if the case is unsuccessful.
Why not learn more about how No Win No Fee agreements could help you by:
Related Sports and Activities Claims
In conclusion, as well as mountain bike activity personal injury claims, we look at related topics in the helpful links below:
We have lots more guides on personal injury claims which you can browse below: 
Guide By Jefferies
Edited By Melissa.