Tummy Tuck Negligence Claims Abdominoplasty Goes Wrong? How Much Compensation?
By Stephen Hudson. Last Updated 6th June 2022. In this guide, we'll explain how tummy tuck negligence and abdominoplasty negligence claims work. When receiving cosmetic surgery such as a tummy tuck, the aim of it is usually to make you feel better about yourself and your appearance. A tummy tuck procedure could help to boost your confidence and reduce anxiety and stress when engaging in social activities.
However, unfortunately, a botched tummy tuck will do the complete opposite and make people feel worse mentally and physically than they did before. If your tummy tuck goes wrong because of medical negligence, you may wish to make a claim against the hospital or clinic where the procedure was carried out.
We are able to advise and guide you on the best action to take and to help you launch your tummy tuck claim. Please read on for further information on what to do following a tummy tuck that's gone wrong. Alternatively, you can call 0800 073 8804 for free legal advice or to start your claim. Or fill out our online contact form.
Select A Section:
A guide on a tummy tuck gone wrong (abdominoplasty) claims
When a tummy tuck procedure goes wrong, it can be extremely distressing and cause an incredible amount of stress and anxiety. In addition, it can cause physical pain and possible sickness, having an impact on every area of a person's life. In cases where you have experienced a similar incident, you may wish to make a claim for compensation.
Read on to learn more about tummy tuck negligence claims. Find out about the process of making a tummy tuck claim, potential tummy tuck compensation payout amounts, your potential eligibility to claim and evidence you could use to support a tummy tuck gone wrong claim. Additionally, we'll look at examples of how medical negligence could lead to a botched tummy tuck procedure.
What is a tummy tuck (abdominoplasty)?
A tummy tuck procedure will be undertaken to remove surplus skin and fat around the abdomen area. By doing this, the result will be a flatter, firmer-looking stomach.
People who want to have this kind of surgery are usually those that are looking to remove sagging, loose skin, often caused by a significant amount of weight loss.
There are three main methods of tummy tuck surgery, which we have explored in the sections below.
Standard Abdominoplasty
This is performed under a general anaesthetic and is one of the most common tummy tuck methods to be undertaken when wanting to create a flatter, tighter stomach.
To begin with, an incision is made along the lower abdomen and sometimes also around the belly button.
Then, the surgeon will remove excess skin and fat and tighten the stomach muscles. This is the contouring process.
The skin then gets stretched down, and the surgeon will close the incision. There is then another incision made to be able to reposition the belly button.
Partial or mini-abdominoplasty
This procedure can be performed under general or local anaesthetic as it is less invasive than other techniques due to there being no need to move the belly button. This technique is usually recommended for people who want surplus skin and fat removed from the mid to lower abdomen.
Firstly, a small incision is made just above the pubic area.
Then any excess fat will get removed, and the muscles tightened.
Afterwards, the surgeon will stretch the skin down towards the incision. Before stitching the incision shut, any excess tissue will carefully be removed.
Extended abdominoplasty
This procedure involves the removal of both skin and fat from the lower abdomen. Also, tissue is removed for the back, waist, and upper thighs to reshape the abdominal area. This is performed under a general anaesthetic.
The muscular wall is then readjusted, the skin is stretched down just as is done with all the other tummy tuck procedures, and a new incision is made to relocate the belly button.
Find out more about abdominoplasty negligence claims by reading on, or get in touch with our team today for free legal advice. 
Cosmetic surgery statistics
According to data released by the British Association of Aesthetic Plastic Surgeons (BAAPS), there was a decrease of 24% in the number of cosmetic surgical procedures undergone as a whole between 2019-2020.
The graph below highlights the top surgical procedures for men and women in 2020. The figures are based on data released by the BAAPS.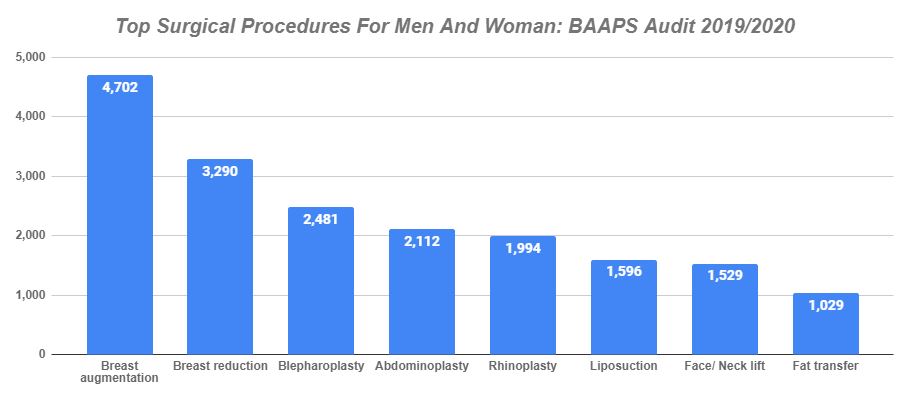 As you can see, abdominoplasty was one of the top surgical procedures for men and women in 2020.
It's important to note that the information provided above is not in relation to negligence. Many of these procedures will be completed with no complications. But if you're a member of the unfortunate minority who has suffered from an injury due to negligence, then get in touch with us today to find out more about tummy tuck negligence claims.
What to do if your tummy tuck plastic surgery goes wrong
If you have undergone tummy tuck surgery that has gone wrong, it is very important to gather as much evidence as you can to support your tummy tuck negligence claim. This may include the following :
Gather details regarding the procedure.
Try to gather as much information as you can to do with having the tummy tuck that's gone wrong. This could be any documents you may have received from the clinic or hospital or correspondence with them regarding the procedure before and after it took place. Also, any notes you have personally made or information you have collected yourself should all be included. Write down everything that has happened, no matter how small, so that you don't forget anything that could be important in building a strong case.
Visit a medical professional.
It is important to see a doctor about your bad cosmetic surgery results as they will be able to assess you thoroughly and write a medical report on how bad your tummy tuck problems after surgery are. Also, the report could show the recommended course of treatment and how long the tummy tuck side effects recovery time could be, and how this is having an impact on your life both mentally and physically.
All of this medical information can be used as evidence in your botched tummy tuck claim to highlight whether a medical professional acted negligently by failing to take reasonable steps to prevent you from sustaining further or avoidable harm.
Providing photos of the before and after can really strengthen your claim that your tummy tuck has gone wrong as they provide visual proof of the complications with which you are suffering.
You should also keep proof of any expenses you have had as a direct result of having the tummy tuck procedure. Expenses may include, not only the cost of the procedure itself but also any costs such as travel, childcare, prescriptions, loss of income and counselling.
Continue reading for more information about the tummy tuck negligence claims process, or contact our team today to start your claim. 
Can I claim for a botched tummy tuck negligence?
If you have had a tummy tuck that's gone wrong due to medical negligence, you may well be entitled to make a cosmetic surgery compensation claim.
Medical negligence involves a trained healthcare professional failing to provide you with the expected level of care. As a result, you may experience additional harm or harm that could have otherwise been avoided had the correct care been provided.
A compensation claim can be made for any physical or psychological distress caused as a direct result of clinical negligence whilst carrying out the tummy tuck procedure.
A claim may also potentially be made for tummy tuck complications years later if they are a direct consequence of having a botched tummy tuck.
However, you should be aware of the time limits for NHS claims or claims made against a private facility. Call our team for more information as there may be exceptions that apply to your case.
How to begin a tummy tuck plastic surgery compensation claim
If you have had plastic surgery that's gone bad such as a tummy tuck gone wrong, then you may be entitled to claim compensation. You must provide evidence in support of your claim though. If you would like to go ahead and launch a claim, then simply give our team a call, and they will advise on how to start the process. Our solicitors have years of experience in claiming compensation and have helped many people get the compensation they deserve.
Once you have called, an advisor will give you a free consultation session to determine your needs. This will give you the opportunity to ask any questions you may have and also give our team the chance to ask you some questions so that they can understand exactly what you are going through or have gone through so that we can give you the correct advice for your situation. We can even arrange a local medical if required at no extra cost to you. This can produce a medical report that can be used as medical evidence in support of your claim, to highlight the current state and the full extent of your botched tummy tuck.
Then with your permission, we will proceed with making your claim on a No Win No Fee basis. What this means is that you will not be required to pay an upfront cost for a solicitor to begin working on your claim.
If you're wondering what can be included in abdominoplasty negligence claims, then our next section will be of use to you. 
What can be claimed for after a botched tummy tuck cosmetic surgery?
There are a number of things that you could claim when making tummy tuck negligence claims.
Cosmetic surgery claims in the UK might comprise general damages. This is the compensation you will receive for the injuries you have sustained and the physical pain and psychological suffering you have had to endure.
Additionally, your claim might include special damages. These compensate you for any past or future financial losses, such as:
Care Claim – If you have needed help around the house, then the person who has been helping you can file a care claim.
Loss of Earnings – Any income that you have lost and any future income that may be lost can be claimed back.
Travel Expenses – This relates to any costs of travelling to and from the hospital, but in addition to these, it can also cover any costs caused by needing vehicle adaptions or alternative transport arrangements during your recovery.
Medical Expenses – This will cover the cost of the treatment, prescription fees, counselling or other medical bills.
For more information on abdominoplasty negligence claims for surgeries that have resulted in death, please read on to the next section. 
Who can claim if a family member died during cosmetic surgery?
If a patient dies due to medical negligence, the deceased's spouse or immediate family may make a claim for wrongful death. But they would need to prove that the death was caused by the medical professional's negligence and that they have suffered as a result of the death.
Don't hesitate in getting in touch with us so we can help you determine where you stand in making a claim.
Plastic and cosmetic surgery UK and associated claims
Plastic surgery UK is the area of surgery that specialises in reconstructing and repairing damaged or missing skin and tissue. Examples of plastic surgery procedures are repairs to cleft lip and palate, areas of the body altered by the removal of cancerous tissue such as in the breast, and repair and reconstruction to severe burns to name just a few.
Plastic surgery can be carried out on the NHS or privately. There are many plastic surgery procedures carried out every single day that have no associated problems, but unfortunately, you do hear of bad plastic surgery stories.
Surgery often carries risks and there are some cases where a patient might suffer further harm but not because of negligence. To make a medical negligence claim, the harm has to have been avoidable.
By taking bad plastic surgery photos, the claimant will be able to provide good visual proof of the injuries sustained. Sometimes complications can occur at some point quite a while after the procedure has taken place, and so bad plastic surgery photos before and after can be especially useful when making a claim a while after the incident.
Tummy tuck gone wrong in cosmetic surgery claims
Cosmetic surgery is much the same as plastic surgery but is slightly different in the fact that it is usually carried out for cosmetic purposes only, although sometimes it can have a medical purpose too. Two examples of cosmetic surgery are tummy tucks and liposuction. Again, just as is the case with plastic surgery, things can go wrong, and complications of tummy tuck and liposuction procedures can occur, resulting in compensation claims.
Free tummy tucks in the UK can be performed under the NHS if a doctor has referred the patient. More often than not, though, people will pay tummy tuck prices to have the procedure done.
When deciding to have either plastic or cosmetic surgery, in-depth research should be carried out by the patient themselves on the particular surgery they require to ensure they are aware of all the facts. It's always important to look at both the pros and cons of undergoing any kind of surgery, and extra care should be taken when researching the downsides. Researching bad plastic surgery before and after cases and looking at cosmetic surgery gone wrong photos can often be enough to change someone's mind about undergoing such procedures, particularly when it is purely for cosmetic reasons.
I am not happy with my plastic surgery, can I claim compensation?
Most people who have plastic surgery do so to improve their appearance and the way they feel in themselves. After the recovery period, they should be able to get on with their lives as normal and would expect to feel a lot happier and confident. However, this isn't always the case.
Unfortunately, sometimes things can and do go wrong, which can result in the patient having physical injury and pain, along with tremendous psychological damage with the anxiety and stress related to having something go wrong with their plastic surgery.
If you have experienced botched plastic surgery as a result of negligence, then you may wish to launch a compensation claim sometime after the recommended recovery period. Just call us, and we can answer any questions you may have.
For more information on tummy tuck negligence claims and abdominoplasty negligence claims, please read on or get in touch with us today for free legal advice. 
I have severe scarring following an incident of tummy tuck negligence, can I claim compensation?
Some scarring is to be expected to a certain extent when undergoing a tummy tuck NHS procedure. However, the scarring could be more severe due to negligence.
For example, you may have developed an infection due to receiving poor aftercare for your wound. As a result, you may have experienced a longer recovery time and further harm in the form of severe scarring due to the infection.
It would be helpful for you to gather any evidence that shows your scarring to be more severe than it should have been, such as tummy tuck complications photos that you could take as visual proof.
During your free consultation, we can gather all the facts to get your claim well underway.
I developed DVT following an incident of tummy tuck negligence, can I claim compensation?
DVT (deep vein thrombosis) is one of the risk factors of undergoing a tummy tuck. Before undergoing any kind of surgery, your medical history should be checked to find out if you are at greater risk of developing a DVT, and your surgeon should take this into account.
If they failed to take reasonable steps to prevent this complication from arising, such as providing compression stockings for you to wear during and after your surgery, get in touch with our team.
We have many years of experience in dealing with plastic surgery negligence cases, and we can determine if you have a case during your free consultation session, and you can be assured that we will get you the compensation you deserve if you choose our service.
I had an infection following my tummy tuck surgery, can I claim compensation?
Getting an infection following surgery is always a possibility. However, if you have had an infection due to poor hygiene procedures and practices at the clinic or hospital where you had the procedure, then you could make a claim.
Not only can you launch a claim for your suffering due to the infection, but also for any medical expenses such as prescription fees and any loss of earnings that may have occurred if you have been unable to work as a direct result of the infection. Call us today, and we can advise you on the best action to take.
If you're wondering what the most common complications are that might lead to tummy tuck negligence claims and abdominoplasty negligence claims, then our next section will help; simply read on for more information. 
The most common types of problems following a tummy tuck
A recovery period of about three weeks or so should be allowed following a tummy tuck procedure before making a claim as there will ultimately be some pain in the weeks immediately after, and so you should give a bit of time to see if this eases first.
However, there are a variety of symptoms that patients may suffer from that can indicate negligence by the surgeon. Some symptoms are more common than others, such as:
The belly button is repositioned incorrectly.
Deformity of the skin contouring due to excess tissue not being removed sufficiently.
Nerve damage leading to a loss of sensation in the affected area.
Avoidable scarring.
Pain in the abdominal area that won't go away.
Puckering of the skin around the incision scar line.
Abdominoplasty surgery complications seroma (fluid collecting around the wound on the abdomen).
What are the risks of having a tummy tuck?
All surgery procedures, unfortunately, come with some risks. But exactly what are the risks of having a tummy tuck?
There are anaesthesia risks – this is when complications can arise from the use of an anaesthetic to either numb an area or put the patient to sleep, ready for the procedure to begin.
Bleeding.
Infection.
Fluid accumulation – this can be fluid (seroma) or blood (hematoma) collection under the skin.
Skin loss.
Poor wound healing.
Numbness or other changes in skin sensation – possibly due to nerve damage.
Asymmetry.
The fatty tissue found deep within the skin may die (fat necrosis).
Skin discolouration and/or swelling that doesn't go down.
Inappropriate scarring.
Suboptimal aesthetic result – meaning the result is not as attractive as expected.
Following on from your surgery, if you have experienced any of these complications or any other problems that we may not have mentioned, then don't hesitate in contacting us today to find out more about tummy tuck negligence claims and abdominoplasty negligence claims.
Tummy tuck negligence resulting in death, can I claim?
As with any surgery, there are risks that come with it. Many complications can occur, and although it may be rare, sometimes with surgery, including tummy tuck, risks of death are just as possible.
In the sad and unfortunate event of a person's death occurring due to a procedure involving a tummy tuck that's gone wrong, the deceased's spouse or immediate family could make a claim for wrongful death. We would urge you to contact us so we can delicately go through the details with you to help you make a claim.
Our next section will look at some of the values attached to tummy tuck negligence claims and abdominoplasty negligence claims. 
Compensation Payouts For A Tummy Tuck Gone Wrong In 2022
One of the first thoughts that may spring to mind if you're able to start a claim is, how much compensation will I receive? However, there are so many variables that it is virtually impossible to predict a precise figure without knowing the specific details of your case.
Every botched tummy tuck cosmetic surgery claim is different and so cannot be based only on one standard claim amount. Having said that, what we can provide you are compensation brackets which can provide some indication based on past negligence claims.
We have created a table using the Judicial College Guidelines (JCG) which is a document detailing bracket compensation awards for various injuries. The document is often used to help value tummy tuck negligence claims along with any medical evidence you provide in support of your claim.
| Injury Description | Severity | Compensation Bracket |
| --- | --- | --- |
| Psychiatric Damage | Moderately Severe | £19,070 to £54,830 |
| Psychiatric Damage | Moderate | £5,860 to £19,070 |
| Psychiatric Damage | Less Severe | £1,540 to £5,860 |
| Post-Traumatic Stress Disorder | Moderate | £8,180 to £23,150 |
| Post-Traumatic Stress Disorder | Less Severe | £3,950 to £8,180 |
| Body Scarring | Numerous noticeable laceration scars or a single disfiguring scar on the chest (can apply to scars on other body parts too). | £7,830 to £22,730 |
| Body Scarring | One noticeable scar or several superficial scars. | £2,370 to £7,830 |
| Mental Anguish | Reduction in expectation of life/fear of death. | £4,670 |
| Minor Injuries | Complete recovery within three months. | £1,370 to £2,450 |
For more details on No Win No Fee tummy tuck negligence claims and abdominoplasty negligence claims, please read on. 
No Win No Fee botched tummy tuck cosmetic surgery claims
One of the great benefits of our service is that we work on a No Win No Fee basis. So, what does No Win No Fee actually mean for you?
It means that you will pay a success fee if your claim is a success. This will be taken as a legally capped percentage from your overall compensation settlement. The fee will be discussed with your solicitor beforehand so you can understand how it works and what it covers.
However, if your tummy tuck gone wrong claim is unsuccessful, you won't pay solicitor fees. Also, there is no upfront cost needed for your solicitor to start working on your claim. There are also no ongoing costs that need to be paid while your claim proceeds.
If you were to choose a solicitor that charges by the hour, then you could potentially end up with large legal fees regardless of whether your claim was successful or not.
For more information on No Win No Fee agreements, call our team.
Top Tips On Claiming For A Tummy Tuck Gone Wrong
If you suffered medical negligence and have decided to make a claim, here are our top tips on claiming for a tummy tuck procedure that has gone wrong:
Get legal advice

: You are not legally required to use a solicitor, however, it may be the most effective way to get the most out of your claim. A tummy tuck procedure is a form of cosmetic surgery that aims to make you look and feel better. Since a

botched tummy tuck

can lead to cosmetic deformations and may also cause psychological damage, it is taken seriously.

Tummy tuck complications

may result in other health challenges both at present and in the future and so specialists may better help you take steps to get the compensation you deserve. Our solicitors are specialists in medical negligence and have many years of experience in

cosmetic surgery claims.

Call us using the number at the top of the page. 

Claim within 3 years:

The legal time limit for making a claim is 3 years. This time limit means that you must make a claim within 3 years of the date the incident happened. However, the three-year time limit could also begin from the date of knowledge which is the date you became aware that negligence caused or contributed to the harm you sustained.

Keep records of costs

:

A tummy tuck gone wrong

is such a serious situation that it's easy for the costs to rack up. Examples of such costs can be costs of medication to control infection, cost of corrective surgeries and other costs. If there are no receipts to prove these costs, you may not be able to include them in your claim.
You can get more tips from our guide on doctor GP negligence claims.
Why choose us as your claims service for your botched tummy tuck surgery claim?
There are many personal injury law firms, but we firmly believe that you wouldn't find a better firm than ours to secure your compensation claim. We have years of experience specialising in personal injury claims such as yours. We have a fantastic track record of successful claims for maximum payout amounts for our clients frequently, and we're authorised and regulated by the Solicitors Regulation Authority. You only need to look at all the great feedback we have received; our reputation speaks for itself.
We are honest, reliable, caring and won't let you down. We understand that you are going through a tough time at the moment and will do our utmost to make the process of your tummy tuck negligence claim run as smooth and as quick as possible, so you don't have to deal with any extra stress or worries. We will keep you informed every step of the way and will focus on securing your tummy tuck compensation, and you can focus on taking care of yourself.
Call for free advice and to start a claim
If you have any queries regarding botched tummy tuck cosmetic surgery claims or believe you may be entitled to compensation, please do not hesitate to call us on 0800 073 8804.
Your call will be answered by a member of our friendly and professional team who will be able to assist you in any way that they can.
They can answer your questions around tummy tuck negligence claims and abdominoplasty negligence claims.
They'll explain the next steps in the claiming process and begin launching your botched tummy tuck claim to secure the payout you deserve.
Useful links
This link takes you to the NHS guide on cosmetic surgery which helps readers ascertain whether cosmetic surgery is the right path for them
This takes you to the CQC website where you can look up cosmetic surgeons to perform an abdominoplasty.
This takes you to the NHS guide on plastic surgery. This is a very informative guide giving an overview of what plastic surgery is used for, techniques, complications and risks etc.
If you have been affected by medical negligence, contact us today to see if you can start a No Win No Fee medical negligence claim and get free advice.
This guide explores making a claim for a serious injury caused by negligence.
Visit this guide for information on claims for injuries caused by beauty treatment.
Read our guide on wrong-site surgery and how you could claim compensation.
This helpful guide will provide information on clinical and medical negligence claims.
Further Compensation Guides
Tummy tuck negligence claims – FAQs
What is surgical negligence?
Surgical negligence is where the standard of care you received during surgery has fallen below that which would be expected of a competent medical professional.
How long does the tightness last after a tummy tuck?
After a tummy tuck, you can expect the tightness to last 6 to 12 weeks, although it may take up to a year for the area to feel completely normal again.
What is the average payout for medical negligence?
It's difficult to say. As well as the payment for your injuries, which will vary depending on how badly they've affected you, you'll also receive special damages for any financial losses you've experienced. This will vary depending on individual circumstances.
How can I prove medical negligence?
The best way to support a medical negligence claim is to collect evidence. Taking photographs of the site of the injury and healing process, as well as getting a second opinion from a medical professional, can help you strengthen your claim,.
Will my case go to court if I claim against the NHS?
According to NHS Resolution's annual report, less than 1% of claims against the NHS in 2019 went to trial, a decrease of 0.1% on the previous year.
Do I need a solicitor to make an abdominoplasty negligence claim?
It's not compulsory to hire a solicitor to make a claim for medical negligence following abdominoplasty surgery. It is up to you whether you have legal support for any potential medical negligence claim. However, we would recommend seeking legal advice from qualified experts if you ever do consider a medical negligence claim for abdominoplasty negligence or other issues. A solicitor who has previous experience in handling such claims can prove invaluable, since they can guide you through the process and take on a lot of the workload and pressure from you.
Can I make a claim against the NHS after 10 years?
Usually, no. The personal injury claims time limit is three years from the date that the accident or incident took place. However, if it takes some time for the symptoms of your injury to present themselves, then these three years will run from the date of knowledge.
What can I claim for following tummy tuck negligence?
If you can start a claim for tummy tuck gone wrong, then you may be able to receive a payment for the injuries caused by the negligence. This may include things like scarring and psychological damages. You may also be able to claim special damages to cover things like loss of earnings for any time taken off work and payments you've made for medication or further treatment.
You can speak to an adviser about tummy tuck negligence claims and abdominoplasty negligence claims by contacting Legal Expert today. You can reach us using the contact details included within this guide.