Wokingham Personal Injury Solicitors – No Win No Fee
By Daniel Ledson. Last Updated On 20th September 2021. If you're looking for personal injury solicitors who covers the Wokingham area because you've had an accident in the area, then you've come to the right place. Legal Expert are specialist personal injury solicitors and, we are able to make claims for the most accidents in the area so long as it was caused by somebody else.
This guide will show you how to choose the right legal team to make your claim, the types of claims we commonly deal with and explain how No Win No Fee claims work.
Contact details
Our advisors are here and ready to answer your questions. Get in touch if you have anything you'd like to know regarding your claim.
You can call us on 0800 073 8804
You can talk to us about your claim online, by filling out our webform
Use the pop-up chat window in the corner
How Legal Expert are best placed to help you make a claim
When looking to make a personal injury claim it may seem quite a complex and daunting task but don't worry. There is plenty of legislation in the UK that is designed to ensure that people are safe while they're at work and also in other places which, if you're involved in an accident, also means it is easy to file a compensation claim against the person who caused your injuries.
Our panel of accident solicitors are available to you to help you decide if you want to make a claim and what it's chances of success are.
When are you eligible to make an accident or injury claim?
When looking at making a claim for an accident in Wokingham there are a number of things to establish first of all. All personal injury solicitors need to:
Prove that the person you are claiming against (such as employer, local authority, business owner or healthcare authority) owed you any sort of duty of care.
They then need to prove that the duty of care was breached.
And finally, there needs to be evidence that shows that the breach caused the accident in which you were injured or became ill.
It is very advisable to begin your claim as soon as possible because your solicitor will need as much time as possible to gather all of the evidence that will support your claim. If you are unsure if you can prove all of the above points then call our team and discuss the details with them, they have been dealing with personal injury claims for many years and understand what will and won't prove liability for an accident.
Why it is vital to have the best legal team for your claim
Solicitors in the UK are regulated by the Solicitors Regulation Authority but that doesn't mean every solicitor works in the same way. Service levels offered by different solicitors can vary a lot and, as injury compensation has a range of payments, a more experienced personal injury solicitor can often get a better payment from higher up the allowed scale.
Should I read reviews of Wokingham personal injury solicitors Or Claims services that Cover the area?
When looking at reviews online for solicitors that deal with personal injury claims (ours can be found here), you should look at how many previous clients have had successful claims, how much praise there is within the reviews and look for examples or case studies of payments they have secured.
Compare and contrast different solicitors as some pay out higher amounts than others due to them taking a smaller success fee if they win the case meaning that the client gets paid more of the compensation.
Why the location of your legal team does not matter when being able to successfully claim compensation.
There is no requirement for a solicitor to be based in the area that the accident happened or in the area that the defendant is based. Generally, claims are handled by telephone, email and letters in the post, so the location of the office is irrelevant. It is essential to choose a solicitor with years of expertise in personal injury claims rather than where they are based.
One part of the claim that we will always deal with locally is any medical examination that is required, and we'll choose on of our medical professionals that is based in your area to conduct these.
Injury and accident claims our team could handle
Our team of personal injury solicitors can deal with any claim for compensation where somebody else was to blame for the accident. Our personal injury solicitors often deal with cases such as the ones listed below:
Illness or injury caused by an industrial disease
Industrial illnesses and diseases can be caused by years of exposure to a particular substance or by years of completing the same task over and over. The effect on the body can be cumulative and not be diagnosed for many years after the illness was first beginning to develop.
Industrial disease is a phrase use to categorise a whole range of conditions, some common claims for industrial illnesses that we deal with include: Vibration white finger, Repetitive Strain Injury (RSI), Industrial deafness and chemical poisoning.
Lung diseases, unfortunately, occur fairly regularly in the workplace. HSE stats estimate that occupational lung diseases were responsible for around 12,000 deaths in 2019/20. The specific diseases are shown in the graph below.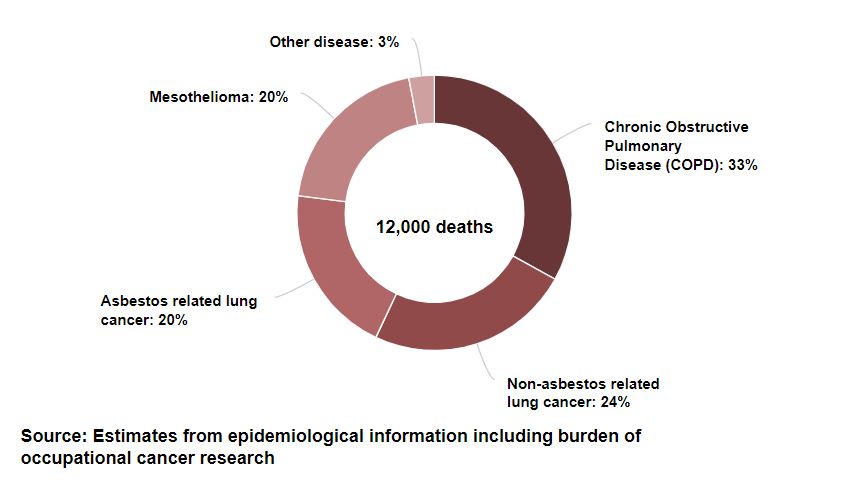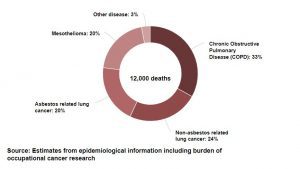 Harm caused by medical negligence or malpractice
Medical negligence can be one of the more complex claims that a medical negligence / personal injury solicitor might have to deal with. Usually, the injury will be caused by a doctor, nurse, surgeon, care worker, dentist or cosmetic surgeon but the claim would not normally be made against an individual – it would be against the health authority responsible for the establishment where your injury happened.
A medical negligence claim can be caused by the wrong treatment being administered, an error in treatment, misdiagnosis or even delayed treatment or testing. Claims don't have to be against the NHS, any licensed medical facility operated by any private care operator can be claimed against if they caused you to become ill or injured while undergoing any form of treatment.
Accident at work claims
Your employer, under the health and safety at work act, has a duty of care to protect you from becoming injured or ill while completing your work. If you've had an accident at work and it could've been avoided had your employer done something differently then you could make a personal injury claim for instance:
If a piece of machinery or equipment was being used while it had a fault.
If safety equipment was not provided.
If the working environment was not safe.
If you've had an injury in your workplace and want to know if you're eligible to claim them, please call our team for advice.
Injuries caused by slips, falls, and trips
Accidents involving slips and trips are some of the most common types of accidents that occur, and they can happen just about anywhere from: the workplace, in a shop, in a hotel, walking in the street and just about anywhere else you can think of. The types of injuries that can be inflicted vary from very slight injuries to life-changing injuries.
If you've been hurt following a fall and believe it was caused by somebody else, then let us know the details and we'll work out if you have an eligible claim.
Accidents leading to serious forms of injury
Serious injuries are those that have a life-changing effect on a claimant. That could be a physical change or a mental one, but it will either cause the claimant to have to change their lifestyle or somebody who has to care for them. Injuries such as paralysis, amputations and brain damage often fall into the serious injury bracket and a personal injury solicitor should be used to gain the compensation for your injuries. It could be the case that you are going to need this compensation to make the necessary changes to help to cope on a day to day basis.
Fatal accident statistics
There are also numerous cases each year of fatal accidents. In 2020/21 alone, 142 workers lost their lives in workplace accidents. Some industries carry more risks, and so fatalities can occur more frequently than others. As you can see from the graph below, construction is one of these industries.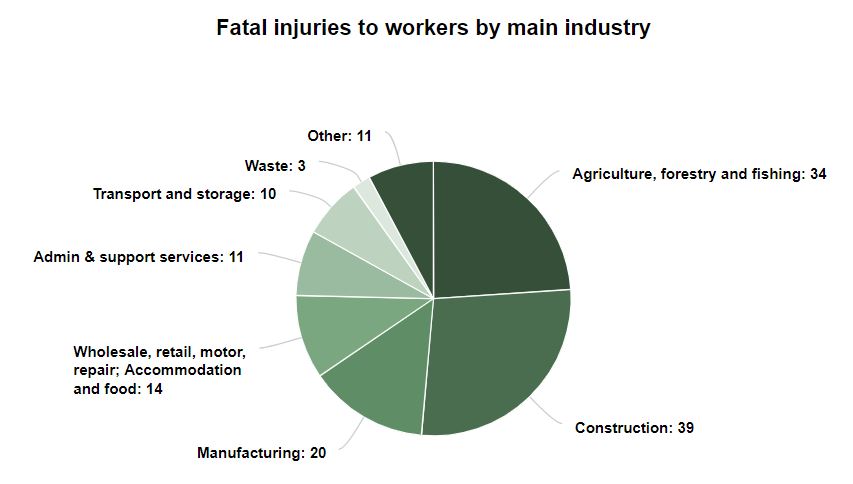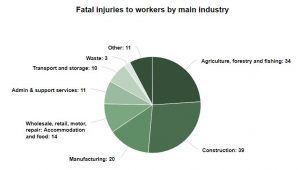 Road traffic accident and injury claims
Another common claim that our personal injury solicitors deal with is road traffic accidents. Our specialists can help anyone involved in a collision, whether that be a driver, passenger or pedestrian to make a claim against the insurance company of the driver that caused the accident. It is worth noting that it is also possible to file a claim even if the other driver is uninsured or never gets identified due to leaving the scene of the accident.
No Win No Fee personal injury claims solicitors services
A No Win No Fee claim is the most popular method of claiming insurance because the claimant doesn't need to come up with any funds to pay for the solicitor's time and, if they are unsuccessful, the claimant doesn't have to pay anything at all to the solicitor.
A solicitor taking on a No Win No Fee case will usually begin with a free consultation to understand the claimant's side of the story, what happened, where it happened, what caused it and what injuries were sustained because of the accident. They will then seek legal and medical advice to ensure that the claim is sound before agreeing to take the case forwards.
At this point a No Win No Fee agreement is drawn up and will explain how much the solicitor will charge if they win the case. This is usually a percentage of the compensation and is only payable if the solicitor wins compensation.
Once the solicitor has gathered all of the evidence to support the claim, they collate it and make a claim via the defendant or their legal team and await a response.
Once a response is received the solicitor will discuss it with the client and decide if to accept any offer that has been received, refuse it, counter it or take the case to court (which is very rare in our experience but is always an option we consider).
How do fees work for this type of claim?
There is no fee to pay your solicitor if they don't win you any compensation at all, which makes the claim risk free and is why No Win No Fee is so popular. If your solicitor wins the case and compensation is agreed, then you'll pay an amount that was agreed in your No Win No Fee agreement (a percentage of the compensation).
For more information on the Legal Expert No Win No Fee service please click here
How can I begin a claim and what else do I need to know?
If you still have questions following this guide then don't worry, we understand. We're happy to offer any more advice that you need. You can find more information in any of our other guides or you can contact our team (contact numbers are below) and we'll be happy to answer any queries. Getting a trusted legal partner, like Legal Expert, is paramount when making a claim and is why we're happy to offer free legal advice if you're considering making a personal injury claim.
How to contact our team today
Now that you've read the whole of this guide about the advantages of personal injury solicitors, you're now ready to begin your claim with Legal Expert. If that's the case, then you can make contact with us by:
Remember, we're more than happy to help with any advice, even if you're not quite ready to begin your claim straight away.
Helpful services and contacts in Wokingham
If you've been involved in an accident in Wokingham that wasn't your fault then, as well as contacting Legal Expert, here are some more organisations that you may need to contact such as the police, hospital and courts in Wokingham:
Local Police
London Valley Police Station
Rushey Way
Lower Earley
Berkshire RG6 4PS
Tel: 101
Crown Court
Hearing Centre
160-163 Friar Street
Reading
RG1 1HE
Tel: 0118 987 0500
Web: https://courttribunalfinder.service.gov.uk/courts/reading-county-court-and-family-court
Local Hospital
Wokingham Hospital
41 Barkham Road
Wokingham
Berks RG41 2XR
Tel: 0118 949 5000
Web: www.nhs.uk/Services/hospitals/Overview/DefaultView.aspx?id=34238
Further information that may help you with making a decision about your personal injury claim can be found in these articles from our archive:
NHS Negligence – A guide about clinical and medical negligence claims against the NHS
Road Traffic Accidents – A more detailed guide about road traffic accidents and what types of injuries can be claimed for
Further Helpful Articles
Thank you for reading our guide on Wokingham personal injury solicitors.