Grimsby Personal Injury Solicitors – No Win No Fee Claims
By Daniel Fox. Last Updated On 15th September 2021. Welcome to our guide on Grimsby personal injury solicitors. Claiming compensation after being injured in Grimsby for an accident or for a work-related injury, road accident or in the case of medical negligence is something you may be entitled to do. There are criteria that need to be met but just as important is making sure you have the right personal injury solicitor for your claim. Take a look at what is involved in making a claim for compensation and how to find the personal injury solicitor right for you by calling 0800 073 8804.
Jump To A Section
How Our Specialist Injury Claim Team Can Help You
Legislation concerning personal injury and work-related accident and illness compensation claims has been around for many, many years. It is a specialist area of law which is why Legal Expert's panel of solicitors is compromised of some of the most experienced personal injury lawyers across the UK.
With many years of experience advising claimants on the likelihood of their compensation claim, the Legal Expert panels of solicitors have helped thousands of claimants.
But time is of the essence. There is a three-year deadline on personal injury compensation claims. Within this period, if you intend to claim compensation, you must lodge your complaint.
The deadline begins to tick from the date you received your injuries if you were hurt in an accident, road traffic collision or another incident. For people with industrial diseases or other work-related injuries, such as vibration white finger, industrial asthma etc., the deadline begins from the moment of diagnosis.
When Do I Qualify To Make A Personal Injury Claim?
To make a claim, the Grimsby personal injury solicitors or those covering this area you choose to use will need to demonstrate that;
You were owed a duty of care by the defendant, such as your employer
This duty of care was breached, that is the accident that happened
And that this breach caused you to be injured, such as a broken bone or to suffer from an illness, such as industrial asthma or vibration white finger
Even though we have stated you have three years within which to make your claim, it is important to understand that the sooner you begin your case, the better. This is because to demonstrate the breach in the duty of care, your lawyer will need to present a case based on sound evidence. The evidence is easier to collect and more accessible in the immediate aftermath of an accident or injury.
Advice On How To Find The Right Solicitor For Your Personal Injury Claim
With something as important as claiming personal injury compensation, you need to be confident you have the right personal injury lawyer for you and your case.
All solicitors are regulated by the Solicitors Regulation Authority (SRA), the body that ensures that the high standards of practice expected from a solicitor are met.
What this doesn't mean is that the level of service you receive will be the same from one solicitor to another. You will have specific needs relating to your case and you want to be confident that the personal injury lawyer has what it takes to see your case to its conclusion.
Claims for personal injury compensation can take several months to resolve. In the cases relating to severe, life-changing injuries or fatalities, it can take years to bring them to a conclusion.
Thus, you need to ask yourself – is this the best personal injury solicitor with a high level of service to help me win my case?
Rated And Reviewed Solicitors
Like most things, you will probably research and review the personal injury solicitors who you think may be able to bring your compensation claim to a successful conclusion. There are many ways you can review potential personal injury solicitors.
Online reviews – what do previous clients say about their service? As well as testimonials that the personal injury solicitor provides, take a look online to see if there are reviews on independent review sites about how the solicitor handled previous cases, what they specialise in terms of personal injury claims, how approachable they were, their fee structure and so on.
Talk to them – there is no substitute for talking to a personal injury lawyer directly about your case. You'll want to know if they have handled cases like yours before but you also want advice regarding your own specific case and the chances of success.
It is very important to ask the solicitor about their fee structure. With No Win No Fee, you may not pay anything if you lose your case but you will if you win your compensation claim. And you want to know how much a personal solicitor in Grimsby or anywhere else in the UK will charge.
You Can Use Solicitors From Across The Country
If you live or work in Grimsby or suffered your accident in this place, you may assume that using local, Grimsby personal injury solicitors would make sense.
In some ways, it does BUT what is more important is that you get the right personal injury solicitor who can see your case through to a successful conclusion. And this is why our panel of solicitors are drawn from lawyers from across the UK. You do not have to use a local solicitor for your claim.
What we do ensure happens locally to you, is the medical examination you may need to undergo as part of your compensation claim. This minimises travel time and stress, as well as making sure that your rehabilitation is not interrupted by having to travel across the country to see an independent medical examiner.
Personal Injury Compensation Claims Our Team Handles
No matter where your chosen solicitor is based, they will have the expertise you need to make a compensation claim. They will have an in-depth understanding of the situation and circumstances that caused the accident. This may be an accident at work or the injuries you received after a slip, trip or fall.
Personal injury solicitors can also be experienced in compensation claims after road traffics accidents, as well as working with claimants who have suffered, life-changing injuries serious injuries. Working with the families who have suffered a bereavement due to fatal injuries received by a relative is also something a personal injury solicitor can do.
Industrial Disease Compensation Claims
There are several industrial diseases that result in compensation claims being made today. You may have been exposed to substances that you didn't realise were causing you harm but even though your employer did, was negligent in providing you with the correct personal protection equipment. Claims for mesothelioma compensation, for example, can be handled by a personal injury lawyer as can other industrial disease claims.
Medical Negligence Claims
Medical negligence can occur in a range of medical circumstances, such as during birth, and may lead to life-changing illnesses or injuries. Specialist medical negligence claim lawyers can guide you through the process of making a claim against hospitals, clinics, a negligence claim against a GP or when medical procedures, treatments and misdiagnosis have occurred.
Accident At Work Claims In Grimsby
Accidents at work happen – and if it has happened to you, you must report it to your employer as soon as you can – with over a million workers in 2019/20 suffering some kind of accident at work. The resulting injuries vary from one that someone will recover fully from to those injuries that are life-changing. Unfortunately, during 2020/21, there were also 142 workplace fatalities.
Statistics Regarding Injuries At Work
Statistics from the HSE show us some of the most common causes of non-fatal workplace injuries. The numbers for slips, trips and falls at work all combine to account for 37% of injuries. Manual handling and lifting heavy loads are other big contributors.
We've included a graph below to better illustrate this breakdown.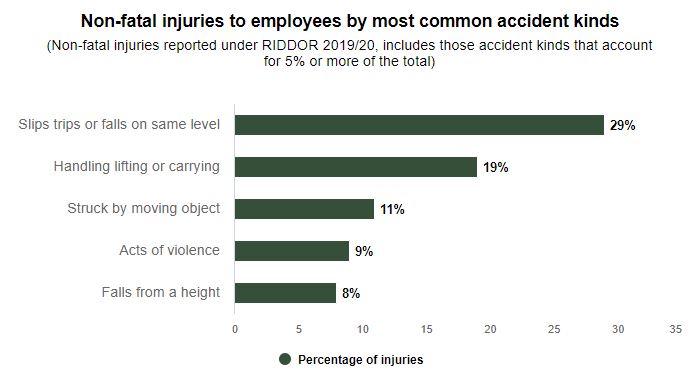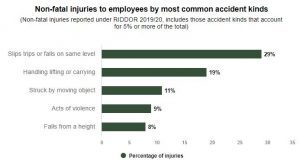 The cause of these accidents could be anything from inadequate training to slipping on a wet floor. Either of these could be an example of employer negligence, meaning they may have breached their duty of care toward their employees as laid out in section 2 of the Health and Safety At Work etc. Act 1974.
Slips, Trips, And Falls Accident Claims
Slips and falls don't just happen at work, although the table above indicates that they were common in the workplace in Grimsby. In fact, slips and falls can happen anywhere such as in public spaces. From slipping on a wet floor at a supermarket to falling over an obstacle left out in a leisure centre, there are many different situations where the duty of care may have been breached.
Serious Injury Claims Solicitors
Serious injuries are those that are life-changing or life-limiting. You may have been paralysed after an accident or a claimant may have suffered brain injuries that not only limits what they can do for themselves but alters their personality, leading to round-the-clock care. These claims can take years to resolve but with the right serious injuries specialist lawyer working alongside you, you have peace of mind that everything that can be done to bring your case to a successful conclusion will be done.
No Win No Fee Compensation Claim Specialists
No win, no fee personal injury solicitors in Grimsby and who cover the area from elsewhere in the UK provide their service to you on a basis that should your claim be unsuccessful, you won't pay any costs. You will only pay the costs and fees of your solicitor if your claim is successful, although there may be a way of making a 'free' claim – read on to the next section.
The benefit of this No Win No Fee system is that a personal injury lawyer will perform a robust assessment of your case. Following this, they will go on to gather strong evidence to support your claim because if they don't, the case is less likely to succeed.
Make A 100% No Win No Fee Claim
You may be worried about your ability to make a claim due to financial concerns. However, you shouldn't worry. All of our lawyers work their 100% of their clients on a No Win No Fee basis.
If you're not sure what this means, let us explain. In short, if you work with a personal injury lawyer under a No Win No Fee agreement, you do not need to cover their costs unless they are successful in helping you to be awarded compensation. If your claim is unsuccessful, you will not owe them anything.
Even if you are successful, your lawyer's fee is covered via a small percentage take from your final settlement. So, don't let financial worries stop you from making a claim. This kind of arrangement exists so as many people as possible have access to the legal help they may require to be awarded compensation.
Where Can I Learn More About Making a Personal Injury Claim?
Making a personal injury compensation claim is a big step. You want to be sure that you are making the right decision for yourself. This means you want to make an informed decision.
By this, we mean gathering all the information you need about how to make a claim for personal injury compensation but also access information that is specific to your potential claim.
You can access guides and articles on our website too at any time of day or night. Likewise, you can chat with us via our live chat facility.
There is also email or the contact us form which you can use to raise any concerns about making a claim or have your questions answered.
Contact Our Advisors Today
When you are ready to make your claim, you can contact us here at Legal expert by;
Helpful Contacts & Services In Grimsby
The following organisations may also be helpful in relation to your compensation claim for personal injuries.
Police station
Victoria Street,
Grimsby
DN31 1PE
Court
Great Grimsby Combined Court
Town Hall Square
Grimsby
DN31 1HX
Web: https://courttribunalfinder.service.gov.uk/courts/great-grimsby-combined-court-centre
Hospital
Diana, Princess of Wales Hospital
Scartho Road
Grimsby
North East Lincolnshire
DN33 2BA
Web: www.nlg.nhs.uk/hospitals/grimsby
Other Useful Compensation Guides
Thank you for taking the time to read our guide on Grimsby personal injury solicitors.