Gloucester Personal Injury Solicitors No Win No Fee
By Daniel Milton. Last Updated On 13th September 2021. If you are looking for Gloucester personal injury solicitors, Legal Expert can help. Whether you are rebased in Gloucester or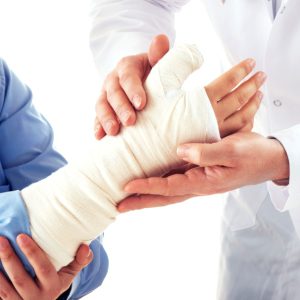 anywhere else in the UK, Legal Expert should be your first point of call – we can manage your personal injury claim for you and ensure you are well looked after right throughout the process.
If you have any questions regarding your claim or anything mentioned in this article, please get in touch today.
Jump To A Section
Making Your Personal Injury Claim
If you are seeking compensation for a personal injury claim, you will be happy to hear that there is plenty of legislation to support you in this. The panel of solicitors Legal Expert can put you in touch with the right legal representation, and our team have years of experience helping clients with their personal injury claims in Gloucester.
If you suffered an injury as the result of an accident or developed a serious illness because of an accident, such as back problems from consistent heavy lifting, then you can claim financial compensation even if the accident happened years ago. You have three years to make a claim from the date of your accident, or the date that your illness was diagnosed.
To make a successful personal injury claim in Gloucester, your personal injury lawyer must be able to show three things:
That there was a duty of care owed to you by the defendant
They must show that duty was breached by the defendant
Your injury must have occurred as a result of this breach
It is important that you begin your personal injury claim as soon as possible so that your No Win No Fee solicitor in Gloucester can gather useful supporting evidence.
Choosing The Best No Win No Fee Solicitor And Why That's Important
Finding the right personal injury lawyer for your need and your situation is vital. Personal injury cases can take months to reach their conclusion. They can take years if the injury or illness sustained is very severe.
While all Gloucester personal injury solutions are regulated by the Solicitors Regulation Authority (SRA), customer experience and service levels do differ from firm to firm. Legal Expert can put you in touch with an excellent No Win No Fee solicitor in Gloucester who can help you get your life back on track.
Does It Matter Where The Lawyer Is Located?
You are not restricted to finding a personal injury lawyer in Gloucester; you can choose a lawyer from any firm in the UK if you like the look of their success rates and fees.
The only part of your claim which usually must be performed locally is the medical assessment. This is carried out with a member of our national medical network and can be arranged by Legal Experts at your convenience. So, your travelling is kept to a minimum.
What Kinds Of Claims Do You Handle?
Our lawyers handle a wide range of cases. From things like broken bones or dislocations, all the way to things like paralysis or even fatal accidents, we have had success in helping clients be awarded the compensation they deserve.
The next few sections will focus on some of the more common areas of personal injury.
Industrial Disease
Also known as industrial illnesses, these claims tend to arise due to medical conditions developing or being exacerbated due to exposure to unsafe working conditions over a longer period of time.
For example, an employer may not supply their employees with adequate protective equipment to protect them from excessive noise in certain workplaces. This is negligent behaviour and could lead to things like noise-induced hearing loss and/or tinnitus.
Medical Negligence
Also called clinical negligence, medical negligence refers to when a healthcare professional has breached their duty of care and this has resulted in an injury or illness being developed.
Misdiagnosis and prescribing incorrect or unnecessary medication are good examples of this. Surgical negligence can also be included in this category. If surgery is carried out on the wrong site of the body, or the wrong patient altogether, then these are both good examples of when surgical negligence claims could arise.
Accidents In The Workplace
Section 2 of the Health and Safety At Work etc. Act 1974 tells us that all employers have a legal duty of care to make sure their employees' working environment is as safe as possible. This means things like spillages are cleaned up to avoid falls. All staff need to be properly trained too, as inadequate training can also lead to injuries. These are both examples of how an employer could breach their duty of care.
Musculoskeletal injuries are amongst the most common that can take place at work. Below is a graph that shows the breakdown in figures between areas of the body that are most often affected. As you can see, these statistics from the HSE show that the upper limbs and neck area account for most workplace injuries.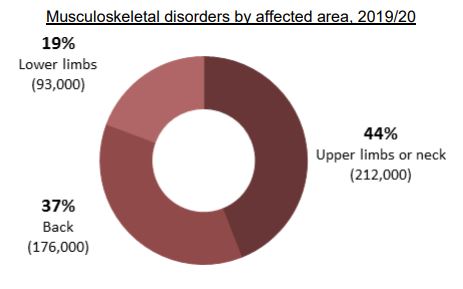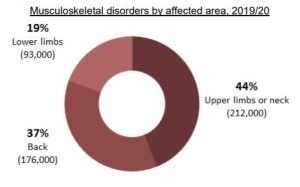 Road Traffic Accidents
When road users are negligent, it can mean they have not properly followed the rules laid out in the Highway Code. Drivers, passengers, cyclists, and even pedestrians can all be eligible to make a claim for injuries sustained in a road traffic accident (RTA).
Whiplash is a very common injury sustained in car accidents such as being rear-ended. Insurance companies were being claimed against them for whiplash on such a frequent basis that the government introduced an online portal known as the Whiplash Reform Programme (WRP).
If a driver or passenger has suffered any injury in a RTA (not just whiplash) after 31st May 2021, then the portal can be used to apply for compensation. This is only if the claim is worth under £5,000.
Gathering Evidence
There are a number of key pieces of evidence you'll need to acquire. The more quality evidence you have to back up your claim, the better. Some examples include:
Photographs – of your injuries, possibly even of the unsafe conditions that caused it
Written witness statements – others nearby may have seen how you were injured, having them back up your story on the record could help a great deal
CCTV footage – if your injury was captured by CCTV cameras, you have the legal right to request the footage of yourself
Medical records – this could be a combination of the records from your initial hospital visit and also your independent medical assessment
For more examples, get in touch today.
Gloucester No Win No Fee Lawyers
With a No Win No Fee agreement, claimants are protected from having to pay any fees if their claim for compensation is unsuccessful. This is because all of the lawyers we work which operate on a No Win No Fee basis with all of their clients. So, if your case is successful, your lawyer's legal costs are covered by taking a small percentage from your settlement amount. If you are not awarded compensation, you will not owe them anything.
How To Go Ahead
If you are ready to begin your claim for compensation with a personal injury lawyer in Gloucester, or whether you are simply looking for more information and answers to further questions; Legal Expert are here to help.
So get in touch by using the contact details at the top and bottom of this page. Don't delay, personal injury claims will often have time limits placed on them.
Start An Injury Claim
Once you know your next step and want to go ahead with your compensation claim, you can call Legal Expert on 0800 073 8804 or visit us at LegalExpert.co.uk and use our contact form.
If you would like to discuss your case with a dedicated lawyer before making any firm decisions, you can request a call back.
Useful information
Here are some useful contacts which you may find helpful when collecting evidence for your personal injury claim in Gloucester
Gloucester Police Station
Barton Street Police Station, 223 Barton Street, Gloucester, GL1 4HT
Gloucester Crown Court
18G Berkeley Street, Gloucester GL1 2JB
Gloucester Royal Hospital
Great Western Road, Gloucester, 1 3NN
Other Useful Compensation Guides
Thank you for reading our guide to Gloucester Personal Injury Solicitors.