Grantham Personal Injury Solicitors – No Win No Fee Claims
By Daniel Scott. Last Updated on 17th September 2021. Welcome to our guide on Grantham personal injury solicitors. If you've been involved in an accident that was caused by somebody else and you live in the Grantham or the surrounding area, then Legal Expert can help you to lodge a personal injury claim for compensation. Any claim we take on is done so using our No Win No Fee service.
This guide explains what type of claims we deal with, how our No Win No Fee service works and how to choose the right Grantham personal injury solicitors for your claim.
Contact Details
You can reach out to us to discuss anything in this article, or anything to do with your claim. We are here to help and to aid you in understanding the process on the whole. All initial advice and information is free of charge.
Call us on 0800 073 8804
Chat with our advisors using the pop-up window in the corner
There is also the option to check if you have a claim online
Jump To A Section
How We Could Help You When Making A Claim
Legal Expert have been dealing with personal injury claims for many years and our panel of solicitors are always willing to offer advice on the chances of success after hearing the details of any new case.
In general, there is a 3-year time limit for making a personal injury claim and all personal injury solicitors have to abide by this but there is an exception. If you've been suffering from an injury for many years, such as vibration white finger for instance, then the 3-year time limit only comes into effect once the doctor has diagnosed the condition which means if you've only just been diagnosed with a specific condition then you'd be eligible to make a claim.
How To Qualify To Make A Personal Injury Claim
To make a successful Grantham injury claim your personal injury lawyer would need to be able to demonstrate that:
You were somehow owed a duty of care by the defendant or defendants.
The duty of care was breached by the defendant (or their staff).
The defendant's breach of duty was what caused you to become ill or injured.
In general, it is recommended that you begin your claim as soon as possible after the accident occurred to give your solicitor time to collect as much supporting evidence as possible.
What Difference Does Having The Right Solicitor Make?
The right personal injury solicitor can make the process of claiming compensation so much easier for you. If you consider that compensation claims can take many months (or even years for severe injuries) to be concluded, it is imperative that you choose a solicitor that you can get along with and one who is competent. Building a good working relationship with your solicitor is essential and helps ensure they can get the right information from you to support the claim.
Even though all personal injury solicitors in England and Wales are regulated by the Solicitors Regulation Authority (SRA) it is safe to say that the level of service provided can vary from firm to firm.
What To Consider When Reading Grantham Personal Injury Solicitors Reviews
The obvious place to get information from, when choosing a solicitor, is the solicitor themselves but before contacting them you should read honest reviews from previous clients. Look for comments regarding efficiency, friendliness, professionalism and of course look for levels of success.
Another element to consider before choosing a solicitor is their success fee. This is the amount they will charge if they win a No Win No Fee case. It's surprising to realise the disparity between different personal injury lawyers.
Does The Location Of A Solicitor Or Lawyer Affect My Claim?
In short, the answer to this question is: No, it does not matter. A personal injury solicitor can be based anywhere in the UK to make accident claims – there is no legal requirement to be based in, or even have an office in, Grantham. The main thing for our clients is that we ensure that any medical assessments or appointments will be conducted in Grantham or close to the area to reduce the inconvenience of travelling.
Accident And Injury Claims Which Our Team Can Conduct For You
We offer a No Win No Fee solution for any type of personal injury claim from basic injuries to the most severe, so long as the evidence supports the fact that the accident was caused by somebody else. This next section describes some of the more common accident claims we deal with:
Industrial Disease, Illnesses, And Injury Claims
When employees are in their workplace, they can expect a duty of care from their employer to protect them from injury, disease and illness. Some jobs can lead to injuries through repetitive use of vibrating equipment and others can lead to illnesses such as Mesothelioma where asbestos is present. In any type of industrial illness, where the employer could've prevented it from occurring by making changes, providing better equipment or even better training then we can help with your personal injury claim.
Medical Negligence Or Malpractice Injury Claims
Personal injury solicitors can help with claims for medical negligence or malpractice. If you're injured when attending a hospital, doctor's surgery or other healthcare centre, then you could be eligible for our No Win No Fee service. The injury or illness could be caused while being treated in a hospital, undergoing cosmetic surgery and also dental treatments.
Accident At Work Claims
Accident at work claims can be made if you're injured in your workplace and the injury was caused by something your employer did or didn't do. Examples of how an employer could be liable for your injuries include:
If you were not trained properly on how to complete a task or use a piece of equipment and that led to your accident happening.
If the equipment involved in your accident was faulty, damaged or poorly maintained.
If you, or a colleague, highlighted a problem and the employer didn't put it right.
Other reasons could also be possible so long as the employer was to blame in some way then Grantham personal injury solicitors would be able to make a claim on your behalf.
Accident At Work Statistics
Section 2 of the Health and Safety at Work etc. Act 1974 states your employer has a legal responsibility to take as many steps as is reasonably practicable to make sure your workplace is free of avoidable hazards that could lead to an injury. This is known legally as a "duty of care". If an employer breaches this duty of care, then it could be an example of employer negligence. This is when you could make a claim.
The graph displayed below shows us some statistics from the HSE relating to non-fatal work injuries across Great Britain in 2019/20. As you can see, the most common cause of workplace injuries is slips, trips, and falls on the same level. However, the other most common causes are shown too.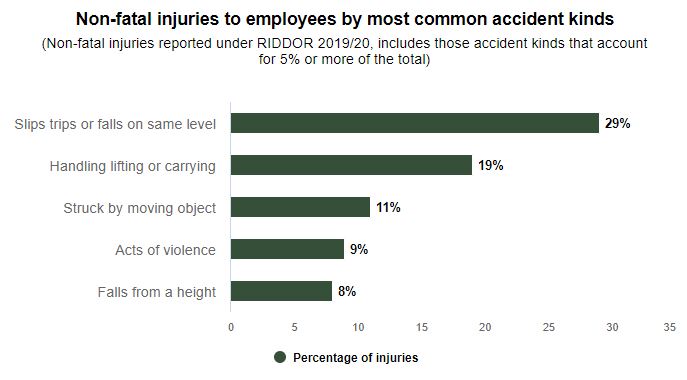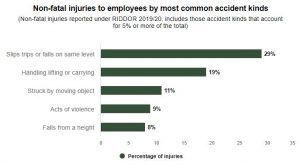 Slip, Fall, And Trip Injury Claims
Slips, trips and falls can often cause very painful injuries and lead to surgery to put things right. If somebody else was liable for your slip and fall which led to you becoming injured, then we can support your claim with our No Win No Fee service. For more information read our full guide about slip, trips and falls.
Severe And Serious Injury Claims
Serious and severe injuries are obviously the most distressing, painful and complex personal injury claims that we take on and, for our clients, have the biggest impact on lives and future lifestyles.
We have a page dedicated to serious injury claims with much more detail including the types of injuries, the compensation amounts that can possibly be awarded and how to make a serious injury claim. As always, if the accident was somebody else's fault then we would provide our No Win No Fee service.
Road Traffic Accident Claims
Road traffic accident claims don't just include vehicle crashes, you can also claim if you were involved in an accident as a pedestrian. Personal injury solicitors are usually required when making a road traffic claim because of the complexities involved of dealing with multiple insurance companies. We can help with car crashes, motorbike accidents, cyclist accidents and pedestrians hurt in road traffic accidents.
No Win No Fee Accident And Injury Claims
Many people think that No Win No Fee claims are completed quickly and done by filling in a few forms but, in fact, they are as complex as cases that clients pay for upfront. There is just as much work involved for the personal injury lawyer and there is also more at stake for them as if they don't win the case, then they don't get paid.
A No Win No Fee claim usually begins with a free consultation with the client where they explain the accident that happened and the injuries they sustained. The solicitor will assess the merits of the case and advise on the chances of success. If they believe the case has a good chance of being won, then they will draw up a No Win No Fee agreement including the success fee that they will charge if they win compensation (usually as a percentage amount of the payment).
Once the agreement has been signed by both parties the solicitor begins by verifying the facts of the case and makes checks with legal and medical experts that the case was in fact somebody else's fault and that there are no technicalities that would prevent the claim from being successful.
Once all of that has been confirmed the client would attend a medical practice local to them and be assessed by an expert. The solicitor would use this assessment, along with medical records from the time of the accident to put together a file of evidence.
Once all evidence has been gathered the solicitor will contact the insurer or legal entity representing the defendant to stake a claim for compensation explaining how much they believe should be awarded and the reasons why (with the supporting evidence to back this claim up).
When the solicitor receives a reply from the defendant, they will discuss with the client whether they think the offer (if one is received) is fair or not, whether to accept, to counter the offer or to take the matter to court (which is quite rare in personal injury claims).
The last thing that Grantham personal injury solicitors do is to send the payment to the claimant after deducting their success fee that was agreed in the first stage.
How Does This Type Of Claim Work?
No Win No fee means that, should your claim be unsuccessful, you don't need to pay your solicitor for their services or their time. You don't have to pay them an hourly rate or any expenses, their services are only paid for if they win you compensation and it makes taking out a personal injury claim affordable for most clients.
If a solicitor is successful then they retain a segment of the compensation (a percentage that was agreed when the No Win No Fee document was signed) and then send the remainder to the client.
How To Begin A Claim
If you're ready to begin your claim today or if you still require more information, then Legal Expert can help. Even if you're still gathering information our team can help with free legal advice about the merits of your claim and what actions you need to take before being ready to start your claim.
As mentioned earlier in this guide, we recommend that you research the personal injury solicitor online before beginning your discussions with them and look for information about their success rates and how many of their previous clients would recommend them.
Speak To Our Personal Injury Claims Team Today
Now that you've read this guide about Grantham personal injury claims, we hope you're ready to begin your claim today. If you would like Legal Expert to act as your claim solicitors, then please get in touch and we'll start the ball rolling immediately. You can contact us by:
Telephone: Call us free on 0800 073 8804.
Live chat: Speak to one of our specialists directly from any page of our website.
Claim Online: Fill in our simple claim form to commence your claim.
Remember, any case we take on will be on our No Win No Fee agreement. Our team are ready to speak with you today so please get in touch.
Helpful Contacts And Support In Grantham
As well as contacting us to make your claim, if you've been injured in an accident in Grantham then here are some more organisations that you may need to make contact with.
Local Police
Grantham Police Station
Swingbridge Road
Grantham
NG31 7XT
Web: www.lincs.police.uk/contact/police-stations/police-stations/grantham-police-station/
Crown Court
Nottingham Crown Court
60 Canal Street
Nottingham
NG1 7EJ
Web: https://courttribunalfinder.service.gov.uk/courts/grantham-magistrates-court
Local Hospital
Manthorpe Road
Grantham
NG31 8DG
Web: www.ulh.nhs.uk/hospitals/grantham-district/
Here are a few useful guides from our website which may help you further:
Road Traffic Accident Claims – a more detailed guide to road traffic accidents including the amounts of compensation that can be awarded.
Dental Negligence Claims – a guide about negligence claims while undergoing dental treatment.
No Win No Fee Claims – a more detailed guide to No Win No Fee solicitors.
Other Useful Compensation Guides
Thank you for reading our article on Grantham personal injury solicitors.