Birmingham | Personal Injury Solicitors | No Win No Fee
Have you been hurt or injured in an accident that was not your fault in the Birmingham area? If so, you could be searching for Birmingham personal injury solicitors to handle your claim for you. Our special team of personal injury solicitors cover Birmingham and the West Midlands area.
Our specialist personal injury claims team are on hand to take your call now. We have years of experience in helping people to make successful claims. If you choose to work with us, we will guide you through the claims process and handle the legal work for you whilst you concentrate on your recovery.
Whether you are based in the city or elsewhere across the UK, we have the experience and knowledge to handle your claim. To chat with us now, you can
Legal Expert's Research Into Personal Injury Claims Against Birmingham City Council
Legal Expert has found that Birmingham City Council paid out £806,004 in personal injury compensation during the last year – more than 64% of the total compensation paid out by councils in the West Midlands Combined Authority.
A Freedom of Information request revealed that 283 claims were made against the local authority from April 2022 to April 2023, meaning 34% of personal injury claims submitted in the West Midlands region were against Birmingham City Council.
The main cause of these claims was slips and trips on pavements or the public highway.
Below you can find a breakdown of all personal injury claims submitted against the council during this period:
A duty of care is placed on Birmingham City Council to maintain any premises, spaces or highways they oversee and ensure that they are reasonably safe for visitors and employees.
Our experienced personal injury solicitors could help you secure a compensation payout if you have been injured as a result of council negligence. Get in touch for more information.
Ways Our Specialist Team Can Assist People In Birmingham
To make a claim for any compensation that you are owed after an accident that was not your fault, whether in the workplace or on the road, you need to be confident in your solicitor's ability. The best way to have this confidence is to work with the best solicitor you can.
In the UK we have very strong legislation in place to ensure that people are kept safe, whether they are travelling on public transport, participating in a leisure activity, going to work, or just going about their day. Those engaged in providing you with a service, using the roads around you, or in numerous other circumstances owe a duty of care to their customers, employees, or other road users. This is to highlight just a few circumstances in which you could make a successful claim.
If you were harmed as a direct result of something that someone did, or by their inaction (negligence) we can help you to claim compensation. To make a successful claim, your solicitor (assuming you chose to hire one) will need to clearly show three things.
That you (the claimant) were owed some form of duty of care by the defendant. A good example is a doctor – patient relationship.

That this duty of care has been breached. For example, your doctor could have prescribed the wrong medication, causing your illness to be prolonged or made worse.

That your injury, illness, or symptoms were caused by the negligent action above.
If someone else was responsible for your injury or illness, let our specialist team help you.
Why Having The Best Personal Injury Solicitor Is Important To Your Claim
At Legal Expert, we can help you to make a compensation claim. We have years of experience in helping people to make a range of different compensation claims at all levels of complexity. Having the best personal injury solicitors working on your claim can be just as important over the long term as getting the right treatment for your injury.
Your recovery is not just dependent on recovering your physical health, but also on recovering any financial losses incurred. You should also be properly compensated for the initial injuries. You can only make a personal injury claim once and have a three year time limit within which to do so. This makes it even more important to have the right person, and team behind them, working on your claim.
When you are deciding between available and competent solicitors who could handle your claim you should also think about the person you are working with. Compensation claims can take between several months and several years (in rare and complex cases). During the course of a claim, you will build a relationship with them and need to pass on detailed personal information, such as your medical records, or how else your injuries have impacted your personal life. Trust is thus an important part of the claims process.
Why you should read reviews of different solicitors
When you are in the initial stages of deciding which solicitor, lawyer, or legal firm to represent you in your claim, you could well have a lot of different choices. There will be many solicitors and lawyers in Birmingham itself, as well as others providing legal services across the UK.
One of the best ways to start narrowing down your list of choices is to find reviews of solicitors by their previous clients. You can then compare different solicitors and the approach they take. Reading reviews can help you to see whether a solicitor or legal firm is the right fit for you and for your claim. After this, you can consider contacting a shortlist. However whilst reviews are useful, we find that talking directly to our team is an excellent way of finding out more about how we can help you.
Do I Need Local Solicitors Based In Birmingham?
You do not need to use Birmingham personal injury solicitors to make your claim. Where your solicitor is based is not a critical part of your claim. This is because personal injury claims can often be managed by correspondence. The only part of a claim which commonly needs to be conducted in your area is any medical assessment necessary.
As we work with medical experts in the Birmingham area, we can organise for you to be medically assessed locally.
Compensation Claims Our Birmingham Team Can Conduct
Legal Expert are adept at helping people to claim for a wide range of different types of injury. We can help you to make an accident claim in Birmingham, securing the highest possible amount of compensation. The amount of compensation you will be awarded (if successful) will depend on what your injury is and how serious it was.
Medical Negligence Claims
When we visit any medical practice, whether it is a dentist, GP, or a hospital, we expect to receive the utmost level of care. If that care results in your becoming injured in some way, it can be very distressing. In such cases, you could be able to make a claim using our medical negligence solicitors. We can help you to make a compensation claim against either a private or NHS facility. You can learn more about how our medical negligence solicitors can help people in this area in our guide to Birmingham medical negligence claims.
There are many different kinds of medical negligence claims which we can assist with, including these examples:
Claims For Accidents At Work In Birmingham
At Legal Expert, we have helped claimants from across the country to claim compensation for an accident at work. In this area, we can help anyone from those employed in restaurants and retailers, to office workers, those employed by the city council, or even those working at armed forces bases around the wider region.
There are many other work accident claims which we could potentially help out with, such as the following:
Slipping Over Or Falling In Birmingham
One of the most common claims our No Win No Fee solicitors see is for slipping or tripping over. We can assist with these types of compensation claims.
As shown in one of the graphs below, which comes from the Health and Safety Executive's summary statistics for 2019/2020, slips, trips or falls were the most commonly reported non-fatal injuries in UK workplaces during this time period.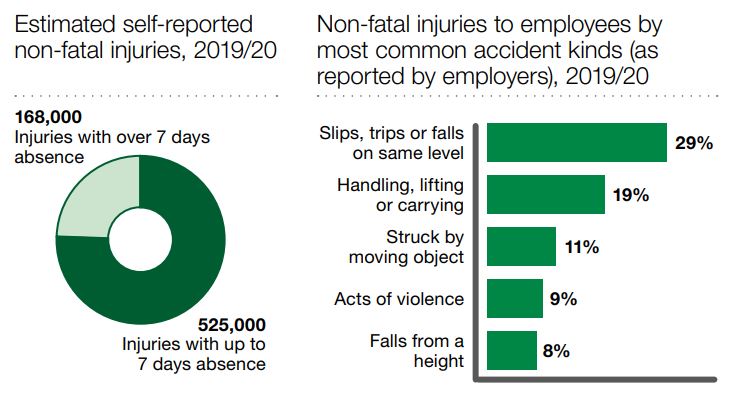 In many cases, when people fall over their injury may even be classified as a different form of accident. If you slipped and injured yourself on a piece of machinery, this could be counted as a different type of injury. Slips are also common in the general public. If you slip over whilst on the street due to a poorly maintained pavement, you could suffer injuries such as a broken wrist. Our Birmingham personal injury solicitors can help you make this type of claim.
Serious Injury Claims
Serious injuries may be defined as those injuries which could have been severe enough to have been life-threatening. Generally, they will have involved severe pain and you could have been left unconscious, either through the injury or due to a medically induced coma. They could also involve the loss of an internal organ or greatly reduced function in it.
Your cognitive ability may also have been affected as a result. Severe injuries will often carry serious and long lasting consequences for the claimant and those around them. To successfully get the most compensation possible, you need to use the best personal injury solicitors.
Claiming Compensation For Car Crashes In Birmingham
Road traffic accident claims are some of the most common types of claims our Birmingham personal injury solicitors conduct. Accidents on the road in Birmingham might include those involving cars, public transport, taxis, or any other type of commercial, public, or private vehicle.
Birmingham Road Traffic Accident Statistics
Statistics from the Department for Transport's annual road casualties reports show that in 2014, 2015 and 2016 there were a total of 393, 443, and 481 people seriously injured or killed on the cities roads. This reverses a previous trend for a decline in the number of casualties or fatalities. In 2017, however, there was a slight decrease in the number of road accidents causing death or serious injuries with 441 in total recorded during this particular year.
| | 2014 | 2015 | 2016 | 2017 |
| --- | --- | --- | --- | --- |
| Pedestrian | 151 | 177 | 178 | 167 |
| Cyclists | 44 | 52 | 52 | 58 |
| Motorcyclists | 86 | 85 | 88 | 56 |
| Car occupants | 100 | 119 | 148 | 147 |
| Others | 12 | 10 | 15 | 13 |
| Total number | 393 | 443 | 481 | 441 |
Our solicitors are adept at handling a variety of road traffic accident claims, securing high levels of compensation.
Birmingham No Win No Fee Solicitors 
Our Birmingham No Win No Fee solicitors offer No Win No Fee agreements that are sometimes known as conditional fee agreements. The agreement is designed to allow a claimant to make a personal injury claim without the burden of upfront fees or costs. You do not have to pay for the solicitor's work if you don't win your claim, thereby reducing your risks.
What charges will I have to pay?
The charges associated with No Win No Fee claims are calculated from your settlement. This is usually a (small) set percentage of the final award. This charge will not be due until your case is settled. This means that you are never left out of pocket as a result of or during your claim. The most important thing to remember is that you can confidently make a No Win No Fee personal injury claim with us. Contact us and ask us about our bonus rate it can be a lower percentage than what other solicitors charge.
What To Do Next
Your next steps are simple. You can either reach out to our Birmingham personal injury solicitors to begin your claim, or you can browse more of our guides. Please note that our team are on hand seven days a week, 24 hours a day to take your calls and messages. If you request a call back, we will aim to contact you as soon as possible.
Where can I find out more
We understand that deciding to take legal action is always a big decision and that you need to be fully informed to be confident in your choice. In this guide, you can find out more about the personal injury claims process in general. For further information, please contact our team of advisors using the details below.
Local Solicitors: Contact Legal Expert's Birmingham Team Today
Our local solicitors covering the Birmingham and West midland areas have years of experience in personal injury claims. When you have decided to make a compensation claim and to do so with Legal Expert, you can begin by calling our team on 0800 073 8804. You can also get in touch via several other methods. You can send us an email to office@legalexpert.co.uk, use our form on this page to request a call back, or talk to us through the online support feature highlighted on this page.
Whichever method you use, our team are ready and waiting to hear from you.
Local Information For Claimants In Birmingham
After being involved in an accident, you may need to report it to the police or visit a hospital for treatment. In rare instances, you may also need to go to court with your claim. We have included details for these services in the Birmingham area below.
West Midlands Police
Steelhouse Lane,
Birmingham,
B4 6NW
Tel: 0845 113 5000
Web: www.west-midlands.police.uk
Birmingham Crown Court
1 Newton St,
Birmingham,
B4 7NA
Tel: 0121 681 3300
Web: courttribunalfinder.service.gov.uk/courts/birmingham-crown-court
Birmingham City Hospital
Dudley Road,
Birmingham,
B18 7QH
Tel: 0121 553 1831
Web: www.uhb.nhs.uk/home.htm
Opening hours: 24 hours a day
Other Helpful Compensation Guides
Thank you for reading our guide about starting a claim with the help of Birmingham personal injury solicitors. We hope you found this guide informative.