Gillingham Personal Injury Solicitors – No Win No Fee Claims
By Daniel Winchester. Last Updated 15th September 2021. Welcome to our guide on Gillingham personal injury solicitors. If you have been injured in Gillingham as a result of someone else's negligence then it is useful to know how to make a claim, should you wish to seek damages. If you were injured and it was not your fault then you have a right to seek compensation for any out-of-pocket expenses you have occurred and for the pain and suffering you have experienced.
We do however recommend that you seek a personal injury compensation specialist solicitor to help you collect evidence and launch your claim as the system can be complex. Here at Legal Expert, we have a large panel of personal injury solicitors who are ready and waiting to answer your questions and help you to achieve the compensation you deserve.
Contact Details
You can get in touch with our advisors in any of the methods below:
Call us on 0800 073 8804
Message us using the pop-up window in the corner
You can also check the validity of your claim online
Jump To A Section
Making Your Personal Injury Claim
There are many ways in which to prove that you are eligible for compensation. Your chances of success are improved further by seeking a firm of solicitors with lots of experience in the field of personal injury claims. As long as you can identify who was at fault, and you make the claim within the 3-year personal injury claims time limit then you have a good chance of receiving a payout. There is however an exception to this.
If your illness or injury was caused by an event that happened several years previously, you may still be able to claim if your diagnosis was only recently received. You would then have three years from the date of your diagnosis rather than the date on which the event which caused your injury occurred.
Examples of this include mesothelioma and hand-arm vibration syndrome. Don't miss out on compensation that is owed to you if you are suffering from a condition that is impacting upon your life. Although the prospect may seem daunting, Legal Expert are here to help, advise and support you through this difficult time.
Do I Qualify To Make A Claim?
Prior to launching a claim, your personal injury solicitors or those that cover this area will need to know the following information. The evidence that you provide will help them to build a case.
In order to prove negligence, you must first be able to show that the defendant owed you a duty of care. A duty of care is an obligation to protect the well-being or safety of another individual. Examples of duty of care include the duty of an employer to protect their employees, the duty of a doctor to protect their patients or the duty of a driver to drive safely on the road, thereby protecting the wellbeing of other road users.
You must then be able to prove that the duty of care was breached by the defendant. This means that they did not take appropriate steps to protect your health or wellbeing.
Finally, you must be able to show that it was this breach that was the cause of your illness or injury. In order to do this, you must be able to prove that your injury or illness would not have happened unless the breach had occurred.
Advice For Choosing The Right Legal Team For Your Claim
When you decide to explore the possibility of making a claim you will of course want to find the best personal injury lawyer. If your accident happened in Gillingham then you may automatically assume that Gillingham personal injury solicitors are the only ones you can use. This is not necessarily the case. Although every solicitor is regulated by the Solicitors Regulation Authority (SRA), all solicitors provide a different level of service.
You should be aware that a personal injury case can take a long time to resolve. In a complicated case, it can go on for months or years, meaning regular contact with the same solicitor. Therefore, we recommend that you find a solicitor that you feel matches your needs and you feel comfortable with.
Months and years can feel like a very long frustrating amount of time if you are not happy with the service provided by the personal injury lawyer you have chosen. Here at Legal Expert we have a wide range of solicitors, with expertise in all areas of personal injury law. We can therefore match you with a solicitor that both covers your geographical area and your area of personal injury. Our helpful team will keep you informed throughout every step of the process and seek to make the claims procedure as straightforward and stress-free as possible.
Consult Injury Lawyers Reviews
It is also worth bearing in mind that each firm of solicitors will charge a different success fee and insurance premium. You need to be happy with these fees before you sign your conditional fee agreement. Consider this example. There is a large variation in potential payout here. You may find it helpful to speak to a No Win No Fee compensation specialist before signing any documents.
Legal Expert will be able to walk you through the process and explain the success fees in more detail so that you are in possession of all the information you need before proceeding. Don't miss out on money that you are entitled to, be sure to take advice and read the small print before signing.
You may also find it helpful to seek personal injury solicitor reviews. The internet is a particularly useful resource when it comes to finding reviews. Understanding other people's experiences can help you to make your decision. Recommendations from people you know can also be helpful and give you confidence in your final decision.
Am I Limited To Using A Personal Injury Solicitor Near Me?
You are under no obligation to use Gillingham personal injury solicitors. You have the right to choose any solicitor working within the UK. It is important to find a solicitor that is right for you, rather than a lawyer located close to you. Legal Expert have a team of solicitors who are able to represent you wherever you are in the country.
Although they may not be located in Gillingham, the power of the internet means that they can communicate with you easily via email or a face-to-face web chat. This distance between solicitor and client will not be in any way detrimental to your case
In some cases, your solicitor may request that you have a medical examination for the purposes of evidence. We understand that convenience is a factor for our clients. Therefore the solicitors we provide can help arrange your medical at places located throughout the UK so that you can attend an appointment close to home.
What Claims Can Our Personal Injury Team Conduct?
Our solicitors have expertise in all areas of personal injury law. We can therefore help get you representation whether you are seeking medical negligence advice, wish to make a car crash claim or have experienced an accident at work. These are just a few examples of the ways in which we can help you. Please speak to us about representation in any other area of personal injury and we will find an expert to match your needs.
Industrial Disease Claims
Conditions such as carpal tunnel syndrome and noise-induced hearing loss tend not to be diagnosed right away. They're often caused by prolonged exposure to unsafe working conditions, so the damage is usually cumulative.
Because of this, it's not unusual for the time limit for claims on industrial diseases to begin at the point of diagnosis. Whether you have experienced noise-induced hearing loss, lung disease or another industrial disease you may have a claim. Legal Expert can advise you on the probability of a successful claim and will explain what evidence you need to collect in order to be able to launch your personal injury claim.
Medical Negligence Or Malpractice Claims
If you have been harmed as a result of medical malpractice then you may have a claim for clinical negligence. Claims of clinical negligence can include the inappropriate administration of medication, an incorrect diagnosis leading to a delay in treatment or perhaps a surgical error.
Clinical negligence claims can be brought against surgeons, nursing staff, GPs or care staff to name a few. As long as you can prove that you were injured as the result of a mistake by a doctor or other healthcare professional, you may have a claim.
Claims For Accidents In The Workplace In Gillingham
Accidents in the workplace are not uncommon but they can be serious. Accidents leading to serious injury can mean that you suffer a loss of earnings and may even be unable to return to your place of work altogether. If you can prove that your employer was at fault and that their negligence had a direct causal link to your injury then you may be eligible to make a claim for workplace compensation, whatever your industry. Here are some examples of work accident claims.
Road Traffic Accidents
All road users can be injured as a result of negligence in a road traffic accident. This includes:
Drivers
Passengers
Cyclists
Motorbike riders
Everyone who uses the road must abide by the Highway Code. By following the rules stated in these guidelines, you are upholding your duty of care to other people on the road. If you act recklessly or deviate from the Highway Code, then this could cause injuries to yourself and others. This could lead to a personal injury claim being made against you.
A common injury sustained in a road traffic accident (RTA) is Whiplash. Because these claims are made so often, the government has now introduced a new way for them to be processed. Now, if you were injured after 31st May 2021 as a passenger or a driver, you can claim for injuries sustained in RTAs up to the value of £5,000. This new online portal is known as the Whiplash Reform Programme (WRP).
Despite the name of this programme, it is not just Whiplash you can claim for through this scheme. It can be any RTA injury up to the value of £5,000. However, pedestrians and cyclists are ineligible to use this method of claiming. The same is true of drivers and passengers whose accidents that caused their injury took place before the cut-off date of 31st May 2021.
it's important to mention that it's worth getting in touch with us to see if your claim could be worth over £5,000. Otherwise, you could miss out on the full extent of your payout.
Whiplash Injury Statistics
To give more of an idea regarding how commonplace whiplash claims are, government information tells us that around 85% of all RTA claims are whiplash related. This figure is based on the level of traffic present on roads during the Covid-19 pandemic. However, there is no evidence to suggest that this ratio will be much different once it is over.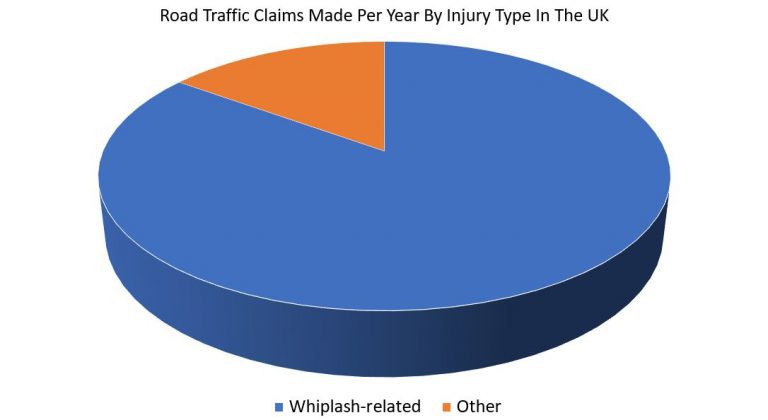 Injuries Caused By Slipping Or Falling Over
Slip trip and fall accidents are one of the most common types of accidents to occur in the workplace. Slip and fall claims are often the results of potholes, uneven flooring, obstacles or poorly maintained flooring materials. Slip and fall injuries can include sprains and fractures and can put an employee out of action for a long time. If you have experienced a slip, trip or fall at work then contact Legal Expert today for advice.
Severe And Serious Injuries
Here at Legal Expert, we understand the impact that a serious injury can have upon your life. Serious injuries can require a long period of recovery and rehabilitation. You may be unable to work or complete your day-to-day tasks whilst you are recovering which puts pressure on you and your family as well as creating a financial crisis in some situations.
Claiming compensation may be one of the only ways in which you can meet the costs associated with your injury. Therefore, Legal Expert will do everything we can to achieve the maximum payout for you to help you manage your change in circumstances.
No Win No Fee Injury Claim
How do No Win No Fee solicitors work? No Win No Fee contracts are also known as conditional fee agreements. It is called this because the payment of a fee to your solicitor is dependent on the successful outcome of your case. If you win your case, a fee is payable to your solicitor and is usually taken directly from your final payout.
If you are unsuccessful, you are not eligible to pay a fee at all. The beauty of this type of compensation solicitor is that you do not experience any of the financial burdens that you may expect when employing a solicitor. There are no upfront costs that may otherwise act as a deterrent to a compensation claim.
When Will I Have To Pay?
It is genuinely free if you do not win your case. Your solicitor will not require you to pay a fee if you do not receive a compensation payout. If however, you are successful in your claim, then a success fee will be payable to your solicitor following your payout. The success fee varies from firm to firm so we recommend that you obtain all the relevant information about how much you will be expected to pay before you instruct a solicitor.
How To Find Out More
Whether you wish to begin your claim now or are still seeking further information, Legal Expert can answer your questions and offer advice. We want our clients to feel confident that they are in possession of all the facts and understand the process completely.
Reading the reviews on our website may also help you better understand the quality of the service we provide. For example, Deborah Murphy felt that her claim was:
"dealt with the utmost professionalism in and empathy at a stressful time."
Additionally, Sherree Currey said this about the process of making her claim with us:
"Fantastic service and fantastic firm."
Start Your No Win No Fee Claim Today
When you are ready to launch your claim you can contact Legal Expert by calling 0800 073 8804. Alternatively, you can complete our contact form online and we will get back to you at a time that you tell us is convenient. You are also welcome to telephone us and talk through your options with a personal injury solicitor before making your final decision, we can also offer a callback service.
Helpful Details And Contact Information
If you have been involved in an accident in the Gillingham area then as well as contacting a personal injury solicitor, you might find it helpful to contact one or all of the following agencies.
Local Police Station
Address: Medway Police Station, Purser Way, Gillingham, ME7 1NE
Medway Magistrates court
Address: Court House, The Brook, Chatham ME4 4JZ
Website address: https://courttribunalfinder.service.gov.uk/courts/medway-magistrates-court-and-family-court
Local Hospital
Medway Maritime Hospital
Address: Windmill Road, Gillingham, Kent ME7 5NY
Other Helpful Compensation Guides
Thank you for reading our guide on Gillingham personal injury solicitors.