How Much Compensation Can I Claim For Stress At Work?
By Michael Patrick. Last Updated 18th January 2021. Work-related stress is one of the most common forms of work-related illnesses in the U.K. People in all walks of life, performing a vast range of job roles can suffer from stress at work.  Compensation for work-related stress and depression can be claimed in many cases. This detailed guide aims to help people make a stress at work claim.
Select a section:
A Guide to Claiming Compensation for Stress at Work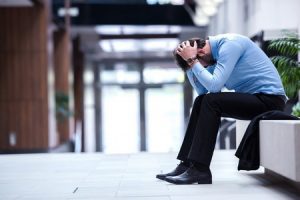 If you suffer from work-related stress or have in the past, then you may likely have a valid reason to claim compensation against your employer. This could be your current employer or a previous employer. When you are trying to claim stress at work compensation payouts, you can make a claim up to 6 years previously in the U.K.
This short guide is intended to help people who have or are suffering from work-related stress by giving them a detailed overview of the process of making a compensation claim.
It covers just what can be claimed for, and attempts to answer the question of how much can I claim? It also gives some good advice on what you should do before making a compensation claim for your case to have the highest likelihood of success. Finally, it explains our No Win No Fee claims service and how to begin the process of making a claim.
What is Work-Related Stress?
Work-Related Stress (WRS) is a psychological and physical health condition that is either primarily caused by or significantly attributed to by a person's working environment and job role.
woeWRS can lead to a severe problem with coping with day to day life. It is primarily caused by pressure and unhappiness in the working environment, such as stringent deadlines, the worry of unemployment, general sadness and abuse from work associates. These can be either tangible effectors that are real. Or intangible effectors which are imagined by the sufferer.
The Most Common Causes of Stress at Work
Although there are many causes of WRS that can lead to people claiming stress at work compensation, there are several causes that are far more common than others, and these include:
High workload – in some jobs, people are simply expected to do too much. Too much work piled up, or tight deadlines, lead to pressure, which can cause people to worry or panic.
Low workload – surprisingly, job roles that leave a person with insufficient work to keep them busy for a full day, are also very likely to suffer from work-related stress due to boredom and lack of stimulation.
Too much guidance – people who work in highly regimented jobs (such as the armed forces or the police force) often suffer from work-related stress due to the lack of freedom they incur.
Lack of support – people who find that they have little in the way of support from their fellow workers and managers can feel isolated.
Inadequate experience or training – people who are asked to perform a job for which they are not fully qualified, may not have the skills needed to tackle the day to day workload.
Being promoted above capabilities, people often find themselves promoted into a job that they simply do not have the skillset to tackle. This is especially true for people promoted into a management role, who do not have experience managing others.
Worrying about job security – people who are at a risk of being fired, made redundant or their employer going out of business often suffer from work-related stress.
Abuse from work colleagues – bullying and harassment at work by work colleagues and line managers, is a significant cause of work-related stress.
Bad corporate culture – every company has a different corporate culture that evolves over time. In some companies, a toxic, blame-oriented culture evolves, and working in such an environment is a significant cause of stress.
Bad management chain and weak management – where people have to report to several managers or are managed by an ineffective manager. Furthermore, being over-managed is also a significant cause of WRS.
An uncomfortable work environment – when your place of work is too cold, too hot, damp or uncomfortable in any other way.
These are some of the main reasons why people suffer from work-related stress, there are many more. If you believe you have a situation that has caused WRS, and you would like to know how to make a compensation claim for it, please contact us.
Differentiating Between Stress at Work and other Psychological Illness
If an employee claims stress at work has harmed their quality of life, the employer could claim a significant amount of compensation. However, there are several psychiatric illnesses that exhibit symptoms similar to stress.
For example, depression shares many of the same symptoms but is an entirely different illness that may not have been caused by work. What can complicate things even more, is that WRS can cause depression.
For this reason, any compensation claim for stress at work will need to be based on the results of a proper medical opinion. We can arrange for a local medical examination if you need one.
Stress at Work and the Armed Forces
Unsurprisingly, being a member of the armed forces means you are in one of the most likely jobs to result in work-related stress. This is especially true whilst on deployment.
As a member of the armed forces suffering from WRS, you would need to claim through the Armed Forces Compensation Scheme (AFCS). This is something we are happy to assist you in doing. Just use the contact details at the bottom of the page to get in touch.
Many people serving in the army, air force and navy do not realise they may be able to claim compensation for work-related stress whilst they are enlisted. Simply signing up for the armed forces does not take away your right to a safe and healthy working environment. Each of the armed forces is regulated under Health & Safety legislation and has to comply just like commercial companies do.
Stress at Work and the Emergency Services
Working in the Police Force, the Fire Brigade or the Ambulance Service are all highly stressful jobs, leading to full-blown work-related stress. Indeed, members of the emergency service are amongst the most likely people to suffer from WRS.
However, unlike the armed forces, there is no special Government operated body that deals with compensation claims made by emergency services members. They are treated purely as civilians in the eyes of the law for WRD claims. So, you will likely benefit from using our WRS claims service to help you get the compensation you deserve.
Stress at Work and Self Employed or Contract Workers
Just because a company does not directly employ you, does not prevent you from claiming against them for work-related stress. When the Government changed tax legislation back in the late 1990s and introduced the IR35 laws, it was stated that any freelance or contract worker, who works for a single company in the long-term, will be treated as a regularly employed person for tax purposes.
Is an Employer Required to do Anything to Help with Stress at Work?
The U.K. Health & Safety Executive sets out strict legislative requirements when it comes to dealing with stress at work.
Because of this, every employer has a minimum set of precautions that must be taken to ensure that –
a) employees are less likely to suffer from stress at work;
b) causes of stress are proactively sought and removed from the work environment.
However, many employers take matters much further, making sure that employees are reviewed regularly for signs of stress, and that counselling is available at work for people who are showing any symptoms of stress, however mild.
Health & Safety Considerations
As mentioned above, every company must comply with the specific HSE regulations that apply to their industry regarding stress at work. The HSE also publishes plenty of source material, for not only the company but also individuals to learn how to deal with the things that cause work-related stress.
For example, there are guidelines regarding stress for line managers to learn from and discover how best to manage their staff to alleviate stress. The most important is likely the HSE guidelines for MR managers, on how to eradicate stress from corporate culture.
Facts and Statistics
Workplace accidents have the ability to cause life-altering implications to your health and well-being. Within this section of the guide, we wanted to take the time to include some key statistics relating to workplace health and well-being.
The Health and Safety Executive (HSE) is a critical organisation that outlines that documents annual figures regarding workplace ill-health and injury. As outlined by the HSE, between 2019/20, there were 38.8 million working days lost as a direct result of workplace illness or injury. On top of that, it was reported that there was a cost of £16.2 billion in relation to ill health and injury.
It is worth noting that the statistics provided within this guide are not directly in relation to negligence.
What to Do If You Have Suffered from Negligence
If you have, or currently do suffer from work-related stress, and you wish to claim compensation for it, then there are many things you can do to help improve the possibility of your claim being successful, and these are:
Create a timeline of your stress – try and establish when you first noticed the symptoms of work-related stress, and what you believe may have caused it. Create a timeline of other events at work that contributed to your incident.
See a counsellor – either at your workplace or through your GP. You will need a positive diagnosis of work-related stress from a registered medical professional to make a compensation claim.
List the effects on your life – such as lowering your enjoyment of social events, causing you to lose sleep due to constant worry, and acuter physical symptoms such as depression and anxiety.
List any monetary losses – if you have had to cancel a holiday, lost income through time off, or any other form of expense, then list these down so that you can claim compensation for them.
Get expert legal help – such as the No Win No Fee claims service that we offer.
What can be claimed for as Compensation for Stress at Work
With most work-related injury claims, the physical effects of the injury are evident. With work-related stress, the symptoms may be far more intangible. However, generally, the following types of damages can be claimed for:
General damages – these are all of the physical aspects of the condition. Although the physical side of work-related stress is quite hard to quantify, there are some tangible ones. For example, people suffering from work-related stress sometimes also suffer from depression, anxiety or general lethargy.
Special damages – anything not to do with the physical effects of the condition, that are being claimed for in compensation, comes under general damages. This will include direct expenses such as medical costs. It also includes other financial costs, such as cancelling a planned event that has already been paid for. All medical fees and ongoing cost of treatment also come under general damages, as does care costs.
These are the basic outlines of general and special damages. Contact us and tell us about your claim, so we can let you know if any other forms of compensation could be claimed.
No Win No Fee Claims
The legal fees involved can be quite high. Even if you do pay your own legal costs, and you fail to win your case, you will lose them. But why take the risk? We have a solution.
We offer a No Win No Fee claims service. What this means, is that you won't need to pay any fees at all during the time we are helping you with your compensation claim. If we don't win your case, then you don't pay us anything at all. No risk at all, so there is no reason not to begin your claim today should costs concern you.
How Much Can I Claim For Stress?
Coming up with an average payout for stress is pretty much impossible. Each case of work-related stress is different, and some are more severe than others. This is why just about every compensation calculator you will find online always gets the numbers wrong.
No work-related stress compensation calculator can factor in the many issues that form part of a work-related claim. The numbers below are based on similar claims and can be used as a ballpark figure.
| Injury | Severity | Amount | Notes |
| --- | --- | --- | --- |
| Psychiatric Damage | Severe | £41,675 to £88,000 | Serious long-term effects of stress, having adverse effects upon quality of life. |
| Psychiatric Damage | Moderately severe | £14,500 to £41,675 | Significant medium-term effect upon the quality of life. |
| Psychiatric Damage | Moderate | £4,450 to £14,500 | Very slight stress, with almost no effect on life outside of work. |
| Psychiatric Damage | Minor | £1,170 to £4,450 | Minor, short term incidents of stress such as panic attacks. |
Please note that the numbers above related to general damages only. Special damages will be unique on a case by case basis, so call us now to find out how much we think we can win for you.
How to Start a Compensation Claim
You just need to use the contact information at the bottom of this page to get in touch with us. Once you have, then we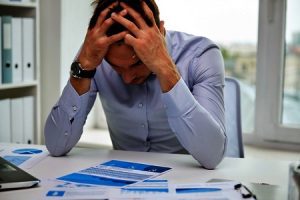 will go through a free consultation with your, to learn about all the aspects of your compensation claim.
Once we have all the facts, we will offer our advice on what you should do next. For most people, we will offer our No Win No Fee claims service. If needed, we can also arrange for a local medical examination, so that the physical aspects of your condition are documented properly, before starting your claim.
Why Choose Us as Your Claims Service for a Compensation Claim?
We have many years of experience and hundreds of cases under our belt. Our in-house team of solicitors have experience in a wide range of illnesses, not just work-related stress.
We treat each client in a professional, yet friendly manner, and try to keep the legal jargon to the minimum when keeping our clients updated about their case. We always try to get you the most compensation possible, whilst working ethically and doing nothing that could jeopardise your claim.
Call for Free Advice and To Start a Claim
You can email us, use the contact form on this site, or talk to us right now using either live chat or calling 0800 073 8804. Contact us now, so we can begin your compensation claim for you today.
Useful Links
Below are some links that might help you if you:
Health & Safety Executive and work-related stress.
How Much Compensation For An Accident At Work?
Find out how much compensation you can claim for a work accident claim. Stress can also cause accidents. Contact us today for free advice on injuries at work.
How Much Compensation Can I Claim For Bullying At Work?
Contact us today to find out if you can claim compensation.
How Much Compensation Can I Claim For Post Traumatic Stress Disorder?
If you are suffering from ( PTSD ) Post Traumatic Stress Disorder after stress, find out if you have a claim get free advice today.