How Much Compensation Can I Claim For An Accident In An Office?
By Marianne Herondale. Last Updated 1st April 2022. Welcome to our guide on office accident claims. The vast majority of shops and office buildings in the UK are safe places in which to work. This is largely due to the wealth of workers' rights legislation that has been added to UK laws over the years, including the right to a workplace that is free from hazards.
Employers of all types are obliged to take workplace safety seriously, and there can be very severe penalties for not doing so, up to and including time in prison for company owners found guilty of the very worst types of negligence.
In spite of this, accidents do still happen. Thanks to data collected by the HSE, insurance companies, and employers, we can get a very detailed picture of just how many office accidents there are each year, what types of accidents are occurring, how severe the injuries are, how many working days are lost, and so on. This information is then used to modify and improve existing safety legislation and workplace regulations so that a culture of continuous improvement flourishes.
For those who have suffered a personal injury in an office, it is these regulations that will prove essential to a compensation claim. As accident compensation claim specialists, we have both the experience and the legal expertise to advise you and to represent you in your claim. We have helped hundreds of clients to win compensation claims for accidents and injuries sustained at work, and we can help you. Making a claim against your employer may be easier than you would think, once you have the support of an experienced team of legal professionals.
To get in touch with us, simply:
Call 0800 073 8804
See if you have a claim online by filling out the form on our website
Or chat with us now using our live chat – the pop window should be in the bottom right corner
Office Accident Legal Advice Video Can I Claim?

Health & Safety statistics and facts are published regularly by the UK Government if you would like more detailed information.
Select a section:
A Guide to Office Accident and Injury Claims
In this guide, we will provide you with background information that will be useful for you if you are considering making a claim for an accident in a shop or office. We will be focusing on a variety of relevant topics. However, because every accident and injury is unique, not all of the topics covered may be relevant to your individual case.
That's why it's so important for us to speak to you individually about the unique circumstances of your accident. The service we offer begins with this fact-finding session, which is usually conducted over the phone. Typically, we would collect all of the necessary information about your accident within a single session and, once we have all the details, we will be able to advise you as to whether we think you have a chance of making a successful claim. In most cases, we will offer to represent you on a No Win No Fee basis. This means that you will have legal representation for your claim without the big legal bills: you won't have to pay us a penny unless we are successful in winning a compensation award on your behalf.
We do understand that being injured at work is a highly stressful ordeal, and we aim to keep our question-and-answer session as short and stress-free as possible. We have many years of experience in this business, and you can count on us for advice and support at every stage of your claim. We have included within this guide a table of compensation payment award table which shows historical amounts paid for certain specific injuries.
If you have any further questions about office accident claims, get in touch with our personal injury advisers today.
Accident At Work Statistics
Workplace injuries are a fairly common occurrence. RIDDOR statistics show that in 2019/20 alone, there were over 65,000 reported injuries that happened in the workplace. As you can see from the graph below, injuries to the upper limb were by far the most common.
Whilst these figures don't show in which industries the injuries were sustained, it serves as a good illustration of how common an accident at work can be. It could be that many office accident claims were made due to some of these injuries.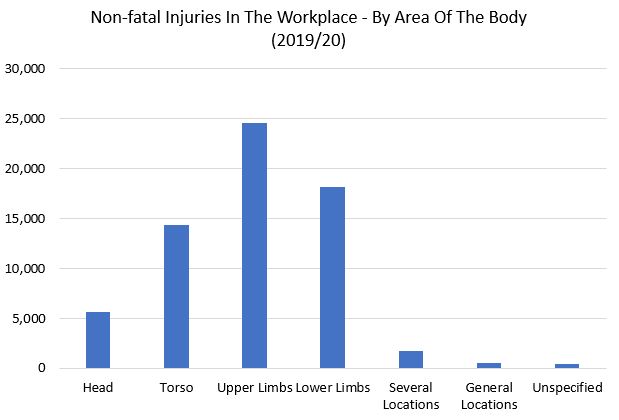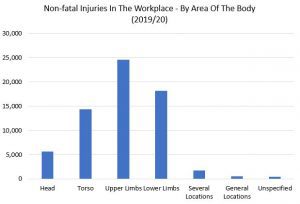 Who is Responsible for Safety in an Office?
The main piece of legislation covering workplace safety in the UK is the Health and Safety at Work etc. Act 1974 and its various amendments. It places a duty on all employers "to ensure, as far as is reasonably practicable, the health, safety and welfare at work" of all their employees. Sub-contractors, visitors, and even members of the public, who are also included within the scope of the Act.
Even those who are self-employed or perhaps working indirectly (for example, through a temp agency) enjoy the same rights, although the process of making a claim against the responsible party may differ.
The occupier or employer also faces the same duty of care towards members of the public and visitors. For example, if you have been injured in a shopping centre, it may be the centre's management company who is responsible for maintaining a safe environment for its customers. If the accident occurred in a shop within the shopping centre then – in most cases – it would be the shop's management who is the responsible party. Always remember to ask for the accident book; reporting an accident in a shop immediately after it occurs will greatly assist us in making a claim for you. Even if you did not get the accident recorded at the time, please do get in touch with us. Shop accident compensation amounts can be higher than you may think.
Accidents often occur when maintenance work is taking place. Employers frequently need to remodel parts of their office building, but they need to keep their business running at the same time. If you've suffered an injury related to refurbishment or maintenance work which was taking place at your office, both the building occupier and the contractor who was carrying out the work have shared duties. In other words, they need to have worked together to produce a plan to carry out that work in a safe manner. If either party has failed to ensure that the work was done in a safe manner, and according to the safety plan, you may have a strong case for compensation.
In addition, offices need to be kept clean. Many of the cases which we pursue are claims for slipping on wet floor surfaces. The building's occupier and the contractor are obliged to work together to produce a plan to ensure that the cleaning work can be done without endangering workers and visitors. If you are interested in finding out more about what office accident claims can be made for, feel free to contact our offices today.
Is the Employer Liable for an Office Accident Claim?
The Health and Safety at Work Act places a duty of care on employers and building occupiers to take reasonable and practicable steps to ensure the health, safety, and welfare of all persons on the premises. The obligations can include:
Carrying out a risk assessment to identify the specific hazards of the building or site.
Eliminating or reducing hazards wherever possible.
Providing safety equipment, fire drills, and trained 'First Aiders'.
Providing ongoing staff training on safety matters.
Keeping records of accidents in the accident book and dangerous incidents and reporting these to the HSE as required by the RIDDOR Regulations.
Having a written company health and safety policy and a "management plan" which sets out who in the company is responsible for making sure the plan is implemented.
To win a compensation claim, we usually need to prove negligence on the part of the employer or building occupier. In other words, we need to show the court that the employer has failed in his duty of care towards you.
Every accident has its unique causes and circumstances, and the employer or premises occupier is by no means automatically responsible in every case. However, as you can see from the list above, UK law places some very serious obligations on employers to keep building users safe. If there has been negligence or perhaps a relaxed attitude towards safety matters which led to your accident, you may have a very strong case for financial compensation.
Is the Office Occupant Always at Fault in an Accident Claim?
In most offices and shopping centres, there are usually a host of other companies working alongside the main occupant on a daily basis. In the past, large corporations directly employed their own reception staff, security staff, cleaning staff, and canteen staff, but that has changed in recent years.
Often, there will also be a Facility Management company as well, often called FM companies for short. As the name implies, they are contracted by the building occupant to take care of the building itself, and often they co-ordinate the security staff, the cleaners, and so on. This leaves the main employer free to concentrate on their business. FM companies often bear the responsibility for accidents and injuries because looking after the building is their primary role.
All of these different companies working on the same premises can cause complications for an accident compensation claim. Things can get particularly tricky when accidents occur during refurbishment work which is being carried out in an office that is still occupied. Sometimes, the claims court will decide that more than one party bears responsibility, and they will be required to share the costs of compensating the victim. Other cases are more clear-cut. If you've slipped on a wet floor and the cleaning contractor forgot to provide the usual warning signage, proving who was negligent – and why – will be much easier. How much compensation for slipping on a wet floor will depend on the severity of the injuries and the level of negligence.
Whatever may be the case in your individual circumstances, you can rely on us to do the necessary homework to establish which party or parties were negligent and to bring office accident claims to a swift conclusion.
How do Accidents in an Office Happen?
Injuries resulting from slips, trips, and falls make up the majority of compensation claims. Slip and fall compensation amounts may be higher than you would think, so if you've been injured in this way, then please contact us today.
Slips, trips, and falls in an office or shop are typically caused by preventable hazards, such as:
Trailing electrical cables obstructing walkways.
Boxes, rubbish, and clutter left lying on the floor.
Damaged carpets and floor power outlet boxes which have been left open.
Spillages on hard floors and poorly marked wet floors following cleaning.
A second significant category of injuries is those caused by manual handling: lifting and carrying objects around the office. Employers are legally bound to provide training and specialist equipment for workers who are regularly required to lift heavy objects.
There is also a high number of office accident claims for injuries resulting from electric shocks and burns. These are often caused by faulty electrical appliances and the burns from kettles and microwave ovens.
Another category of claims results from repetitive strain injury. Anyone who is obliged to carry out a physically repetitive task at work can be a victim. In office environments, this commonly affects workers who spend most of their day typing at a keyboard. It can be extremely painful and have long-term effects. As with other types of workplace hazards, employers are obliged to take steps to protect you. For example, by providing keyboards with wrist support and by ensuring sufficient rest periods are provided.
It may be possible to claim for existing injuries that have worsened as a result of an office accident. For example, an employee with a visual impairment may be able to make a claim if they are forced to sit at a computer screen for long periods, and their condition is made worse. Successful claims have also been made by those with pre-existing back problems who are not given a suitable chair to work in.
What to Do If You Are Involved in an Accident in an Office?
First and foremost, every accident should be reported. All employers with over ten employees are obliged to keep an accident book, and all accidents (even apparently trivial ones) should be written down in the book. Employers are also bound by the RIDDOR regulations, which mean that certain types of accidents are dangerous occurrences and must be immediately reported to the Health and Safety Executive.
It's also worth taking a few photographs with your smartphone if you think that somebody else's negligence has caused your accident; these could turn out to be highly valuable evidence as your claim progresses. Getting the names and contact details of any witnesses is also highly recommended.
To learn more about what you can do to boost office accident claims, get in touch with our personal injury advisers today
Claiming Compensation for an Injury in an Office or Shop as a Member of the Public
Employers and building occupiers don't only have a duty of care towards employees; they are also obliged to keep the general public safe. Sometimes, members of the public can be injured on or near company premises, for example, by being struck by delivery vehicles.
If you find yourself asking, "I got hurt in a retail store, can I make a claim?" The answer is – typically – yes. As long as we can show that the store owner or management failed to take reasonable steps to prevent your accident, you have a good chance of making a successful claim.
How to Begin an Office Accident Compensation Claim
When you contact us, we will arrange a fact-finding consultation session with one of our legal experts at a time to suit you. This is usually conducted over the phone, and it is completely free of charge and without obligation. We will be looking to establish the key facts about your accident, such as:
What type of accident, where, when and how did it occur?
What injuries you suffered at the time and if there were long term effects.
What type of medical treatment was necessary (please note that we can arrange a local medical for you if appropriate).
Was the incident recorded in an accident book? Were there witnesses?
What do you think caused your accident? Was somebody's negligence the cause or a contributory factor?
Once we have established the basic facts, we will be in a position to advise you on whether we think you have grounds for making a claim and, in most cases, we will offer to represent you on a No Win No Fee basis.
To find out what can be included in office accident claims, read on.
What can be claimed for after an Accident in an Office?
This will depend on the unique circumstances of the accident and how it has affected your life, but typically you can claim for the following:
General damages – for physical pain and mental suffering caused by your injuries
Special damages, which could include:
Care costs – if you need help as a result of your injuries, even if that help is provided by an unpaid family member.
Loss of earnings – if you have been unable to work because of your injuries.
Travel Expenses – incurred as a result of your accident.
Medical Expenses – incurred as a result of your injuries.
Speaking to a legal expert can help you determine the full extent of your compensation claim.
How Much Compensation will I get for an Accident in an Office?
For office accident claims and other cases of personal injury, there are often two main figures to take into account. As mentioned earlier, the initial figure is known as general damages. This fee is calculated by consulting a publication that is updated semi-regularly, called the Judicial College Guidelines (JCG). This JCG consists of a list of injuries, with what they could be worth in compensation. The amount is often affected by things such as the recovery time and the severity of the injury or injuries in question.
Below, we've included a table including an example of some of these figures from the JCG.
| Injury | Severity | Amount | Notes |
| --- | --- | --- | --- |
| Cheekbone | (i) | £9,570 to £14,810 | The fractures will be serious, requiring surgery and resulting in long-term issues such as disfigurement. |
| Jaw | (iii) | £6,060 to £8,200 | Fractures are simple. Immobilisation is required but recovery is complete. |
| Teeth | (iii) | £2,070 to £3,710 | Serious damage to, or total loss of, one front tooth. |
| Wrist | (B) | £22,990 to £36,770 | Injury results in serious permanent disability. Some useful movement will remain. |
| Head | Minor | £2,070 to £11,980 | Brain damage, if present, will be minimal. |
| Jaw | (iii) | £6,060 to £8,200 | The fractures are simple, requiring immobilization but recovery will be complete. |
| Neck | Moderate (iii) | £7,410 to £12,900 | Injuries will have caused the worsening of a pre-existing condition. |
| Back | Minor (i) | £7,410 to £11,730 | Recovery to nuisance level, or full recovery, will take place within 2-5 years without surgery. |
| Knee | Severe (ii) | £48,920 to £65,440 | The fracture will extend into the joint, causing constant, permanent pain and limited movement. |
| Ankle | Moderate | £12,900 to £24,950 | Injuries that cause serious disabilities, such as ligament tears and fractures. |
As mentioned briefly earlier, there are other forms of compensation you can receive. Most of these will fall under the category of special damages. This figure consists of costs that have taken place due to the claimant's injury. For example, as stated above, things like medical costs and loss of earnings.
For more information on what else can be reclaimed via a special damages payment, get in touch with our advisors today.
How Long You Have To Make Office Accident Claims
The Limitation Act 1980 states that you have 3 years from the date your injuries occurred to start a claim. However, some office accident claims can be made on a date later than this.
For example, your injury may only have been diagnosed or detected later than the accident at work that caused it actually took place. The date that you are made aware of your injuries is known as the date of knowledge. If you can back up this date with proof such as medical evidence, then you could use this date of knowledge as the start date of your 3-year time window.
Child claimants and those with a reduced mental capacity can also have their time limit suspended completely. For children, it will only begin when they turn 18. For those with a reduced mental capacity, the time limit will only begin when and if it returns to how it was. If their mental capacity remains reduced, the time limit remains suspended.
In any of these instances, a litigation friend can pursue the claim for them on their behalf. This is a legal adult who must prove to have the best interests of the claimant at heart. For example, this could be a parent, guardian, family friend, or even a legal representative such as a personal injury lawyer.
No Win No Fee Office Injury Claims
In the past, to get a solicitor to help you to claim compensation for an injury, you would have needed to pay right from the initial consultation. And legal bills can be expensive. If you lost the case altogether, you would still be required to pay your solicitor for his time and expenses. For ordinary working people, this makes claiming way too risky.
We believe that our No Win No Fee arrangement offers people a fantastic way to access the legal profession. It means exactly what it says: if we don't win your case for you, then your bill for our services is zero. If we do win the case, then our fees will be taken from the amount of compensation that has been awarded by the court. There really is nothing to lose, so contact us today.
Why Choose Us as Your Claims Service for an Office Accident Claim?
We are one of the UK's best injury compensation claims specialists when it comes to office accident claims. We have years of experience in the field. We got to where we are today by offering a client-centred approach. We always remember that our success depends on putting you, our client, first.
We understand that suffering from any kind of injury is a terrible thing to happen to a person and that going through a legal process to seek compensation can be stressful. We see it as our duty to guide and support you through this process at every step of the way. We will always be on-hand, via telephone and email, and you can rely on us to give you the very best in terms of legal advice, ongoing support and customer service. It's what we do best.
Call for Free Advice and To Start a Claim
Have you suffered an injury in an office or a shop? Have you had a slip, trip, or fall in a shop or an office? If you have been injured, we can advise you on whether you have grounds to make a claim for compensation. Whether you are an employee, a contractor, a visitor, or just a member of the public, we can help.
Our service starts with a simple phone call. We will quickly be able to tell you whether we think your claim could succeed, how long it might take, and how much compensation you might receive. The phone call is a freephone number and completely without obligation, so you've really nothing to lose. Either use the contact form on our website to arrange a chat or call us now on 0800 073 8804.
Office accident claims- FAQs 
How long after a workplace accident can you claim?
Generally, the time limitation for personal injury claims is 3 years after the accident has occurred or 3 years from the date of knowledge – which is when you became aware you had been injured in the accident.
However, there are exceptions such as the ones listed in the article.
What are you entitled to if you are injured at work?
If you are injured at work, you could be entitled to claim general damages for your suffering, and special damages for any specific financial costs incurred as a result.
Can I be disciplined for making a claim against my employer? 
If you've been injured in an office accident and it wasn't your fault, then you're entitled to claim compensation for your injuries. Your employer can't dismiss you for exercising your legal right to claim. If they do so, then you may be able to claim for unfair dismissal.
Your employer is also not able to create a hostile working environment for you as a result of you claiming which might force you to leave your role. This is known as constructive dismissal.
The Employers' Liability (Compulsory Insurance) Act 1969 says that your employer must have insurance in place for any personal injury claims. This includes office accident claims. So you needn't worry that your compensation is coming from your employer directly, or that it's harming the business profits.
Do I get full pay if injured at work?
If you are injured at work, you might need to take time off. However, your employer could pay you Statutory Sick Pay, which is provided by the government.
This is paid for up to 28 weeks and is currently set at £96.35 a week.
What is the most common workplace injury?
Statistics released by HSE  for the year 2019/20 show that  693,000 workers sustained a non-fatal injury at work during this time. The most common kind of accidents were slips, trips and falls, which accounted for 28% of the injuries reported. Slips, trips and falls can happen in offices because of poor housekeeping, such as walkways left obstructed or wires left trailing.
Handling, lifting and carrying are the next most common cause of injury in workforces in Great Britain. Although many people might assume that these kinds of accidents wouldn't occur in office environments, this isn't the case. Something as seemingly innocuous as carrying a box of files from one end of the office to the other could result in injury if proper lifting and carrying techniques aren't adhered to.
Helpful Links
Can I claim as an agency worker? A guide to compensation as a temporary or agency worker.
I've been injured at work by another employee. How much compensation could I receive for my injuries?
Agricultural accident claims. A guide to claiming for injuries sustained in a farming or agricultural setting.
Health and safety in the office. Resources compiled by HSE to facilitate health and safety in office environments.
Do I need to go to A&E? If you're unsure whether your injury requires a trip to the casualty department, this NHS guide should be helpful.
Reporting a health and safety issue. An HSE guide to reporting concerns around health and safety at work.
Other Helpful Guides
Thank you for reading our guide on office accident claims.