Can You Claim Compensation If You Did Not Take Time Off Work?
If you did not take time off for your injuries or illness. Can you still claim compensation if you did not take time off work? If you take time off work after an accident, this is often used as evidence towards the severity of your injuries when making a personal injury claim. Depending on the nature of your injury or illness, and your job role, it may not be necessary for your to take time off. If you can keep working, and if you want to do so, you have the same rights to claim compensation as if you did take time off.
Read the rest of our guide below to find out more about whether you can claim compensation if you did not take time off work and how much compensation you may be entitled to. You can also start your claim by calling us now on 0800 073 8804
Select A Section
A Guide To Accident At Work Claims With No Time Off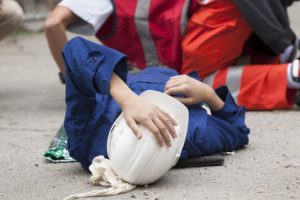 It is a fairly common misconception to think that you can not claim compensation if you carried on working. In fact, we are often asked "can I claim compensation if I did not take time off work?" The answer is almost always yes. Whether or not you took time off does not affect your ability to claim. If you did carry on working, or if you were given time off work at full pay, you will not be able to claim for lost earnings in your compensation claim as you did not lose any. You are, however, still entitled to be compensated for your injury and any other effects it has had on you, as well as, other costs encountered.
Accident And Injury At Work Statistics
In 2016/17 31.2 million working days were lost due to work-related (non-fatal) injuries and work-related illnesses. Two of the biggest contributors towards this were work related Stress, depression or anxiety (costing 12.5 million workdays) and musculoskeletal disorders, costing 8.9 million workdays. Many of these days off were caused by highly preventable injuries such as slips, trips and falls in the workplace.
Should I Take Time Off After An Accident?
The choice of whether or not to take time off work after an accident should depend upon how you feel and any medical advice you have been given. However, there are things you can think about when deciding what to do. Sometimes people are worried and may ask questions such as "do I get paid if I get injured at work", prompting them not to take time off. Remember, you should get statutory sick pay, as well as compensation for lost earnings if you do so.
Start by looking at how serious are your injuries and what type of injury do you have. If you have to stay in hospital this will likely mean missing work. If you suffer an injury which leads to some moderate pain you may still be able to work. The average time off for whiplash is not that long.
Next, look at what your job involves on a day-to-day level. Will your injuries prevent you from carrying out tasks, or would the be aggravated by them? If you have a physical job you may need to take time off work, especially after a manual handling accident. If you work in an office where you sit all day and have a relatively easy commute, even after a road traffic accident you may not need to take time off.
The most important part of your decision should be based on medical advice. What are your doctors telling you. Remember as part of your accident at work rights, you have the right to take time off if you need to do so. You may also be told that going back to work too soon could make your recovery much longer.
If you do take time off, you need to follow your employers procedure for how to report injury absence.
Does It Affect My Claim If I Choose Not To Take Time Off Work After An Accident?
You have the same entitlement to claim compensation if you did not take time off work as if you did. As long as you have other evidence to support your claim, such as witness statements, CCTV footage, reports in the accident report book, and medical records of your injury, your personal injury solicitor can still build a good case for your claim.
How Does Staying At Work Affect My Claim?
Whilst you can claim compensation if you did not take time off work, it affects your claim by removing what can often be a large part of the final settlement many people will receive for their injuries.
What Can I Claim Compensation For After A Personal Injury?
As with any personal injury claim, there are several components which can go towards the final settlement you recieve. If you are going to claim compensation if you did not take time off work, the bulk of your claim could be in general damages for the injury itself. The next part of a claim for an injury at work, no time off will be special damages (excluding loss of income). In this case you could be entitled to claim for medical expenses, the costs of treatment, getting to and from doctors appointments and other related travel costs. You can also claim for the costs of care if needed, though if able to work it is less likely that you will need to make this type of claim.
Examples Of Compensation For Different Injuries
In our personal injury claims calculator below, we look at some of the most common types of injury suffered as a result of accidents in the workplace. These figures should be taken as illustrative as the final amount you could be entitled to will also reflect any of the other forms of compensation listed above. Your award will also reflect the severity and nature of your injury, and the impact it has had upon your everyday life.
| Affected body part and severity of injury | Notes | Compensation |
| --- | --- | --- |
| Moderate Thumb Injuries | Damage to the tendons or nerves which will heal over time. | £8,470 to £11,040 |
| Serious Thumb Injury | Long term damage to the soft tissues which will not fully recover. | £11,040 to £14,690 |
| Moderate Hand Injuries | Serious lacerations which will require surgical intevention. | £5,110 to £11,640 |
| Less Serious Hand Injuries | Crush injuries which will not fully heal. | £12,670 to £25,430 |
| Serious Wrist Injuries | Serious fractures which will take a long time to heal. During recovery the wrist will not be able to be used. | £21,480 to £34,340 |
| Severe Wrist Injuries | Permanent loss of function or ability to move the wrist. | £41,760 to £52,490 |
| Less Severe Arm Injuries | Injuries which will limit how much you can use the arm during recovery. May not fully heal. | £13,720 to £28,060 |
| Severe Arm Injuries | Injury leading to damage and injury over the medium or long-term. May or may not heal fully. | £34,340 to £48,080 |
| Moderate Neck Injuries | Will be very painful and recovery will take time. | £6,920 to £33,750 |
| Severe Neck Injuries | Injury which will have a permanent affect on you. | £39,870 to £130,060 |
| Minor Back Injuries | Soft tissue damage which will not leave permanent symptoms. | Up to £10,970 |
Figures in the table above are taken from the Judicial College guidelines for 2018.
How To Make A No Win No Fee Claim If You Did Not Take Time Off Work After An Accident
No win, no fee agreements are also sometimes called Conditional Fee Agreements (CFA) and they are a way of offering legal services to clients. The agreement will set out the conditions under which your personal injury lawyer will conduct your accident at work no time off claim. It will also state how they can expect to be paid as well as when. The CFA will also say what you can expect to pay the solicitor. This means everything is agreed upfront and you will not have to worry about the circumstances of making a payment.
We offer these types of agreement to help our clients through what can be a difficult time physically, emotionally, and even financially. It means there are no upfront costs, and no big bills you are unable to pay. If your solicitor does not win your case, they won't charge you a penny.
Why Legal Expert Are Best Placed To Help You
We work with a panel of dedicated and specialist personal injury solicitors and lawyers across the country. Whilst every personal injury claim is unique, we will always try to find a solicitor or lawyer who has a wealth of experience in claims similar to yours.
Talk To Our Team Today
You can start your claim today by calling our team on the number above. You can also use the contact us form on this page, or send us the details of your claim in an email to info@legalexpert.co.uk, requesting a call back.
However you get in touch, talk to our team now and find out whether you can claim compensation if you did not take time off work.
Useful Links
Can You Claim For Loss Of Earnings?
Find out if you can and how to do so in this guide to making a personal injury claim for loss of income and earnings.
Accident At Work FAQ's
In this FAQ article we look at some the questions most commonly asked when making workplace personal injury claims.
How Long Do You Have To Make An Accident At Work Claim?
Find out the answer to this common question about personal injury claims time limits in this guide.