I Am A New Employee Can I Make A Personal Injury Claim?
I Had An Accident At Work What Are My Rights As A New Employee?
If you have been injured after just starting a new job, whether during training or orientation, it is reasonable to wonder if you can claim compensation if I am a new employee? In the UK, any employee can make a personal injury claim for an accident at work if the company they work for or their employer has breached the duty of care that they owe them. This is the same whether you have worked for the business for many years, or if you are a new employee.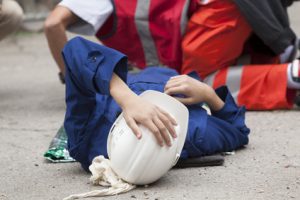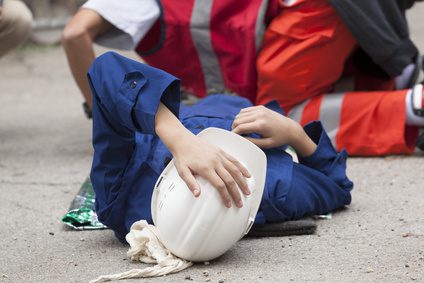 You can claim as a new employee as, in the eyes of the law, all employees should be treated in the same way and afforded the same level of consideration and care. From the moment you start your job, your employer has a duty of care to make sure that your workplace is kept free from hazards and is safe and secure to work on. This can extend to different things in different workplaces. Parts of this duty of care which, if not followed, could lead to a new employee accident, might include providing your with the right training and equipment to perform the tasks your job entails in a safe way. They should also have properly trained you in any relevant health and safety protocols.
Whether you are a new employee, or have been with your employer for years, if you have had an accident at work, you could be entitled to claim compensation. Find our more information for new employees in our guide below. When you are ready, call our team on
0800 073 8804 to start your claim.
Select A Section
A Guide To New Employee Accident Claims
All employers have to provide their employees, new or existing, with the correct health and safety training covering every aspect of their job.
This is can include instruction on how to safely use any equipment or machinery which you will use as part of your day-to-day job role.
Instruction in awareness of any general or specific safety protocols and the use of safety equipment. This could be instruction about how or when to wear things such as a high visibility jacket, or when to wear protective footwear.
An employer should also make sure you know how to turn machinery on and off in the right (safe) way, and how to shut it down or isolate it from the electricity in an emergency.
If your employer has failed to give you the right training as a new employee, and you have had a new employee accident at work, you can claim compensation if I am a new employee.
Accident At Work Statistics
Before looking further at what type of accident at work you might suffer, let us look at statistics surrounding the number of people suffering an accident in the workplace in the UK. To do so, we are using statistics from the UK's Health and Safety Executive. Whilst there are not any specific new employee accident statistics, we can look at more general accident at work examples and statistics.
The headline figures for the latest available year, 2016/ 2017, show the following.
Over thirty one million work days were lost in the UK due to injury and illness caused by work.
This cost the UK economy an estimated £14.9 billion.
1,300,000 people suffered due to illnesses related to their work.
The most recent Labour Force Survey showed that 609,000 people were injured in the workplace.
Injuries reported under the Reporting of Injuries, Diseases and Dangerous Occurrences totaled 70,116.
2,595 people died due to previous exposure to asbestos, this exposure could have been years or even decades ago.
In the year 2017/ 18 144 people died at work.
What Are Accidents At Work?
There are lots of different circumstances in which you can make a personal injury claim for an accident at work as a new employee. A new employee accident could happen in much the same way as any other type of accident at work. If an employee is injured during training and the accident was preventable, the employer could be liable for it.
Whilst they may seem innocuous, over half of all accidents in the workplace which do not lead to fatal injuries are caused by slips, trips, and falls and manual handling accidents. These should accident at work examples which are the most easy for any employer to prevent. Simply having the right accident at work procedure in place as well as the right training, and any equipment necessary, should prevent these from happening. People who suffer from these type of injuries will typically have to take over seven days sick/ injury leave to recover enough to go back to work.
Common injuries in the workplace will include:
Bone fractures and breaks,
Loss of hearing or sight, or impairment of those senses,
Head injuries and traumatic brain injuries,
Crush injuries (typically affecting the hands) caused by machinery,
Dermatitis due to chemical exposure. Typically affecting the hands and arms,
Lung conditions caused by exposure to substances such as asbestos, or other materials,
Work-related cancers or other diseases.
Can I Make A Claim As A New Employee?
The first thing you should do before worrying about whether you can "claim compensation if I am a new employee", is that your employers accident at work procedure for reporting and insurance provision should be the same for you as it is for any other employee at the company. You should also know that your entitlement to claim compensation after an accident is also the same as any other employees. Whilst this can be a common concern for anyone making a claim against their emplouyer, you should also not worry about being dismissed after accident at work as there are legal protections to prevent this.
If you are injured in the workplace as a new employee, you should take the same steps as any other employee injured during workplace training or whilst carrying out their duties. The steps outlined below will help you to strengthen your personal injury claim.
The first thing that you should do is to get any medical attention you need. This ensures your health is taken care of. At the same time, having supporting medical evidence for your personal injury claim can help make the process smoother. At the same time, you should also follow your employers accident at work procedure and record your injury in their accident report book or log.
If there are any witnesses to your accident, ask for their names and contact details and, if you can, take photos of your accident and injury. If the witness is a fellow employee, they should not worry about being dismissed after and accident at work where they acted as a witness. A witness can also be someone who has seen similar circumstances to those leading to your accident happen at another time. Having this supplementary evidence, such as a witness statement, helps your personal injury solicitor to build a solid case showing your employers liability and the extent of your injuries.
Your employer should neither treat you differently (in a negative way) nor can they dismiss you for being involved in a workplace accident. We should also note that most employers would not think of dismissing someone.
Remember, whilst your personal injury lawyer will be making the claim against the company, it is their insurance provider who will settle your claim.
Employee Injury Claims Calculator
When making a claim, there are two common types of compensation which you could be paid after an accident at work as a new employee. These compensation types are general damages, paid for your injury or illness, and special damages which can compensate you for any loss of income you have suffered, as well as other financial losses.
General damages is the form of compensation settlement awarded for physical or psychological pain and suffering felt as a direct result of you new employee accident at work.
You can claim compensation if a new employee for any income and benefits missed out on as a result of your injuries. This could include lost pay, or reduced pay if you have to assume reduced duties.
Special damages are also awarded for things such as reimbursement of any medical costs. This may be the cost of treatment, or prescription medication.
You can also be awarded damages to compensate for the cost of any palliative care or home help you need, as well as adaptations to your property or vehicle if necessary.
You can also claim reimbursement for the cost of attending medical appointments, such as travelling to hospital for follow up care.
In the compensation table below, we have included examples of how much you could be awarded for different injury types and severities.
| Nature of the injury | Level of severity | Further notes | Settlement band |
| --- | --- | --- | --- |
| Arm fractures | Serious injury | Claimant might have multiple fractures in the same arm. Will take time to heal from. | Between £34,340 & £52,490 |
| Arm fractures | Severe injury | Injuries might be fractures of the arm bones (upper/ lower). They will be more severe compared to the previous category. | Between £84,310 & £114,810 |
| Injury to the neck | Minor injury | Minor types of injury which includes cuts and bruises to the neck. | Maximum award £2,150 |
| Injury to the neck | Moderate injury | Moderate neck injuries could include whiplash injuries. | Between £6,920 & £33,750 |
| Injury to the leg | Serious injury | The broken leg bone may be fractured in more than one place. During and after the recovery period, there will still be some level of disability. | Between £34,370 & £48,080 |
| Injury to the leg | Very serious injury | At the end of the recovery process, the leg will not recovery the same level of usage or mobility. Claimant is left with a permanent level of injury. | Between £48,080 & £74,150 |
| Injury to the leg | Severe injury | Claimant will be left permanently disabled after such an injury. Severity will vary somewhat. | Between £84,400 & £119,210 |
| Both hands lost | Total | Loss can be surgical removal or through accident. | Between £123,310 & £176,660 |
| Injury to the wrist | Minor level | Injury to the soft tissues, might include connective tissue damage, a dislocated joint, or other injuries of a similar severity or nature. Recovery time will be short. | Between £3,090 & £4,160 |
| Injury to the wrist | Less serious / serious | More simple fracture injuries or strains and sprains from which recovery is quick and complete. You will not be able to use the wrist during recovery. | Between £11,040 & £21,480 |
The information in the table above is illustrative of how much you could be awarded in general damages. The final value of your claim may differ from this.
No Win No Fee Claims As A New Employee
No Win, no fee new employee claims can be made without any additional financial burden being put on you at what may already be a very stressful time financially.
No Win, no fee means exactly what it says. You will not have to make any payments to your solicitor unless, and until your claim has been successfully concluded and you have a settlement. Your Conditional Fee Agreement (the technical name for this type of contract) will set out what work your personal injury solicitor will do for you and what services they provide. It will also set out when and how they will be compensated, as well as what their total fee will be.
Using a CFA (or Conditional Fee Agreement) can enable claimants without access to sufficient funds to be able to make a claim, and it means you will never have a surprise bill as all costs and charges will clearly be set out.
How Legal Expert Can Help New Employees To Exercise Their Rights
We understand that when it comes to getting legal advice or making a claim, there are lots of different legal services, claims management companies, or solicitors in your area, and across the country. So, why should you use one of the solicitors Legal Expert can provide you with?
We like to think that we offer something different. We will always place your welfare and what is best for you at the heart of everything we do. As we are not working for you on a hourly or daily rate, we will not extend the claims process, or drag it out. Our aim is to get you the compensation you need, as quickly as possible, whilst maximising your settlement.
Contact Us And Start Your Claim Today
Contact our friendly team today and start your claim. You can call us on the number at the top of this page, or use the contact form (also on this page). You can also request a call back by sending and email to our team at info@legalexpert.co.uk.
However you get in touch, start your claim for an accident at work as a new employee today.
Helpful Resources
Accident At Work Claims
View our guide to claiming compensation for a workplace accident whether as an employee or other type of worker in this guide.
No Win, No Fee Claims Explained
Find out more about what no win, no fee claims are and how the process works in this handy guide.
Do You Have To Be An Employee To Make A Claim?
Find out whether or not you have to be an employee to make a compensation claim against a workplace with our handy guide.
I had an accident at work what are my legal rights?
To find out more about your legal rights as an employee give us a call or click on this link.