Do you have to be an employee to make a workplace injury claim? – View Our Guide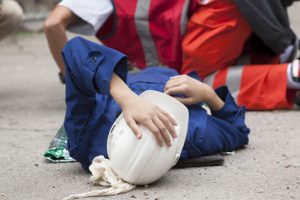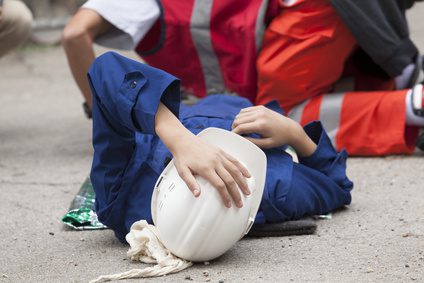 By Fern Mitchell. Last Updated 1st April 2021. Welcome to our guide, which looks at the questions, "do you have to be an employee to make a workplace injury claim?" and "injured at work, what are my rights?". If you are not a full-time employee, you may be wondering whether or not you could claim compensation. You may have even used an accident at work compensation calculator online and want to know if we can get you that amount. Read on to discover more, or call us on 0800 073 8804.
Select A Section
Must you be an employee to claim for workplace injury?
Must you be an employee to claim for a workplace injury? A lot of people believe that workplace accidents are only for full-time employees. This is not the case. No matter whether you are a member of the public visiting the premises, a temporary worker, or an employee, you can make a claim if you have been injured due to an employer breaching Health and Safety legislation.
On what grounds can you make a personal injury claim?
In order to claim, the following three points need to apply to your case:
Someone else caused the incident – You certainly cannot be to blame if you want to make a claim.
You have seen a doctor for your injuries – You need to see a medical professional; otherwise, there will be no proof of your suffering.
The incident happened within the past three years – This is the time limit on all personal injury cases, and so it is better to claim sooner rather than later.
Common workplace accidents and injuries
Some of the common workplace accidents include the following:
Muscle strains
Trips, slips and falls
Lacerations and cuts
Collisions and crashes
Repetitive strain injury
Being hit by falling objects
Fights at work
Walking into objects
Loud noise exposure
Inhaling toxic fumes
Accident at work statistics
When you're injured at work and the accident is due to someone else's negligence, you may be able to make a claim for compensation. in 2019/20, there were 65,427 injuries reported to RIDDOR by employers in Great Britain.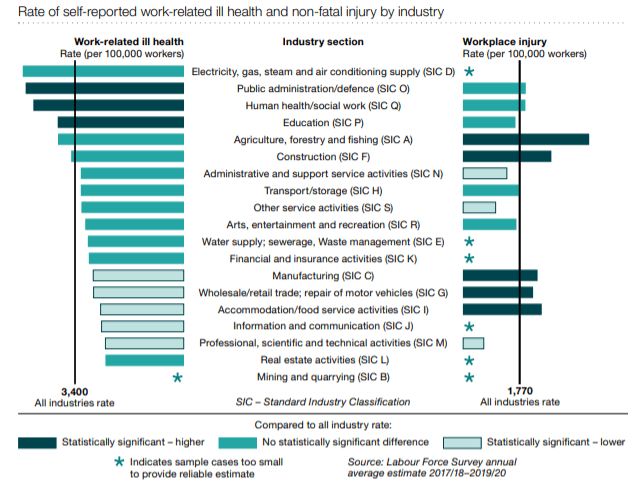 As the graph above shows, there are several industries where the workplace injury rate is statistically significantly higher than the all-industries rate. These include accommodation and food service, retail, agriculture and construction.
Some activities in these industries can contribute to workplace illness and injury. For instance, agriculture, forestry and fishing has a higher than all-industries rate of injury or illness at work. This will be in part due to dangerous chemicals that these workers are exposed to, but things like manual handling can be the cause of injury if performed incorrectly or cause musculoskeletal disorders in the long term.
If you were involved in an accident in any of these sectors as an employee, you may be able to make a claim for personal injury compensation. Get in touch today at the number at the top of this page to be put in touch with a specialist solicitor who can help you with your injury at work claim.
What to do after you have had an accident in the workplace
Here's what to do after an accident at work:
Get medical attention – The first thing you need to do is receive medical attention. Of course, this is an important step in terms of your health. You may think that you feel fine after an accident, but not only is this crucial for your health but if you fail to see a medical professional, you will find it impossible to make a claim, as you need the doctor's report as proof of your injuries.
Take photographs – Photographs can really help to strengthen your case.
Make a note of what happened – You never know what important details you could forget later down the line, and so it is always advisable to sit down and make a note of everything that occurred.
Get witness details – If anyone witnessed the car accident, you are advised to get their contact information. Witness statements make excellent evidence.
Report the incident to the employer – This needs to be recorded in their accident book, which is required by law.
Keep a record of costs – Finally, you need to keep a record of any expenses you have suffered because of your injuries. This could be anything from prescription costs and vehicle repair expenses to loss of earnings and travel costs. You can claim these as special damages as per accident at work law, but you will need proof.
Time limits on workplace accidents
Now that we've answered the question, "do you have to be an employee to make a workplace injury claim?", you may be wondering, "what are my injured at work rights in terms of claiming time limits?". You have three years to make a claim. It is pivotal to note that court proceedings must be issued within this three-year period. Are there any exceptions? There can be, but these are few and far between. Generally, the only occasions whereby there are exceptions to the time limits on claims is when you cannot pinpoint one exact date for the accident. This is relevant to injuries that occur over a period of time, which can relate to those sustained in the workplace. For repetitive strain injury and vibration white finger, for example, you will likely have three years from the date of the diagnosis of your workplace injury instead.
Workplace Accident Compensation Amounts (Updated April 2021)
Workplace accidents can result in a wide range of injuries, from head injuries to sprains and strains. It's difficult to value a compensation claim based on the kind of injury alone. This is because, as well as the severity of the injury and the pain and suffering you've experienced, your compensation award will be based on a number of other factors such as any loss of earnings or expenses you've incurred.
That being said, the table below is comprised of some estimated values of various compensation settlements for your reference. These are based on our experience with handling claims in the past.
| Injury | Value | Notes |
| --- | --- | --- |
| Leg injuries- amputations | £91,950 to £264,650 | When one or both legs have been amputated above or below the knee |
| Leg injuries- very severe | £90,320 to £127,530 | This bracket is appropriate for the most severe injuries short of amputation |
| Leg injuries- Serious | £36,790 to £51,460 | Serious compound or comminuted fractures or injuries to joints or ligaments resulting in instability, prolonged treatment and a lengthy period of non-weight-bearing |
| Leg injuries- Moderate | £26,050 to £36,790 | Complicated or multiple fractures or severe crushing injuries, generally to a single limb. |
| Knee injuries- Severe | £24,580 to £90,290 | Serious knee injuries resulting in disability and limitation of movement |
| Knee injuries- Moderate | £13,920 to £24,580 | Includes dislocation, torn cartilage or meniscus which results in minor instability, wasting, weakness, or other mild future disability. |
| Ankle Injuries- Very Severe | £46,980 to £65,420 | Cases of fracture of the ankle with extensive soft-tissue damage resulting in deformity and the risk that any future injury to the leg might necessitate a below-knee amputation or instances of a fracture resulting in degeneration of joints at a young age will result in awards in this bracket |
| Ankle injuries- Severe | £29,380 to £46,980 | Cases resulting in significant residual disability in the form of ankle instability and severely limited ability to walk will fall into this bracket |
| Ankle injuries- Moderate | £12,900 to £24,950 | Fractures, ligamentous tears and the like which give rise to less serious disabilities such as difficulty in walking on uneven ground |
| Hand injuries- severe | £132,040 to £189,110 | Total or effective loss of both hands |
| Hand injuries- severe | £90,250 to £102,890 | Total or effective loss of one hand |
| Hand injuries- severe | £52,310 to £79,360 | Significant damage to both hands giving rise to a significant loss of function |
Why you need to have a personal injury solicitor on your side
You can launch a claim for a workplace injury yourself, but this would not be advised. Personal injury law is complex, and you won't get a second chance to make a claim. Not only will we make sure you receive the full payout, but we will ensure you are aware of all of your rights. A lot of people worry about being dismissed after an accident at work, but this is also against the law.
Legal Expert – Free Guidance on Accident at Work Claims
We are one of the leading law companies in the UK. All of our solicitors work on a No-Win, No-Fee basis, which means that you are only going to need to pay legal fees if your case is a success. We also provide free, no-obligation legal advice. If you are not certain about utilising Legal Expert to launch a claim for your workplace injury, all you need to do is look at the comments that have been left by our previous customers – we think you will find them very useful.
Contact Legal Expert Today
Are you ready to make a claim? Perhaps you want to know more about the accident at work procedure and accident at work employer's responsibilities? If so, you can reach us on 0800 073 8804, and we would be more than happy to help you secure the compensation that you deserve.
Useful Links
We hope you now have a better understanding of your injured at work rights. However, if you need more information, these links may help:
Compensation for injuries at work GOV– This takes you to the accident at work Gov UK website.
Health and Safety Executive– Guidance for health and safety in the workplace.
A guide to urgent treatment centres– information from the NHS about using walk-in centres.
Claiming guide for accidents that happen at work – Legal Expert– This is our accident at work claims guide.
No Win No Fee claims– our guide on making a claim with a conditional fee agreement.
Injured on a building site- can I claim?– Our guide to claiming compensation after an accident at a building site.
Injured at work claims- FAQs
I had an accident at work, what are my rights?
If you've been injured at work, then you have a right to seek compensation for your injuries and any other losses you've experienced like time taken off work, medical expenses and travel expenses. Your employer can't discipline or dismiss you for making a claim for an accident, and they also can't create a hostile working environment that encourages you to leave.
You may be worried about the financial impact that making a claim could have on your employer, which puts you off seeking the compensation you deserve. But the Employers' Liability (Compulsory Insurance) Act 1969  means that your employer must have insurance against personal injury claims, so your compensation won't come out of their pockets, or the business' profits.
What's the most common kind of accident at work? 
When we look at the kinds of accidents that are likely to befall employees in Great Britain, we might expect there to be a great deal of variation based on industry. After all, the workplace risks that are posed to a construction worker are likely to be different from the ones that a teacher faces when they go to work each day.
But in fact, when we look at the data from HSE, we can see that the most common kind of injury across all injuries takes the form of slips, trips and falls, which accounted for 29% of workplace injuries in 2019/20. And when we look at the specific data for individual industries, slips, trips and falls remain one of the most common kinds of accidents that workers will be involved in.
For example, in 2019/20, there were 4,526 accidents reported in construction, of which 1,205 were slips, trips or falls. And in Public administration and defence, compulsory social security, education, human health and social work activities, 20,450 accidents were reported. 6,125 of these were slips, trips and falls on the same level, making it the most common accident type.
What's my employer's responsibility as far as health and safety at work?
Your employer has a duty of care to ensure that you're reasonably free from the risk of harm while working. This includes things like ensuring you're properly trained for your role, have the correct equipment and that the workplace is reasonably free from hazards.
How long do I have to claim?
The personal injury claims time limit is three years from the date of the accident. In the case of occupational diseases, the three years run from the date that you knew, or should have known, that your symptoms were a result of your work.
Can I make a personal injury claim myself?
You can make a personal injury claim without instructing a solicitor to act on your behalf. But there are many benefits to having a law firm working on your claim, particularly one that has extensive experience in the area of workplace accident claims.
What disqualifies you from making a workplace accident claim?
You can't make a personal injury claim for an accident at work if the accident wasn't caused by your employer's negligence.
How do I increase my personal injury settlement?
The best way to maximise your personal injury claim is to gather as much evidence as possible regarding the accident itself and any effects it has had on you. This includes witness statements, medical records and receipts and invoices.
What is a good settlement offer?
It's difficult to put a value on a claim without knowing all the details of it. Your final compensation settlement will include compensation for things like travel expenses and time taken off work, as well as the general damages for pain and suffering.
Thank you for reading our guide looking at the question, "do you have to be an employee to make a workplace injury claim?".