Clacton-on-Sea Personal Injury Solicitors No Win No Fee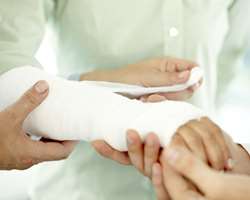 If you have suffered an accident – either at work or on the road – our personal injury lawyers can help. Thousands of people in Britain are involved in car collisions and work-related accidents every single day. Our team of Clacton-on-Sea personal injury solicitors have the experience and legal expertise to get you the compensation you're entitled to.
If you live in Clacton-on-Sea and have been involved in an accident that wasn't your fault, there is no better place to turn than us. We understand the frustration and pain that can arise when you sustain an injury, and we'll fight for your cause to ensure you are rightly compensated.
Why Should I Make A Claim?
You're entitled to financial compensation. It isn't just your immediate health that can suffer as a result of an accident. You can also be left to contend with:
Reduced earnings
Loss of current and future earnings
Stress and anxiety issues
Medical expenses
Decline in the quality of life
We can help make things right by getting you the money you deserve and help you get back on your feet.
How Can Our Personal Injury Claims Service  in Clacton-on-Sea Help Me With My Claim?
Our personal injury lawyers are equipped the knowledge, skill and capability to secure you a justified financial reward if you've been involved in an accident that you didn't cause or wasn't your fault. Our team can help you secure compensation if you've:
Been involved in a road traffic accident
This can be something as minor as suffering a dent in your car, to more serious accidents like being knocked off your bicycle or major vehicle collisions.
Experienced an accident at your place of work
Your employer is under legal obligation to provide a safe working environment. If you have slipped, tripped, been struck by falling objects or suffered an accident as a result of faulty equipment, you have a right to make a claim.
Been involved in an accident which occurred on public property or business premises.
Those owning public property or business premises are also under legal obligation to ensure their environment is safe for anyone who enters. If you have experienced an accident in an area such as this, you may also be eligible to claim.
How Do I Claim?
Don't ever be afraid to make a claim if you've been involved an accident. A lot of people tend to feel uncertain about reporting their accident to a solicitor as they don't fully understand the legal process. With us, it's different. Our team will break your case down for you into language you can understand – stripping away the legalese and transforming everything into layman's terms. We'll do all the work and keep you updated with regards to your case. Remember, if safety standards have been neglected or ignored and you have suffered as a result – you deserve to be compensated. We can make it happen.
The claim process couldn't be simpler. First, our solicitors will ask you a selection of routine questions to gather all the information they can about your accident. The more details we have, the stronger your claim will be. These questions typically include:
When did the accident happen?
Where did the accident happen?
How did the accident happen?
What sort of injuries have you sustained as a result of the accident?
Have you been seeking professional medical advice after suffering the accident?
What sort of treatment have you had to undergo as a result of the accident?
Next, our team will ask you to show what kind of financial losses you have experienced following your accident. Financial losses may include:
Loss of earnings due to not being able to go to work
Increased expenses due to medical bills
After gathering this evidence, our solicitors will send a letter to the person held responsible for causing the accident. They will have 8-12 weeks (depending on the nature of the case) to accept liability. If they do, the matter can be solved out of court with help from our solicitors (who will expertly negotiate to get you a fair financial settlement). If they do not accept liability or refuse to pay this settlement, the case will be taken before a judge.
Our solicitors stay with you every step of the way, ensuring you feel as comfortable as possible throughout the process. Remember, we are on hand to answer any questions you may have about your claim at any time.
How Much Compensation Will I Receive And When Will I Get It?
It depends on the case. Every claim is different, and whilst we cannot guarantee a date on which you will receive a specific amount of money, our team will be able to provide you with an estimated value once you answer our initial questions. We'll keep you in the loop from start to finish, and make sure to keep you updated with regards to the progress of the case. This way, we'll be able to provide an estimation of the amount of money you're likely to receive, as well as the date on which you will receive this compensation. We have been operating personal injury services in Clacton-on-Sea for years and have an extremely strong grasp of the kind of money that can be awarded for specific types of claims.
What Makes Your Personal Injury Lawyers Preferable To Others?
The difference between us and other personal injury lawyers is that we offer a personalised, tailored service that caters to your every need. We keep you updated on your case from beginning to end, simplifying all the legal terms to ensure you understand what is happening and why. We care about our customers and guarantee to provide a fierce defence for any claim we believe has sufficient grounds. There's no denying there are a lot of personal injury lawyers out there, but our local Clacton-on-Sea-based personal injury lawyers know the area inside-out – unlike the big city alternatives. We consider ourselves experts not just in legal matters, but in customer service too. Give us a call today and see what our lawyers can do for you.
Please remember when claiming through a personal injury solicitors in Clacton on Sea we highly recommend that you read their terms and conditions.