Ayr and Ayrshire Personal Injury Solicitors – No Win No Fee Claims
By Daniel Barden. Last Updated On 16th September 2021. Welcome to our page on Ayr personal injury solicitors. On this page, you will find a guide to finding the options of an Ayr personal injury solicitor to process a personal accident claim for you. It contains all the information that you will need to educate yourself about issues such as your eligibility to make a claim, and how to choose the best legal firm to represent you.
If you don't have time to read all of this guide, please feel free to just read the sections that are important to you. If you have any questions, give Legal Expert a call on 0800 073 8804, and one of our team will get you the answers you need.
Alternatively, you can use the pop-up chat window in the corner. You could also check your claim online to see if it's valid. Our advisors are waiting to put you in touch with one of our Ayr personal injury solicitors.
Jump To A Section
Do I Have A Legitimate Personal Injury Claim?
Before you begin looking for Ayr personal injury solicitors to process your claim, you need to be sure that you are actually eligible to make one. If you have come to harm through an event that was at least partially caused by a third party, you should have a valid reason to make a claim. The harm can be a physical injury, an illness, or psychological damage such as shock, stress or post-traumatic stress disorder.
If you are partially to blame for the event that caused you harm, you should still be able to claim. However, the defendant would then plead a lowered percentage of liability. For example, if you fell down a manhole from which the cover had been removed while checking Facebook on your phone then you would be partially to blame.
This is because you were not fully concentrating as you were using your phone. you should have been paying attention to your surroundings. However, the manhole cover should never have been left off without a safety barrier being put in place. In this case, the defendant might claim to be 80% liable, as your own actions partially contributed to the accident happening. Therefore you would only receive 80% of a full payout.
If you are still confused over the issue of liability in your own case, then give Legal Expert a call on the number at the end of this guide, and we can let you know who we think was liable for your accident.
How Do I Get The Best Solicitor For My Accident Claim In Scotland?
When choosing personal injury solicitors, Scotland residents should keep in mind the fact that how proficient their legal team is at processing their claim, will have an effect on the outcome of the claim. The more proficient your solicitor, the higher the chance of you winning your claim, and the higher the compensation settlement could be. Ask any solicitor you are considering the three questions below:
Have you handled a case similar to mine in the last year?
Can you arrange for me to have a local medical examination to support my claim?
Can you take on my claim under a Conditional Fee Agreement (CFA)?
Every solicitor in Scotland must register with the Law Society of Scotland. This includes Ayr personal injury solicitors. However, registration is not a measure of proficiency, simply that the legal firm could meet all the registration requirements.
A further consideration is what type of law the legal firm specialises in. Some specialise in only specific parts of the law, such as contract law or intellectual property law for example. Others are happy to take on any legal work, from certifying documents to criminal cases. And some, like us here at Legal Expert, are 100% focused on helping accident victims get the compensation that they are eligible to receive. Call us on the number at the end of this page to learn how we can help.
What To Look At When Reading Reviews Of Solicitors In Ayr?
If you intend to use reviews of solicitors to create a shortlist of potential legal firms to process your claim, there are a number of considerations that you should keep in mind. These are:
Was the lawyer able to offer to handle the claim under a Conditional Fee Agreement (CFA)?
If the lawyer did offer a CFA, what was the percentage that they charged for their fees?
Is the review you are reading new enough to be useful?
Is the review you are reading based on a compensation claim similar to yours?
Is the review positive, negative, or a little of both?
The answers to questions such as these will ensure that you are looking at, and comparing the right facts when reading reviews. For some real-world advice, you can always speak to one of the Legal Expert team by calling the number at the end of this page. They will be able to help you get your claim started.
Will I Need To Use A Solicitor Near Me?
You may think that you have to use a local personal injury solicitor in Ayr. You would be wrong though, as you are free to use any legal team you wish, regardless of where they are based in the UK. Of course, with a local firm, you can always walk in and talk to your solicitor. However, using email and the phone you can keep in touch with your lawyer easily wherever they are.
Instead of worrying about the solicitor's location, you should be looking for one that is going to make a good job of processing your claim for you. The better your solicitor is at providing this service, the higher the chance you have of winning, and also of being awarded more compensation.
Legal Expert operates our claims service across the whole of the UK, including Ayr. We specialise in processing accident and injury claims on behalf of our clients. Call us on the number at the bottom of this guide, and we can get started with your claim today.
Scotland And UK Accident Claims Which Our Team Can Handle
Legal Expert should be able to help you with any personal injury claim where a third party is at least partially responsible. We can also assist with certain non-fault accidents as well. However, there are some very common types of claims that we see frequently. We have gone into detail covering some of these common claim types in the following sections. If your claim doesn't fit into any of these sections, we can still help you. Call us on the number at the bottom of this guide and tell us about your accident. One of our team will let you know how we can help you with your claim.
Industrial Disease
Scottish injury lawyers should be able to process a claim for you if you have contracted an illness or disease at work. Your employer in Ayr, should provide you with a healthy, hazard-free working environment. When they don't, and it leads to an employee becoming ill, then they could be liable to pay compensation.
Because the three-year time limit to make a claim runs from the date the illness or disease is first diagnosed, you are able to claim against previous employers. Even if the event which triggered the illness was many years ago, you should still be able to claim. For example, if you were a miner in a previous job, and have recently contracted lung problems that were likely caused by working in a mine. You would be able to claim against the company you worked for back when you were a miner.
Legal Expert can help you to make workplace illness or disease claims. Please call us on the number at the bottom of this guide to proceed. You can also check out our full guide to workplace illnesses at this link:
A guide to making a claim if you have become ill due to work
Medical Negligence
Medical negligence can also be known as clinical negligence. This is when your health is negatively impacted due to the action or inaction of a healthcare professional. Some examples of this are:
Misdiagnosis
Prescribing incorrect or unnecessary medication
Receiving treatment without being made aware of possible side effects
Additionally, there is also the matter of surgical negligence. With surgery, certain things can happen that are so serious that they should never happen at all. These are known as never events. Never events can be things like:
Leaving foreign objects inside the patient
Performing surgery on the wrong patient
When an operation is performed on the wrong part of the body
Things can go wrong in both medicine and surgery without it being classed as medical negligence. If you're unsure as to whether what you experienced would classify as negligence, then get in touch with us today and we will answer your questions.
Claims For Accidents At Work In Ayr
As with the section on workplace illness above, your employer has to comply with all of the Health & Safety legislation that pertains to their industry. This includes all of the H&SE guidelines for making sure that employees have a safe place to work.
Failing to comply will all legal requirements, leading to an accident that injured a member of staff, would leave the company liable to pay compensation. Legal Expert can help you to make a workplace accident claim. Give us a call on the number at the end of this page to learn how. You can also read over our full guide to work accident claims at this link:
A guide to making a claim if you have been injured in an accident at your workplace
Trip, Fall And Slip Injuries
Slips, trips and falls are very common accidents. They can cause injuries ranging from minor sprains, through to a fracture of the pelvis, or even death in extreme cases. The elderly are especially at risk from this type of accident, brittle bones can be broken much easier. Typical slip, trip and fall hazards include:
Wet or dirty floors.
Damage floor coverings such as carpets, tiles and floorboards.
Broken curbstones and paving slabs in the street.
Obstructions left on a public footpath or in a publicly accessible building.
Potholes and uneven tarmac and other road coverings.
If you have been injured in a slip, trip or all accident, Legal Expert should be able to process a compensation claim for you. Call us on the number at the end of this guide to proceed. Alternatively, you can take a look at our full guide to slips, trips and falls here:
A guide to making a claim if you have slipped, tripped or fell
Serious Injury Claims
If you are trying to choose lawyers for serious injury claims, there is something you must consider before you make a choice. These claims often result in significantly large compensation payments. If you don't use the most competent legal team to process your claim, you could potentially leave tens of thousands of pounds on the table. These are all examples of serious injuries:
Damaged or removed internal
Amputated arm, leg, hand or foot
Paraplegia or quadriplegia
Serious, permanent brain damage
Severe psychological problems
Some injuries are so severe that they result in fatalities. Statistics from the HSE tell us that in 2020/21, there were 142 deaths caused by workplace injuries in the workplace. You may not know this, but you can actually still make a claim if a loved one has been involved in a fatal accident.
Below, you'll find a graph that breaks down these numbers and shows how common fatal accidents were in various industries.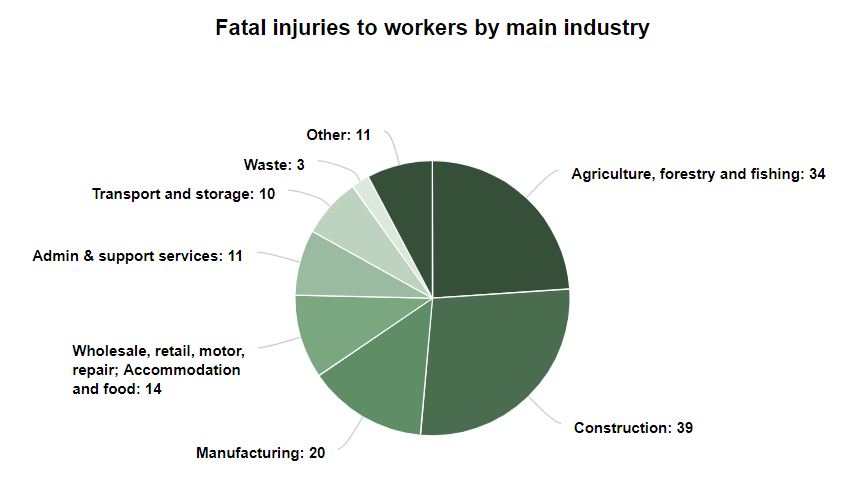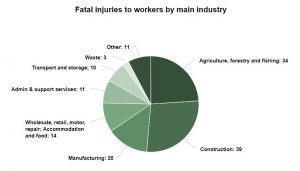 If you have been involved in an accident that caused a serious injury, let Legal Expert help you get the maximum level of compensation possible. Just give us a call on the number at the bottom of the page, and tell us about your injuries. One of our team will let you know how we can help. You may also like to read this guide below, which focuses on serious injury claims:
A guide to claiming compensation for a serious injury
Road Traffic Accident Claims
It's not just drivers who can make a claim if they have been injured in an accident on the road that wasn't their fault. Passengers, pedestrians, and cyclists can also be eligible to receive compensation.
All road users have a duty of care to keep one another safe. This is achieved by following the rules laid out in the Highway Code. If these rules are not followed and an injury to another road user is caused, this could be a breach of their duty of care. This is when personal injury claims regarding road traffic accidents can arise.
Sometimes, there is only one vehicle involved in an accident. This does not necessarily mean it is the fault of the driver. Local councils must maintain the safety of their roads. If potholes or other damage takes place to the surface of the road that is not repaired, then this could cause the driver to lose control of their vehicle and sustain an injury. In cases such as these, the claim could be made against the council responsible for the area.
The Whiplash Reform Programme
A very common injury to sustain in a car accident is Whiplash. Because of the frequency of the claims being made, the government introduced a new way of processing them, Now, if your injury took place after 31st May 2021 and is worth up to £5,000, you can apply for compensation through the online portal known as the Whiplash Reform Programme (WRP).
Despite the name of the programme, you can actually apply this way for any injury sustained in an RTA worth up to £5,000. It is not just for whiplash claims. You do however need to be the driver or passenger in the car. Pedestrians and cyclists are not eligible to utilise the WRP and must apply for compensation using Ayr personal injury solicitors (or solicitors in an area that suits you best).
Similarly, even if you were a driver or passenger, if your injuries were sustained before the cut-off date of 31st May 2021, then you must use a solicitor to claim too. Our Ayr personal injury solicitors could help you with this. Even if you feel your claim is worth less than £5,000, it could still be worth getting in touch with us to see if it could be awarded more.
Can You Make A No Win No Fee Personal Injury Claim In Scotland?
When it comes to No Win No Fee, Scotland residents have access to the same kind of representation under a Conditional Fee Agreement (CFA), which is seen elsewhere in the UK. This kind of agreement provides a risk-free way for a resident of Scotland to make a claim. If you would like some more information on how this kind of claims service works, give Legal Expert a call on the phone number below:
Does Legal Expert Offer A No Win No Fee Service?
Legal Expert offers our national No Win No Fee claims service as a simple, risk-free and effective way for residents of Ayr to have their claim processed. There is no fee to pay when we start on your claim, and no fee to pay as we process your claim. If we fail to win you any compensation at all, then we won't charge any fee whatsoever. When we do win you a compensation settlement, we will deduct our pre-agreed percentage as our fee from the money we received for you, then give you the remainder.
Start Your No Win No Fee Claim Today
Are you ready to have Legal Expert process your personal injury claim for you? If you are, then please give us a call on 0800 073 8804 right now. One of our team will be ready and waiting to talk you through our new claims process, and also answer any questions you have about our claims service.
Other Helpful Compensation Guides
Helpful Resources And Information In Ayr
Police Scotland
1 King St
Ayr
KA8 0BU
Web: http://www.scotland.police.uk/police-stations/ayrshire/150559/
Opening hours: 24 hours.
Ayr Sheriff Court and Justice of the Peace Court
Sheriff Court House
Wellington Square
Ayr
KA7 1EE
Web: http://www.scotcourts.gov.uk/the-courts/court-locations/ayr-sheriff-court-and-justice-of-the-peace-court
University Hospital Ayr
Dalmellington Rd
Ayr
KA6 6DX
Web: https://www.nhsaaa.net/hospitals/university-hospital-ayr/
Thank you for reading our guide to Ayr personal injury solicitors.