Princess Cruises Accident Claims Guide – How Much Compensation Can I Claim For A Personal Injury On A Princess Cruise?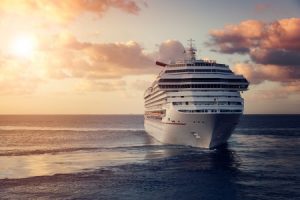 When you book a cruise, you hope and expect that it will be a relaxing holiday that you'll remember for a very long time.  With plenty to do aboard a range of cruise ships, Princess Cruises are a major operator offering tours around the world. If you're injured while on one of their cruises, due to the negligence or error of the operator then a Princess Cruises personal injury claim could sometimes be sought.
If you would like to discuss your personal injury case today, then call Legal Expert, for free, on 0800 073 8804 and one of our advisors will advise if you are eligible to begin a compensation claim.
If you'd like to know a bit more first, then please carry on reading our useful guide to making claims.
Select A Section
A Guide To Holiday Personal Injury Claims On Princess Cruises
With a fleet of 17 different cruise ships, Princess Cruises are a major player in the industry and are part of one of the biggest groups of cruise providers in the world.
They have ships that can carry around 700 passengers to their largest which can carry over 3,500. Passengers experience a luxurious, relaxing holiday on a resort on the sea.
Accidents and Injuries could happen anywhere, on any type of holiday. If you suffer an accident or illness on a cruise ship it could possibly lead to a cruise ship accident claim if the accident was caused by negligence on the part of the cruise operator or its staff, even if there was no intent to cause the accident.
To be able to begin a personal injury claim, a solicitor will need to ascertain:
If the cruise operator or tour operator owed you a duty of care,
Whether they, or their staff or contractors, breached their duty of care, and
That you were injured because of that breach of duty.
If you can answer yes to the above then you may have grounds for compensation for your injuries and other losses caused by the accident.  Contact us if you'd like to begin a claim or to check whether your claim is likely to be successful.
This guide will explain what types of claims you could make (including food poisoning, slips and falls and food allergies), how the operator could be to blame, how long you have to begin a claim and how Legal Expert could help with a no win no fee compensation claim.
The current fleet of ships operated by Princess Cruises are:
Caribbean Princess
Coral Princess
Crown Princess
Diamond Princess
Emerald Princess
Golden Princess
Grand Princess
Island Princess
Majestic Princess
Pacific Princess
Regal Princess
Royal Princess
Ruby Princess
Sapphire Princess
Sea Princess
Star Princess
Sun Princess
If you've had an accident which caused an injury at sea aboard any of these ships, which you believe could've been avoided had staff done something to prevent it, then please get in contact with Legal Expert today so that we can assess your claim.

Examples Of Cruise Ship Illnesses And Injuries
There are many injuries and illnesses that can occur on a cruise ship, some are more common than others.  The most common reported include:
Broken bones
Bruising
Food poisoning
Burns
Head injuries
Legionnaires' disease
Soft tissue damage
Water borne illnesses (either from swimming pools or drinking water)
This is just a sample of illness or injuries that can happen while on a cruise ship.  We can help to make cruise ship compensation claims for any type of injury, so long as it was caused by somebody else.
Even minor injuries that heal relatively quickly can cause pain, discomfort and ruin a holiday, so you should consider making a compensation claim, no matter how serious the injury.

Examples Of Possible Cruise Ship Illnesses And Injuries
The following list shows details of possible types of accidents that could lead to the injuries;
Slips and falls: These could occur due to damaged stairs, steps or handrails, wet or slippery floors and lead to a number of serious injuries.
Hot food and drink burns: Burns from hot food or drink spillages by staff.
Food poisoning: This occurs when food is stored, prepared, cooked or reheated incorrectly or in unhygienic conditions.
Swimming pool accidents: A pool, even on a ship, must be managed properly, excess water around the pool cleaned up and the chemicals in the water must be managed correctly.  A cruise ship injury claim could be made in the event of illnesses due to unclean swimming pools.
Accidents while participating in activities: If the operator hasn't provided the right equipment, shown participants how to complete the task or attempted to operate the activity in adverse weather conditions, then an injury may be sustained.
Legionnaires' disease: Caused by bacteria in water supplies, pools or Jacuzzis, Legionnaires' is a serious illness which could be claimed for if contracted on a cruise ship.
Legal Expert are able to provide support for Princess Cruises holiday accident claims for any type of accident caused by negligence while on one of their ships.

Cruise Ship Operators Duty Of Care
All cruise ship operators have a duty to ensure that passengers travel safely while on their ships. There are a number of different regulations for each country that a ship docks at but there is also the Athens Convention 1974 (and the later 2002 protocol) which could determine how much compensation a passenger may be awarded following an accident.
Under the convention, in non-shipping related injuries, the passenger has to prove that the accident and injury was caused by the boats operator (in a similar way to land-based personal injury claims).
With shipping related accidents (such as shipwreck, fires, stranding, explosion or collisions), the passenger does not have to prove as much evidence, as the operator may be presumed to be at fault.
Legal Expert have a team of personal injury solicitors who understand the duty of care and legislation that should protect passengers on cruise ships. If you think you could be eligible for compensation, please call and discuss your claim with us, with no obligation.

How Long Do I Have To Claim For A Cruise Ship Accident?
Depending on the scenario, there are time limits when making a personal injury claim that must be adhered to.  The current time limits are:
| Claim Type | Limit |
| --- | --- |
| Accidents and Injuries on a package holiday booked by a UK tour operator in the UK. | 3 years |
| Athens convention claim (in international waters) | 2 years |
Following an accident, you should contact a personal injury lawyer as soon as possible so that they have enough time to compile your claim and ensure it's filed on time.  If you miss the deadline, the claim will be automatically rejected, and you won't receive any compensation.

Accidents And Injuries That Could Happen In Your Cabin Or Accommodation
Accidents are not just constricted to communal areas, in a restaurant or at the pool, you could possibly be injured while in your cabin. The operator could still be liable for your injuries in some circumstances.
You could be injured in any of these scenarios while in your cabin:
Objects or furniture that have not been fixed to the wall or floor correctly could fall on you.
You could be injured by damaged fixtures or furniture in your room.
Or you could slip and fall because of some sort of damage to the flooring in the cabin.
If you have experienced an injury in your cabin and you feel it could have been avoided call us today to see if you are eligible for damages.

Accidents On Transfers To And From The Ship Terminal
If your holiday included a transfer from a hotel to the shipping terminal, either a taxi, bus or train, an accident occurred while being transferred you could be eligible to make a claim for your compensation if you are injured if the accident was not your fault.
Examples include:
Where your bus or taxi is hit by another vehicle.
Where items fall on you while travelling in the transfer vehicle.
Where the transfer vehicle is driven dangerously and is involved in an incident.
Or if the transfer vehicle collides with you as a pedestrian prior to boarding.
Accidents On Tender Or Other Transfer Vessel
Some ports are too shallow for larger cruise ships to dock at and usually use tenders to transfer passengers who want to disembark (usually for day trips).  This can be smaller boats and quite often, the ships lifeboats can be operated as tenders.
Injuries that could be caused by any of the following could possibly lead to cruise ship compensation claims:
Tendering in rough sea conditions causing you to fall
Poor operation of the tender causing you to injure yourself
Damaged or slippery hand rails
Inadequate boarding processes
Bad lashing
Please get in touch if you were injured while boarding or using a tender to transfer you from a cruise ship so we can advise on your next steps.

Cases Of Food Poisoning And Norovirus At Sea
Food poisoning is never a nice illness to have but it can be much worse when you're aboard a cruise ship, stuck in a confined space and in sometimes turbulent waters.
Food poisoning can be caused by bacteria in food when it has been stored, prepared, cooked or reheated inappropriately.   It can also spread on contact which means, if the ship doesn't operate strict hygiene regulations,  the illnesses could spread across a ship and affect large numbers of passengers relatively quickly.
Norovirus is one of the most common types of food poisoning that could occur onboard cruise ships and, because of such close proximity of staff and passengers, could spread very quickly.
If you've been affected by any type of food poisoning while on a cruise ship, you should seek medical attention as soon as it is possible to do so.

Food Allergies While On A Cruise
Allergic reactions caused by food products are different to food poisoning because the preparation, storage and heating of food is not being questioned. The problem for sufferers occurs when the menu or food labelling doesn't highlight that it contains an allergen.
The cruise company has a duty of care to meet strict food labelling standards, the same as a company on land would.  They should highlight clearly a number of different allergens if they are present or could be present due to cross contamination in cooking areas.
Serious allergic reactions could lead to Anaphylaxis which could ultimately cause the death of a passenger if the airways are blocked.  Cruise ships will have trained first aiders and doctors who you should consult in the event of a suspected reaction.
If you believe you've suffered with an allergic reaction due to the allergen not being highlighted, try to photograph the menu or food packaging so that evidence can be provided to back up your claim.

Personal Injury & Illness Claims Calculator
When you begin researching Princess Cruises personal injury claims, you may have seen adverts for personal injury compensation calculators.  Very often they do not give an accurate view as they only include general damages. From years of experience, we know that every claim is unique with too many factors to be taken in to consideration for a compensation calculator to give an accurate picture.
When you contact us, and when we fully understand what injuries you suffered (and the impact they've had on you), then we can provide an estimate for you which will be much more accurate than a claims calculator would be.
The table below does show some of the compensation amounts awarded for different types of injury but please bear in mind that this is only one part of the claim as you'll read in the next section:
| Type Of Injury/Illness | Severity | Compensation Range | Further Notes |
| --- | --- | --- | --- |
| Hand injury | Moderate Injury | £5,110 to £11,640 | The range in this category starts with soft tissue, lacerations, deep wounds, crushing injuries, the top brackets is reserved for permanent damage. |
| Arm injury | Less Severe Injury | £16,830 to £34,340 | The range in this category includes significant disability but a substantial degree of recovery is expected. |
| Finger injury | Fracture of index finger | £7,990 to £10,730 | Fracture has recovered but grip remains impaired. |
| Back injury | Moderate Injury | £10,970 to £34,000 | The range in this category starts with as disturbance of ligaments and muscles giving rise to backache, soft tissue injuries, prolapsed discs to incidents of a compression/crush fracture of the lumbar vertebrae where there is a substantial risk of osteoarthritis. The impact on daily life will play a significant part. |
| Neck injury | Minor Injury | Up to £2,150 | Recovery within 3 months. |
| Ankle injury | Modest Injuries | Up to £12,050 | The range in this category includes sprains and soft tissue damage and displaced fractures. |
| Foot injury | Severe Injury | £36,800 to £61,410 | The range in this category includes fractures to both heels, significant pain and restriction. |
This is just a sample of the different injuries you can claim for.  As you can see, there is a range of compensation for different injuries.  Your personal injury solicitor will need to prove, by providing medical records and other evidence, how severe your injuries were to ensure you receive the correct level of compensation.

What Can I Claim For After An Accident On A Cruise Ship?
If you claim compensation following an accident or illness on a cruise ship, there are a number of different elements of a claim you could include.   These include:
Pain and suffering (General Damages): this is the compensation listed in the table in the previous section and is determined by doctors' reports or other supporting evidence.
Loss of enjoyment of your holiday: This will compensate the amount of time ruined because of your injury or illness.
Any personal expenses incurred: This can include the cost of holiday insurance excess payments, additional travel costs, medical costs and care costs.
Loss of earnings: If you have to take time away from work when you return to the UK, because of your injuries, you could claim any lost income.
Your solicitor will ask a number of questions around these elements to ensure a full claim is submitted.  Once you have settled a compensation claim, you can't go back and ask for more at a later date, so its vital you provide as much information as possible.

Explaining How To Make A Cruise Ship Accident Claim
When you are involved in a cruise ship accident, there are a number of things you could do.  Some are mandatory and some optional, but all will make claiming compensation more straight forward.  These steps include:
Report the accident while on board to ship staff. Ask for a copy of the log that is recorded.
When you return to the UK, report the accident to the tour operator who you booked the holiday through.
Photograph the scene of the accident and try to capture the root cause i.e. if you slipped on a wet floor, then try to show the slippery area and the fact no warning signs were in use.
Gather witness details. They can be contacted and asked to provide witness statements which can be used to further support your claim.
Seek medical attention as this will ensure you receive immediate treatment and we can also use the medical records to determine the severity of your injuries.
Photograph any visible injuries.
All of these steps will make it easier for your personal injury solicitor to understand the cause and impact of your injuries and enable them to submit a well compiled claim.

No Win No Fee Personal Injury Claims Against Princess Cruises
If you've considered making a compensation claim but worried about the legal costs, then don't worry as Legal Expert work on a no win no fee basis for all claims that we take on.
This means, if we don't win compensation, you don't have to pay us for our service.  If we do win the case, and compensation is paid, we retain a portion of the payment (a success fee – maximum 25%) and then send the rest directly to you.
Why Choose Our Holiday Accident Claims Team?
Our team of personal injury specialists have years of experience between them of successfully making personal injury claims for our clients.
We are dedicated and committed to winning the right level of compensation for all clients that we take on.  The advisers and solicitors are all friendly and professional and can offer free legal advice before and during your claim.
We only work on a no win no fee basis to help reduce your stress levels while your claim is ongoing.

How To Get In Contact With Us
Now that you've read the whole of this guide about Princess Cruises personal injury claims, we hope that you're happy to begin your claim with Legal Expert today.  If so, there are a number of ways to contact us:
Call free on 0800 073 8804 and speak directly to one of our team.
Use our live chat feature from any page on this website, 7 days a week.
Email us details of your claim to info@legalexpert.co.uk and we'll contact you at a suitable time.
Fill in our simple online form to submit details of your claim.
When you contact us, one of our team will listen to all of the details about your accident, how it happened, who caused it and what injuries you sustained.  Then, during your free initial consultation, we'll assess the likeliness that you'll receive compensation.   If we believe you've got a good chance of winning the case, we'll offer you a no win no fee solicitor to begin your claim and provide an estimate of how much compensation you may be awarded.

Additional Holiday Accident Claims Guides
We hope that you've found this guide useful and informative and now have enough information to help you to decide whether to make a claim or not.  For further information, please refer to the additional guides below which you may find useful:
Cruise Ship Compensation Claims – a similar guide to this one but more generic, not just about  personal injury claims on Princess Cruises.
Package Holiday Claims – A guide about the legislation that is in place to support British tourists who've been injured while on a package holiday.
Royal Caribbean Cruise Claims – If you're looking for information about Royal Caribbean Cruise claims, rather than Royal Princess, then this is the guide for you.
NHS Food Poisoning – Details from the NHS about the symptoms, prevention and treatment for food poisoning illnesses.
If you require any further information at all, please call or speak to an adviser via live chat who'll be happy to answer any questions that you may have.
Edited By Melissa.