Wakefield Personal Injury Solicitors No Win No Fee
Wakefield Personal Injury Solicitors No Win No Fee
By Daniel Jackson. Last Updated On 7th September 2021. Welcome to our guide on Wakefield personal injury solicitors. No matter where you are based in the UK, the dedicated specialist legal solicitors at Legal Expert can help you to manage your claims process. The No Win No Fee solicitors in Wakefield we work with will help you to get the compensation that you deserve. Talk to Legal Expert today to organise a medical report and start making your claim.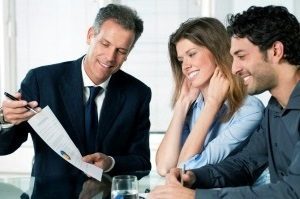 The more our advisors know about you, the better we are able to assist. The best way for us to find out what we need to do so is to speak with us directly. We can also answer any questions you may have for us regarding the process of making a personal injury claim. Read on for more information.
Contact Details
There are a number of different ways you can reach our advisors.
Jump To A Section
Making A Personal Injury Claim In Wakefield
The UK has a considerable amount of Health and Safety legislation. Statutes such as the Health and Safety Act have been designed to provide a protective framework in which people are protected, whether they are employees or members of the public. At Legal Expert, our panel of solicitors has a wealth of experience in helping to advise clients on how likely their claim is to succeed.
Generally, personal injury claims need to be brought within three years of the initial accident. However, some injuries may take years to surface and can be triggered by an accident that happened many years before this time frame. In these cases, the date of diagnosis is the starting date for your three-year claims period.
Successful Compensation Claims
In order to bring a successful compensation claims case, your solicitors will need to show that the defendant owed you a duty of care. This could be as an employer, or as the owner of a shop or even a medical professional. Solicitors will also need to show this duty of care was breached in some way, and that this caused the accident leading to your illness or injury. At the beginning of your claim, your solicitor will gather evidence to support this.
How To Find The Best Personal Injury Solicitor for Your Claims Case
Personal Injury compensation claims cases can be complex and difficult. As such, they can often take months or even years to complete. The more severe your injuries or complicated the accident, illness or medical negligence which led to your injury, the longer it can take to process a claim. As such, you need to find a solicitor you can work with.
All personal injury solicitors in Wakefield are regulated by a body known as the Solicitors Regulation Authority, or the SRA. However, within this their level of service can greatly differ. As your solicitor can play a vital role in getting your life back on track and recovering any financial losses, it is very important to choose the right solicitors.
Read Reviews Of Personal Injury Solicitors In Wakefield
Reading online reviews can help you to choose the right product or service when you are unfamiliar with a topic. Reading reviews can give you a better idea of what to expect, as well as the level and range of services on offer in Wakefield. There can sometimes also be a disparity in the level of compensation different firms have been able to recover for the same injury. As such there are also disparities in the fees charged.
However, whilst reviews can help you a lot, they are not a replacement for making a call and talking directly to personal injury solicitors in Wakefield to discuss your case.
Does It Matter Where Your Solicitor Is Located?
Personal injury claimants in the UK are not restricted to using solicitors or law firms based in their local area, or the area where the accident happened. Claimants are free to choose a Wakefield personal injury solicitor based on criteria such as; their success, their fee, and the services they offer.
For most claimants, the only part of their personal injury claim case which will need to be carried out locally are any medical examinations and treatments you need. The Wakefield personal injury solicitors we can work with are able to organize this examination. Wherever your solicitor is based in the UK, they can help with your case.
What Type Of Compensation Claims Do Wakefield Personal Injury Solicitors Handle?
The solicitors we work with can help claimants to recover compensation for a broad range of accidents and injuries in Wakefield. Our team is on hand to connect you with the right solicitor today. These are some of the types of claimants we can help;
Medical Negligence In Wakefield
Medical negligence cases deal with a situation where a medical professional, such as a doctor, surgeon or a nurse, have breached their duty of care to you as a patient. This could be an error or negligent behaviour in your treatment. At Legal Expert, our panel of specialist lawyers can cover medical negligence claims at the Pinderfields Hospital, as well as other hospitals across the UK.
Industrial Disease Claims
Our panel of solicitors is able to help process industrial disease claims for illnesses ranging from noise-induced hearing loss through to asbestos-related diseases. Industrial diseases tend to be contracted over longer periods of time due to prolonged exposure to unsafe working conditions.
Below is a graph generated from HSE statistics that shows the number of deaths that occur from industrial diseases.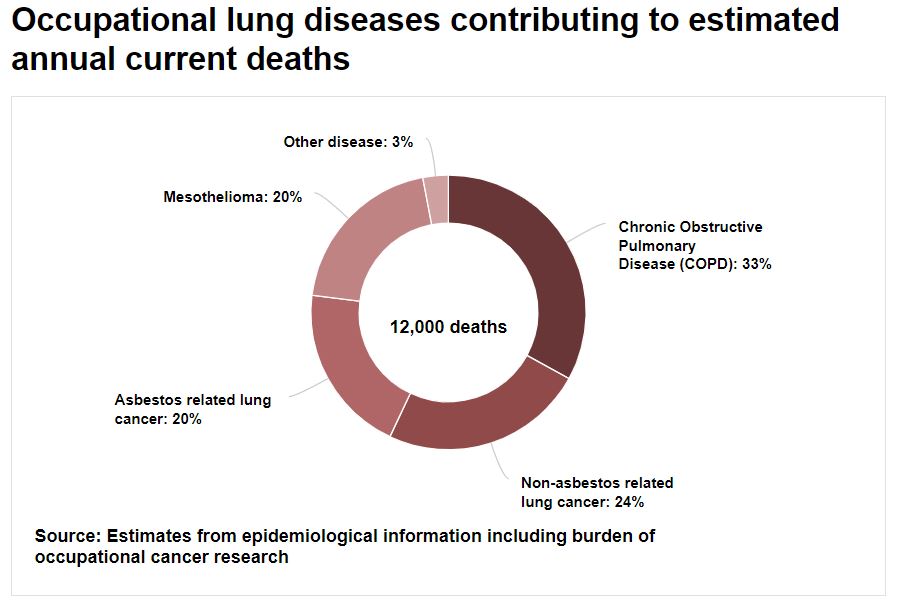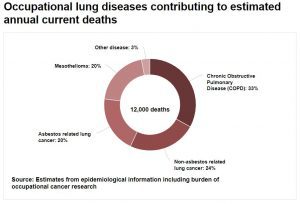 Workplace Accidents In Wakefield
At Legal Expert, the solicitors we work with have helped claimants from every walk of life and every type of profession to get the injury compensation they deserve. Below we have listed statistics for previous years work injury statistics for Wakefield. These statistics come from the Health and Safety Executive and the RIDDOR.
Slips, Trips And Falls In Wakefield
Figures from the Health and Safety Executive show that whether in the workplace, out on the pavement or in other situations, slips, trips, and falls are the most prevalent cause of personal injuries in Wakefield. Slips, trips, and falls can also lead to other, secondary accidents, such as striking an object and having that fall onto you, or slipping into a swimming pool and drowning. Slip, trip and fall claims can encompass a wide range of injuries, such as muscle strains, broken bones through to simpler cuts and bruises.
Serious Injury Claims
At Legal Expert, our panel of personal injury solicitors understands how a successful personal injury claim can help those who have suffered a serious personal injury. These claim awards secured by No Win No Fee solicitors in Wakefield can help to ease the financial burden and pressures faced by claimants.
Road Accidents In Wakefield
The panel of specialist No Win No Fee legal solicitors at Legal Expert have a wide array of experience in securing the highest possible compensation awards for those involved in all manner of road accidents in Wakefield. As with the rest of the UK, road traffic accidents do happen in Wakefield.
It doesn't matter if you were the driver, passenger, or even a pedestrian. If another road user's negligence has caused you to be injured then you could be entitled to compensation.
No Win No Fee Solicitors In Wakefield
Solicitors offering a No Win No Fee service will use what is called a 'Conditional Fee Agreement'. This sets out what the solicitor will do for the claimant, how their case will proceed and how they will be paid. It will lay out the fees payable in a successful case, as well as the fact that the claimant won't have to make any upfront payments. As suggested by the name, it also means that the injured party will not be required to cover their solicitor's costs should the case be unsuccessful.
Do You Have To Pay Any Fees?
Some solicitors may charge a claimant an extra fee if they lose your case. However, the solicitors we work with at Legal Expert offer a totally No Win No Fee service.
Some people may try to avoid fees altogether by representing themselves during their claim. This is not advisable, as if your case is unsuccessful then you could be obligated to pay expensive legal fees with no compensation to help you financially.
How To Proceed
No matter whether you are ready to start your claim, or whether you are just looking to find more information, the specialist legal solicitors at Legal Expert are here to help. You can find our contact details at the top of this article. Getting in touch is the best way to take your potential claim to the next stage.
Find Out More
To make the best and informed decisions, you need to get the right information. Before you choose to hire a solicitor, get all of your questions answered by talking to Legal Expert. You can find out much more about our range of services and claims cases before calling us by checking out our guides section.
Start Your Personal Injury Claim
After you have chosen to make a personal injury claim and have decided to work with us at Legal Expert, it is time to get in contact. Call us today on 0800 073 8804, or by using our contact form on this page. You can also use our online chat feature or send us an email with the details of your case.
If you would like to discuss your case and how we can help you get the personal injury compensation before choosing to work with us, call us today.
Helpful Contacts In Wakefield
If you have had an accident in Wakefield which is not your fault, and been injured in this, the contact numbers and details laid out below are useful. These organisations can help you in the immediate aftermath of your accident or injury, as well as help you through the aftermath. They can be useful before you make your initial claim.
Wakefield Police Station
West Yorkshire Police – Force HQ
Laburnum Road,
Wakefield,
WF1 3QP
Wakefield Central Police Station
83, Northgate,
Wakefield
WF1 3BX
Wakefield Crown Court
Leeds Combined Court Centre
The Courthouse,
1 Oxford Row,
Leeds,
LS1 3BG
Local Hospital In Wakefield
Pinderfields General Hospital,
Aberford Road,
WF1 4DG
Further Helpful Links
Thank you for reading our guide on Wakefield Personal Injury Solicitors.