Dewsbury Car Accident Claims Solicitors – No Win No Fee Claims Guide
If you have been injured in any type of road accident and are looking at this guide you could be wondering if you are eligible to make a car accident claim for an injury, such as whiplash. Being injured in a car crash or similar accident is more common than you think, and in 2016, 179,592 were injured or killed on the UK's roads. Whilst the bulk of these were minor accidents, resulting in slight injury, some were serious or sadly, even fatal. If you have been injured in some way and the accident was not caused by you, you could be able to make a claim using car accident claims  solicitors service that covers the Dewsbury  area.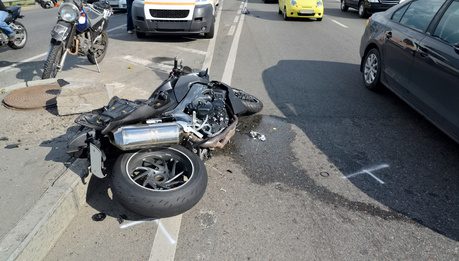 As well as looking at the process of making a claim, we will also look at the different types of accidents vehicles on the roads can be involved in, as well as some of the injuries which could be suffered. One thing which we wish to show you is that whilst there are many different types of claim, the factor which matters the most is whether you can clearly show that you were not responsible for the accident. Being able to clearly demonstrate this will boost your claims chances.
In this guide we also look at the role played by your solicitor. Having the right legal team on your side gives you the best chance of being able to secure the highest possible settlement based upon your injury and circumstances. Remember, in the UK there is a personal injury claims time limit within which you must bring your claim. Read the rest of our guide to find out all the information you need to make an informed claim and how to secure the highest possible amount of compensation.
When you are ready to begin your claim, you can do so by calling us on 0800 073 8804.
Our Panel Of Medical Experts Can Assess Claimants Local To Dewsbury  And Across The Country
No matter how minor your injuries might, we always recommend that the first thing that you do is to visit your GP or a hospital (depending on your injuries) to have their severity assessed and to get the treatment you need. Remember whilst your personal injury claim is important, your health should be your first priority. Visiting a medical professional also starts to build a body of evidence which can be used in your claim.
When you begin a car accident claim with us, we may also recommend that you have another, more detailed, medical examination. This can provide more detail for your claim, helping us to better estimate the severity of your injury and how long it will affect you. We can organise this medical assessment with a member of our expert panel who covers accident claims in Dewsbury. Our local experts are based as follows:
Raines Business Centre Wakefield
Raines House,
Denby Dale Road,
Wakefield,
WF1 1HR
25-27 Cheapside
Wakefield,
WF1 2TF
10 Agbrigg Road,
Sandal,
Wakefield,
WF2 6AF
Back in Action Physiotherapy,
Springwell House,
10 Agbrigg Road,
Sandal,
Wakefield,
WF2 6AF
Please note: this is not an exhaustive list of medical experts we work with in the West Yorkshire area and there may be another expert closer to you.
Why Having The Right Solicitor Boosts Your Chances Of Making A Successful Claim
After being involved in any form of accident caused by someone else, your thoughts should turn towards making a claim to compensate you for any injuries suffered. You may have questions such as "can I get compensation for car accident?" and "How much do you get for pain and suffering in a car accident?" To find out the answers to these and other questions that you might have, having the right personal injury solicitor is crucial.
Some of the criteria you should use to judge a solicitor include looking at whether they have experience which is relevant to your claim. Whilst they may be a qualified personal injury lawyer, have they handled similar claims before? If so, were they successful and were the claimants satisfied with the service and amount of compensation received? Check their reputation and look into whether or not people have been happy with the outcomes of their claims.
How helpful are solicitor or lawyer reviews?
Reading reviews of a solicitor by clients they have helped in the past is important to choosing which solicitor to work with and making a successful claim. As with any professional service, there can be a great variation in the level of service provided by different Dewsbury car accident claims solicitors or solicitors in the surrounding area.They may offer different levels of service and some might not be able to provide you with all the services and support that you need. Whilst not all personal injury claims solicitors do this, at Legal Expert, we do. Our team goes the extra mile to provide you with the information you need to answer questions such as "what is the average settlement for a car accident?". When you contact our team you benefit from our expertise, even before signing up with us.
I think I need to use a solicitor close to me, is that right?
When making car accident compensation claims, or indeed taking any type of legal action, people often think that they need to use solicitors close to them, in this case Dewsbury car accident claims solicitors. However, this is not the case. You are in no way limited to working with a solicitor who is located in the same town, city, or even region of the UK. Much more important than where a lawyer or solicitor is based is what they can do for you.
Today people access professional services from across the country, so you don't need settle for a solicitor just because they are in your area if there is a better one elsewhere.
What Types Of Road Accident Compensation Claims Can Our Team Handle?
It is a sad statistic, but each day people are involved in road traffic accidents which lead to injury or in some cases death. There are many different causes of car accidents which lead to car crash compensation payouts being claimed. Some of the most frequent are people driving without paying due care and attention, driving in a reckless or careless way, tailgating, speeding, and being distracted by a mobile phone. People can generally make car accident claims providing that they can show someone else was liable, and that this action directly led to you being injured.
In the following sections, we introduce some common types of car accident claims
Claims for accidents in cars
Car crash claims are the broadest type of road traffic accident claim which we handle. Car accident and crash claims can be made for instances in which you were involved (in any way) in a car crash. The only caveat is that you must not be responsible for the circumstances leading to accident. Your accident could have been caused by another road user, or it could have been because the road itself was in a poor state of repair.
Claims as a passenger
In most instances a passenger will have been completely passive in an accident, and generally they will not have been in any position to have affected the accident. As such, if you were a passenger in a car accident it should easy to show that you were not to blame. You can find out more about car accident claim payouts for passengers in this guide.
Claims for accidents in taxis
There is not an average compensation for a car accident involving a taxi, but you can find out more about what your could be awarded if injured in a taxi in this guide. As with any type of car accident compensation claims, accidents in a taxi come in a variety of different types. What can make these claims more complicated is that the driver or a taxi firm might be responsible, or even jointly responsible. Their may also be several insurance providers involved in the claim. The taxi firm might be responsible if they did not conduct the right background checks on a driver, or if they did not have the right insurance in place.
Claims for bus and coach accidents
Buses and coaches can travel over short or long journeys, they may travel on motorways and at speed. Whilst some long distances coaches will have seat belts, many will not. The most common reason for accidents involving buses or coaches are when the vehicle has to perform an emergency stop. If you have been injured whilst travelling on a bus or coach, you might be able to make a compensation claim for injuries such as whiplash.
Claims for pedestrian accidents
When you are walking along the street, through a shared pedestrian and car space, or car parks, you expect to be safe. You also expect that drivers are paying due care and attention to what they should be doing. If you are injured by a car which hits you on the pavement, or when crossing the road you can make a claim with a personal injury lawyer.
Claims for rear end accidents
Impacts from the rear can cause injuries such as whiplash. Whilst there are many different ways in which a collision can happen, these always involve people being hit from behind. Two of the most common ways in which they can happen are the vehicle a in front breaking unexpectedly, the other way is the vehicle being failing to break, or having driver too close to the one in front.
Claims for roundabout accidents
As with accidents at any junction, there are lots of different ways an accident can happen at a roundabout. Drivers might have used the wrong lane, enter or exit the roundabout when not safe to do so, not paying proper care and attention or otherwise not paying proper attention. Car crash compensation payouts for accidents at roundabouts vary according to your injuries. Find out more about claiming compensation in this guide.
What Injuries Can You Commonly Expect In Car Accidents?
There are lots of different ways in which you can be injured if involved in a car accident or other road traffic accident. In the section below, we take you through some of the most common injuries.
Neck injuries, more commonly referred to as
whiplash
Whiplash is one of the most common forms of injury which happens in a road traffic accident. There are a few distinct ways in which you can get whiplash. It might happen when the head is jolted suddenly in a violet way. This will cause problems moving your neck and shoulders (as well as the upper back). Other symptoms might include blurry vision or a feeling nausea. Whiplash can take between a few hours to several days to present. As such you should see a doctor as soon as possible after your accident. You should then visit a doctor several days later to see if your symptoms have changed or presented, if they had not before. As we said earlier, having a good medical report can be critical to making a successful claim. What is the average settlement for whiplash? Find out more in this guide.
A variety of different back injuries
Those injured in a car crash can suffer injuries and damage to the back. Injuries to the upper back could be caused by or related to whiplash. Pain in the middle or lower part of the back or spine could be caused by damage to the discs. Back pain can be tricky to treat and across the country millions of people suffer with varying degrees of back pain. It can be referred through the neck and shoulders at the top, or through your hips at the bottom.
Some of the more serious injuries people experience
There are many other different types of injury which you might suffer, many of which are much more serious. Severe injuries might include head trauma, extremely serious third or fourth degree burns, internal injuries and organ damage, or even paralysis. No matter how serious your injuries are, you can make a claim. View our car accident compensation calculator to see how much your could be awarded in compensation.
Accident Blackspots In Dewsbury
| Location/ Street Name | Number of accidents / year |
| --- | --- |
| Willians Road | 1 fatal accident |
| Bradford Road | 1 fatal accident |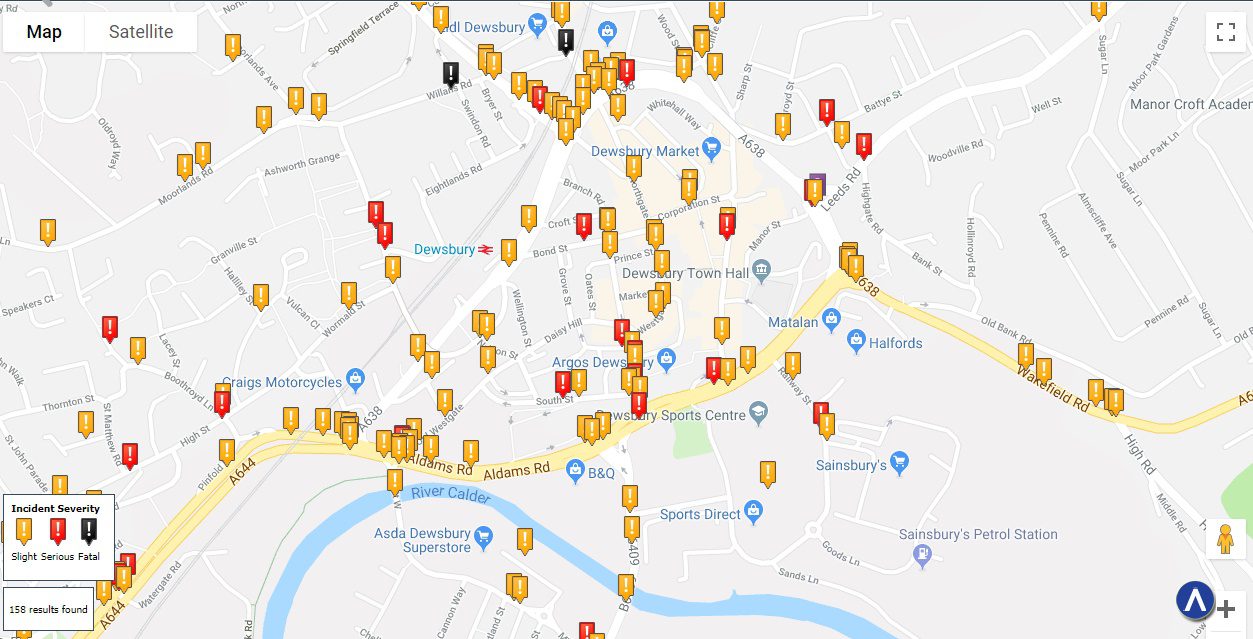 The map above shows that over a five year period, between 2013 and 2017 there were a total of 158 road traffic accidents in the area highlighted. It should be noted that this does not include the whole of the Dewsbury area. Of these there were two fatal accidents, which we have highlighted the locations of above.
Car Accident And Road Accidents Casualties In Dewsbury
Number of people injured or killed on the roads in Kirklees.
| | Number of injuries and fatalities combined per year | | |
| --- | --- | --- | --- |
| Vehicle type | 2014 | 2015 | 2016 |
| Pedestrian | 53 | 42 | 41 |
| Cyclist | 21 | 14 | 16 |
| Motorcyclists | 34 | 33 | 30 |
| Car occupants | 57 | 56 | 60 |
| Others | 3 | 14 | 5 |
| Total | 168 | 159 | 152 |
Number Of Deaths On The Road In West Yorkshire
Statistics show the number of people killed on the roads (in various modes of transport) in Kirklees
| | Number of injuries and fatalities combined per year | | |
| --- | --- | --- | --- |
| Vehicle type | 2014 | 2015 | 2016 |
| Pedestrian | 53 | 42 | 41 |
| Cyclist | 21 | 14 | 16 |
| Motorcyclists | 34 | 33 | 30 |
| Car occupants | 57 | 56 | 60 |
| Others | 3 | 14 | 5 |
| Total | 168 | 159 | 152 |
Additional Traffic Accident Statistics
In addition to the other statistics we have looked at, a number of the victims highlighted above were children. In the five years through to 2016, a total of 118 children were killed on the roads in the Kirklees area. Of these, the majority of these (69%) were killed as pedestrians. To find out more about child car accidents, visit our child car accident compensation calculator.
No Win, No Fee
Road Traffic Accident Solicitor
Whilst there are many benefits to working with Legal Expert and our solicitors, the biggest benefit to making a personal injury claim with us is our no win, no fee service. This removes any financial barriers to making a claim as you will not have to pay out for any costs at the start of the claim process. Whilst we can not tell you how much your car accident claim payout will be worth, we can guarantee that your personal injury lawyer will work hard to secure you more than the average compensation for a car accident. The fact a solicitor is willing to take your claim under a no win, no fee agreement means that they are very confident that you will win your claim.
Do claimants pay fees and charges?
Some other law firms or solicitors may charge you additional fees if you do no win your claim. However, with Legal Expert we are always upfront about what you will need to pay, under what circumstances you have to pay, and when you have to do so.
How to start your claim
If after reading this guide you think you are ready to talk to our team, your next step should be to get in contact with our team using the contact information on this page.
Get more information
How do I get a car accident settlement? Find out this answer to this question and more by browsing our site, or by speaking to our specialist personal injury claims team today.
Speak To Legal Expert Today
We hope that we have shown that you do not need Dewsbury car accident claims solicitors to make a claim in this area. When you are ready to begin your claim, contact Legal Expert by calling us on the number above, by emailing our team on office@legalexpert.co.uk, or by using the contact form on this page.
We are ready to help you today.
Helpful Links
The Highway Code
Learn more about the UK's Highway code at this Government resource.
Dewsbury Road Safety Scheme
The Dewsbury road safety scheme website contains information on accident sites and general road safety in Dewsbury.
Kirklees Court
This is the court serving the area including Dewsbury.
Dewsbury Police
Dewsbury police falls under West Yorkshire policing. Find out about your local police force here.
Dewsbury District Hospital
If you are injured but not seriously enough to need an ambulance, you may still need to visit the district hospital. </span
Car Accident Claims
How much do you get for pain and suffering in a car accident? Find out in this guide.
Whiplash Injury Claims
What is the average settlement for a car accident leading to whiplash? Find out in this guide.
Useful Compensation Guides