Havant Personal Injury Solicitors
By Daniel Harold. Last Updated On 24th September 2021. Welcome to our guide on Havant personal injury solicitors. On this page, you will find a guide to choosing a specialist team of personal injury solicitors covering the Havant area to process an accident claim for you.
All of the tips, advice and information on this page, will help you to make educated decisions about your own claim. Information including whether you are eligible to claim and who to claim against, as well as how to select a suitable legal team.
If you need any additional information or would like anything covered in this guide explained more fully, please call Legal Expert on 0800 073 8804. One of our team will be waiting to take your call and help you in any way you need.
How Our Legal Expert's Lawyers And Solicitors Could Help You
Legal Expert is a team of accident and injury lawyers with a proven track record. We have successfully won compensation for clients across a very broad range of claims.
From simple low-speed car crashes to complex cases of medical negligence. We have the skill and experience required to pursue large organisations such as the NHS or your local council and get you the compensation that you are entitled to.
We are certain that we can assist you with your personal injury case. We are always just a telephone call away to keep you updated on the status of your claim, or to answer questions about what we have been doing on your behalf. We don't use legal jargon, just simple English so that we can be sure that you understand everything that we do towards winning you a compensation settlement.
If you would like to know more, please call Legal Expert on the number at the end of this guide and speak to one of our team today. They will be happy to give you any information you need.
Can I Make A Compensation Claim For My Accident?
In order for a personal injury solicitor to successfully process a claim for you, a third party must be at least partially at fault for an event that caused you harm. Note that we say partially. This is because you can still claim for incidents that are partly your own fault. Your solicitor would negotiate a reduced percentage of liability with the defendant, and the compensation paid would scale based on this. You can claim for harm caused in several ways, for example:
You have contracted an illness or disease due to a third party exposing you to some kind of health hazard.
You have suffered injuries that were caused by an accident that a third party was responsible for.
You have developed a psychological problem due to the trauma of an event that a third party was liable for.
As you can see, you are not restricted to only claiming for injuries. You can claim for other health problems as well. When we talk about a third party being liable, we many any specific legal entity. All of these are legal entities that you could claim against:
A driving instructor.
Your local Gym.
A hotel you were staying at.
A package tour company you booked a holiday with.
A hospital or clinic.
Your housing authority or landlord.
A supermarket.
As you now probably realise, you can claim damages from almost any private individual, company, organisation or government body. If you are unsure of who is liable in your own case, call Legal Expert on the number at the bottom of this page, and one of our team will advise you.
Five Simple Reasons Why You Should Use A Personal Injury Lawyer
There are many excellent reasons why you should use a specialised personal injury lawyer to process your claim. However, some reasons are more compelling than others, such as:
They are experienced in making accident and injury claims, giving them an advantage, and making it more likely that your claim will have a positive outcome.
They are skilled in negotiating compensation settlements, meaning they could be able to get your more compensation.
They can often arrange for local services, such as a free medical examination close to Havant to help with your claim.
They will be able to help you prepare for your claim, gathering evidence and proving your losses.
They should be able to defer their legal fees, with payment being conditional on them winning your claim.
If you would like to learn more about the advantages of using a specialised accident and injury solicitor, speak to one of the Legal Expert team on the number at the end of this guide.
Top Rated And Reviewed Solicitors
Finding a suitable team of solicitors to handle your claim can take some effort. You will need to track down a number of legal firms who might be suitable, and then vet them by calling them up. A smarter way to tackle this task would be to find websites that carry personal injury solicitor reviews. Use the facts you extract from these reviews to create a list of legal teams you think are a good choice. When you are reading the reviews, pay close attention to facts such as:
What the claim was made for, and if it was similar to your own
How old the review is, and whether it is still relevant.
The pros and cons of dealing with the solicitor being reviewed.
Whether the reviewer had a good or bad experience dealing with the solicitor.
The fee structure, and whether a Conditional Fee Agreement was offered.
How much the solicitor charged.
These are the kind of facts that are important. Comparing these across a number of reviews should enable you to start making an intelligent choice. However, it is still going to take some effort to go through this process. If you don't have the time, you can let Legal Expert help you.
Speak to one of our team on the number at the bottom of this page. They will discuss your claim with you, explain your legal options, and then when you are ready, arrange for your claim to be moved forward.
Do I Have To Use A Local Solicitor?
It is a common misconception that claimants must use a local team of solicitors to process their personal injury claim. This is wrong. There is no legal requirement to use a local firm at all. You can use any firm of solicitors in the UK.
It is far better to select the best solicitor for the job, rather than one that is handily close by. You can use your local solicitors if you wish. However, the benefits of using a specialist injury and accident lawyer were outlined in a previous section; you would potentially be losing all of these benefits in doing so. Benefits may include medical checkups with our local expert,
Legal Expert has designed our accident claims service specifically to meet the needs of claimants who have been harmed by a third party. We deliver all of the benefits discussed above, as we specialise solely in this aspect of the law. If you would like to learn more about the service we offer, speak to one of our team on the number at the end of this page.
What Personal Injuries Can You Make A Claim For?
As a team of accident and injury lawyers, we can help our clients with any type of claim. We believe that we are the best personal injury lawyer to handle every claim, no matter how large or small. From simple slips, trips or falls resulting in minor injuries, to complex medical negligence claims that resulted in the death of a patient.
There are, of course, some types of claims that we see more often than others. These common types of claims are all covered in their own detailed sections below. If your own claim doesn't seem to fit into any of these sections, we can still help you. All you need to do is speak to one of our team on the number at the bottom of this guide. They will ask you how your accident happened, and then let you know how best we can be of help to you.
Industrial Disease Claims
Workplace illness or industrial disease claims come about due to an employer exposing a member of staff to a health risk. When the member of staff becomes ill due to this exposure, personal injury solicitors should be able to process a claim. As the time limit to make a claim may be three years from diagnosis of the condition, it is possible to pursue both current and prior employers for compensation.
Legal Expert can leverage our years of experience in making workplace illness claims to get you the maximum amount of compensation you are entitled to. Call us on the number at the end of this guide to learn how we can help you.
Medical Negligence Claims
It is an unfortunate fact that medical malpractice is a fairly common occurrence in both privately run and NHS hospitals. Doctors make mistakes, as we all do from time to time. However, when a doctor harms a patient by mistake, then it could be deemed that clinical negligence has occurred. Every medical professional has a duty of care towards their patients. When they fail to fulfil this duty, leading to the patient being harmed, the victim should be able to make a claim.
If you need some medical negligence advice, or have questions about the claims process, you can call Legal Expert on the number at the bottom of the page. You might also find this guide to be of use:
A guide to claiming for medical negligence
Legal Expert can also arrange for you to have a free private medical examination in Havant, to support your medical negligence claim. The closest medical professional who could perform this examination would be:
| Mohammed Ahmad | Hampshire Health | Emsworth | PO10 7LF |
| --- | --- | --- | --- |
| | 97 Havant Road, Emsworth | | |
| Alba Sanchez Mascunano | Electric Avenue | Enfield | EN3 7XU |
Trip And Fall Claims
NEW SECTION
Serious Personal Injury Claims
Some of the largest compensation payments we have seen here at Legal Expert, have been for serious injury claims. If a young person is gravely injured, they could have a life expectancy of 80 or more years. If their life is changed forever by their injury, they would be compensated for every year of their life. This can very easily mount up to millions of pounds.
Legal Expert can help you to claim the maximum level of compensation possible in a serious injury claim. Speak to one of our team on the number at the end of this page to learn how. You can also read our complete guide to these types of claims here:
A guide to making a serious injury claim
Havant Workplace Accident Claims
There are multiple levels of legislation that are in place to protect employees from harm. The most comprehensive of these are all of the regulations that have been set out by the Health & Safety Executive. Your employer must comply with all regulations that pertain to their industry at all times. If they don't, and this leads to a member of staff being injured, then a valid reason to make a claim would exist.
Legal Expert is a very experienced team of workplace accident lawyers. We have helped many people to claim the compensation they are entitled too, due to their employer allowing them to be hurt at work. Call us on the number at the bottom of the page to find out how we can help with your claim.
Fatal Workplace Accident Statistics
Some accidents in the workplace can be caused injuries so severe that they result in death. These are known as fatal accidents. HSE statistics show that across Great Britain, 142 workers were killed at work.
Some industries and workplaces carry with them inherent risks. This is truer for some more than it is for others. We've included a graph below that shows how common this occurrence is in a number of industries.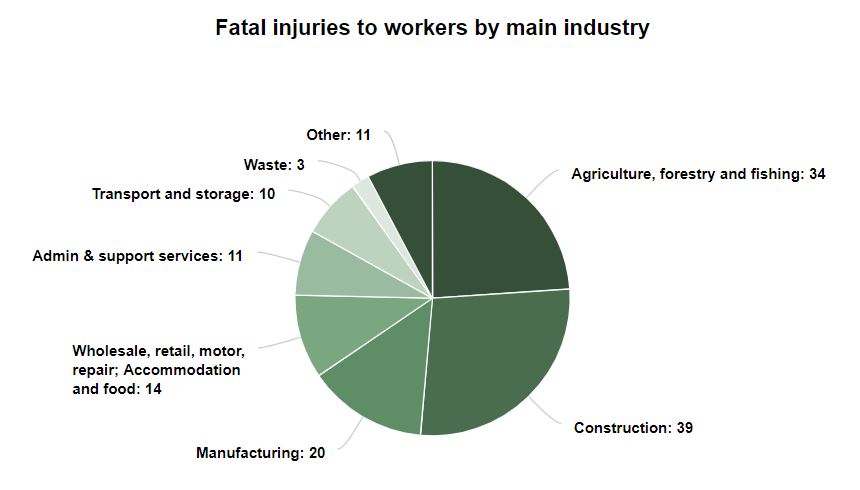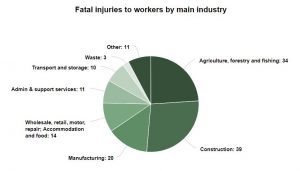 Havant Road Traffic Accidents
Road traffic accidents are the most common of all accidents in the UK each year. Legal Expert can act as your road traffic accident claims solicitors, and help you to get the most compensation possible for your road accident. Call us on the number at the bottom of this guide to get started, our read our page on RTA claims here:
A guide to claiming for road traffic accidents
What Is A No Win No Fee Contract?
No Win No Fee is a term used to describe an agreement, whereby a solicitor defers collecting their fee until after a claim has been settled. Furthermore, if they are unsuccessful in winning compensation on behalf of the claimant, they don't charge any fee at all. Legal Expert can offer such an agreement, call us on the number below to learn more about this service.
How You Can Take Advantage Of Our No Win No Fee Services
Legal Expert can handle No Win No Fee claims. We charge nothing when we take on your claim, and nothing while we are attempting to reach a settlement. If we don't manage to win you any compensation, then you pay nothing. When we do win your claim though, we deduct our fee straight out of the money we have received to you, and then pass you the remainder. If you are ready for Legal Expert to act as your No Win No Fee personal injury solicitors, call us on the number below.
Where Do I Learn More About Making A Compensation Claim?
If you need some more information before you decide how best to proceed with your claim, you can find plenty of great online resources. For accurate facts, we recommend checking the UK Government website, the NHS website and also the Health & Safety Executive website. You can also look over more of the guides we have published on this site. For example:
Speak To Legal Expert Today
If you have been injured in an accident that was not your fault, or you have become ill through the actions of a third party, then call Legal Expert on 0800 073 8804 right now. One of our team will be ready and waiting to go over your claim with you, advise you on the best way to proceed, and then get your claim started as soon as possible.
Helpful Local Contact Details
Hampshire Police
Civic Centre Road
Havant
PO9 2AN
Web: www.hampshire.police.uk
Opening hours: 24 hours.
Havant Justice Centre
The Court House
Elmleigh Rd
Havant
PO9 2AL
You can head over to the website for the Havant Justice Centre.
Opening hours: Monday to Friday, 9am to 5pm.
Havant NHS Diagnostic Centre
Oak Park Community Clinic
Lavant Drive
Havant
PO9 2AW
Web: www.havantdiagnosticcentre.nhs.uk
Opening hours: 8am to 7pm, Monday to Friday and 8am to 12pm on Saturdays.
Thank you for reading our guide on Havant personal injury solicitors.