Barrow in Furness Personal Injury Solicitors
By Daniel Workman. Last Updated On 28th September 2021. Welcome to our guide on personal injury solicitors. If you have been injured in an accident that was not your fault, you will rightly be exploring the prospect of securing compensation. From product liability cases to road traffic accidents, the scenarios vary dramatically.
However, you will have an exceptional chance of getting compensation if the accident was not your fault. In this guide, you will learn everything you need to about working with Barrow in Furness personal injury solicitors – and why you don't need to use locally based solicitors to get the payout you deserve. We will also reveal more about our service which is also available on 0800 073 8804 and some of the most common cases.
What is a personal injury claim?
A personal injury claim relates to any sort of case whereby an individual is claiming for a payout because they have been injured in an incident that was not their fault. This payout is designed to cover their treatment and any other expenses suffered because of what has happened to them.
How does the personal injury claims process work?
You will work with a personal injury claim solicitor (and in the instance of court cases, potetially a personal injury claim barrister) to ensure you have the greatest chance of securing compensation.
If you attempt to go at the process without Barrow in Furness personal injury solicitors, or those based elsewhere that work on cases that have happened in Barrow you may miss out on the highest amount of compensation because the opposing solicitor will know you do not have a legal professional on your side, and he or she could take advantage of this. This is why it is critical to work with an expert.
Your rights and eligibility to claim compensation explained
First things first; you need to decide whether you have the basis for a personal injury claim. It is important to recognise that personal injuries can occur in many different ways. You may have a bad reaction to a faulty product, you could be the victim of a road traffic accident, you may have slipped on an unmarked wet floor – the scenarios really are endless. Instead of thinking about the type of accident, what you really need to ask yourself is…
Was the injury your fault?
Did it occur in the past three years?
Did you receive medical attention?
If you answer 'no' to the first question and 'yes' to the other two questions, you are likely to be eligible for compensation. Nonetheless, to get further clarification regarding your chances all you need to do is get in touch with Legal Expert.
Checklist to help you find a personal injury solicitor
Claims are made for a whole host of different reasons. From product liability cases, to food poisoning, to car crashes, to medical negligence, to construction accidents, the scenarios vary dramatically. Nonetheless, there is one thing that all claims have in common, and this is the need to have a good solicitor fighting your corner. Read on to discover what your solicitor needs to have…
Experience
It is always advisable to go for a personal injury lawyer that boasts a significant degree of experience. The last thing you want is to be someone's practise project. You want to be safe in the knowledge that they have provided their services for plenty of personal injury victims time and time before.
Great reputation
Read reviews that have been left by other people that have used the services of the solicitor in question. What have they had to say about their experience? Were they happy? Would they recommend the solicitor? Did they have any complaints? This is the best way to get an honest assessment into the service you are likely to experience yourself.
Track record
How many cases has the personal injury solicitor handled? How many have they won?
Good communication
It is imperative that your solicitor communicates with you frequently and explains everything in a way that is easy for you to understand. The last thing you want to do is feel left in the dark. No one wants to have to make phone call after phone call in order to merely get an update regarding the progress of their case.
No Win No Fee service
Last but not least, make sure the solicitor you select works on a No Win No Fee basis. If you do this, you will not need any money to begin your claim. Financial risk is eliminated. Furthermore, you are assured to benefit from a much higher level of service.
The good news is all of Legal Expert's solicitors tick the boxes that have been mentioned.
Should I trust online solicitor reviews?
When it comes to reading an online solicitor review, make sure you use an independent review platform so that you can be certain of the authenticity. Moreover, recognise that reviews are only part of the narrowing down process. Your first conversation with the company in question will be incredibly telling.
Location vs experience
A lot of people assume they can only work with Barrow in Furness personal injury solicitors in the actual area. This is not the case. You can work with anyone based in the UK, meaning you can choose experience over the location.
Modern technology allows almost every procedure to take place remotely. Things like video chats and emails can be used to discuss your claim in detail and to keep you updated on the process.
Compensation claims which we can conduct in your area
If you have been injured, we can help you secure compensation. Use the sections below to find out more about some of the claims we handle. Please know that we can handle many more types of claims than these. This is just a handful of some of the most common cases.
I have an industrial disease – can I claim compensation?
Yes, you can claim for any sort of personal injury claim that has happened in the workplace. In industrial disease claims, the personal injury claims settlement process can be slightly different. This is because you will often find yourself claiming against an employer you used to work for because these injuries and illnesses can often take years and years to show themselves. This leads some people to think they cannot claim – but you can! Rather than using a No Win No Fee calculator online for a rough estimate about payout amounts, give us a call.
I experienced medical negligence – can I claim compensation?
Medical negligence can be incredibly traumatic. You put your trust in doctors, nurses, and other healthcare professionals. When they let you down, it can be difficult to come to terms with. We can help you to get the compensation you deserve with our expert personal injury claims UK service.
Common examples of medical negligence include late diagnosis, misdiagnosis, errors made during surgery, poor care, and poor hygiene.
I had a slip or fall – can I claim compensation?
If you do fall, trip or slip and the incident wasn't your fault, you should definitely report it and seek medical attention – even if your injuries are minor. Not only is it important to seek medical attention to make sure you are ok, but you should do so to make sure you have the basis for a successful compensation claim. After all, if the following three statements ring true for you, you will be able to claim…
You slipped, tripped or fell because of someone else's error or negligence
You had to receive medical attention because of the incident
The injury occurred within the last three years (there are exceptions to this – so do call and check)
If you can meet these three conditions then you will have every chance of a successful claim once you team up with a quality solicitor. It is crucial to recognise that these injuries can occur in a whole host of different ways.
For example, you may trip on a broken piece of pavement, or you may slip on a wet floor that was not marked. The only important thing is that the injury was through no fault of your own. Call us for more details on making a slip, trip, fall claim.
I suffered a serious injury – can I claim compensation?
Serious injuries can be exceptionally worrying. We can help you to make a claim if you have experience a serious injury of any nature, whether it is a brain or head injury, a back injury, or something different.
You can also claim on the behalf of someone else if they are no longer in a position to do so. This includes cases of fatal consequences. We know this is an incredibly difficult period for anyone, and you can be sure our staff members will be there for you every step of the way.
I had a workplace accident – can I claim compensation?
No matter where you work, whether you have a job at a warehouse or you work in an office, your employer has a responsibility to ensure the working environment is safe for you and all your fellow employees. The law places this duty upon them. Yes, there are working areas that tend to be more dangerous than others, such as constructions sites.
However, the truth is, accidents can happen anywhere. Therefore, if you have suffered a workplace injury because of poor health and safety, you will be entitled to compensation.
So, what happens if you have suffered an injury in the workplace, what do you do next? It is important to gather as much information as possible. You will need to see a medical professional, as there will need to be proof that you have received medical attention if you are to make a successful personal injury claim.
You also need to report your accident in the workplace so that your employer can make a record of it. This is a critical part of personal injury law.
Fatal accident claims
Some workplace accidents can be so serious that they result in the death of the injured party. These are known as fatal accidents. If someone dies as a direct result of their injuries sustained in a workplace accident, then you could still claim on their behalf.
HSE statistics tell us that in 2020/21, 142 workers died in Great Britain as a result of workplace injuries. Some industries carry greater risks to employees than others.  We've included a graph below that displays some of the industries that caused the most death amongst workers in 2020/21.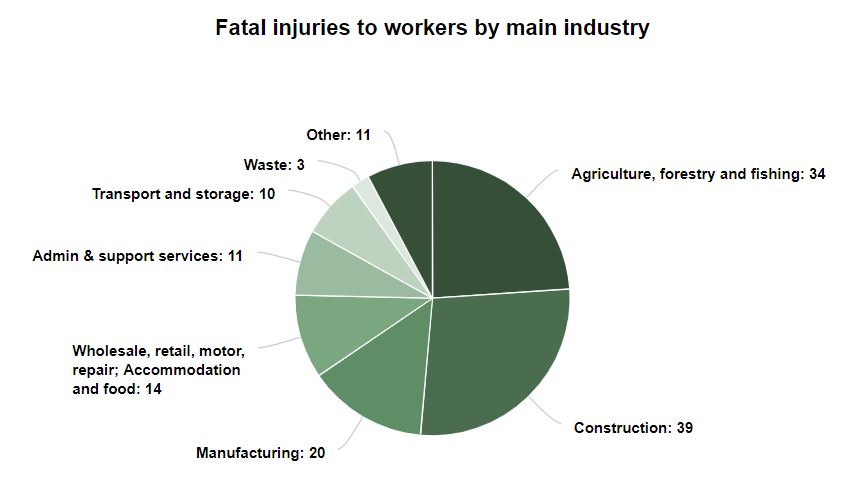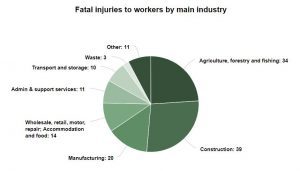 I was injured in a road traffic accident – can I claim compensation?
Have you been injured in a road traffic accident? Our Barrow in Furness personal injury solicitors have years of experience when it comes to personal injury claims and car accidents. We have helped those injured while driving, cycling, and on their motorbike. You can also claim if you were a passenger or if you were merely walking and minding your own business when someone drove into you.
No matter what has happened, whether someone was speeding or not paying attention while driving, we will make sure you get the maximum amount of compensation that is available. For more information about your case and the claims process, please do not hesitate to give our personal injury claims team a call.
Whiplash Reform Programme
The government has now introduced an online portal to streamline the process of making certain claims for injuries sustained in a road traffic accident (RTA). It's called the Whiplash Reform Programme (WRP). However, there are certain stipulations to the use of this portal.
Cut-off date – your accident must have taken place after 31st May 2021. If it took place before this date, then you should seek legal advice and make a personal injury claim.
Value of your claim – your claim can only be worth up to £5,000. Otherwise, you need to make a personal injury claim. 
You must be a driver/passenger – pedestrians and cyclists cannot use the WRP.
Whilst the WRP was set up due to the frequency of whiplash claims being made, your injury does not have to be whiplash-related to make use of the programme.
Get in touch today if you have any questions.
What does No Win No Fee claim really mean?
From car crashes and workplace accidents, to slips and falls, it does not matter what type of personal injury you experience, there is one key thing you need. This is, of course, a high quality solicitor. You need to have the best of the best in your corner to ensure you have the greatest chance of winning your case and getting the compensation you deserve.
One of the main decisions you need to make is whether to go for a No Win No Fee solicitor or not. This section reveals why you should definitely consider going down this route. So, keep on reading to discover more…
Advantages of using a No Win No Fee solicitor:
No Start-Up Costs Required – One of the biggest hurdles experienced when going down the traditional route is the start up costs. Most people find it difficult to accumulate the money that is required even to have a consultation with a solicitor. Then, they feel extremely devastated when they have wasted all of that money only to discover they don't even have grounds for a successful case. This is something you need not worry about if you go down the No Win No Fee.
Financial Risk Eliminated – There are individuals all over the country who have been entitled to compensation but never claimed. This is because they are worried about spending a lot of money on solicitor services only for their case to be an unsuccessful one. Nobody wants to end off in a worse position than they were to begin with. However, because the cost of a No Win No Fee service is based on the success of your case, you don't have to worry about this.
Better Quality Service – On a final note, aside from the points that have already been mentioned, most people will agree that you will benefit from a better level of service if you use a No Win No Fee This is because the legal professional is affected by the outcome of the case and thus you can be certain they will be doing everything in their power to make sure they win it.
What will I have to pay for a No Win No Fee claim?
If the case is unsuccessful, you do not need to pay anything. If the case is successful, you pay a percentage of your compensation to this solicitor. This is a percentage you would have both agreed on beforehand.
Where can I find out more before making my claim?
Whether you are ready to start you claim now or are simply looking for more details, Legal Expert can help. You need to have the right information in order to make the right decisions, and this is something we specialise on at Legal Expert. We have a huge number of guides on our website, explaining more about every type of claim. You can also call us for more details.
How to contact us
It does not matter whether you are ready to make a claim or you are simply looking for some more information, we are ready and waiting to assist you. All you need to do is dial 0800 073 8804. You will speak to one of our friendly and experienced advisors, who will be more than happy to assist in any manner possible. There are other ways to contact too, including via email, live chat, and requesting that we call you back free of charge via our website.
Helpful services after an accident in Barrow-in-Furness
We hope you have all of the information you need. However, we know you may need to get in touch with the local police station, court, or hospital. You can find these details below.
Police Station
Station Road
Dalton-in-Furness
LA15 8PR
Web: www.cumbria.police.uk/Contact-us/Police-DesksStations/Police-Stations.aspx
Crown Court
Abbey Road,
Barrow in Furness
LA14 5QX
Web: Head over to the Barrow In Furness County and Family Court website.
Hospital
Dalton Lane
Barrow-in-Furness
LA14 4LF
Web: Visit the website for the Barrow In Furness General Hospital.
We also have a number of other guides on our website, which may be of use to you.
How to claim – More about the process of claiming.
Accident on the road – This shows you about road traffic claims.
Thank you for reading our article on Barrow In Furness personal injury solicitors.