Guide to Occupational Asthma Compensation Claims – How Much Can I Claim? – How To Claim?
By Daniel Irons. Last Updated 21st October 2021. Welcome to our guide on occupational asthma compensation claims.
All employers in the UK have a legal responsibility to make sure the workplace is as safe and healthy as possible. If your employer has failed to do this, and you have been diagnosed with occupational asthma or another type of industrial disease, you may be able to make a claim for compensation.
At Legal Expert, we have many years of expertise in claims, and we can help you to get the payout you deserve. You can reach us on 0800 073 8804, but before you do, read on to find out all you should know about making a claim for personal injury compensation.
Can I make occupational asthma compensation claims?
If you can prove that you developed symptoms of asthma as a result of exposure to certain harmful chemicals or allergens in the workplace, you could be able to make an occupational asthma compensation claim for your suffering. This is regardless of the following factors:
When your asthma symptoms developed (whether right after exposure or some time later)
What type of damage you suffered (whether physical, psychological or otherwise, such as financial damage from loss of earnings)
To get a free consultation about your case, please speak to one of our specialist advisors toay. They can also offer you free legal advice with no obligation to work with our team if you don't want to. Our lines are open 24/7, so simply get in touch whenever you're ready.
Select a section
Your Guide to Occupational Asthma Compensation Claims
Occupational asthma can occur if you work in any sort of environment whereby you have been exposed to hazardous substances.
All employers in the UK must ensure the chances of this happening are reduced as much as possible. If you believe your employer has failed you, you should most definitely be thinking about an occupational asthma lawsuit. However, you may be wondering what this entails and what the occupational asthma diagnosis criteria are.
There is no need to worry, as we have everything covered in this guide. You will find out more about asthma in different work environments, as well as liability, top causes of occupational asthma, the impact of this condition, and much more.
What is Occupational Asthma or Work-Related Asthma?
Asthma is a common condition of the lungs that can result in trouble breathing. Symptoms include the following:
Coughing
A tight chest
Breathlessness
Wheezing
In the UK, one in every 10 cases of asthma is caused due to work-related factors. Occupational asthma is basically asthma that has been contracted due to the working environment.
Occupational Asthma Statistics UK
The graph below shows some asthma statistics from the HSE. In 2019, there were around 174 new cases of occupational asthma reported by doctors. However, these were only doctors who were participating in the SWORD scheme. This scheme is within The Health and Occupation Reporting (THOR) network.
This figure is largely in line with the gradual increase of cases of occupational asthma. The actual figure could be larger, as there are doctors who were not participating in the SWORD scheme. Therefore, these figures would not have been reported.
Fatal Workplace Accidents
Other chest injuries sustained in the workplace can be so extreme that they can lead to fatalities. Whilst the death statistics in the HSE graph below were caused by traumatic injuries rather than industrial diseases such as occupational asthma, they demonstrate which industries these deaths are the most prominent in.
In 2020/21, there were 142 deaths caused by workplace injuries. The graph below is made from statistics accrued over this same period.
What are the long-term effects of occupational asthma?
Some cases of asthma do involve a quick recovery, but this is not always the case for work-related cases of asthma or allergic occupational asthma, which could be caused by an accident at work or your employer's negligence.
In such cases, the substance that started off your condition will often cause asthma to be triggered in the future. For example, if you work in a bakery and flour dust has triggered asthma, it would be wise to stop working in such an environment to prevent further respiratory damage. This is because staying away from the trigger is the only way to stop your occupational asthma symptoms from showing themselves.
The best advice, if you can, is to stay away from your trigger at work for a minimum of 12 months. Of course, this can be devastating if it means you need to change your career, and loss of income is something you can claim for when making claims.
Top Causes of Occupational Asthma
This graph, which has been provided by HSE, shows the most common agents that result in occupational asthma in the UK.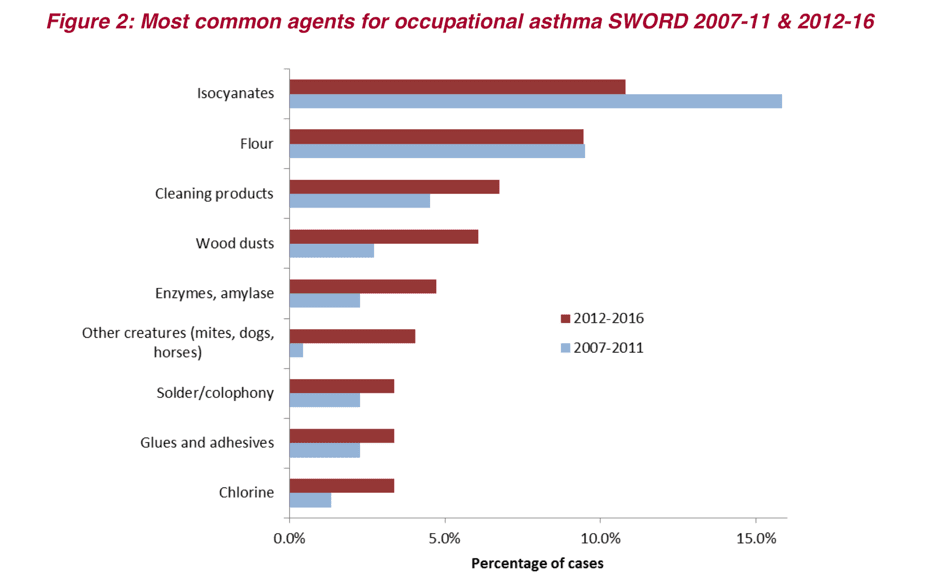 Please do not worry if you do not see the agent that caused your asthma in the table above. You can launch work-related asthma claims for any sort of injury or agent.
Occupational asthma from cleaning products – Can I claim?
Yes, you can make a claim if you have sustained occupational asthma due to cleaning products. You need to provide proof that your employer is to blame, though. Perhaps they have encouraged the use of cleaning products that are known to give rise to chest conditions? Maybe they have failed to explain the risks involved?
Work-related asthma from vehicle paint – Can I claim compensation?
Yes, in fact, as per HSE statistics, in 2016, the occupations with the highest new case rates seen by chest physicians include bakery flour confections, which will be discussed in the next paragraph, and vehicle paint techniques.
Moreover, in accordance with 2007-2016 SWORD data, vehicle paint technicians experienced the highest rate of occupational asthma, with 55.3 per 100,000.
A lot of people have suffered asthma over the years due to working with vehicle paint. If provisions have not been put in place to lower the chances of this occurring, you should, most definitely, launch claims.
Occupational Asthma in a bakery/flour confectioners – Could I claim?
Yes. In the paragraph above, we explained that both bakery and flour confectioners and vehicle paint technicians had the largest number of new cases saw by chest physicians in 2016. Not only this but in accordance with 2007-2016 SWORD data, bakery and flour confectioners experienced the second-highest rate of occupational asthma, with 37.1 per 100,000.
Please do not hesitate to contact us today for more information on making a claim.
Occupational Asthma as a process operative -Can I claim against my employer?
In accordance with 2007-2016 SWORD data, process operatives experienced the third-highest rate of occupational asthma, with 24.9 per 100,000.
If you have sustained in this working environment and it was not your fault / your employer did not take the required steps to lower the chances of this happening, contact us today to make a claim.
Work-related asthma in metal making and treatment industry – can I claim?
Yes, as you may have gathered by now, it does not matter what injury you work in, what matters is proving the responsibility for your case. You need to show that your employer did not carry out their legal duty to reduce your exposure to hazardous substances and to lower the chances of you experiencing occupational asthma.
If you are unsure as to whether your employer is to blame or not, give us a call for more information. We can advise if the circumstances allow you to viably make claims.
Who is liable for your occupational asthma?
All employers in the UK have a legal duty to ensure they provide a safe and healthy environment for their workforce. As per section 2 of the Health Safety at Work Act 1974, your employer must take steps to lower the exposure to hazardous substances at work.
If your place of work involves being exposed to any sort of dangerous substance, your employer must explain this to you prior to you starting work. You may be asked to have a health screening, which will incorporate a breathing test, and this may continue on an annual basis to ensure you are not starting to get asthma.
If one of these tests picks up that you have developed occupational asthma, the Health and Safety Executive (HSE) must be notified, and it is your duty to do so. In most cases, the Health and Safety Executive (HSE) will want to visit your place of work to determine whether there are any steps that can be taken to reduce the risk of someone else being diagnosed with occupational asthma.
If you believe that your employer could be doing more to reduce the chances of anyone sustaining this type of illness, there are various options you have available to you. This includes the following:
Ask your co-workers to stop smoking near you.
Contact the local HSE office for advice.
Express your concerns to your employer.
Contract your professional body or trade union.
Raise your concerns with the individual that is responsible for workplace health and safety at your business.
Needless to say, if you have been diagnosed with occupational asthma disability, and your employer has not been fulfilling their legal responsibility to reduce the chances of this occurring, you will have the basis for a claim.
Can I get compensation if I get occupational asthma?
If you have been professionally diagnosed by a doctor as having occupational asthma, you may be eligible for a payout. The severity of your condition will determine the level of benefit you will receive. This is something we will discuss in further detail in this guide.
How is your asthma assessed? Well, the doctor will use a scale, which is from one to 100 per cent, with 100 per cent being the worst possible case of asthma. If your disability is deemed over the 14 per cent mark, you could have compensation awarded.
It is vital to claim as soon as possible, as payments do not begin from the moment you were diagnosed, but from the day you started your claims.
Who you will be receiving compensation and benefits from:
Are you self-employed?
If so and you're suffering from occupational asthma, Industrial Injuries Disablement Benefit is not an option for you. You may be able to secure Employment and Support Allowance (ESA) instead.
Do you work for the Armed Forces?
If you develop asthma during your duty for the armed forces, you may be able to secure compensation through the Armed Forces Compensation Scheme.
Are you employed?
If you have been informed that the asthma you developed is a consequence of your working environment, you should move quickly to gain actionable advice, both about what types of benefits you could receive or be entitled to, as well as recompense options through the UK courts.
It may be the case that Industrial Injuries Disablement Benefits are something you are eligible for. It is important to therefore take notes of any details you are given on these matters so that you know exactly where you stand.
Can I take any legal action towards my employer/s should I go on to develop occupational/work-related asthma?
Yes, but please note that there is a time limit on making such a claim. As it is impossible to pinpoint when occupational asthma took hold, you will have a period of 3 years after the date of your diagnosis instead.
Don't leave it until the last minute, though, as you will only make life more difficult for yourself. The sooner you claim, the better. There are two reasons why this is the case. Firstly, court proceedings must be issued in the three-year time frame, so you really don't want to cut it too fine.
Secondly, you will find it much easier to claim if you do so soon because you will find gathering evidence more straightforward. You will also need a specialist lawyer on your side that has handled many cases like this before and can secure you the compensation you deserve.
That is where we come in here at Legal Expert, so give us a call about your potential claims.
Assessing how severe your asthma is – what's involved
When determining how much compensation you are entitled to, many different factors are considered. However, the main factor is how severe your asthma is. The medical report provided by your doctor will be used in this regard.
Not only are your symptoms and any pain you are experiencing taken into account, but also your long term prognosis and the impact the asthma is having on your life in a professional and social sense too.
Occupational Asthma Claims – No win no fee agreements
All claims are handled on a No Win No Fee basis here at Legal Expert. This means that you will only pay legal fees if the case is successful, otherwise, you will not need to pay anything. This ensures that you are protected financially while also giving everyone the platform to claim, no matter his or her current financial situation.
With this approach, you can have complete peace of mind that your case is only taken on if there is a genuine chance of it being a winning one, as well as having the reassurance that your solicitor is working hard to make certain of a successful outcome.
How much occupational asthma compensation would I receive?
We often get asked about occupational asthma payouts, and one thing that is important to recognise is that the payout does differ from case to case. This is because no two claims are the same.
There are different levels of severity and symptoms in regards to the injury itself, as well as different circumstances, for example, length of time spent off work because of the injury. Because of this, all cases are assessed individually, so that the right amount can be awarded to the claimant.
Nevertheless, we can help you by showing you the average settlement for occupational asthma, which is displayed in the table below.
| Type of injury | Payout Bracket | Notes |
| --- | --- | --- |
| Asthma | Up to £4,830 | This payout bracket relates to mild chest problems, cold, bronchitis, and asthma. The condition will typically be resolved in a few months and can be treated by a general practitioner. |
| Asthma | £9,990 - £18,020 | This is for symptoms of relatively mild asthma, which can result from exposure to vapour that is harmful and irritating. |
| Asthma | £18,020 - £24,680 | Wheezing and bronchitis that has an impact on social or working life. The person will likely have a considerable recovery within a few years of being diagnosed. |
| Asthma | £24,680 - £40,370 | This payout is for chronic asthma, which tends to lead to difficulty breathing. The person will experienced restricted employment prospects, as well as needing to use an inhaler from time-to-time. The prognosis will be uncertain. |
| Asthma | £40,370 - £61,710 | This is for the most severe type of asthma, which will be disabling and permanent. The individual will experience grossly restricted job prospects, a severe impairment of life enjoyment and physical activity, sleep disturbance, and regular and prolonged coughing. |
| Chest Injuries | £2,060 to £5,000 | Injuries leading to collapsed lung |
| Chest Injuries | £5,000 to £11,820 | Toxic fume inhalation latin leaving residual damage |
| Chest Injuries | £29,380 to £51,460 | Damage to chest/lung causing serious disability |
| Mental Anguish | £4,380 | Fear of impending death |
If you have suffered injuries that have not been mentioned in the table above, or you would like further information on occupational asthma settlements, please do not hesitate to get in touch and we would be more than happy to advise further.
Legal Expert – How we can help with work-related asthma claims
When it comes to claims, there are a number of UK legal firms that are ready and waiting to take on your case. So, you may be wondering what makes Legal Expert the right choice for you? There are various reasons why we believe we are better than the rest. This includes the following:
Our level of experience –  We have many years of experience in the industry and we shall provide you with an expert personal injury solicitor for your claim.
We have an excellent track record –  Not only do we have the years of service to back us up, but also in this time, we have successfully secured compensation for thousands of personal injury victims. This includes those that have been seeking work-related asthma compensation.
We always put our customers first – We believe this is what truly sets us apart from the crowd. Not only is this represented by our No Win, No Fee approach, but also the fact that we genuinely care about our clients and the bad experience they have been through. We want to secure the maximum occupational asthma payouts with each and every case, ensuring you get the justice you deserve. At the same time, we want you to focus on your recovery, so we aim to be as efficient as possible.
Start an asthma claim or get more information
We can give you the legal advice and guidance you need if you wish to make a claim for occupational asthma workers compensation. Our legal advice is provided at no charge and the number required is 0800 073 8804.
This line is open seven days a week, and you can reach someone from the hours of 9 a.m. until 9 p.m., so you can phone us at a time that is best for you. We also have a number of different ways you can contact us today. You can use the form on our homepage to request a callback, or you can talk to one of our agents via the live chat facility.
If you would prefer, you can also send an email to info@legalexpert.co.uk or use the online contact form, and we will get back to you as quickly as possible.
Either way, you can be certain that all advice will be provided free of charge and that there is no obligation to use our service. However, we are sure you will want to pursue your claims. And we can give you the best chance of getting the full amount of compensation that you deserve.
Helpful links
We hope that you have found this guide useful in your quest to find more information about making a claim for occupational asthma. However, if you are seeking further details, the links below may be useful.
This is our complete guide on how to make a claim for an accident at work. This guide has been updated for 2018 and contains plenty of useful information regarding accidents in the workplace, including recording and reporting such incidents, as well as how long you have to make such a claim.
Asthma Information from the NHS
This link takes you to the NHS page on asthma. You will find plenty of information regarding this condition and whom it affects. This includes information on asthma attacks, as well as symptoms, causes, treatment, living with asthma, diagnosis, and much more.
This link takes you to the UK Government's Health and Safety Executive website. Here you will find information regarding the different substances that can cause occupational asthma. This includes everything from carmine and egg proteins to papain and nickel sulphate.
Other Useful Compensation Guides
Occupational Asthma Compensation Claims FAQs
Can you sue for occupational asthma?
This is only possible if you can clearly prove the work environment as the cause of your asthma.
How do you prove occupational asthma?
This would require a medical examination from a doctor consisting of peak flow and blood tests.
Is occupational asthma a disability?
This isn't a disability itself, but it could pave the way for you to suffer a disability.
Can I claim for industrial asthma?
Should your asthma be due to exposure to chemicals, you could make a claim.
What is the recommended remedy for occupational asthma?
Using bronchodilators, specific inhaled medicines, help to open the airways for those suffering from asthma.
What is an asthma cough like?
This is a cough that includes wheezing and whistling due to the airway being tightened.
Why have I suddenly developed asthma?
This could be due to infections, allergens or air pollution, with the symptoms starting to become common.
Does asthma worsen with age?
It can get harder to fight infections, as well as changes in moments of inflammation.
Thank you for reading our guide about occupational asthma compensation claims.