Spain Car Accident Claims Guide – How Much Compensation Can I Claim For Car Accident In Spain?
Have you suffered an injury as a result of a road traffic accident in Spain which was not your fault? If so, find out more about how to get the compensation you deserve in our guide to Spain car accident claims.
At Legal Expert we can provide you with a personal injury solicitor who is experienced in handling claims for an accident in Spain. We could help you claim compensation for injuries suffered by you, or by a passenger, for damage to you vehicle (if your own car), for any income lost due to your injuries, and damage to any of your other property. We could also help you claim for other costs associated with your injuries.
If after assessing your claim we think you have a good case, we will provide you with an expert lawyer. They will investigate whether you can claim through your own insurance, as well as through that of the other party.
Find out more about how to make no win, no fee Spain car accident claims, and when you are ready, contact our specialist team to start you claim by calling 0800 073 8804.
Select A Section
A Guide To Spain Car Accident Claims
Whilst being involved in a car accident in Spain, is very unfortunate, such accidents can and do happen to tourists. If this has happened to you, we have a specialist personal injury claims team who can help you.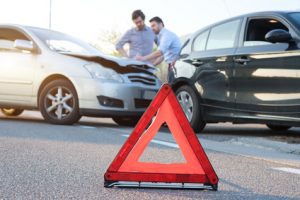 One of the most important steps in making a personal injury claim is being able to show that the accident was not your fault. You should also note that if you are involved in a car accident in Spain, there are certain things which you should do, and those which you should not do to help your claim go much smoother. Another thing you should remember is to report even a minor Spain car accident to the police. They will then issue a report which creates an official record of your accident, as well as supporting evidence for your Spain car accident claim.
Before planning on driving in Spain, you should note that there is a legal requirement to carry a first aid kit in your vehicle, as in many European countries.
Emergency Contact Numbers in Spain
If you have been involved in an accident in Spain and need immediate assistance, you should contact the emergency services by dialling 112. You can report road accidents in Spain, and request any help you need.
Road accidents in Spain can also be reported to any of the police forces in Spain, including the national police (Policia Nacional), the civil guard (Guardia Civil) or any of the several regional police forces.
Emergency Contact Numbers After A Road Traffic Accident In Spain.
General emergency services, 112.
Guardia Civil, 062.
British Embassy Madrid emergency assistance, +34 91 714 6300.
You should also call any travel, holiday, or any car insurance claim Spain provider.
Seeking Medical Attention After Road Traffic Accident In Spain
If you are involved in a road accident in Spain and need urgent medical attention you can call either of the two emergency numbers supplied above. Ask the operator for an 'ambulancia' to take you to 'urgencias', or A&E.
One of the most important things to note, after a Spain car accident, or any other type of accident or injury in Spain is that British holidaymakers in Spain are entitled to healthcare through the EHIC, or European Health Insurance Card. This means you will be provided with any healthcare which is medically necessary through state medical facilities, such as a doctors practice or hospital. The EHIC card entitled you to the same provision of care as a resident of Spain.
You may still need to make a car insurance claim Spain or a personal injury claim to reclaim additional expenses, such as damage to your property, or any travel costs.
What Steps You Should Take After A Car Accident In Spain
If you are involved in a car accident in Spain, here is what to do in the immediate aftermath.
Make sure you pull over to the side of the road, that other vehicles can pass you, and that you can safely exit your vehicle. If possible, try to make sure the emergency services can clearly see your vehicle and any others involved in the crash, as well as being able to easily access anyone who is injured.
Dial 112 straight away and notify the emergency services of what has happened. Be ready to give the operator any information about the accident, as well as the nature of any injuries suffered. Remember, don't end the call till the operator has all the information necessary to get you help.
If you are using a hire car, or have the correct equipment required in Spain, there should be two emergency triangles you can place by the side of the road, and reflective vests if needed. Place each triangle 50 meters away from the vehicle, in front and behind.
If the other party asks you to sign any paperwork at the scene of the car accident in Spain, relating to an admission of guilt, or anything else related to Spain car accident claims, do not do so. Signing anything could admit you were liable for an accident caused by someone else.
What To Do After A Spain Car Accident
If you have been injured in a road traffic in Spain and think you may have grounds for a Spain car accident claim when you return to the UK, there are things you can do to support your personal injury claim.
Get any medical assistance you need.
Report the incident to your travel insurance company.
If safe to do so, photograph the scene of the accident, as well as any injuries suffered.
Ask for the name and contact information of witnesses to your accident or injury.
Again remember, do not sign anything, not admit liability, till you have sought legal advice.
Completing A Spain Car Accident Report
If the other party is a Spanish driver, you may need to exchange details and provide information for their Spanish town car crash report. You will need to provide a declaration of what happened in the accident. If you and the other driver disagree, the police will need to determine whose fault the accident was.
The report should include the following information.
Details of where and when the accident took place.
Registration information for the vehicles involved
Details of the drivers. As a foreign national, you may also need to provide your passport number in addition to your drivers licence information.
Witness names and contact details.
The nature and extent of any injuries suffered.
Nature and extent of any vehicle damage.
Relevant insurance policy details.
Details of the cause of the accident.
Additional information, such as the speed of the vehicles involved, and the weather at the time of the accident.
This report can form a good basis for use in Spain car accident claims.
Spain Car Accident Whiplash Claims
Data from both the UK and Spanish governments show that there are around a third more car accidents in Spain, compared to the UK. This means that you are more likely to experience a road traffic accident in Europe, than at home. Consequently you are more likely to suffer an injury such as whiplash.
Whiplash injuries are caused when the person is thrown forward and backwards (or side-to-side) in a violent motion, causing stress to the muscles and connective tissues in the neck. Whiplash will tend to present in around 24 hours from the time of the accident, however, in some cases, it can take a little longer for you to notice it. The symptoms will typically affect the muscles in the back of the neck, as well as those in the upper back. These might include:
Stiffness and pain in and around your neck, shoulders and the upper back.
Headaches and feeling dizzy, as well as general fatigue.
Pain radiating through the jaw.
Weakness in the upper arms.
Problems with your vision (again, this could make you feel dizzy).
If you experience any of these symptoms, seek medical attention and ensure you record this as part of your accident report. Whiplash is one of the most common injuries from a car accident and so many Spain car accident claims include this injury.
What Can I Claim For If Involved In A Road Traffic Accident In Spain
If you are making a holiday accident compensation claim for a car crash in Spain, there are several things which you can claim compensation for.
One of the largest components in any Spain car accident claim is general damages. These are awarded and paid out for the actual injury you have had, as well as for any psychological consequences of such injury. How much you will be paid is set by guidelines produced by the Judicial Studies Board. This guide is updated each year and looks at how severe your injury was. It is used by personal injury lawyers acting for you, the defendant, and by the courts. They help everyone agree a fair rate of compensation.
Special damages are the other component of a personal injury claim. These look at the financial impact the injury has had on you, and compensate you for it. You can claim for costs related to your injury such as the costs of medication, treatment, or care. This can also include later care in the home if needed. If your home or care need to be adapted after your injury, the costs of doing so can also be recovered. You can also claim compensation for traveling to and from medical appointments, and even the cost of parking at a hospital (which can be expensive). If you had to take unpaid time of work, or lost income in any way, your holiday accident compensation can claim for this as well as any benefits lost.
Your Spain car accident claim will include both types of compensation in your final settlement.
Spain Car Accident Compensation Claims Calculator
The first thing to note is that there is not an average amount of compensation for a car accident in Spain. This is because the nature and extent of your injuries, there effect upon you, and the extent of any property damage experienced will be different for each and every person. As such, it is difficult to tell you (as an individual claimant) how much we will be able to secure for you. You should note that the figures which we give out in the compensation table below, are general estimates of damages for each type of injury listed, and the amount you could or will be awarded can vary substantially when special damages are taken into account.
| Injury and severity | Notes/ comments | Settlement band |
| --- | --- | --- |
| Minor injuries to one foot | Damage to and injuries of the soft tissues. May also include less serious fractures or cuts (lacerations). Short recovery period. | Maximum award £12,050 |
| Moderate injuries to one foot | More serious bone fractures. These may make the foot unusable whilst healing. | Between £12,050 & £21,910 |
| Serious injuries to a foot | More serious than the categories above. There may be permanent loss of mobility or function in the affected foot. | Between £21,910 & £34,370 |
| Severe injuries to one foot. | Again, more serious that the category above. Damage will be permanent and could lead to disability in the affected foot. | Between £36,800 & £61,410 |
| Very severe injuries to a foot. | Serious, long-term, or permanent disability to the foot. | Between £73,620 & £96,150 |
| Removal of one of your feet. | Removal of one of your feet. | Between £73,620 & £96,150 |
| Removal of both of your feet. | Surgical or other removal of both feet. Permanent disability. | Between £148,540 & £176,660 |
| Minor injuries to the neck Injuries | Might include minor whiplash, bruising, or cuts. | Maximum £2,150 |
| Moderate Neck Injuries | Painful injuries which will take some time to heal, the duration will generally drive the amount. | £6,920 to £33,750 |
| Severe injuries to the neck. | Injury will last longer and could have a permanent repercussion on the claimants life. May affect mobility or leave the person in some level of pain. | Between £39,870 & £130,060 |
| Minor injuries to the back. | Lacerations, cuts, bruising, and sprains. No permanent injury and no long-term damage. | Maximum £10,970 |
| Moderate injuries to the back. | Affecting the ligaments, other connective tissues, and the muscles in the back. Painful whilst healing. | Between £10,970 & £34,000 |
In many cases of someone suffering a tragic accident in spain, there are lots of diffferent factors which go into making up the final award you will recieve.
No Win No Fee Claims For A Road Traffic Accident In Spain
The advent and introduction of no, win, no fee claims has helped many people across the UK to take legal action, such as making Spain car accident claims when they would not have been able to otherwise. They are also known by the term conditional fee agreement and they enable a personal injury solicitor to provide you with their services without having to ask for any large legal fees before hand. For a claimant who is already experiencing some degree of financial hardship, this means they do no have extra pressure put upon them.
The Conditional Fee Agreement will also lay out for you the services that they will provide, how they will do so, and under what circumstances they expect to be paid. It will also set out their set fee for doing so. Under this type of agreement you will usually pay a set fee, rather than an hourly rate as is commonly charged by solicitors.
How We Can Help People Injured In Road Traffic Accidents In Spain
If you need to make an accident in Spain claim today there are many different services, personal injury solicitors, and personal injury lawyers who can handle your claim. So, why should you choose to work with Legal Expert? Our team like to think that when we are handling your Spain car accident claim and providing you with an expert solicitor, that we offer you something a little bit different. We will always treat you and your claim on an individual basis and ensure that when dealing with your car accident in Spain today that we do so with the care and attention that you deserve.
We will also try to make your claims process as efficient, streamlined and easy to do as we can. We also always work hard to get you the highest possible level of compensation for your injury type. We will also make sure that you are offered legal services under a no win, no fee agreement.
Top 10 biggest cities in Spain
Madrid
Barcelona
Valencia
Seville
Zaragoza
Málaga
Murcia
Palma
Las Palmas de Gran Canaria
Bilbao
Contact Us And Start Your Claim Today
We hope our guide to Spain car accident claims has provided you with all the advice and information you need to decide to make a claim. When you are ready to do so, you can contact our specialist teams by calling us on the number provided above.
You can also use the contact forms on this page to request a call back from our team at a convenient time for you, or you can send us the details of your claim in an email, sent to info@legalexpert.co.uk.
However you choose to contact our specialist Spain accident claims team, please do so today in the confidence that we will be able to help you secure the compensation you are entitled to.
Useful Links
British Embassy Madrid
Torre Espacio
Paseo de la Castellana 259D
28046 Madrid
Spain
Tel: +34 917 14 64 00
Web: www.gov.uk/world/organisations/british-embassy-madrid
Opening hours: Monday to Friday 8:30 am to 5 pm
British Consulate General Barcelona
Avinguda Diagonal, 477-13
08036 Barcelona,
Spain
Tel: +34 933 66 62 00
Web: www.gov.uk/world/organisations/british-consulate-general-barcelona
The British Embassy in Spain also provides additional consulate services in the following locations: Alicante, Ibiza, Las Palmas, Malaga, Palma de Mallorca, and Tenerife.
NHS Accidents Advice In Spain
This NHS advice guide is for those injured whilst abroad in Spain for more information view the link.
Holiday Accident Claims In Spain
If you have been injured in Spain this guid covers all types of accident in Spain slip trips car accidents moped or scooter accidents find out more. Including the time limitation explaining how ling you have to claim for a accident in Spain.
First Choice Package Holiday Claims
If your car accident in Spain, or any other type of accident was caused by your package holiday provider, such as First Choice holidays, you could be able to make a claim against the company. Find out how to do so in this guide.
Lanzarote Holiday Claims
If you have been injured on a holiday in Lanzarote find out how to claim compensation with this guide.
Whiplash Compensation Claims – Find out How Much You Can Claim For Whiplash?
This guide explains about whiplash claims and what can be claimed for whiplash.