How much compensation can I claim for injury in Spain?
Spain is the single most visited country for UK nationals and each year more than twelve million of us visit the nations cities and sun-kissed beach resorts. For generations, Spain has been famous for its gorgeous beaches, fantastic food and an atmosphere that is both vibrant as well as family-friendly.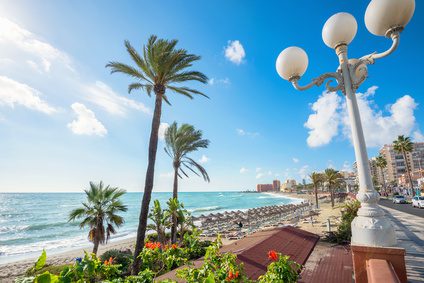 Whatever type of holiday, from a city break to clubbing trips, and family-friendly getaways, you can find the right place to visit in Spain. Since the 60's Spain's sun, sand and sangria have made it hugely popular with the British public.
Whilst most people will have a great trip to Spain, there are times when things can go wrong and your dream holiday can turn into a nightmare. Whether it is a case of food poisoning, a road accident in Spain or other circumstances, what should you do if you are injured or made ill whilst on holiday in Spain?
In this guide to accident claims in Spain, we look at what you should do if your two weeks in the sun does go wrong and take you through the process of making Spain holiday compensation claims.
Select A Section
A Guide to Spain Accident Claims
For many decades now, Spain has consistently been the top holiday destination for people going abroad from the UK. Air travel made the continent more accessible, and Spain's sun-kissed beaches and warm atmosphere attracted British holiday-makers. Thanks to fantastic city break destinations, islands and a plethora of resorts and holiday complexes, each year millions of Brits head over to Spain for their family holidays, romantic breaks and group-getaways.
No matter how careful you are to only book your holiday with trusted package tour providers or renowned hotel chains, accidents, injury, and illness can happen at any time and to any tourist in Spain. Each year peoples holidays are ruined by circumstances such as food poisoning or an injury whilst participating in water sports by the beach. Some of these accident claims in Spain could leave you having to access Spanish emergency services for treatment for your injury or illness in Spain. Others could have even more serious circumstances which lead to them having to cut their holiday short and return to the UK.
Some of the most common accident claims in Spain include food poisoning, slips, trips, and falls injury whilst on an excursion, coach trip or whilst being transferred to or from the airport. For some, the injury or illness in Spain might even occur before the holiday starts. Holiday-makers could be injured on or whilst boarding or disembarking the aircraft, during the transfer to or from the airport or during the flight (such as items in an overhead locker falling on you). All of these circumstances could still be covered by your package holiday and so valid for compensation claims.
What to do if you have an accident or injury in Spain
If you have had an accident in Spain there are immediate steps which you should take before you think about things such as claiming compensation. Even if you do not know whether or not you will be able to claim compensation in Spain once you are home, there are some steps you should take to help ensure you have the best chance of making a claim. The first step you should take is to get any medical attention necessary and ensure you are looking after your health (or that of the person sick or injured). Next, you can start to find out who is responsible for the circumstances which led to you suffering an injury or illness. This could be your package holiday provider, hotel owner or tour operator.
At Legal Expert, we have two great guides in which you can find out more information about the next steps you should take. You can read out guide to how to make a claim for an accident or injury abroad here, and further information about package holiday claims here.
Emergency contacts in Spain after an accident
If you have suffered an accident in Spain leading to an injury or feel that you are sick and require medical attention, you can call the Spanish emergency services on 112. This number will direct you to the main switchboard, such as calling 999 in the UK. You can report incidents such as a car accident in Spain or any form of criminal activity through one of the major police forces.these are; the Guardia Civil, the Policia Nacional, the Policia Foral in Navarre, Mossos d'Esqadra in Catalonia and in the Basque Country, Ertzaintza. If necessary, you can also contact the Civil Guard on 062.
No matter whether you are still in Spain, or whether you have already returned to the UK, there are several steps you should take as early as possible. Firstly get any medical help you need, speak to your travel insurance provider and begin any claims process, collect as much evidence as possible, note down any witness statements and, finally, speak to a solicitor to build a legal team behind you.
If you need their services, you can also contact the British Embassy in Madrid for support if necessary. The British Embassy is located at Paseo de la Castellana, 259, 28046 Madrid, Spain and can be contacted via +34 917 14 64 00.
Medical treatment after an accident
If you need emergency medical treatment or assistance, such as an ambulance, you should call either 112 or 061 straight away. Ask the operator for either an ambulancia (ambulance) or say you need to visit the urgencias facility (A&E department).
As EU Citizens, British Citizens in Spain are entitled to use their EHIC or European Health Insurance Card. Your EHIC card allows you to be given necessary medical treatment from a Spanish hospital run by the state. The card means that you will receive the same treatment as any Spanish citizen.
Remember, whilst the EHIC system does allow you to access some healthcare facilities, it won't help with things such as stolen property or additional travel costs. As such, the EHIC card should not be used in place of adequate health insurance and will not help to claim compensation in Spain after an accident or injury.
Compensation claim time limits in Spain
If you have suffered any injury or accident whilst on holiday the time limits in which you can make a compensation claim could vary a lot compared to those in the UK. As such, you should start your claim as soon as possible. In the table below we have set out information on time limits making Spanish holiday compensation claims.
Circumstances of injury or illness
Time Limit for Claim
Claims for injury or illness in Spain, as well as for circumstances happening in a hotel, whilst on an activity or excursion or for a trip booked through a UK based package holiday operator
3 years
Illness or injury which occured on a trip or holiday which was privately booked (i.e. not booked through a holiday company).
Approximatly 1 year - this does vary.
Illness or injury which happened on a flight booked privately flying to or from the following
- Barcelona-El Prat airport, Barcelona
- Palma de Mallorca airport
- Adolfo Suárez Madrid-Barajas airport, Madrid
- Certain other airports in Spain which serve international destinations
2 years
Package holiday injury claims in Spain
Did you book your holiday through a package holiday or tour operator? If so, you will be protected by specific regulations such as the UK's Package Travel, Package Holidays and Package Tours Regulations 1992. This and other legislation help people injured or made sick abroad to make a claim against their holiday provider.
If you have suffered an illness or injury whilst on a package holiday, you should report the incident to your holiday company. The most popular tour operators in the UK are listed below.
TUI – 020 3451 2688
First Choice – 0203 451 2720
Thomas Cook – 01733 224808
Spanish injury claims we can help with
We can help people who have been injured or made in a variety of different circumstances in Spain. Below we will look at some of the most common types of accident or injury people may claim for in Spain.
Spanish Hotel Accident Claims
The holiday accident claims solicitors which we can provide. will help you to claim compensation if you (or someone you were travelling with) were injured or became sick as a result of the way in which the hotel you stayed at was run. You could have contracted some form of bacteria or poisoning from food eaten at the hotel or from a swimming pool which has not been cleaned properly. Below, provided for information purposes only are some of the most popular hotels, resorts and tour operators in Spain:
Hotel Regente, Benidorm

Hotel Barceló Santiago, Tenerife

Holiday Village Costa Del Sol, Benalmadena

Sandos San Blas, Golf del Sur

Be Live Family Costa Los Gigantes, Playa de la Arena

Sol Calas de Mallorca, Majorca

Sensatori Resort Ibiza, Cala Tarida

Fergus Montemar, Pineda

Monte Feliz, Gran Canaria

Holiday Village Costa Del Sol, Benalmadena
If you have been injured or suffered an illness as a result of something which was not your fault, contact Legal Expert. Our team is on hand as soon as you get back to the UK to start your compensation claim.
Restaurant Illness, Accident or Food Poisoning Claims
Food poisoning can be caused and contracted in a variety of ways, including eating undercooked food or food which has been contaminated. Suffering food poisoning can leave you in your hotel for the rest of your holiday, unable to enjoy your trip. If this has happened to you, contact Legal Expert today.
Instances of food poisoning in Spain affect more British tourists than British tourists to any other destination. This is according to reports in 2015 in the UK. Despite being a prominent global tourist destination, Spain has been ranked first in the world for the number and volume of gastrointestinal illness associated with travel.
Slips, Trips, and Falls
Slips, trips, and falls can lead to a variety of different injury types, whether you are at home or in Spain. You could suffer injuries such as a fracture, broken bone or severe strains and muscle sprains. All of these could take many weeks or months to recover from fully.
According to the Foreign and Commonwealth Office, British tourists to Spain have an increased risk of trips and falls from balconies. In some of these cases, alcohol could be a factor in the fall, however, accidents are still caused or exacerbated by lower building safety standards. EU law specifies that the minimum height of a balcony railing is 1 meter, whilst some countries have raised this to 1.1 meters. Across Spain, the required and enforced heights can vary and older buildings may not always comply with this.
Sports Activity Claims
Whilst on the beach in Spain you may be tempted to try a variety of different water sports, such as jet ski rides and other activities like surfing. Whilst these and other sports such as rock climbing or hill walking in mountain ranges are usually safe, people can be injured participating at times. Tour operators and the instructors running the activity owe you a duty of care to ensure you are not injured whilst participating. Negligent actions on their part could leave you with a broken bone or other injuries.
It should be noted that participating in activities such as hill walking in the Pyrenees or the Sierra Nevada mountain regions, cycling or taking part in water sports can carry higher risks than other activities. Your tour operator or the company responsible will still be liable for any negligent actions or behaviour and any injury which results from this. Make sure that you only participate in activities with a registered, accredited and insured operator and that your travel insurance also covers the activity.
Car or Road Traffic Accidents In Spain
According to date produced by both the UK government and the EU, the road network in Spain is somewhat less safe than that in the UK. Statistics show that there are around 30% more road traffic accidents in Spain compared to the UK. The Spanish motorway network is particularly more dangerous than that of the UK.
If you have been involved in a car accident in Spain or another type of road traffic accident in Spain, it is recommended that you should report the incident to the Spanish authorities. Under Spanish law, criminal law will take precedence over any civil action. Your incident and claim will most likely fall under the jurisdiction of a criminal court, and your compensation claim can also be awarded by the criminal court system. Under the Spanish legal system, it is common for a case to be brought in the criminal courts for your compensation.
Do I need to use a Spanish lawyer for my claim?
If you have been affected any kind of illness or injury which was not your fault whilst on holiday in Spain, you can still use a UK based legal service and solicitors such as those provided by Legal Expert. We can provide you with a solicitor who can help you through the claims process and help you to bring a claim either in the UK courts or the Spanish court system.
The first step your solicitor will take will be to gather evidence and find out exactly what happened to cause your injury or illness and establish evidence of the effect on you. They will gather evidence to support your claims, such as photographic evidence or statements from witnesses. They will also access any reports from authorities such as a hospital, ambulance service or other bodies. When making your claim the solicitor will seek to settle the claim out of court, or if necessary they will take the claim to court.
If you think that you have grounds for making a claim for compensation against a holiday provider or other party, you should contact Legal Expert as early as possible. Please remember that making a claim in Spain may be more complex than doing so in the UK. Also, note that there could be a shorter time limit within which to make your claim in Spain when compared to the UK, so don't delay with starting your claims process.
No Win No Fee Claims
Whether you are making a claim in the UK or abroad, bringing a claim for a personal injury or taking any legal action can seem a difficult and at times time-consuming affair. Many people can be concerned that making a claim could become costly and involve having to pay a lot of legal costs upfront or during your claims process. For a lot of people, especially if they have had to pay additional and unexpected costs during a holiday, this could be prohibitively expensive. In the past, these factors did prevent people from taking legal action and getting the compensation that they are entitled to claim. This is why the no win, no fee claims process was created, to remove any financial risk or barriers from a claimant making the compensation claim. Put simply and no win, no fee claim means that the solicitor will assume all of the financial risks in making your claim. As the claimant, you will only have to pay for their services if and when you have been awarded damages.
Legal Expert is able to offer claimants legal services these type of no win, no fee or conditional fee agreements. This type of contract means that you won't have to make any type of upfront payments to the solicitor we provide you with. It also means that if they are unable to win your claim, the solicitor we provide you with won't charge you a penny for their services. You will only pay any legal fees due if you are awarded compensation. This means that you will not face any type of financial risk. CFA agreements mean that you don't have to worry about the cost of making a claim.
Top 16 biggest cities in Spain
Madrid
Barcelona
Valencia
Seville
Zaragoza
Málaga
Murcia
Palma
Las Palmas de Gran Canaria
Bilbao
Alicante
Córdoba
Valladolid
Vigo
Gijón
L'Hospitalet de Llobregat
Start your claim
Remember, even if you do not know whether or not you have grounds in which to make a compensation claim there are steps that you can take to prepare yourself for making a claim and which will help to keep your options for making a claim open. Follow the guidelines above to ensure that you can make a claim with us.
Whether you are ready to start your claim or simply need more information about the overall process of making a personal injury claim in either the UK or a holiday accident claim in Spain you can talk to the dedicated team at Legal Expert. We are on hand to take your calls seven days a week between 9 am and 9 pm. Call us on 0800 073 8804. You can also start the claims process by emailing our claims team at info@legalexpert.co.uk or by using the contact form on this page to get in touch with us.
Useful links
British Embassy Madrid
Torre Espacio
Paseo de la Castellana 259D
28046 Madrid
Spain
Tel: +34 917 14 64 00
Web: www.gov.uk/world/organisations/british-embassy-madrid
Opening hours: Monday to Friday 8:30 am to 5 pm
British Consulate General Barcelona
Avinguda Diagonal, 477-13
08036 Barcelona,
Spain
Tel: +34 933 66 62 00
Web: www.gov.uk/world/organisations/british-consulate-general-barcelona
The British Embassy in Spain also provides additional consulate services in the following locations: Alicante, Ibiza, Las Palmas, Malaga, Palma de Mallorca, and Tenerife.
NHS Advice on Accidents In Spain
This guide by the NHS has advice for those injured whilst abroad in Spain. The guide contains information on how to access healthcare services whilst in mainland Spain as well as the Balearic and Canary Islands. There is also information on how to download the EHIC application to your smartphone.