£6,440 For A Whiplash With Physiotherapy Compensation Claim
Updated by Mary Scott on 25th April 2022. The specialist solicitors we have at Legal Expert have been able to successfully claim for whiplash with physiotherapy compensation for clients across the country. In this whiplash compensation guide, we will look at a particular whiplash claim with physio.
The claimant, in this case, was waiting to enter a roundabout when a car approaching from behind failed to sufficiently break and stop in time. The car collided with the rear of the claimants' car. This caused soft tissue injuries to the claimant's back and neck. This resulted in a whiplash with physio compensation settlement of £6,440 made up of general and special damages.
If you have any queries about claiming physio for whiplash or want to know how much you could receive for whiplash symptoms, you could contact us completely for free at a time that works for you. You can call us on 0800 073 8804, contact us through our website or by using the Live Chat feature now onscreen. 
Please read on to learn more about claiming whiplash compensation.
Select A Section
How Common Are Whiplash Claim With Physio Cases?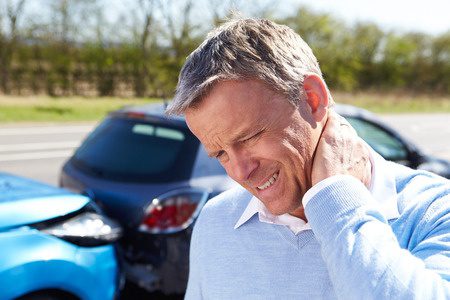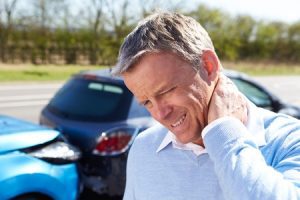 According to data from the Association of British Insurers, there are 1,500 whiplash claims made each day in the UK. This is despite the UK having some of the safest roads in both Europe and the world in general. Claims have risen in the past decade by around half. Whilst the government are trying to crack down on what are often 'frivolous' claims cases, they have ensured that genuine claimants are still protected and that they will have access to claiming compensation. As long as you have a genuine whiplash claim with physio and have had a suitable whiplash physiotherapy assessment, you will still be able to make a compensation claim and get the damages you are entitled to.
To claim successfully for whiplash symptoms, you need to prove that your injury was caused by third-party negligence. To do this, you need to establish that a third party who had a duty of care towards you, such as another driver, was liable for your injuries. We discuss this in more detail below.
Establishing Liability In a Whiplash With Physiotherapy Compensation Claim
In order to make a successful whiplash with physiotherapy compensation claim against another driver, you need to be able to demonstrate that they were responsible for the accident in some way. This could be by demonstrating that they were negligent, or that they caused the accident deliberately. Once liability for the accident has been established, you can then look at our whiplash payout calculator to find out how much you may be entitled to.
In this whiplash compensation case, the insurance provider for the other party (defendant) admitted liability for the accident at an early stage. As such, the case did not need to proceed to court and the case was resolved with an out-of-court settlement. The case was relatively simple as the other driver had failed to stop in the correct way and liability for the rear collision accident was not disputable as the claimant was correctly stopped at the roundabout.
Whiplash Compensation Guide And The Injuries Which Can Be Sustained
In this case study, the claimant suffered several soft tissue injuries in his neck and part of the back. The claimant also suffered from some psychological anxiety as a result of the accident and the injuries they had sustained. The claimant attended a total of sixteen physiotherapy sessions to help treat their car accident injuries. The medical professionals treating both his anxiety and physical symptoms informed the claimant that the physical symptoms would take fifteen months to heal. This was following their physical therapy whiplash protocol and general whiplash physiotherapy treatment guidelines. They were also advised that the psychological symptoms would last for up to a year.
The treatment of whiplash injuries is carried out under NICE guidelines for whiplash treatment.
If you would like to know more about whiplash physiotherapy exercises, please read this NHS guidance regarding rehabilitation exercises that could help you. Answering questions such as, "how long does physiotherapy take for whiplash?" is difficult as it depends on the extent of your injury. You should contact a medical professional for more information regarding this. 
However, if you've required physio for whiplash and you're wondering how much compensation you could receive, we can help you. Please continue reading or, if you prefer, contact us for free legal advice using the details above.
How Much Compensation For Whiplash With Physiotherapy?
In this case, liability was not contested by the defendant or their insurance provider. The settlement was made out of court and consisted of general damages for the injury, as well as special damages covering other financial losses which they have suffered. The general damages awarded were £4,250. Special damages awarded consisted of £1,265.70 which was paid towards financial losses, such as credit hire charges. They were also awarded £900 to pay for the costs of physiotherapy. Finally, £25 was awarded for various miscellaneous expenses.
Most whiplash injuries are mild and the associated claims are for relatively small amounts of compensation. As well as claiming for the actual injuries suffered, victims can also claim for special damages. These are costs that are incurred by the claimant as a direct result of the accident and injuries.
Special damages can be made up of travel expenses, costs of hospital visits and parking, loss of earnings or losses of bonuses, and costs of any medical treatment, such as the cost of a prescription. You can also claim for special damages for any costs for modifications to your home or car as well as the costs of any care you have had to pay for whilst you are recovering from your treatment.
How Do I Claim Physio for Whiplash Compensation?
There's an important consideration to consider now when making whiplash claims. The Whiplash Regulations 2021 establishes a new method of claiming for whiplash injuries in the UK. If your injury is worth £5,000 or less, you are a driver or passenger over eighteen and your injury occurred during a road traffic accident, you would need to claim through an online portal as per the regulations. 
| Duration of Injury | Amount of compensation for only pain and suffering | Total amount of compensation (for pain and suffering and any psychological issues caused) |
| --- | --- | --- |
| More than 18 months but less than 24 months | £4,215 | £4,345 |
| More than 15 months but less than 18 months | £3,005 | £3,100 |
| More than 12 months but less than 15 months | £2,040 | £2,125 |
| More than 9 months but less than 12 months | £1,320 | £1,390 |
| More than 6 months but less than 9 months | £840 | £895 |
| More than 3 months but less than 6 months | £495 | £520 |
| 3 months or less | £240 | £260 |
As per these regulations, then, if the personal injury claim established in the case study was made now, the claimant would need to claim using the new procedure. You can read the set amounts you could receive from using the new claims procedure above. 
Therefore, it can be difficult to answer questions, such as "how much compensation for whiplash with physiotherapy?" as it depends on the extent of your injury and how much it is deemed to be worth. 
If you've needed physio for whiplash but you're unsure how much you could receive for the injury, you can contact us at a time that suits you. We can provide you with a compensation estimate that is relevant to your injuries. You can also use our compensation calculator to receive an estimate online in just a few minutes. Please remember, however, that this estimate may be different to what you could receive as every claim is unique. 
How Much Compensation For Whiplash With Physiotherapy In 2022 
The rules relating to soft tissue whiplash claims changed in May 2021. As such, the process of claiming compensation for whiplash with physiotherapy in 2022 has changed.
All of these changes can be seen in the whiplash reform programme document. They mean that you would make your claim through the government's online portal if you're a passenger and driver over the 18 with injuries are valued at less than £5,000. 
It is not easy to estimate your compensation award immediately after your injury because you will not know the severity of it or if you will need treatment such as physiotherapy for a whiplash injury.
For more information on compensation for whiplash with physiotherapy, please get in touch with our team.
Main Changes Affecting Whiplash Claims
Here's a summary of the main changes to whiplash claims.
Increased the small claims limit

: Previously, the small claims limit was £1,000 but this has now been increased to £5,000. This means that while you could recover legal costs for claims of at least £1,000, now your injury claim needs to be worth £5,000 or more (or a total claim of £10,000 including damage to property) for you to be able to recover your legal fees. This means that solicitors are less likely to represent you in a No Win No Fee claim because they don't get paid for the work they do. With that being said, you can still call us using the number at the top of the page to see if we can in fact help you. You can also reach us using the chat pop up or by filling out the

form

on this page.

The government has introduced a fixed tariff for compensation: There are set amounts that can be awarded for different severities of injury for claims made through the government portal. For example, an injury that lasts between 3 to 6 months has a fixed award of £495. Previously, an injury that lasts between 6 to 12 months could receive a compensation award of between £2,300 and £4,080. These tariffs are set out in the Whiplash Injury Regulations 2021.
These changes may not apply to all car accident claims. For example, they will only apply to your claims if you were injured while either driving or travelling as a passenger in a motor vehicle. 
An example of a claim that may not be affected by the reforms is child accident claims. The changes also do not apply to: 
Cyclists

Pedestrians

Motorcyclists

If the offending driver cannot be traced

Scooter riders

Horse riders

If the offending vehicle is registered outside of the UK.
Common Whiplash With Physiotherapy Injuries
Commonly, whiplash is sustained through car or other vehicle accidents. Any blow or impact which can cause your head and neck to violently jerk back and forwards has the potential to cause a whiplash injury. The sudden force strains, stretches and can even tear the soft tissues and muscles in the neck.
No Win No Fee Whiplash Claims
If you have had a whiplash injury as a result of another driver's negligence or reckless driving you could be entitled to make a whiplash with physiotherapy compensation claim. At Legal Expert, we can help you make a No Win No Fee whiplash claim. With no win no fee you won't have to pay a penny upfront or during your claim. Our costs are recovered as part of the settlement. If you are not successful, you won't owe a penny.
Call Us Today To Start Your Whiplash With Physio Compensation Claim
Talk to Legal Expert today to start your whiplash with physiotherapy compensation claim. You can call us at 0800 073 8804 to discuss your case. Alternatively, detail your case in an email or use our online chat. We can answer important questions like "how much compensation for my whiplash with physiotherapy?" 
While we won't be able to provide medical advice, meaning we'll be unable to answer questions like, "how long does physiotherapy take for whiplash?", we can provide you with a compensation estimate for what you could receive. Contact us at a time that suits you to see if you're eligible to claim.
Useful Links
How Much Compensation Can You Get For Whiplash?
If you have had to take 3 weeks off work with whiplash symptoms, find out more about making a whiplash compensation claim.
A Guide To Whiplash Symptoms
Do you need physio for whiplash, find out with our guide to whiplash symptoms with Legal Expert.
Whiplash Compensation Calculator
Find out how much compensation for whiplash with physiotherapy 2017 payouts average using our whiplash compensation calculator.