Salford Personal Injury Solicitors No Win No Fee Claims
By Daniel Mulgrew. Last Updated on 13th September 2021. The Salford personal injury solicitors we work with at Legal Expert are able to handle a wide variety of different personal injury claims. Have you been involved in an accident that wasn't your fault? If so, our lawyers could work with you to help you win the compensation that you deserve.
Salford Personal Injury Solicitors Handling No Win No Fee Claims
Wherever you are based in the UK, if you need to make a personal injury claim, you can take advantage of our professional No Win No Fee solicitors services. Getting in touch is the best way for us to give you an accurate valuation of your potential claim. After we've asked you some questions, we'll be able to guide and advise you much more accurately. So, reach out to us today. Below, you'll find out contact details. You can ask us anything regarding your claim, or even something regarding this article that you'd like clarifying. It's what we're here for.
Contact Details
Call us on 0800 073 8804
Use the pop-up window in the corner to live chat with us
Use the form on our website to see if you have a valid claim online
Making A Personal Injury Claim In Salford
In the majority of personal injury claims cases, it is advisable to talk to Salford lawyers, or indeed ones based anywhere across the country. Generally, a claim must be made within three years of the accident (or injury) or three years from when the injury became apparent. The UK has a wide range of legislation to support and protect people who have been injured in an accident that was not their fault, as well as supporting people in their claims. The legal experts we partner with across the UK, such as Salford solicitors have years of experience providing help and advice to clients.
In order for the majority of personal injury claims cases to be successful, they need to show several things. These are; that the claimant was owed some degree of a duty of care, that this duty was not provided or breached, and that this breach was the direct cause of the accident, injury, or illness. Whatever the circumstances surrounding your personal injury case, talking to a personal injury solicitor is the place to start getting the answers you need.
Finding The Right Personal Injury Solicitors In Salford
If you have had an accident in Salford which was not your fault, a critical step on the road to claiming the compensation that you deserve is choosing the best personal injury solicitor to work with, i.e. one with the right kind of experience. So, what is the best way to find the right personal injury solicitors in Manchester, Salford, or anywhere in the UK? Getting the compensation that you are entitled to be often a critical step in a claimant's overall recovery process. A claim can provide funds for making adaptations to your home or car, help you get home help or just recover lost income and other expenses you have endured as part of your accident and resulting injury.
Before and during your claim, you will spend a lot of time talking to and working with the solicitor you hire. This makes trusting your solicitor with your claim is vital and it is vital that you have a great relationship with them. Personal injury claims cases can vary in their complexity and duration. The more complex a case, the longer it can take to process and secure an award. On average, personal injury claims can take months or even years to complete.
Do I Need A Medical Assessment?
As part of the process of gathering evidence to back up your version of events, you'll need to have an independent medical assessment carried out. This is so that a medical professional can assemble an official report on the severity of your injuries. Also included in this report will be the expected recovery period associated with your injuries. Factors such as these can affect how much your final settlement amount can be worth.
As part of the service we provide, we can arrange for this assessment to take place locally to you. We work with medical professionals all over the country, so the distance you have to travel will be kept to a minimum.
Do Salford Serious Injury Claims Need To Be Processed By A Local Lawyer?
In the modern digital age, many professional services can be provided from across the country. As such, when choosing a solicitor, lawyer or law firm to work with, you do not need to restrict yourself to your local area. The only part of your claim which will need to be processed or carried out locally is (in general) any medical examinations which are necessary to establish the evidence needed for your claim.
The lawyer, solicitor, or legal firm that you work with organise any medical examinations necessary for your case. The amount of compensation you can be awarded as part of a claim is ultimately restricted by factors such as the amount of money you have had to pay in expenses, as well as how much you may have lost in income.
General damages will also cover an award for the injury itself. This is set by the Judicial Colleges Guidelines, with a banding system for different types and severities of injury in place. Different solicitors in Salford will have had differing levels of success in securing levels of awards.
What Claims Can Personal Injury Solicitors In Salford Handle?
The expert legal solicitors we work with across the UK at legal expert are able to handle compensation claim cases for a wide range of accidents, injuries and illnesses, whether in the Salford and Greater Manchester area, or across the wider UK. Our team can work with you to help process your claim. These are just some of the claims we can help with.
Slip, Trip And Fall Injuries
Injuries caused in this manner are amongst the most common. They can happen almost anywhere and are often caused by unsafe walking surfaces such as wet floors or debris on staircases. Other examples could be falling from a height such as an unstable ladder or defective construction equipment such as a cherry picker.
In the workplace alone, statistics from the HSE show us that falls on the same level are the most common cause of workplace injury. Whilst falls from a height are amongst the least common causes, these two statistics amount to 37% of the causes of all UK workplace injuries when combined.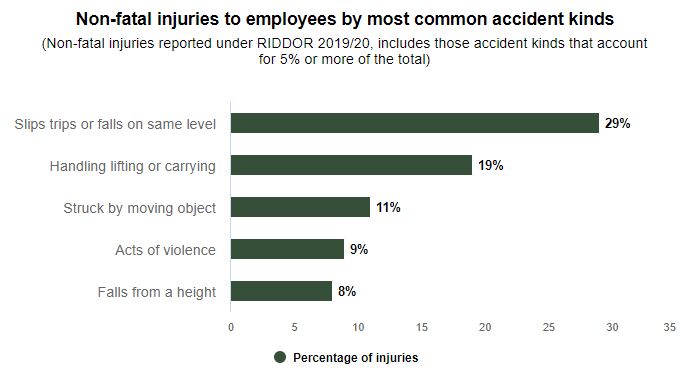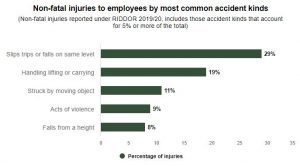 Road Traffic Accidents In Salford
It doesn't matter whether you were the driver, passenger, or even a pedestrian; you could still be entitled to compensation if your injury was caused by another road user's negligence. Cyclists can claim too.
Whiplash is amongst one of the more common injuries caused by road traffic accidents. Claims of this nature are processed so regularly that the government recently introduced a new scheme to help streamline this process. The online portal that was brought in is called the Whiplash Reform Programme (WRP).
The WRP can pay out claims worth up to £5,000 if your injury was sustained in a road traffic accident after 31st May 2021. In fact, any injury worth up to £5,000 sustained by a driver or passenger in a road traffic accident could be eligible for compensation paid in this manner. Cyclists and pedestrians are not eligible to claim through the WRP.
Help For Salford Serious Injury Claims Cases
Serious personal injuries can have a lasting and even catastrophic effect on a person's life. This lasting effect is acknowledged by the UK's courts system as well as insurance companies. IT will be used when determining the level of the claim which will be awarded.
The compensation you are awarded will be able to help ease the burden as well as taking pressure off the person who suffered the injury, their family and any other affected parties. This help will enable you to recover and have your rehabilitation. The panel of solicitors we work with at Legal Expert, as well as the courts and medical experts, are there to help you get the help you need.
Clinical And Medical Negligence Claims In Salford
Clinical negligence (also known as medical negligence) is when an injury or illness is caused by a medical professional failing to carry out their responsibility as your doctor or a clinical professional. An example of this might be a case where a person makes a claim against a care home or other care provider due to inadequate care for a loved one.
Surgical negligence could also fall under this category. There are certain instances called never events that are so serious, they should never happen. When and if they do, the fallout can be very detrimental to the patient. Some examples include:
Surgery on the wrong part of the body
The wrong patient receiving surgery
Foreign objects being left inside a patient
Unnecessary surgery due to a misdiagnosis
Workplace Accidents In Salford
The Health and Safety at Work etc. Act 1974 tells us that every employer has a legal duty of care to uphold regarding their employees. This basically means that they must take every reasonable step they can to reduce the risk of employees being injured whilst at work.
If this duty of care is breached, then this is what could lead to a personal injury claim.
Industrial Disease Personal Injury Claims
The expert personal injury solicitors we work with can help you to claim the compensation you need after suffering an industrial illness or disease. These can range from respiratory conditions such as welders lungs through to skin conditions. Even noise-induced hearing loss caused by the lack of proper ear protection being issues by your employer could lead to you receiving compensation.
These kinds of injuries are often caused by prolonged exposure to unsafe or hazardous working conditions.
No Win No Fee Solicitors In Salford
In the event of your claim being successful, your legal fees as well as other out of pocket expenses will be settled by the solicitors acting on behalf of the defendant, or their insurance provider. If your claim is not successful the No Win No Fee agreement (also known as a conditional fee agreement) between your solicitor and you will state that you won't be liable for any charges, fees or payment. No Win No Fee means exactly that. If the claim is unsuccessful, you can not be charged for the legal company's services.  This percentage is set by law and will be deducted before you receive the award.
Whilst some solicitors or legal experts may charge additional fees if the case is not carried to completion, at Legal Expert the solicitors we work with assure you of a 100% No Win No Fee service.
What Are The Next Steps?
When you are ready to take the next step, or if you require more information about the different types of personal injury claims, the next step is to talk to the experts at Legal Expert today. Find out more about personal injury solicitors in Salford. Before you hire a solicitor to work on your case, you should arm yourself with as much information as possible about the process of claiming compensation. We can provide you with the information you need to make the right decision about your claim.
To make a personal injury claim in Manchester, Salford or across the UK, call the personal injury claims experts at Legal Expert today on 0800 073 8804. You can also use our contact form or chat feature. Alternatively, you can message us using an email with the details of your claim.
Helpful Contacts Before Speaking To Personal Injury Solicitors Manchester
Salford Police Station
Pendleton Police Station,
Meyrick Road,
Salford,
M6 5RN.
Salford Crown Court
Manchester Crown Court,
Crown Square,
Manchester,
M3 3FL.
Salford Hospital
Salford Royal NHS Foundation Trust,
Stott Lane,
Salford,
M6 8HD.
If you need any more help finding Salford personal injury solicitors, please get in touch.
Other Useful Compensation Guides