Chesterfield Personal Injury Solicitors – No Win No Fee Claims
By Daniel Hughes. Last Updated on 20th September 2021. Welcome to our guide on Chesterfield personal Injury Solicitors. If you've been involved in an accident that was somebody else's fault and you're looking for personal injury solicitors who can cover the Chesterfield area to help you make a compensation claim, then this guide will help you find the right solicitor for your injury claim.
This guide will explain how to choose the right solicitor for your claim, how No Win No Fee works and the common types of accidents and injuries that we can help with. If you're ready to begin your claim, then you'll find out contact details just below.
Contact Details
You can speak to us over the phone, but if you'd prefer, there are other ways you can get in touch too.
Our telephone number is 0800 073 8804
You can enquire about your claim online, by filling out our webform
The pop-up window in the corner reaches our advisors in real-time
Think You Have A Claim? Find Out How We Can Help You
You may be worried about making a personal injury claim because of the complexities and risks associated with asking for compensation from somebody else but you can relax as there is plenty of legislation to support people who have been injured because of somebody else's mistake whether that be at work, at school, in a hospital, a shop or any other public place.
The regulations are there to protect you from suffering because of somebody else's mistake and our team of accident solicitors have years of experience between them in dealing with personal injury claims on behalf of our clients.
When Are Victims Of An Accident Eligible To Claim Compensation?
There are a number of things that any personal injury solicitor will have to prove to win a Chesterfield accident claim which are:
Firstly, they must show that the defendant (i.e. your employer, doctor or local authority) has a duty of care towards you.
Secondly, it has to be proven that the duty of care was breached in some way.
Finally, the solicitor needs to show that because of the breach you were injured or became ill.
Gathering all of the evidence required can take many months and it is therefore recommended that you commence your claim as soon as possible after your injury happened or following the diagnosis of an illness (there is a 3-year time limit on all personal injury claims in the UK which is either from the date of the accident or from when a doctor diagnoses your illness).
Why Is It Important To Have The Right Solicitor For Your Claim, And How Do You Choose Them?
Solicitors in the UK is regulated by the Solicitors Regulation Authority but that does not mean that the level of service you'll receive is the same as each one. Selecting the correct solicitor is the most important and first step you need to make.
It pays to have a specialist on your side, like Legal Expert, as it's possible not all Chesterfield claims services will get the same outcome for your case i.e. one may lose your claim where another may win, and an experienced injury specialist may get a higher compensation payment than a less competent solicitor.
Read Solicitor Reviews To Help Choose A Solicitor Or Legal Firm
When choosing a solicitor to claim following an accident in Chesterfield or claims service that covers the Chesterfield area, it would make sense to call the solicitor directly to ask them questions, but another useful tool is reviews from previous clients.
The things to look for include how many recent claims have been reviewed, how happy are the clients with the support they received and are clients happy with the amount of compensation they actually received.
Will I Need To Use A Solicitor Close To Me?
There is absolutely no requirement for you to use a solicitor in Chesterfield to make your claim. Wherever your solicitor is based they will mainly contact you via the phone, email or postal service which means it doesn't matter where their office is based.
If you are required to undergo a medical assessment, then we will ensure that you visit one of our local medical professionals to save you the hassle of travelling.
What Accident Claims Can Our Personal Injury Solicitors Help You With?
Our panel of solicitors can deal with most Chesterfield accidents where somebody else was to blame, whether it be a minor injury or a much more serious condition. Here are some of the more common claims that we deal with:
Industrial Disease Claims
Industrial diseases and illnesses can be caused by something that happened in the workplace many years ago. They can be caused by exposure to chemicals or from completing the same task over and over again for a long period of time.
Some of the common industrial illnesses that clients claim for include:
Vibration white finger
Acoustic shock
Legal Expert can help with any industrial disease claims in Chesterfield whether it is listed here or not. Generally, claims can be made because of dangerous working conditions, inappropriate training, inadequate safety equipment and employers failing to promptly rectify a problem when it was highlighted to them.
Medical Negligence Claims
A medical negligence claim can be made against Chesterfield Royal NHS foundation trust (in the case of NHS negligence) where you have been injured while receiving treatment from a doctor, nurse, surgeon or dentist in the Chesterfield area.
Negligence can be caused by:
Late diagnosis of an illness (i.e. when it wasn't diagnosed at the first visit to your GP).
Incorrect medication being prescribed, or the wrong dosage is administered
Misdiagnosis (i.e. where treatment was administered for the wrong condition).
Surgical negligence
Here is our guide to medical negligence claims in Chesterfield which covers the types of causes and claims that can be made in more detail.
Accident At Work Claims In Chesterfield
If you have been injured while at work, or at another location but while working, then the employer may be liable for compensation if they have breached the duty of care that they must show to employees under the Health and Safety at Work etc. Act 1974.
If your injury at work in Chesterfield happened because you had the wrong equipment, inadequate training or another member of staff caused your injury then contact one of our personal injury lawyers so we can determine if the company is liable.
Workplace Accident Statistics
Regardless of all the safety measures put into place to reduce the frequency and severity of workplace injuries, they still do occur around the country every year. Statistics gathered by the HSE show us some of the most common causes of these injuries. You can see from the graph below that the most common cause in 2019/20 was falling on the same level.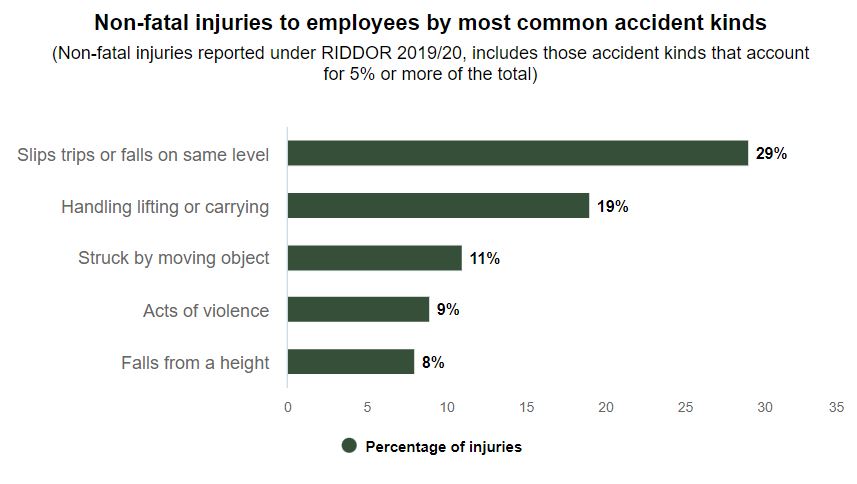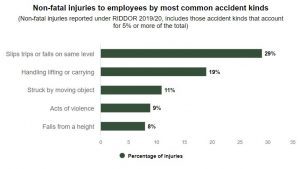 Trip And Fall Injury Claims
A trip or fall accident can happen just about anywhere in day to day life and can often lead to serious injuries from what may seem like an innocuous fall. Some injuries require several trips to surgery and the limb or joint injured may never be fully functional again.
A trip-based accident could happen anywhere in Chesterfield such as at work, at school, in a hospital, in a shop, restaurant or bar and, if somebody else was to blame for the fall then you could claim compensation against them.
Reasons that somebody else may be liable can include:
Uneven flooring
Slippery flooring (with no warning signs)
Inadequate lighting that prevented you from seeing a trip hazard
Claim Compensation For A Serious Form Of Injury
A serious injury is usually defined as one that is life-changing. Any injury that prevents you from doing what you used to do or means that you require assistance in the form of care could be deemed to be serious.
A compensation claim for a serious accident in Chesterfield can be complex and you'll definitely require the best personal injury solicitor on your side because the claim for compensation will impact upon the rest of your life.
It is possible to claim for the pain and suffering involved in the accident but also for costs of modifying your home, care costs and loss of earnings too.
Road Traffic Accident Claims
All road users have a duty of care to one another. This means that they must act in a responsible and safe manner at all times. The rules that must be followed are listed in the Highway Code. If these rules are not followed, and an injury is caused as a result, then this could be an example of negligence. This is because the duty of care has been breached.
It doesn't matter whether you were a driver, passenger, cyclist, or even a pedestrian. If someone else's negligence has caused you to sustain an injury then you could be owed compensation.
The Whiplash Reform Programme
Due to the high volume of claims being made for whiplash, the government has not introduced a new way to access compensation. There is now an online portal known as the Whiplash Reform Programme (WRP). Now, if a driver or passenger is injured in a road traffic accident after 31st May 2021, then they can apply for compensation in this manner, with no need for a solicitor. This is only for claims up to the value of £5,000. Cyclists and pedestrians are not eligible to make use of the WRP and must make a claim with a personal injury solicitor.
It could also be worth checking with a lawyer before applying, as your claim could be worth more than £5,000 without you realising. It's also important to note that this way of claiming is relevant for any injuries sustained in a road traffic accident, not just whiplash as the name suggests.
Find A No Win No Fee Solicitor For Your Claim
Many people are put off from making a personal injury claim because of the legal costs associated with the claim. While it is true that some solicitors charge by the hour, regardless of whether they win or lose the case, Legal Expert work differently.
After a free consultation where we find out about your injuries, and the accident that caused them, we offer all clients that we take on the opportunity to use our No Win No Fee service which means, if we don't win you any compensation, then you don't have to pay us anything.
We provide all of the same services as a traditional solicitor, but we don't charge up front for the claim. Included in any claim are:
The initial consultation – checking that the claim is legally and technically sound and has a chance of success
Gathering of evidence including medical records – witness statements and expert statements; requesting compensation from the defendant or their legal support team explaining why compensation is sought and how much
Reviewing any offers and deciding whether to accept the offer – refuse it, counter it or take the case to court
In our experience it is very rare for cases to be settled in court, but we always keep the option open if we believe that the defendants offer isn't fair and doesn't compensate our client fairly.
The final step would to deduct our agreed fee from the compensation and send the remainder to the client.
A 100% No Win No Fee Claims Service
Under the terms of the No Win No Fee agreement that clients sign when using Legal Expert, no payment is required up front and no payment has to be made until compensation is received. It is then deducted from the compensation and the rest is paid to the client – this covers all of the solicitor's costs and is the agreed fee.
If the solicitor is unsuccessful, and no compensation is awarded, then the client does not have to pay for the solicitor's services at all which is why so many clients endorse No Win No Fee claims.
What Further Information Do I Need To Make A Claim?
We understand that you may not yet be ready to commence your claim with Legal Expert and that you may require a bit more information.
Our website has plenty of useful guides that can help you with your specific type of claim but if you can not find everything you need to know then please call our team and they'll be happy to offer advice on what steps you should take next.
Contact Our Team Now
If, after reading this guide about accident claims in Chesterfield, you're happy to use Legal Expert to make your personal injury claim, then you can contact us using any of these methods:
Telephone: Call us today on 0800 073 8804
Live Chat: You can usually speak with our staff immediately via any page of our website.
Online Form: Fill in our online form to request a call back at a convenient time
Email: Send a message to office@legalexpert.co.uk
However you choose to contact us, our team will offer a free initial consultation where we'll gather as much information from you as possible and then let you know if we believe you have a good chance of a successful compensation claim.
Useful Services In This Area And Additional Resources
If you have had an accident in Chesterfield, then as well as contacting the Legal Expert team there are some other organisations you may want to contact including:
Local Police Station
Chesterfield Police Station
Beetwell Street
Chesterfield
Derbyshire
S40 1QP
Web:www.derbyshire.police.uk/Contact-Us/Enquiry-Offices/C-Div-Enquiry-Offices.aspx
Local Crown Court
Chesterfield Justice Centre
Tapton Lane
Chesterfield
S41 7TW
Web:https://courttribunalfinder.service.gov.uk/courts/chesterfield-county-court-and-family-court
Local Hospital
Chesterfield Royal Hospital
Calow
Chesterfield
Derbyshire
S44 5BL
Here are some more guides from our site which you may find useful:
Personal Injury Claims Process – a step by step guide outlining how the claims process works in detail.
Derby Car Accident Claims – a more detailed guide on how to claim for road traffic accidents.
Other Useful Compensation Guides
Thank you for taking the time to read our guide on Chesterfield personal injury solicitors.