Derby | Personal Injury Solicitors | No Win No Fee
f you have suffered an injury or accident that was not your fault then you may be looking for the help of personal injury solicitors in Derby for help. If so, you've arrived a the right page.
Our team understand how difficult it can be when you are recovering from your injuries following an accident and although you may not feel like beginning a legal case, it is in your best interests to contact a personal injury solicitor as soon as possible after the incident occurred.
If you'd like to make a No Win No Fee claim today, then you can get in touch with us by:
Legal Expert's Research Into Personal Injury Claims Against Derby Councils
Legal Expert has uncovered the cost of personal injury compensation for councils in Derbyshire during the past year using a Freedom of Information request.
Derbyshire County Council paid out £1,345,856 whilst personal injury claims cost Derby City Council a total of £10,007.14 from April 2022 to April 2023.
Both councils accounted for 84% of the combined payouts relating to claims against local authorities that form part of the East Midlands Combined Authority. When combined, councils in the region paid out £1,586,095.50 in compensation.
The most claims were submitted against Derbyshire County Council (53) closely followed by Derby City Council (50). A breakdown of these claims, including the causes, for each council can be found below:
Derbyshire County Council – 53 claims – £1,345,856
Council work (Temporary road signs)

– 1

Ironworks raised/defective – 11

Lighting inadequate – 1

Object/Obstruction/Debris – 1

Uneven/defective surfacing – 9

Vegetation – 1
Derby City Council – 50 claims – £10,007.14
Trips over paving slabs, uneven ground, raised tarmac, manhole covers, and a pothole etc – 15 

Falls over paving slabs, potholes, park equipment, uneven ground, defective drain, use of council equipment etc – 12 

Slips on ice

, broken glass, and wet, slippery pavement – 3 

Other claims, such as, falls by cyclists trying to avoid potholes, injuries caused by protruding or damaged signs – 6 

Claims by employees, including industrial disease, stress,

workplace accidents

, use of equipment, falls etc – 14
Both councils have a duty of care to make sure that any premises, spaces or highways they oversee are reasonably safe for visitors and employees.
Our No Win No Fee personal injury solicitors could use their experience to ensure all bases of your claim are touched upon. Get in touch for free at any time.
Jump To A Section
How You Can Make A Claim With Our Team
Our team at Legal Expert can help you with your personal injury claim as long as the accident occurred within the last 3 years, as this is the personal injury claim time limit. The exception to this is where a condition has only just become apparent following exposure to a harmful substance or an event that happened a number of years ago. In this case, the clock begins on the date that you received a diagnosis. Common conditions that meet this exception include mesothelioma and hand arm vibration syndrome as they take a number of years to develop.
Claimants in the UK are fortunate that there is a large amount of legislation and case law that supports personal injury cases. It can however be tricky to navigate your way through the system if you are not a legal professional. This is where Legal Expert can help you. Our panel of personal injury lawyers can look at the details of your case and advise you on the likelihood of success. They will also be able to give you a clear idea of the losses you can claim for and a rough estimate of the amount of compensation you can expect to receive if you win your case.
When Are You Eligible To Make A Claim?
There are certain criteria that must be fulfilled before you can reasonably make a personal injury claim. We recommend that you seek the advice of Derby personal injury solicitors and those that cover claims in the area before launching your claim as they will be able to advise you as to whether your case meets these criteria. In essence, you must be able to prove the following:
The defendant in the case owes you a duty of care – this duty may perhaps have arisen because they were your employer, your healthcare professional or were driving a vehicle and so were governed by the duty of care held by road users. A duty of care is also owed by owners or occupants of land to protect visitors to the premises and by local authorities if you have an accident in a public space. There are many reasons why you may have been owed a duty of care and a legal professional will be able to help you establish this.
You must be able to prove that the duty was breached by the defendant- this means that they did not fulfil their responsibilities.
Finally, you must be able to draw a causal link between the defendant's breach of duty and your injury – This means that you must prove that your injury would not have otherwise occurred unless the defendant had breached their duty of care.
Our panel of solicitors have many years of experience in demonstrating proof of these criteria so you can feel confident that you are in safe hands. It is however helpful to contact a truly personal injury solicitor as soon as you can, as early evidence collection will be beneficial to your case.
Why It Is Important To Use The Best Solicitor Possible When Making
A Claim
Whichever personal injury solicitor you choose, you can feel safe in the knowledge that all solicitors are regulated by the Solicitors Regulation Authority (SRA). This does not necessarily mean however that the first Derby personal injury solicitors that you contact will be the best personal injury lawyer for you – especially since you can use solicitors from out of the area. Different firms offer different service levels and it is important that you understand how heavily your relationship with a solicitor will impact upon your life.
Compensation claims can take a long time to resolve, particularly for complex injuries. Your case may go on for several months or even years so you need to feel confident that you have found a lawyer who will match your needs. Legal Expert have a large panel of solicitors. We will listen to your specific needs and match a solicitor as closely as possible with your requirements. This helps to ensure that you are working with somebody who has a good level of experience and knowledge about your specific personal injury and has your best interests at heart.
Why Where Your Solicitor Is Based Is Not Important
Although your injury may have occurred in the area, there is no reason that you need to choose Derby personal injury solicitors to handle your claim. You are free to choose a solicitor from anywhere in the UK. Legal Expert can provide a solicitor that covers your area. Living as we do in the digital age, technology provides us with the connection we need to communicate with you. Email, Skype and Google Hangouts are all handy applications that mean distance is no object.
We think it is much more important that you are represented by the best solicitor for you, which is not necessarily the closest one. We do however understand that if you need a medical examination then you won't want to travel long distances. Legal Expert's solicitors have access to doctors located around the country so that they can provide an examination at a location convenient to you.
What Personal Injury Claims Do Our Team Handle?
Thanks to our large panel of lawyers and breadth of experience we can cover a wide range of different cases. The next few sections will focus on some of the personal injury claims we can help you with. This list is not exhaustive, these are just some of the more common kinds of injury we handle.
Claims For Industrial Diseases
Industrial diseases are usually caused by poor working conditions. From conditions such as noise-induced hearing loss to carpal tunnel syndrome, if you have been exposed to something at work which has caused an illness either at that time or later in life then you can make a claim. Industrial disease claims can be related to excessive noise, harmful substances or harmful/dangerous machinery. Legal Expert will be able to advise you if your illness or injury makes you eligible to make an industrial disease claim.
Claims For Medical Negligence
Medical malpractice can lead to clinical negligence claims if a patient is injured. There are a number of different ways that patients can be hurt following medical negligence:
Misdiagnosis can cause an exacerbation of an illness due to the delay in receiving the correct treatment.
Mistakes whilst undergoing surgery can cause serious and unexpected harm which is attributable to the negligence of the surgical team.
Incorrectly prescribed or administered medication can have a serious impact on a patient's health.
Incorrect treatment can include cases where a patient is given the wrong type of treatment for their condition, resulting in harm.
Workplace Accident Claims In Derby
Unfortunately, accidents at work are not uncommon and there are a number of different ways in which you may experience illness or injury in the workplace. Legal Expert will provide you with a solicitor who can help you to prove that there was a breach in your employer's duty of care.
Claims For A Trip Or Slip
Slips and falls are the most common cause of accidents in the workplace. This type of accident can lead to some nasty injuries. From a minor sprain right through two fractured bones and ongoing pain. Slips, trips and falls can also lead to other incidents such as becoming trapped or having another object hitting you following the fall. Slips and trips are often caused where there has been a spillage that has not been properly cleaned up, obstacles in the way or poorly maintained or uneven flooring.
The graph below uses statistics from the HSE. It shows that falls on the same level is the most common cause of non-fatal workplace injuries.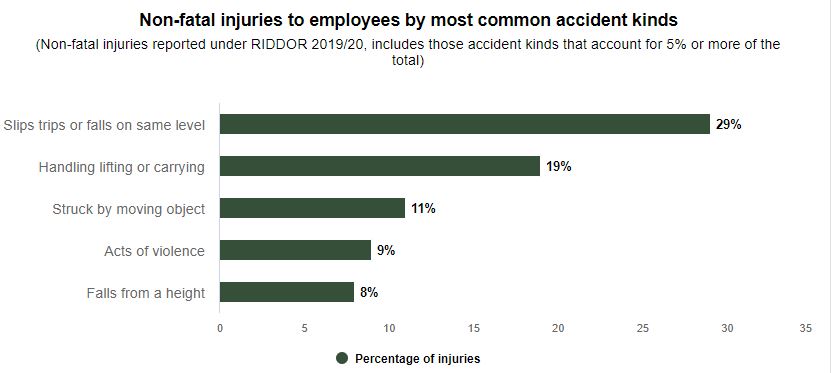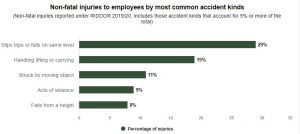 Claims For A Serious Injury
If you have suffered a serious injury following an accident then you are likely to be going through a very difficult time and potentially a long recovery. At Legal Expert we understand the pressure you can find yourself under following a serious injury. This can often mean that you are unable to work for some time and may be completely unable to return to your normal job. You may find it difficult to care for your family or even to care for yourself.
As a result of serious injury, you may incur unexpected high costs as you are unable to earn a living as you did before. In this situation, you may be reliant upon a compensation payout to help you cope with your unplanned change of circumstances. Our team at Legal Expert will do everything we can to help you achieve the compensation you deserve following the injury that was not your fault.
Claims For A Car Crash Or Road Traffic Accident In Derby
Road users of all types are vulnerable to serious injury following a road traffic accident. If you can prove that your injury was caused due to somebody else's negligence then you may be eligible for a compensation payout.
As long as you begin your claim within the 3-year time limit then Legal Expert's panel solicitors can help you to provide the necessary evidence that you need to win damages. You will need to undergo a medical examination to establish how severe your injuries are and to receive an expert prognosis from a doctor. This will inform your compensation claim.
How Much Could Your Claim Be Worth?
It can be difficult to know exactly how much your final settlement amount could be worth. In this section, we'll be trying to give you an idea.
Every claim is different and has certain nuances that others might not. Because of this, there need to be guidelines in place so that legal professionals know how much injuries could be worth. There is a legal publication known as the Judicial College Guidelines (JCG). The JCG is a list of injuries and how much could be awarded to the injured party for their physical and mental injuries that were sustained during their accident. The sum that's decided on and awarded is known as general damages.
This figure can depend heavily on how severe the injury is, along with how long it took to heal (if it ever completely does).
We've included a table below that includes some example figures from the JCG. Remember, the actual list is very extensive, this is just a small cross-section. Just because your injury does not appear below, doesn't mean it can't be claimed for.
| Injury | Description | Amount |
| --- | --- | --- |
| Mental anguish | When you fear that death is imminent, or you believe you life-expectancy will be reduced | £4,380 |
| Brain damage | (c) Moderate - (iii) things like memory and concentration are affected and the individual's capacity for work is also reduced | £40,410 to £85,150 |
| Sight | (e) Where you've been left completely blind in one eye | £46,240 to £51,460 |
| Chest | (f) injuries that lead to collapsed lungs - but a full recovery is made without further complications | £2,060 to £5,000 |
| Asthma  | (d) where relatively mild symptoms that resemble asthma start to develop, caused by being exposure to harmful vapours | £9,990 to £18,020 |
| Reproductive | (F) Female - (e) a sterilisation procedure will have failed and resulted in an unwanted pregnancy, but there is no psychological impact | In the region of £9,570 |
| Illness | (b) for example, food poisoning that causes symptoms such as pain and cramps of varying severity | £860 to £3,710 |
| Neck | (c) Minor - (iii) where no longer than 3 months is required for a full recovery to be made | Up to £2,300 |
| Back | (a) Severe - (i) things such as severe pain, paralysis and very impaired bodily functions such as bladder and bowel control | £85,470 to £151,070 |
| Wrist | (e) Uncomplicated Colles' fracture | In the region of £6,970 |
There are other figures that can be included in your final payout. For example, your injury could have resulted in a loss of earnings due to your inability to work. Other costs that could occur as a result could be things like prescription costs, or even damage to your personal property. All of these financial losses can be calculated and added to your final claim amount. Collectively, these expenses are known as special damages.
You must be able to prove these expenditures or losses. Without evidence, you're likely to find it much more difficult to be reimbursed. Get in touch for more information.
No Win No Fee Compensation Claims Explained
You have probably heard about No Win No Fee but may still be wondering 'how do No Win No Fee solicitors work?' the answer is that a No Win No Fee compensation specialist's payment is dependent upon the successful outcome of your case. If you do not win your case, you do not pay a fee. Solicitors firms work on the basis that you agree to pay a success fee which will be a certain proportion of your final payout.
This success fee varies between law firms so it is in your best interests to check what each firm of solicitors charges before you commit to signing the conditional fee agreement. The great thing about No Win No Fee agreements is that there is no upfront payment required. This means that as a claimant you do not experience any financial burden whilst making your claim. This can help to reduce the stress for you whilst you are recovering and launching your case.
Why We Offer A 100% No Win No Fee Service
No Win No Fee is free initially. Legal Expert's panel lawyers charge no upfront fees and there are no hidden costs to surprise you further down the line, you are only required to make a payment if you successfully win your case.
This payment will be taken from your payout so you will never be left out of pocket. If you do not win your case for any reason then you do not owe any fee. You can therefore feel confident that if our solicitors have agreed to represent you, they feel happy that you have an excellent chance of winning your case.
How To Start Your Personal Injury Claim
Legal Expert have a wealth of resources online. Check out our website where you will find lots of information to answer your questions. Alternatively, give us a call and we will do our best to respond to your queries before you make your final choice of solicitor. Whether you are ready to begin making your claim or are simply seeking further information, Legal Expert are here to help you.
Talk To Us Today
As soon as you are ready to begin your claim, we are waiting to hear from you. Call us today on 0800 073 8804 and we can explain the steps you need to take. Alternatively, contact us via our website. You can complete a contact form and we will call you back at a time that is convenient to you.
Helpful Resources After An Accident Or Injury In Derby
Following your accident, in addition to contacting a personal injury solicitor, you may also wish to get in touch with the following agencies. We have added some useful contact details here for your convenience.
Local Police Station
Pear Tree Rd
Derbyshire,
DE23 8NQ
Web: http://www.derbyshire.police.uk/Homepage.aspx
Local Court
Morledge
DE1 2XE
Web: https://courttribunalfinder.service.gov.uk/courts/derby-combined-court-centre
Local Hospital
Royal Derby Hospital
Uttoxeter Road
DE22 3NE
Web: www.derbyhospitals.nhs.uk
Other Useful Compensation Guides
Thank you for reading out guide on Derby personal injury solicitors.