I Slipped In Tesco Can I Claim Compensation?
A Guide To slipped On Water In Tesco Accident Claims
I slipped in Tesco, can I claim compensation? If you have slipped on water in Tesco stores anywhere in the UK, you may be able to make a Tesco supermarket compensation claim. Anyone who have suffered a slip, trip or fall in a Tesco store, due to water or other liquids, we can help you claim the compensation you deserve. Slips, trips and falls are one of the most common types of accidents in the UK, whether in the workplace or whilst out in public spaces. You can see from the statistics in the graphic below, that they are one of the most common workplace accidents.

These type of accidents can happen in a wide variety of different ways, and to both staff and customers alike. Slips, trips and falls cost the UK economy millions of pounds per year, with £500 million in costs to employers across the UK. No matter your injury, at Legal Expert we can help with your slips and trips compensation claims. Find out more below.
What Are The Causes Of Slip In supermarket Claims?
Slip in supermarket claims can be caused by a variety of different things. The most common of these causes is slipping on water or another spillage, however, there are other causes of these types of accidents. If you are working or shopping in a supermarket, such as Tesco, and trip over something you have placed on the ground, such as your basket, you would not have grounds for making a Tesco compensation claim. However, if your accident in a Tesco store was caused by something which (other) staff members of the store could help, you may be able to make a slip, trip and fall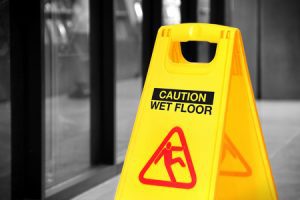 accident claim. slip, trip and fall accident claims can be caused by (among other things) the following; spillages in the aisles; food items which have been dropped on the floor and not cleaned up; floors which have been cleaned but not dried; uneven floors and defects in floors, coverings and tiles. In all of these circumstances, you could be entitled to make slip, trip and fall accident claims.
Common Injuries In Slip, Trip And Fall Accident Claims
Slip, trip and fall accidents can result in a wide variety of different injuries. Whilst most falls won't cause anything too serious, injuries can range from the very mild, such as mild bruising or small cuts, through to much more serious injuries, such as a broken hip or pelvis. Whilst such injuries for a slip in a supermarket are rarer, they can still happen. For elderly customers especially, a fall resulting in a more serious injury, such as broken bone, can cause loss of mobility, confidence and even independence.
Responsibility For Slipped On Water In Tesco Accidents
Like all shops, supermarkets and places where the public has access to, Tesco has a duty of care to both its customers and staff. Part of this duty of care includes a legal responsibility to provide a safe and healthy environment for customers and staff of the store. Many falls can be caused by slipping on water, other liquids and even foods. Staff at the store have to have had a "reasonable" amount of time to identify that there is a hazard (the spill) and to put up signs as well as clean up the hazard. To show that the store is liable for your accident and resulting injuries, and prove their responsibility for it, you need to show that they could have rectified the situation or blocked off the hazard for other people. In these cases, it can sometimes be difficult to establish and prove liability.
To help us show the store was at fault, after your accident you should immediately take steps such as recording the accident in the Tesco accident book or via their Tesco accident helpline. Logging your accident in this way, with the Tesco injury helpline, will help us to build your case.
A Guide To Making A No Win No Fee Slipped On Water Tesco Accident Claim
At Legal Expert, we offer a comprehensive no win no fee service. No win no fee agreements are also known as CFA's or Conditional Fee Agreements. These are special contracts which are drawn up between you (the claimant) and your solicitor. The CFA forms the basis of the relationship between you and your solicitor. As well as detailing the services you will receive, it notes the fee or fees you will be charged, and how these will be collected. It will state that if we do not win your Tesco accident compensation claim, you will not have to pay anything. If we are successful in claiming your Tesco compensation payout, our fee will be included in the claim. Our table below sets out some of the amounts which you can be awarded for a slip, trip or fall injury.
| Injury | Severity | Amount | Notes |
| --- | --- | --- | --- |
| Chest Injuries | Moderate | Up to £3,000 | Moderate injuries can include fractures of the soft tissues as well as the ribs. Injuries will lead to serious pain and could even result in partial or temporary disability. |
| Neck Injuries | Severe | £50,000 - £99,500 | Severe neck injuries can include serious fractures of as well as damage to discs of the spine. Injuries will lead to permanent disabilities. |
| Neck Injuries | Moderate | £19,000 - £29,250 | More moderate neck injury symptoms include dislocated tendons and moderate fractures. |
| Back Injuries | Severe | £29,475 - £53,000 | Severe back injuries include fractures of the spinal discs or other vertebral bodies, including some soft tissue damage. |
| Back Injuries | Moderate | £21,100 - £29,475 | Moderate back injuries include a wide range of symptoms, causing lasting pain and discomfort. |
| Leg Injuries | Moderate | £21,100 - £29,800 | Moderate leg injuries with knee damage resulting in muscle wastage, as well as reduced joint mobility in the future.. |
| Leg Injuries | Serious | £13,650 - £21,100 | More serious fractures of the leg bones as well as soft tissue damage. Generally this can be recovered from. |
| Leg Injuries | Moderate | £6,925 - £10,700 | Moderate and simpler leg injuries can include fractures where there will be no lasting damage. |
| Knee Injuries | Serious | £53,000 - £73,125 | Serious knee injuries include disruption to the knee joint. May also include the potential to develop osteoarthritis. |
| Knee Injuries | Serious | £39,625 - £53,000 | Serious fractures, extending into the knee joint. Causing lasting pain and discomfort. |
| Foot Injury | Mild | Up to £10,450 | Mild foot injuries can include temporary damage to and pain in one or both feet. |
| Foot Injury | Moderate | £10,450 to £19,000 | Moderate foot injuries can include the loss of normal function in one or both feet. This may or may not be lasting. |
| Foot Injury | Severe | £31,900 to £53,200 | The most severe foot injuries can range up to complete amputation of one or both feet. |
As well as being able to claim for general damages after your injury, you may also be able to claim what is called special damages. These include any financial costs you have incurred as well as any loss of earnings. By law we can not take more than 25% of your award, however, your agreement will go into more detail on this. At Legal Expert, we have no hidden fees or upfront costs, so you always know where you are.
How To Make A Tesco Accident Compensation Claim
To start making your Tesco supermarket compensation claim after a slip, trip or fall, talk to the specialist personal injury solicitors at Legal Expert today. We can help you get the personal injury compensation that you deserve. As well as providing you with the help and advice you need, whether you have had an accident at work, or whilst out shopping, we can connect you with a specialist solicitor today. To get in contact with us and start making your claim, fill in the contact form or the chat feature on our website. Alternatively, you can send us an email with the details of your case and claim. If you want to talk to our legal specialists, call us today on 0800 073 8804.
Useful Links
Wet Floor Accident Claims
I slipped in Tesco, can I claim compensation? Find out with our guide to wet floor accident claims.
Tesco Accident Claims
How much compensation can I claim for a Tesco accident? Find out with our guide to Tesco accident claims.