A Guide To Football Stadium Accident Claims – How Much Compensation Can I Claim?
By Stephen Hudson. Last Updated 11th April 2022. In this guide, we'll explain when a valid football stadium accident claim for compensation may be possible. We'll also talk about how making this type of claim usually works.
Whether you are attending a football match for the first time, are a regular season ticket holder, an employee of the football club, agency worker or a part of the visiting team; a visit to a football stadium should be an enjoyable and above all safe experience. As a local or visiting fan, your trip to any football stadium, whether large or small should be a fun experience where you get to support your team, feel an amazing atmosphere and see or participate in the action.
Most of us will visit a football stadium, or another sporting venue for fun, to relax and even to blow off a little steam. However, this does not mean that football stadia are always free from risk or dangers and there have been some large historical incidences of football stadium injuries to individuals and groups of people. Unfortunately, for some fans, players or employees, a trip to the football stadium could result in a football stadium accident claim. For the employees of and those who work at a sports stadium, the threat of an accident at work is can be greater than people who might work in more day-to-day settings, such as shops or offices.
If you have been involved in an accident at a football match stadium, such as a crush injury in the crowds, or a slip, trip or fall on the terraces or elsewhere in the stadium, you may be asking who is to blame for your injury. If you have been injured at a football stadium, no matter what your accident or injury, if it was not your fault you may be entitled to claim compensation. Establishing who is to blame can be difficult. It could be the responsibility of the stadium owner, the football team's owner's or companies or other parties who may own or run a concession. If you have had an injury, you could be entitled to compensation.
Get in touch with us today with any questions you may have. There are a few ways you can do this.
Call us on 0800 073 8804
See if you have a claim online by visiting our website – there's a digital form to fill out
Speak to a member of our team using the live chat window in the bottom right
Select A Section
There were several high profile accidents and incidents resulting in injuries to football fans and staff at fixtures during the 1970s and 1980s. Some of the largest and most notable incidents were the incidents at Hillsborough in Sheffield in 1989 and the Ibrox accidents in 1971.
These incidents were notable for the nature and severity of the crush injuries suffered, as well as the number of people who were injured or killed. Whilst most people won't suffer such as injury or football stadium accident, accidents do still happen. In 2017 games have still been cancelled due to barriers collapsing and people being injured in a variety of ways.
The most common accidents at football stadiums include;
Most football stadiums are designed to hold several thousand or even tens of thousands of people-  because of this, the stands are designed and fitted with raked seating and many steps. These types may not have handrails and can result in the risk of slips, trips and falls in football stadiums
Even travelling to a football game can pose a risk in different ways – whilst walking through the grounds people can have a slip, trip, and fall injury on the pavement, in the car park or whilst in transit on the way to the stadium. As there are thousands of people all heading to the same destination, the chances of there being a road traffic accident are thus higher. Any ball game, such as football, always includes a chance that a ball could be kicked into the crowd, injuring either a spectator or a member of staff
Sitting in the front rows might get you close to the action, but there can also be a risk in doing so – athletes (such as football players) can fall into the crowds. For those on the receiving end of the collision, it can be painful and result in an injury
Stadiums will often have areas that are exposed to the elements – those on the stands and terraces watching the game will always have a chance of severe weather (such as driving rain or freezing cold) causing surfaces, seats, and walkways to become slippery. Electrical storms can also pose a risk to fans sitting outside. This means that both stadia owners, managers, and fans should be prepared
Broken seat injuries can also happen at football stadiums – when there are thousands of people sitting on seats weak in, weak out, it means that there is a possibility for some of the seats to become broken and for people to suffer an injury as a result
It's important to note that injuries sustained in acts of violence at football games are not necessarily the fault of those in charge of the stadium. If one fan were involved in a physical altercation with another fan then this is likely to be processed by a government body known as the Criminal Insurance Compensation Authority (CICA).
However, it is possible that a more traditional personal injury claim could be made against the club if the stadium staff act negligently. As many know, there is often animosity between the home and away fans. This is especially true if one team has suffered a heavy defeat, for example. If the home and away fans are ushered out simultaneously, then an emotionally-fuelled brawl could break out amongst the fans.
In this case, the stadium staff have acted negligently, as their actions or lack of planning could directly lead to injuries that could have been otherwise avoided.
No matter the type, nature, and severity of your accident or injury suffered, the specialist expert legal solicitors at Legal Expert can help you pursue your compensation claim.
Stadium Injuries By Time Period
There would seem to be a trend regarding certain times during stadium attendance that injuries are sustained. The spectator injury data report from the Sports Ground Safety Authority (SGSA) show that in the first 6 months of the 2019/20 football season, the majority of injuries sustained at stadiums in the top 4 English leagues took place during the match.
Before the match took place was also the second most common period of time for injuries to be sustained. Below, you'll find a graph displaying these percentages in greater detail. It should be noted that the actual number of injuries suffered per league was greatest for Premier League/international games and reduced with the leagues. We've also listed these figures below.
Premier League/international: 595
Championship: 314
League 1: 191
League 2: 115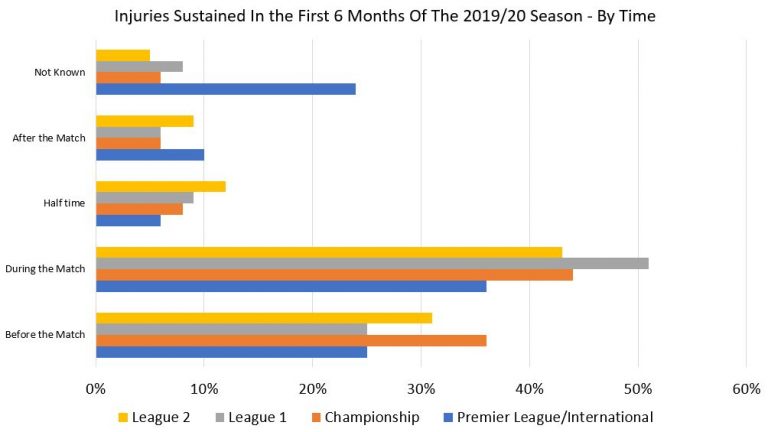 Stadium Owners Duty Of Care
In this section, we will look at the role of the law in football stadiums and the duty of care that stadium owners have over their staff and customers (visitors). There are several legal requirements in the UK that surround the duty of care and football stadiums.
Until the occurrence of several disasters at football stadiums in the UK in the 1970s and 1980s, the terraces which had traditionally made up football stadia were replaced by all seated stadiums. As such, the UK has not seen any football stadium collapse in 2017.
The Football Spectators Act of 1989 can lay the grounds for some football stadium accident claims. During the 1980s there were disasters at different football grounds across the country as a result of congestion on the terraces, as well as other injuries and accidents caused by football hooliganism. The 1989 legislation was created to address these issues and others, such as the fire at the Bradford City stadium in 1986.
The 1989 act required football fans attending league or international matches (in England & Wales) to carry an identity card. This would mean that clubs and authorities can easily identify known hooligans. This was superseded by the Football Act of 1999.
If you have been involved in a football stadium accident, solicitors acting on your behalf will need to ascertain if the following conditions have been followed by the football stadium. These are;
Stadiums in the Championship and Premiership must be all-seated with no terracing
The rival team's supporters seating areas must be segregated
There must be an adequate amount of stewards in specified areas of the stadium
Stadia and grounds must have adequate parking either on-site or close by
Stadiums must provide dedicated access for the emergency services to enter the grounds
There must be adequate numbers of toilet facilities
All football stadia and clubs must have appropriate first aid equipment and trained professionals
Players and match officials dressing rooms must be secured and fit for purpose
Exists should be signposted and there should be sufficient information to ensure people can be safely evacuated if necessary
There must be a smoke-free environment across the entire stadium and club grounds.
Alcohol cannot be drunk in sight of the pitch
As with any public space, those who own or manage the space have a duty of care to those who are using the facilities.
Factors Which Can Lead To Football Stadium Accident Claims
Football stadium accident claims will look at the factors surrounding the accident and injuries sustained. The owners and event organisers of football stadiums are legally required to take action to reduce the chances of people getting injured.
The facilities should be kept in a good and safe state of repair. This means that they should provide their staff with the training needed to identify and reduce risks. If this is not carried out and people have been injured as a result of this negligence, you could be entitled to make a football stadium accident claim. At any sporting event or event in a large stadium, there will be several factors that could cause spectators, fans or staff to become injured. These factors can include;
Broken chairs causing seating injuries
Slippery floors (as a result of spills, cleaning or even the weather) leading to slip

, trip, and fall injuries

Poorly maintained facilities and grounds. This could include things such as an unsafe car park
Criminal injuries caused by violence that occurs because of a lack of security
Football action leaving the field, i.e people or the ball coming into the crowd
Football Stadium Slips, Trips, And Falls
Across the country, slips, trips, and falls are some of the most common injury types. As such, stadium owners have a duty of care under the Occupiers Liability Act of 1957 to ensure that visitors and staff have a safe environment to use. This environment should have a reduced risk of injury. To satisfy this duty of care, stadium owners should do all they can to prevent a slip, trip and fall accident from happening on their grounds.
They need to prevent surfaces from being slippery as a result of everything from the weather to food and beverage spillages. In areas such as a public bathroom, the floors can become slippery after being used by a large number of people. This is to be expected. However, if they become slippery due to a (known) plumbing problem, the staff at the stadium should ensure visitors are aware of the water hazard.
This could be through clear signs and announcements. If staff were aware of the slippery floor but had not done anything to warn people, they may have been negligent and could be liable for any injuries which have been sustained.
Football Stadium Broken Seat Injuries
A hazard such as a broken seat can cause a variety of injuries to fans and visiting spectators. Broken chair injuries are any type of injury that has been caused by a faulty or even broken chair.
This includes falling off the chair due to it breaking, as well as injuries that have been sustained over time, due to the continuous use of a broken chair. They can lead to slips, trips and falls. As long as your injuries were not your fault, you should be able to make a claim for compensation.
Football Stadium Accident Claims Caused By Poorly Maintained Ground
Football accident claims can include claims for accidents and injuries caused by poorly maintained grounds and facilities. These can happen at football stadiums, as well as any other sporting events and grounds. Hazards that can pose a risk to fans can include poorly placed or loose railings, faulty seating and cracked floors.
When these have not been maintained to the correct standards or be repaired, or made apparent to visitors by the owner or occupier of the stadium (or other arenas) and you are injured as a result of this, you could be entitled to make a personal injury claim. Get in touch today.
Unfortunately, as with many large-scale events, violence and assaults can happen at sporting events such as football matches at football stadiums. A football stadium accident, such as an assault or other violence can occur. In the UK, incidents of violence or assault can result in the offender being issued with a banning order, preventing them from attending fixtures and from entering certain areas during match times. At previous national and international matches, there have been clashes between opposing groups of fans. Rival groups of fans have stormed pitches.
Violence and assaults between fans and against stadium staff can cause major injuries. If you have been involved in such an accident and received injuries, the first question a solicitor will look at is whether or not there were adequate security measures in place. If you have been injured in this way, you may be able to claim negligence on the part of the organisers of the football match. To find out more about these types of claims, talk to Legal Expert today.
Football Stadium Accident Claims Caused By Action On The Field
During some sporting events such as football matches, the ball (or other equipment) can leave the field and be thrown into the crowd. Depending on the match players can also be thrown into the crowd or land into it when playing. As a lot of the time fans can become engrossed in the game, they will generally be aware of what is happening on the pitch and will avoid getting hurt. However, sometimes the accident may happen at a very fast pace, unexpectedly and leave no time for a person to react.
In these cases and injury can not be helped. Unfortunately, it can be very difficult to make a successful claim in these types of cases to make a personal injury claim. This will be due to the terms and conditions or 'small print' which is part of the ticket including a disclaimer which states that all fans assume the risk of these kinds of injuries if a ball or player leaves the pitch.
However, at some stadiums and sporting events, there will be a protective barrier (such as netting or a clear plastic barrier) in place to prevent players or the ball from entering spectators areas. If this barrier is damaged and the stadium managers were aware of this damage, the injuries to the spectator can be attributed to an accident and the stadium owners are liable for the injury.
How To Make A Sports Stadium Accident Claim
You should start your football stadium accident claims process as soon as possible after the initial accident or the presentation of the injury. The first thing to do is to notify the owner, manager or appropriate member of staff. You can do this by recording the accident in the stadiums incident book. This notification can be done in person or by other methods of notification.
The next step in your sports injury compensation claim is to get the medical attention you require. Ensure that you get documentary evidence of your medical records. Make sure you also keep any receipt for medication or treatment. You may be able to include these expenses as part of your claim at a later date. As part of your claim, solicitors acting on your behalf may send you for further medical examinations with approved doctors.
The next step your solicitor may carry out is to gather the evidence necessary to build your claims case. As soon as possible you should talk to any witnesses, collect statements from them and make a note of their contact details for future reference. You should also take pictures of your injuries and the surrounding area or thing which caused the accident. This can help to demonstrate negligence on the part of the stadium.
Next, talk to a solicitor. To make a successful compensation claim, you need a dedicated and professional team behind you.
How Much Compensation For An Stadium Accident Can I Claim?
A question solicitors are often asked by clients is how much compensation they can expect to get for an accident in a football stadium? This is a reasonable question for people to ask. However, it is impossible to provide clients with a definitive answer before weighing up all the different facets of their claim.
What we can do is provide you with some example figures from a publication known as the Judicial College Guidelines (JCG). These guidelines are used by legal professionals to help calculate the portion of your compensation known as general damages. General damages are awarded to you to acknowledge the pain and suffering associated with your injury.
The table below contains some of the figures from the latest edition of the JCG, regarding what certain injuries can be worth in general damages. If your injury is not listed in the table, do not worry. This is just a small cross-section of the JCG.
| Injury | Description | Amount |
| --- | --- | --- |
| Chest Injuries | (b) a traumatic injury sustained to the chest, including the lung(s) and/or the heart that causes permanent damage, disability, and a reduced lifespan | £61,710 to £94,470 |
| Neck Injuries | Minor - (iii) completely recovered with 3 months | Up to £2,300 |
| Back Injuries | (a) Severe - (iii) permanently damage to discs in the spine or surrounding soft tissue that leads to a number of disabilities | £36,390 to £65,440 |
| Back Injuries | Minor - fully recovered within 3 months | Up to £2,300 |
| Leg Injuries | (iv) Moderate - complicated or multiple fractures to a single limb caused by severe crush injuries | £26,050 to £36,790 |
| Leg Injuries | (c) Less serious - (i) simple femur fractures | £8,550 to £13,210 |
| Knee Injuries | (a) Severe - (ii) a fracture beginning in the knee that extends into the knee that causes constant symptoms | £48,920 to £65,440 |
| Knee Injuries | (b) Moderate - (i) dislocation and torn cartilage etc | £12,920 to £24,580 |
There are often additional things you can claim for, outside of the general damages figure. These are known as special damages. For example, you could experience a loss of earnings due to your inability to attend work. The wages you would have earned during this period could be considered eligible to be reclaimed via a special damages payment. Other things include medical costs and travel expenses. You must have evidence of these additional costs that have occurred due to your injuries. If you do not have proof, it becomes much less likely you'll be reimbursed.
For more information regarding what else could be reclaimed in special damages, get in touch with our advisors.
Football Stadium Accident Claims
If you have had an accident at a football match stadium and it was caused by another party's negligence, you may have grounds to start a compensation claim. When you have strong grounds to start such a claim, it is your decision whether you hire a solicitor that can support it. We would always recommend hiring the support of a solicitor with previous experience in managing cases involving injuries in public areas.
If you have a valid compensation claim to make for an accident at a football match and you contact Legal Expert for support, we may be able to offer you the support of a No Win No Fee solicitor. What this means is that the solicitor supporting you will only charge you their legal fees if your case ends in victory. They will work to recover any compensation which you are owed. The benefit for claimants is that they won't have to make any upfront payments before the case starts or while it is in progress.
If your case is not successful, and the solicitors we work with are not able to claim any compensation for you, the No Win No Fee agreement stipulates that claimants are not liable for any costs the solicitor has incurred. In the event of a successful claim, the solicitor's fee will be taken from your compensation. Your 'Conditional Fee Agreement' (the technical name for a No Win No Fee contract) sets out what fee the solicitors will take from the final award.
Claimants can be concerned as to how much this is, and often worry that they may have to pay a large part of their compensation to the solicitor. However, the amount is kept small by law. Talk to the specialist legal solicitors at Legal Expert today to take advantage of our No Win No Fee legal services and get the compensation you deserve.
How Legal Expert Can Help You Make A Football Stadium Accident Claim
Making any kind of compensation claim, such as a football stadium accident claim, no matter the cause of the accident or your injury is never an enjoyable or easy process without the guidance of dedicated legal experts.
Even when the accident you were involved in or the injuries you sustained aren't too serious, or if you are not in too much pain, completing a personal injury claim can still take a long time to carry to completion. As such, at the start of your compensation claim, the legal experts we work with across the UK are there to ensure the compensation process is as pain-free as the process can be.
The initial step in any compensation claims process is securing the best legal advice and representation you can find. This is where the specialist professionals at Legal Expert can help you. We provide our services on a completely No Win No Fee basis. We will begin with a no obligation advice and consultation session during which we will show you the best way to carry out your claim.
At this point, you can also ask our experts any questions which you may have about the claims process. This will help our solicitors to establish the basis of your claim as well as establishing the liability of the football stadium owners. Questions we may ask include, when and where the accident occurred and the circumstances around it. We will also ask about the nature of your injuries and if you have already gathered any evidence. We might also ask if you have had any financial losses or costs as a result of the injury. After establishing these facts, we may be able to offer you our services.
Why Choose Us For Your Claim?
At Legal Expert, claimants choose to use our No Win No Fee services for a variety of reasons. The solicitors we partner with across the country are on hand seven days a week to provide you with the best legal advice available today.
You can benefit from a variety of experience and expertise, thanks to our dedicated and professional staff. The solicitors we partner with will begin working on your claim by reviewing the basic details of your accident and injury claim and contact you through an initial consultation. From the beginning of your claim to the end, our team aim to support you through your recovery. The dedicated professionals at Legal Expert will work to secure the compensation that you deserve.
Talk to the professionals at Legal Expert today. Our team will then begin working on getting you the compensation you deserve. We will talk you through the claims process, which you may be entitled to under guidelines produced by the Judicial College. To contact us, fill in the contact form on this page or call us today on 0800 073 8804, or send us your details in an email.
Useful Links
The Health and Safety Executive's (HSE) guidance on seating at work
Visit this website, where you can see advice on carrying out risk assessments in the workplace.
You have a legal right to request CCTV footage of yourself. So, if your injury was captured by a CCTV camera, you could use it as a form of evidence.
It's possible to appoint someone else to pursue your claim on your behalf. Find out how from this government source.
Advice on slips, trips, and falls in the workplace and how to make a claim for these accidents.
This is our guide on other forms of accidents that can happen in a public place.
Find out more about personal injury claims in general by reading our general guide.
To speak to an adviser about making a football stadium accident claim, you can contact Legal Expert for support. You are welcome to get in touch with us using the contact details found within this guide.