Farm And Agricultural Accident Compensation Claims
By Meg Perry. Last updated 31st January 2022. Welcome to our guide on making a farm accident compensation claim.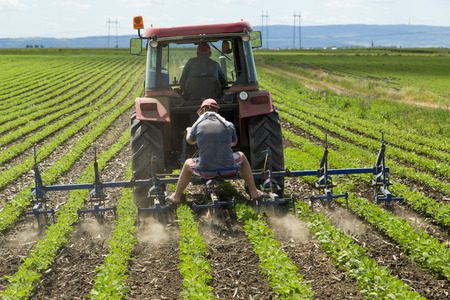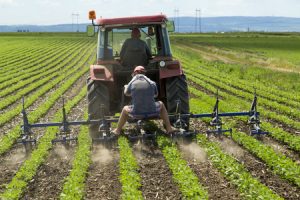 The agricultural industry is fraught with dangers. From heavy machinery to rogue animals, there are many potential causes of injury. In this guide, we'll take a detailed look at the injuries you could have sustained and who may have been liable.
This guide will also inform you of all the necessary steps you need to take in order to file either a farming injury claim or an agricultural injury claim.
As you continue to read this guide, you will learn how accident compensation payouts are decided.
By the end of this guide, you will have all the knowledge you will need to file a claim and seek compensation for your suffering. We'll also discuss the benefits of working with an experienced personal injury solicitor and how you could avoid paying an upfront fee often required for a solicitor to begin working on your claim.
If after reading this guide you still have questions to ask about farming accident claims or other agricultural accident claims, we could help. Our expert team of advisors can answer any questions you may still have.
Alternatively, if you would like to start your own claim, an advisor can discuss your case to see whether you're eligible to claim.
Please get in touch on the details below:
Telephone: 0800 073 8804
Contact form: Use the form to send us your enquiry and an advisor will get back to you
Live chat: Speak with an advisor instantly using the live chat function below
Find Out More About Farm Accident Compensation Claims In The Sections Below
What Is A Farming And Agricultural Injury?
Farming or agricultural injuries occur when a worker or farmer is involved in an accident when working in a farming or agricultural role.
According to the Health and Safety Executive (HSE), the Agriculture, forestry and fishing industry has high numbers of fatal injuries making it the riskiest sector. There are more than one in a hundred workers in the agriculture industry but it accounts for around one in five fatal injuries.
There are many ways in which farm or agricultural workers can sustain an injury, as well as ways in which members of the general public can be affected.
The injuries that employees sustain may come from the animals under their care or a specific task that requires them to work at an elevated height. For that reason, trips, slips and falls from height and physical blows, made up a portion of the fatal injuries recorded in 2020/2021.
For more information on the types of farm-related accidents and injuries that might lead someone to put forward farming accident claims, continue reading.
What Are The Worst Farm Accidents Leading To Death?
Farm and agricultural work is both extremely difficult and considerably dangerous. The physical nature of the job often leads to injuries. Listed below are the most common causes of farming and agricultural injuries that lead to death.
Farm machinery accidents – with such diverse and powerful machines used every single day – for cutting, ploughing, drilling, and crushing – the occasional malfunction of these machines can lead to serious damage like head injuries.
Farm vehicle accidents – injuries sustained from quad bikes, tractors, etc. A person might sustain an injury from driving one of these vehicles, especially if the vehicle was poorly maintained.
Injuries from livestock – injuries you sustained because of a bite, kick or trampling by cows, pigs, sheep, and other farm animals.
Falls from high places – such as barn lofts or grain silos.
Injuries sustained from contact with electricity – with so much equipment and machinery used every day, often in wet and challenging conditions, malfunctions and accidents are not uncommon.
If you have experienced anything similar, you could seek farm accident compensation. Call our team for more information.
Industrial Diseases In The Agricultural And Farming Industry
Other accidents that cause a range of injuries might include chemical accidents on farms, involving pesticides and other products which can be harmful to humans. Also, poor working conditions could cause someone to develop farmer's lung.
Also known as allergic alveolitis, farmer's lung is an allergy to mould developed as a result of breathing in dust from rotten crops over a long period of time. This condition has some telltale signs such as shortness of breath, fever-like symptoms, a persistent cough and pain in the chest.
This list is by no means exhaustive, merely a breakdown of the worst farm accidents that could cause different injuries and conditions. There are many other accidents that cause non-fatal injuries. We have explored these in the following sections, so please keep reading to find out more.
Alternatively, you can call us if you would like to discuss the injuries and accidents already mentioned.
Farming Or Agricultural Injuries At Work
All employers are responsible for upholding the duty of care they owe you as per Section 2 of the Health and Safety At Work Etc. Act 1974. However, there are some cases where an employer could fail to uphold their duty of care causing you to sustain harm in an accident at work.
In these cases, your employer may have acted negligently and may be liable for the harm you sustained. Therefore, you may be able to claim farm accident compensation.
For example, your employer may have failed to carry out regular risk assessments to identify hazards, such as faulty machinery. As a result, you may have experienced a severe arm injury.
Farming Or Agricultural Injuries In A Public Place
The Occupiers' Liability Act 1957 requires that any person in control of a public space has a duty of care to reasonably ensure the safety of any visitors. The occupier's duty is to maintain the welfare of their guest, even those who have not been invited or who are not authorised to be there.
An example of a person sustaining a farming or agricultural injury in a public place might include:
Someone may have sustained a severe laceration injury caused by barbed wire that hadn't been properly signposted.
Someone may have experienced an electric shock due to the occupier failing to make people aware of electric fences.
The occupier might refer to the local council, the owner of the land, the person who is renting it, or another party. Such matters can be complicated, so discussing the process with a law firm is often the quickest way in which to claim farm accident compensation.
Farming Or Agricultural Injuries Caused By Faulty Equipment
According to Section 4 of the Provision and Use of Work Equipment Regulation of 1998, all employers should make sure all work equipment is suitable for the purpose it's used or provided for.
Failing to do so could result in the following farm related accidents:
An employee might experience a crush injury due to the emergency stop button on a piece of equipment not working.
A member of the public might experience multiple fractures due to being hit by a tractor with faulty breaks.
For more information on claiming farm accident compensation for injuries sustained in similar accidents, please contact our team.
Health And Safety In The Farming And Agricultural Sector
According to the Agriculture, Forestry and Fishing Statistics in Great Britain 2021, there were 34 fatal injuries sustained to workers during 2020/2021. These injuries were recorded under the Reporting of Injuries, Diseases and Dangerous Occurrences Regulations 2013 (RIDDOR).
We have created a graph using data from the same agriculture statistics report to highlight the nature of the non-fatal injuries sustained in 2020/2021.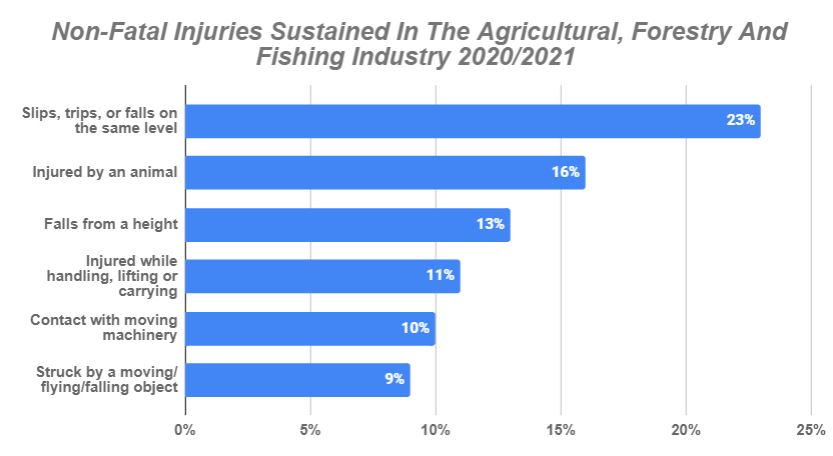 As you can see, slips, trips and falls on the same level were the most common type of accident, closely followed by accidents involving someone being injured by an animal. These farm-related accidents were reported under RIDDOR.
Although these aren't necessarily the worst farm accidents, they provide an insight into the nature of how agricultural injuries may be sustained.
How To Begin A Farm Accident Compensation Claim
There are several steps that you could follow if you have sustained an injury as a result of a farming or agricultural accident. Your first priority should be to seek medical attention for any injuries or wounds you might have sustained. This can ensure you receive the correct treatment for your condition to prevent any complications.
When your condition is stable, we advise that you consider the following steps:
Step 1: Try to take photographs of anything involved in the accident. This could be a piece of machinery or the scene of the incident. If there are any health and safety failings, these might be captured in the images. In addition, take photographs of the injury you have sustained.
Step 2: If there were any witnesses around, try to obtain their contact details. Written testimonies or verbal testimonies of the accident could help during the claiming process.
Step 3: Visit your GP or another medical professional to get a medical exam. The medical examination will determine the severity of the injury along with the recovery time. If necessary, we can arrange for you to meet with a local doctor.
Step 4: Keep a medical journal detailing the pain you felt and the pain you continue to feel throughout your recovery.
Step 5: Reach out to a legal representative who could use their experience to help you seek farm accident compensation.
After you have gotten as much evidence as possible, reaching out to a legal firm can provide expert guidance on farming accident claims.
Assessing The Severity Of A Farming Or Agricultural Injury
Getting a medical examination will not only help to get you the maximum compensation you deserve but it can also protect you from the long-term and unforeseen implications of your accident.
The severity of your injury can play an important role in determining the final compensation amount for your farm accident claim. Getting a thorough medical exam is the best way to assess the severity of the injury.
The medical practitioner will be able to examine the full extent of the injury and the report they give you can later be of use when you file a claim. The assessment can help to determine the severity of your injuries, as well as any long-term effects.
For more information on how much farm accident compensation claims can be worth, continue reading.
Long-Term Implications Of Agricultural Injuries
Agricultural work is not limited in its scope, meaning it can involve chemical work, maintenance work, animal work and other work.
Furthermore, the injuries that someone could sustain can vary greatly. In some cases, there is the possibility you may have contracted an illness or suffered an injury but you aren't aware of it. Instead, the symptoms may manifest at a later date.
Although there is generally a three-year time limit to make a claim, exceptions could be made in these instances. For instance, the three years could start from the date you become aware that someone else's negligence caused or contributed to your injuries.
For more information on the time limit in personal injury claims, please get in touch with our team. They can provide further details on whether you're still eligible to claim.
What Can You Include In A Farm Accident Compensation Claim?
After sustaining a farming or agricultural injury, there are many expenses you may incur and for which you may wish to seek compensation.
Depending on the circumstances of your accident, there are many forms of farm accident compensation that you can be awarded.
General damages are directly related to the injury you have sustained while working on the farm and the pain and suffering you have endured as a result. They provide compensation for both physical and psychological injuries.
Special damages provide compensation for any past or future monetary losses caused by your injuries. For example:
Care costs – the fees you may have spent on having a nurse or carer to help you in the wake of an injury.
Loss of earnings – any wages you have lost due to not being able to work as a result of the injury, as well as any future loss of earnings you may suffer due to long-term complications.
Travel Expenses – the cost of any additional travel, such as visits to see an out-of-town specialist.
Medical Bills – including any kind of medical equipment, medicine, or assistance you have required, such as wheelchairs, specialist appointments, or medical equipment for your home.
During the claiming process, it is important to take notes of all the expenses that relate to your injury. You will also need to provide evidence or proof of any special damages. The evidence you could provide might include receipts and payslips.
For further details on the compensation settlement you could receive in a farm accident claim, see below.
How Much Compensation Will I Get After A Farming Or Agricultural Accident Causing An Injury?
The amount you can claim for a farming injury or an agricultural injury will depend largely upon the severity of the injury.
Medical evidence may be used to assess the full extent of your injury. Also, a document called the Judicial College Guidelines (JCG) may be used to help value your claim.
The JCG sets out bracket compensation figures for different injuries. We have used figures from the JCG to create a table listing the potential value of different injuries.
| Injury | Description of Injury | Compensation Awarded |
| --- | --- | --- |
| Chest injury | (a) The injuries that have been sustained are severe. The person suffers from prolonged pain. | £94,470 to £140,870 |
| Chest injury | (b) The injuries that have been sustained have caused permanent damage. | £61,710 to £94,470 |
| Chest injury as the result of chemicals | (d) Where there has been residual damage to the lungs following toxic fume/smoke inhalation. | £5,000 to £11,820 |
| Deafness | (c) The person has lost hearing in one of their ears. | £29,380 to £42,730 |
| Deafness | (b) The person has become completely deaf. | £85,170 to £102,890 |
| Neck injury | Severe: (i) The injury that has been sustained has resulted in incomplete paraplegia. The person has little to no movement in the neck. | In the region of £139,210 |
| Neck injury | Moderate: (i) The injury that has been sustained has caused a fracture in the cervical spine. These fractures can lead to disabilities. | £23,460 to £36,120 |
| Back injury | Severe: (i) The injury sustained has damaged the spinal cord. | £85,470 to £151,070 |
The actual settlement you receive will vary depending on factors unique to your claim. For that reason, the table should only serve as a reference point for what could be paid out in farm accident claims.
No Win No Fee Agricultural-Farm Accident Compensation Claims
We understand if you're apprehensive about claiming farm accident compensation with a solicitor. Often, you may be expected to pay an upfront fee for the solicitor to begin working on your claim.
However, you could opt to use our No Win No Fee service in which you could hire one of our solicitors to represent your claim under a Conditional Fee Agreement (CFA).
There are several ways this type of agreement could benefit you, including:
No upfront cost to begin your claim
No ongoing costs that may incur while your claim is ongoing, such as medical fees
You won't pay solicitor fees in the event that your claim fails
You will need to pay a success fee from your overall settlement to pay your solicitor for the work they've done on your case. The fee is legally capped. However, the agreement will set out any fees you'll need to pay if your claim is successful.
All of our solicitors work on this basis. If you'd like to learn more, call our team on the number above.
Call For Free Advice And To Start Your Farm Accident Compensation Claim
Have you suffered an injury as a result of a farming or agricultural accident? If so, you can reach out to one of our advisors to discuss your case. They can determine whether you're eligible to claim and if your case has a chance of success.
If you have a valid claim, they could connect you with one of our personal injury solicitors to start working on your case.
Alternatively, if you're not ready to seek farm accident compensation, they can provide information on the next steps you could take.
Our experts are always ready to help you. There are three ways to get in touch to discuss farm accident claims:
Telephone: 0800 073 8804
Contact form: Use the form to send us your enquiry and an advisor will get back to you
Live chat: Speak with an advisor instantly using the live chat function below
Helpful Links
For more information on your employer's responsibilities, see our guide.
If you were involved in a manual handling accident, our guide could help.
See our guide for more details on your rights after an accident at work.
Visit the NHS website for any medical advice.
If you would like to learn more about health and safety at work, see the HSE website.
Thank you for taking the time to read our guide relating to farm accident claims and farm accident compensation.