Tractor Accident Compensation Claims Guide – Payouts How much would I receive?
By Max Mitrovic. Last Updated 17th May 2022. Welcome to our guide to tractor accident claims. To the uninitiated, tractors seem fairly safe vehicles. Few people really understand the risks that come with driving and operating one, as well as the risks to others on the road if something goes wrong. Tractors are extremely heavy vehicles, so if they are involved in an accident, there is a good chance that people are going to be injured, some very seriously.
With the HSE viewing agriculture as one of the most hazardous industries to be involved in, with good reason (see their statistics later down the page), it stands to reason that many people injured by a tractor have their lives changed irreparably, leading to tractor accident claims. But even if they are not so serious injuries, they can still have a very detrimental effect upon the victim, their family and their financial situation.
Should you have become injured as a result of a tractor, whether by collision, malfunction or something else, tractor accident claims can help reverse the financial damage done by having time off work and incurring costs such as medical expenses. It can also compensate you in part for the suffering and the pain you have endured as a result of your tractor injury.
To find out more about tractor accident claims, including how to retain the services of a personal injury lawyer you can trust, how much accident on a tractor compensation you might receive, or how long the personal injury claims time limit is, you can call us on 0800 073 8804 or carry on reading below to discover the facts you should know.
Select A Section
Your guide to tractor accident claims
Sadly, the agriculture sector is not the safest of industries to work in, and according to the Health and Safety executive, one person per week was fatally injured while working in the sector. There is a high risk to tractor drivers working in agriculture, as there are a lot of things that go wrong, and if you are injured in a tractor accident, the injuries suffered can be significant, even fatal in some cases.
However, this is not the only way in which someone can be injured by a tractor. Country roads are often the scene of tractor accidents, whether down to the driver of the tractor themselves or another road user, and even pedestrians on farms can be at risk of harm from a tractor accident.
Should you have been involved in a tractor accident, your injuries may be minor, or they may be significant and cause long term changes to have to be made to your life. Whatever the injury and the prognosis, should someone else have been the cause of the accident, either by being negligent or acting dangerously, then it is possible for people to make tractor accident claims. In the guide below, we cover common tractor accidents, as well as explaining how compensation payouts are put together, how much tractor accident compensation you could look at claiming, as well as how we can help.
What is a tractor accident?
Tractors can not only be seen on the farms and fields of the UK, but also on British roads. If you have been hurt by a tractor, whether as a visitor to a farm, a worker on a farm, on a private road or on the public roads in any way, then this is a tractor accident. If it was not your fault in any way, then it is possible for you to make tractor accident claims. Here at Legal Expert, we can offer free advice on tractor accident claims as well as connecting you with an experienced personal injury solicitor to help drive your claim to a successful conclusion.
Top causes of tractor accidents
There are a variety of causes of tractor accidents, but the most common of these are listed below. If you were not to find your specific cause here, then don't forget, it doesn't mean you will not be able to launch a personal injury claim. All you need to do is get in touch with our team and we'll listen to what happened and advise you.
Collisions -Driving a tractor takes skill and concentration and should this slip for even a moment it could cause an accident. However, it is not always a collision that is the driver's fault. Whilst tractor drivers should always try to look around for objects that may be in their way, if obstructions have not been removed or risk assessed, then it could be that the driver was not at fault. Similarly, if they were not trained in how to avoid such obstructions or remove them, then their employer may be held at fault for an accident.
Rollovers – If you were injured when a tractor rolled over, you'll know only too well how terrifying and dangerous it can be. Should workers not be trained to use a seatbelt at all time, or if the tractor they are using does not have a safety belt, then they could hold their employer liable for what has happened to them as a result.
Tractor hitting pedestrian – Whether on private land or on the roads, if you are unlucky enough to be run over by a tractor, can I claim is hardly likely to be your first question. It'll more than likely be 'Am I going to be ok?'. In some cases, tractor drivers can even run over themselves, by trying to start the tractor whilst standing outside of the cab. This is obviously bad practice, but if you have been hit by a tractor and it is someone else's fault, the likelihood is that you'd have a valid claim.
Becoming caught in tractor parts – Often, tractors are fitted with different fittings, such as augers in order to perform tasks such as digging holes. Should the mechanism catch someone's clothing or body parts, they could be seriously injured.
Statistics on tractor accidents
Agriculture can be a dangerous industry. In 2020/21 alone, HSE reported 41 deaths in agricultural accidents. The most common cause of the fatalities sustained over the period was being struck by moving vehicles. Whilst this included tractors, there were other specialist vehicles included in the figure.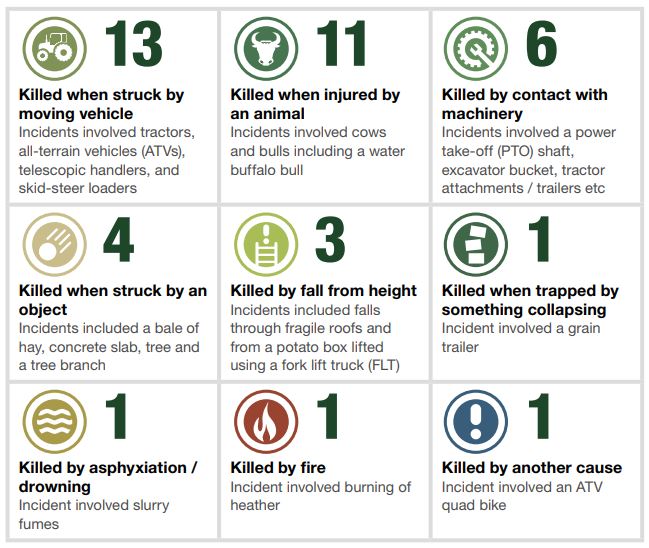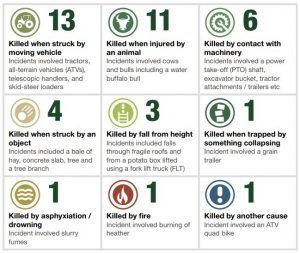 Can I claim tractor accident at work compensation?
Driving a tractor for work is a dangerous job, so your employer should take as many steps as possible to protect you while you are at work. Should they have failed in their duty to do this, then you might look at making a tractor accident at work claim against your employer.
Your employer has a duty to abide by the Workplace H&S Regulations and Provision of Work Equipment rules, which means:
It should be possible for vehicles to move around their working space safely
Best practice should be applied to training
Situations should be risk assessed regularly to lower risk as much as possible
Equipment should be maintained to a good standard
Equipment should be in good working condition
There are other guidelines that the HSE suggest as making tractors safe to drive. These include:
Repairs should be carried out where needed straightaway
Vehicles should be checked every day
Brakes particularly should be checked every day
There should be seatbelts and these should be used
If there should be a risk of overturning, then rollover protection should be fitted
Roll risk should be minimised by checking loads and counterbalancing the vehicle
Should your employer not have adhered to these rules, not made their tractors safe to drive, or not acted safely with regards to your use of a tractor, then it might be worth speaking to us to get advice on making a claim.
Accidents involving tractors on public roads – who is to blame?
Liability on the roads can be tricky to prove, but if you have had an accident involving a tractor, either as the driver or another road user that has been struck by a tractor, then you are likely to need a professional on hand to assess the situation to see who might be liable for tractor accident on public roads.
In some instances, it would be easy to see who is to blame, such as another vehicle striking your tractor when going at an excessive speed, but others such as rear-end shunts after emergency stops can be more tricky. Our experts will be able to listen to what has happened, take some details and then go ahead and advise on whether or not we feel that you would have a valid claim.
Tractor accident on farm compensation – when is it payable?
Farms often make money by charging an entrance fee for people to come and learn about the animals, or visit the farm shop, or even go on tractor rides, but if this is the case, they have a duty of care to keep you safe while you are visiting. If they fail in this way, then it is likely you would be able to put a claim forth for compensation for any tractor accident while visiting a farm.
If you are a parent of a child that has been injured by a tractor accident on a farm, then it is worth knowing that you can choose to act on their behalf to begin a claim. For more details on this, our legal experts will be happy to speak to you.
It is not only families that visit farms, however. Suppliers of animal feed and other farm supplies and other visitors to the premises should also be able to go there without risk of being run down or hit by a tractor. If this is not the case, then call our team and we'll tell you if you have a potential claim.
Common injuries for tractor accidents
Obviously, with tractors being very heavy machinery, there is a significant risk of harm should you be involved in a tractor accident.
With regards to rollovers, the risk is high to the neck and back, and these can be serious injuries that could cause permanent mobility issues, as well as a significant amount of pain. In addition to this, fractures are common with these types of accidents, which can range in complexity and severity. More simple fractures can heal without any permanent damage but some more complex fractures may require pins and plates to be put in. These can take longer to heal and some may not heal completely.
In addition to this, there are crush injuries. Depending on where the body is crushed, this can cause a lot of damage. If your fingers or hand are caught in mechanisms, then it could lead to loss of fingers or even the hand in severe cases, while if larger body parts are pulled in, the consequences can be dire.
Whether you feel your injury is significant or minor, if it has caused you pain, is someone else's doing and you have incurred costs because of it, then it is well worth pursuing a claim for personal injury compensation. After all, you shouldn't have to suffer financial loss as well as pain due to someone else.
Compensation Awards For Injuries Caused By A Tractor Accident
The next few sections will provide more information regarding the types of compensation you could receive when claiming for a tractor accident. To receive any form of compensation, you would need to prove that your accident was caused by third-party negligence.
One potential head of claim that could lead to you receiving compensation is special damages. This can cover you for any financial losses caused as a result of the injury. Potential financial losses you could claim for include:
Home adjustments – If you require home adjustments due to the injury, such as a stairlift, a care bed or a walk-in shower, you can claim for these costs.
Travel costs – You may need to use public transport or taxis, for instance, if you're unable to drive because of the injury.
Loss of earnings – If your injury has led to you being unable to work, you may be able to claim for loss of earnings. Additionally, if the injury caused by the tractor accident is long-term or permanent, you could claim for future loss of earnings.
Medical bills – You may need to pay for mobility aids or prescriptions as a result of the injury.
Care costs – If you need to hire a nurse to help you recover from your injuries, you may be able to claim the costs back.
You would need evidence, such as payslips, invoices, receipts and bank statements, to illustrate the value of the financial losses. If you want to know more about the potential compensation awards for injuries caused by a tractor accident, contact us for free legal advice using the above details.
General Damages
There's also the matter of general damages. This is the sum you receive due to your physical and mental injuries, not the additional costs as listed above. The intention is to acknowledge the pain and suffering experienced due to the injuries for which you are making a claim.
There is an official legal publication called the Judicial College Guidelines (JCG). Used by legal professionals, the JCG consists of a detailed list of injuries and their potential monetary value when awarding compensation. Things like how severe the injury is can affect the final amount received by the injured party. The length of their recovery period is another variable taken into account.
Tractor accident compensation calculator
Many people want to know right away the amount of compensation they could receive as a result of tractor accident claims. Unfortunately, giving an overall figure in this article wouldn't be very helpful. This is because the value of all personal injury claims can vary quite a bit. Each one has unique circumstances that can affect how much you could be awarded.
What we can do is supply some example figures from the Judicial College Guidelines (JCG). These have been taken from the official guidelines used to calculate the value of compensation for injuries sustained due to negligence. You'll find these figures in the table below, listed alongside a description of the possible injury that the sum could be awarded for.
Do not be disheartened if your injury is not listed below. This is just a small cross-section of the injuries contained in the JCG. These figures have been taken from the latest guidelines, published in April 2022.
| Injury | Description | Amount |
| --- | --- | --- |
| Leg | (iv) One leg will have been amputation below the knee | £97,980 to £132,990 |
| Hand | (c) Total loss or extreme damage resulting in its effective loss | £96,160 to £109,650 |
| Hand | (b) Both hands will be seriously damaged - loss of function and permanent cosmetic alterations | £55,820 to £84,570 |
| Finger | (d) middle finger and/or index finger amputated - remaining grip will be very weak | £61,910 to £90,750 |
| Finger | (f) Severe fractures - leading to possible partial amputations that result in deformity and impaired grip/function | Up to £36,740 |
| Finger | (o) Part of little finger lost - remaining tip will be sensitive | £3,950 to £5,860 |
| Neck | (a) Severe - (iii) fractures and/or dislocations, including soft tissue injuries etc. that result in chronic conditions and ongoing, permanent disabilities | £45,470 to £55,990 |
| Neck | (b) Moderate - (iii) injuries that may have made an existing condition worse | £7,890 to £13,740 |
| Thumb | (q) Complete loss | £35,520 to £54,830 |
| Thumb | (t) Serious - possible tip amputation, nerve damage, fractures etc. | £12,590 to £16,760 |
| Thumb | (u) Severe dislocation | £6,340 to £7,780 |
| Foot | (f) Moderate - displaced metatarsal fractures that can result in ongoing deformity | £13,740 to £24,990 |
| Wrist | (c) Less severe injuries that could still lead to permanent disability | £12,590 to £24,500 |
| Head/brain | (e) Minor - no brain damage, if any at all in these cases | £2,210 to £12,770 |
| Neck | (c) Minor - (iii) complete recovery within a 3 month time window | Up to £2,450 |
When your claim is calculated, your medical report will be used to determine the sum that is most appropriate for your specific prognosis, and your unique injuries. If the injury you've been suffering from is not included above, then we can tell you more about the typical compensation award if you call the experts we have on hand to answer questions you might have.
Can I launch a No Win No Fee tractor accident claim?
Yes, you can. 100% of the lawyers on our panel work with their clients on a No Win No Fee basis. What this means is you won't be expected to pay anything to your specialist lawyer unless they are successful in helping you to receive the compensation you deserve.
If your claim isn't successful, then you will not be responsible for covering their costs. Your solicitor is paid via a small percentage taken from your compensation following a successful claim.
So, if you're worried about accumulating expensive legal bills as a result of making a farm accident claim concerning a tractor, this should relieve a good amount of that financial pressure. Not all law firms offer a No Win No Fee agreement. Without one in place, you could still be expected to cover their costs even if you do not win your personal injury claim. You don't have to worry about that with us here at Legal Expert.
We want you to be compensated for your injuries, and we don't want you to be left out of pocket if things don't go to plan. That is what a No Win No Fee deal exists for.
The Legal Expert difference
You may be asking why we feel we're different to many other companies out there. The main reason we feel we're different is that we have carefully looked at how people like you, victims of accidents want to be treated. We have responded to that by training our staff to provide a listening and sympathetic ear, a voice of compassion, and the knowledge and expertise to offer practical advice.
The decision to make a tractor accident claim is yours and yours solely, and we would never want to guide you into something you do not want to do. However, we recognise that some people do not know how easy we can make the process. We also feel that we have been careful in selecting the solicitors we provide for your tractor accident claims.
We promise to match you with an experienced, knowledgeable and passionate professional who will aim to get as much compensation as possible for your claim. This is what you deserve.
Ready to begin a tractor accident compensation claim?
You might be convinced now that tractor accident claims are something you'd like to pursue, or you might have more questions. Either way, we are ready to speak to you about your tractor accident. You might be surprised to learn that the advice we offer doesn't come with any obligation to go ahead and use our services, but it really doesn't.
You are free to take or leave the advice we give, and we won't ever push you to make a claim if you do not want to. For completely free advice 0800 073 8804 will connect to our team of legal experts who can answer queries and offer solutions and advice. We can, of course, also begin your claim.
There are other methods to contact us as well if you don't feel like calling. For example, you can talk tp us about your claim online.
Frequently Asked Questions
What are the injuries that might occur when using a tractor?
This can depend on the circumstances. If using a tractor on a public road, then a collision may cause similar injuries to those sustained in a road traffic accident involving cars.
However, some accidents could occur on farmland. For example, the tractor could roll over. If the tractor offers you no protection as you roll, then you could sustain severe crush injuries. the injuries may even be so severe that they end up being fatal.
If you have lost a loved one due to a tractor injury resulting from negligence, you may still be able to claim on their behalf if they were not responsible for their injuries.
How do tractor accidents happen?
If driving a tractor on the road, a crash could be caused by another road user colliding with you. Alternatively, an employee may have been injured whilst using a tractor that they were not trained how to use. If so, then their employer could be said to have acted negligently.
There are a number of different scenarios in which a tractor accident may occur.
How much is a tractor accident claim worth?
Factors such as the length of your recovery period and how severe your injuries are can inform how much compensation you receive. Some people's lives may be left permanently impacted as a result of their tractor accident injuries.
However, some claimants may make a complete recovery in a matter of days, weeks or months.
Because of these variables, the amount you could be awarded is subject to analysis by legal professionals. Get in touch with us today and our advisors can help you gain a better understanding.
Alternatively, head to our compensation calculator.
Helpful Resources
Below, we have put together some interesting links that you may find worth looking at if you have had an agricultural or tractor accident.
It's possible to have someone else make a claim on your behalf. Find out how from this government resource.
This NHS resource contains information on symptoms (and more) of broken bones.
The HSE have also provided information and guidance on avoiding overturning of tractors. You can see this if you click above.
Should your tractor accident claim begin at work, then you should know the fact about becoming injured on a tractor at work. Our guide should help.
Medical Bills Following An Injury At Work
A tractor or farm accident at work may lead to expensive medical bills. This guide takes you through how these bills are handled in these scenarios.
Farm equipment that isn't working as it should, could contribute to your injuries. Find out more about these situations in this article.
Other Helpful Guides
Thank you for reading our traffic accident claims guide.