How Much Compensation Can I Claim For A B & M Accident?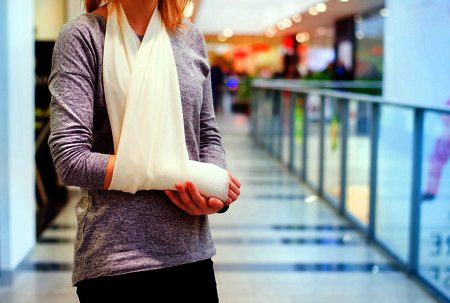 The B&M chain has gone from strength to strength since it began back in 1978. Fuelled by finding great products at bargain prices, over 3 million customers visit one of their many stores across the UK each week. Like all other retailers, the B&M chain has a duty to provide a safe shopping experience. Customers should be able to visit their stores and leave without injuries or issue. However, there may be times when this is not always the case. Although rare, an accident in B&M could have left you with painful injuries. In this guide, we explore everything about making a claim for personal injury compensation, as well as specific issues relating to claiming after an accident in B&M. read on to find out more or for a free consultation relating to your compensation case, give our team a call on 0800 073 8804.
Select A Section
A Guide To B&M Store Accident And Injury Claims
B&M is a high street retailer, a staple of the shopping landscape and for many, the first port of call when they need anything for the home. As well as homeware, B&M stores will often stock a range of toys and pet products, as well as items for the kitchen, bedroom and living room.
With investment and a shrewd operating model, B&M has over 400 stores across the UK. With the recent acquisition of a smaller, frozen food chain, B&M now offer frozen foods as well as tinned and packet products.
It's no wonder that with so many customers visiting their stores each week, that they employ a large number of staff – over 28,000 people nationwide work for the chain. Their stores tend to be large too, a common sight at busy retail parks
Busy places they may be but their stores must still be safe for the general public, staff and contractors too. From safe working practices in the warehouse to experienced staff on hand in the gardening and outdoor department to not leaving packages, cages of goods and so on the shop, there are many potential hazards and risks on the shop floor as well as storage areas and delivery bays.
When an accident happens to you, it is unexpected and unwelcome. It leads to painful injury which can have long-term effects on your physically and emotionally too.
What we don't expect is that when we visit a store like B&M that we come away injured. Or when we work for an employer that we are injured or suffer ill health as a result. As a contractor or visitor to their store, you also have an expectation that it is a safe place as is reasonably possible.
If you have suffered an injury, you may be able to claim compensation for a B&M accident. But what kinds of accidents have happened at B&M? What do you need to know to be able to make a personal injury claim?
What Is An Accident At A B&M Store?
Different hazards lead to accidents, with the B&M retail stores not being immune to hazards, risks and accidents;
Fire – despite warnings, a recent fire at a large B&M store in York gutted the building. On this occasion, there was no one injured even though this catastrophic event happened during a busy shopping period. The cause of the fire is not suspicious, although concerns were raised regarding the timely removal of waste and other combustible materials.
Working conditions – as an employer, the B&M retail group need to ensure all of their premises are safe for them to work in. Poor working conditions create hazards, such as lack of heating in winter and no air conditioning in summer. This can lead to poor health, something that B&M staff may be able to make a personal injury claim for.
Slips, trips and falls – busy shops and lack of awareness or training around health and safety on the shop floor can lead to slips, trips and falls.
Falling objects – there has been a case of a customer winning nearly £200,000 in personal injury compensation after being hospitalised after flatpack products fell on top of him as he shopped in a store. The accident happened in 2016 and left the claimant with permanent scarring.
This is by no means a definitive list of accidents at B&M stores, there are many other examples too. But what kinds of injuries can result from these kinds of accidents?
What Types Of Accident Can Happen In A Store Like B&M?
Accidents will often result in injury. From some injuries, a claimant may fully recover after a period of time but in other cases, the injuries and their effects on the personal health and well being could linger for some time.
Broken bones – falls lead to fractures of bones. Even the 'simplest' of breaks can lead to surgery or a long period of rehabilitation. Falls, slips and trips often lead to broken bones, as well as sprained ligaments and muscles. The further and harder someone falls, the more serious their injuries can be.
Crush injuries – falling objects, such as heavy furniture flatpacks, can lead to crushing Essentially, this can mean internal injuries such as bleeding. Depending on the weight of the object, the resulting internal injuries can be extensive, leading to poor health in the coming months.
Scarring – falling over an object, slipping or tripping can lead to injury which results in scarring. When scars are prominent, the emotional health of a claimant can be affected.
As the fire at a B&M store showed, burns could be another injury someone could suffer should there be an incident like this again. For staff and contractors, poor working conditions and breaches in health and safety could lead to ill health and other injuries.
Slip And Trip Accident At A B&M Store
Slips and trips are, say the Health and Safety Executive, one of the most common accidents that many people experience. This type of accident could happen anywhere, including at a B&M store. A slip or trip don't just happen inside the store either. They can happen in the warehouse or on the delivery yard or in the outdoor garden centre department that many of the larger B&M stores have.
A slip can happen when the flooring is slippery or footwear unsuitable for that type of flooring. Contamination or spills can also lead to slip, as well as a contribution by human actions. However, human error can be the result of someone not being trained correctly. Cleaning in progress whilst a B&M store is in operation could also lead to someone – customer or staff member – slipping.
Trips are usually caused by unseen obstacles as well as poor design, obstructed walkways or aisles and poor 'housekeeping'. An untidy store could lead to a trip which in turn leads to a compensation claim after a B&M accident.
B&M Accidents At Work
Employing around 28,000 staff, B&M is a major retail employer in the UK. It has a duty to ensure a safe working environment for all its employees, as well as contractors and other visitors to its stores. Just like customers, staff at B&M could be at risk of accidents if they are poorly trained in how to maintain the store and key areas within it. Unsafe working practices are often the major contributing factor to accidents at work. But it is the employer's responsibility to ensure that every part of its premises is safe for its employees and contractors.
B&M Customer Accidents
A B&M accident can happen to anyone but what contributes to customers being more vulnerable to an accident in store? Customers may not always be familiar with a store. Likewise, they may not be aware of some of the hazards and the risks they present.
You may have assumed – and why wouldn't you? – that the B&M store you were visiting was safe with staff trained to take all reasonable actions and precautions to stop you being hurt.
But accidents do happen and when it is no fault of your own, you may be able to make a personal injury claim against the B&M group.
From being hurt by falling products to slipping on a wet floor, to tripping over stock left on the shop floor to unsafe displays, there are many accidents that could happen to a customer in a B&M store.
Storage Area And Racking Accidents
Largely speaking, storage area and racking accidents fall into two broad categories;
Collapse of racking – from pallets towers that are unsafe to dangerous shelving, incorrect stacking leads to towers collapsing. The damage to stock is one thing but when there are employees in the area and they are hurt, it is catastrophic. This type of accident can occur on the shop floor too.
Manual handling – loading or unloading shelves manually can also lead to an accident in the storage area. Dangerous or incorrect use of forklift trucks can lead to racking accidents too.
You can find out more about storage area and racking accidents with our comprehensive guide on how to claim for personal injury compensation.
What Duty Of Care Does B&M Owe Customers, Employees, And Other Visitors?
The B&M Retail Group, including B&M Homestore and B&M Bargains stores, must ensure that their stores are as safe as is reasonably practicable for customers, employees, contractors and other visitors. This is known as their duty of care.
As part of this, they must make sure that its staff are trained to deliver their services safely. This means understanding how to stack shelves, how to operate machinery and equipment, as well as general 'housekeeping' so that hazards are identified, removed and risks minimised.
If someone – customer, employee, contractor or visitor – suffers an injury after a B&M accident, the company may be liable to pay for compensation. It will need to be proven that not only was a duty of care owed to the claimant but B&M were negligent, leading to the accident.
How To Claim Compensation For An Accident In A B&M Store
In order to pursue a claim for personal injury compensation, there need to be several criteria met as part of your case;
B&M owed you a duty of care – it is generally accepted that anyone who visits B&M stores and premises, both inside and out, are due a duty of care. This means that the space should be safe for you to use.
There was a breach in the duty of care – a breach in this duty of care means that an accident occurred and, as a result, you were hurt.
Three-year time frame – for all personal injury compensation claims, there is a three-year window within which time you must make a claim for compensation if you intend to do so. It starts from the date of the accident or from the date of diagnosis from an illness or injury that can be attributed by visiting or working in a B&M store.
What Should You Do If Hurt In An Accident At A B&M Store?
There are a number of things you can do to support your personal injury compensation claim after an Accident at one of B&M stores;
Take photographs, if you can, of anything that led to or contributed to your accident.
Gather contact details of any witnesses.
Report to the accident to B&M staff, as well as to its head office.
Ask that the accident is included in their accident book and ask for a copy of the report.
Seek medical treatment for your doctor or visit your local accident and emergency if you need immediate help.
Keep records of costs and fees incurred as a direct result of your being injured such as prescription costs, travel costs, care costs and other expenses.
Speak with Legal Expert to find out more about climbing personal injury compensation and finding a specialist personal injury solicitor.
What Forms Of Compensation Can I Claim After An Accident In A Shop?
Compensation for personal injury falls into two categories;
General damages – this relates to the specific nature, type and severity of your injuries. Some injuries, such as head injuries, will receive larger payouts. Injuries that are expected to linger for weeks, months or even years will also be at the higher end of the award scale. Compensation is not just made for physical injuries but emotional and psychological effects too.
Special damages – this refers to the costs and expenses that claimants often find a burden after being hurt in an accident. It could refer to transport costs, care costs, medical bills and fees.
Accident And Injury Compensation Calculator
Compensation rates vary on a case by case basis. The table below is a snapshot of the award levels that could be made after suffering a B&M accident. Your personal injury lawyer will give you a more specific indication of award level when they have the details of your claim.

| Injury | Severity | Award | Notes |
| --- | --- | --- | --- |
| Knee injury | Moderate | £22,250 - £33,200 | This may include damage to the joint that means ongoing pain, treatment and may include surgery too. |
| Elbow injury | Moderate | £11,400 - £23,900 | Partial loss of use and/or function the elbow joint could place your claim at the higher end of the award level. |
| Shoulder injury | Moderate | £6,250 - £9,750 | Residual pain in the shoulder, as well as limitation to shoulder and arm movement, is covered by this level of award |
| Back injury | Moderate | £8,750 - 30,750 | Damage to the spine as a whole, as well as issue with pain. |
| Back injury | Severe | £69,200 - £122,350 | The higher level of award would come into play if there is nerve damage, severe pain and possible issues with paralysis now and potentially in the future too. |
| Chest injury | Moderate | Up to £3,000 | Rib fractures and other chest injuries can lead to permanent disability. |
| Neck injury | Severe | £50,000 - £99,500 | Similar to spinal injuries, a severe neck injury would mean serious damage to the nerve and possibly vertebrae too. |
| Foot injury | Minor | Up to £10,450 | A minor injury to the foot is one from which the claimant will make a full recovery with no pain or ongoing treatment needed. |
| Foot injury | Moderate | £10,450 - £19,000 | A moderate foot injury may mean ongoing issues in one or both feet. |
| Foot injury | Severe | £31,900 - £53,200 | This level of award covers when there is amputation of one or both feet. |
For a more accurate idea of what level of award you may be able to claim, call our team today on 0800 073 8804.
No Win No Fee B&M Store Accident Claims
No win, no fee personal injury compensation claims bring you many benefits. Essentially, it means you can make a claim for personal injury compensation after an accident in B&M without taking a huge financial risk. You don't need to pay anything upfront to get your claim started.
But it also means that when you work with a no win, no fee personal injury lawyer that you can be confident that they won't take your claim further unless they have measured the possibility of the success of the claim. There are no guarantees but a no win no fee personal injury lawyer will be confident that your claim meets all the criteria needed to make a successful claim.
Check the small print before you sign up with a personal injury lawyer, however. You may not pay anything if you lose your case, but how much will you pay if you win your case? Since 2013, a successful personal injury claimant has been responsible for paying their own legal fees so it pays to check.
Having said that, always choose the personal injury specialist who has the experience and expertise in making a claim like yours. This way, you know you are getting the best legal service for your B&M accident compensation claim.
Why You Should Choose Legal Expert For Your B&M Accident Claim
Legal Expert is an established firm with an enviable reputation for helping people and providing them with high quality personal injury lawyers. But there are other reasons why you should turn to us;
We provide exceptional customer service to each and everyone one of our customers
We provide an accessible service with clients able to contact us via phone, email, live chat or by using our contact form
We offer our advice on a no-obligation basis in which potential clients like you can get the clear, concise and accurate information that they need to make an informed decision on whether to claim compensation after a accident
We make ourselves available 7 days a week from 9 am to 11 pm
We offer a call back service from our team but also from personal injury solicitors so you can discuss the specifics of your case in detail and in confidence
We offer clear and accurate information on every aspect of making a compensation claim for personal injury, as well as being able to offer tailored information to your potential claim
We only work with personal injury solicitors who offer a genuine no win, no fee service
Speak To Our Team Today
If you have suffered an accident whilst shopping, working or visiting a B&M store or premises and were hurt as a result, you may be able to make a claim for compensation.
For more information or to start your claim, contact the team by;
Remember, there is no obligation to continue with your claim but you could gain so much by having this one important conversation with a member of our team. Why not call us now to find out more?
Additional Helpful Guides
For more information, access our helpful guide
Compensation claim for a sprained ankle – Our injury specific guides, such as this one on making a sprained ankle claim, can be useful when you want to know more about claims relating to your injury.
Compensation claims after an accident in an M&S store – .Accident type guides are specific to when accidents or incidents happen in key locations such as B&M stores or other retailers such as M&S.
NHS guide to broken rib injuries. Learn more about your injuries and how you can help to heal with advice from reputable sources such as the NHS guide to broken rib injuries.
Psychological trauma – This is not uncommon after an accident and so learning to 'move on' after an accident is essential.