The City of Wolverhampton Council Data Breach Compensation Claims Guide – How Much Compensation Can I Claim? – Amounts For Wolverhampton Council Data Breach
Have you suffered a Wolverhampton Council data breach? Was the information the council held on you leaked, lost or accessed without a lawful basis? Are you assessing if you could make a claim for the financial losses experienced or the emotional turmoil you are going through? This guide should be able to provide these answers and more. 
Breaches of our personal data could happen either digitally or physically. The General Data Protection Regulation (GDPR) was enacted through the Data Protection Act 2018.
However, despite the legislation in place to provide people with more protection and organisations with more guidance, data breaches still occur. To establish if you have a valid claim for Wolverhampton Council data breach, read on to find out more, or you can contact us by: 
Select A Section
A Guide On Claims For A City of Wolverhampton Council Data Breach 
It's important that you're aware of the time limit for making a data breach claim. Generally, you have 6 years if the claim is against a private company. But if it's against a public body like a council, then you only have 1 year. Keep in mind that the time frame depends on the circumstances, the defendant and other factors. So, you should try to begin your claim as soon as you can to stay within your specific time limit.
In this article, we'll be explaining what personal data is and the things that companies are expected to do to protect it. We will look at how a data breach may cause you psychological or financial harm. 
Furthermore, our guide will explore the different types of damage that you could be compensated for. Additionally, we'll be looking at the lawful bases that can allow organisations to process your data. 
If you have any questions whilst or after reading our guide, you can contact our team at any time. They can provide further clarification and speak with you about your case. If they feel your claim has a good chance of success, they may be able to appoint one of our specialist solicitors. 
Cyber Security Statistics
The graph below shows the figures from the government's Cyber Security Breaches Survey 2021 which are provided by the Department for Digital, Culture, Media and Sport. There were a number of identified breaches in the last 12 months.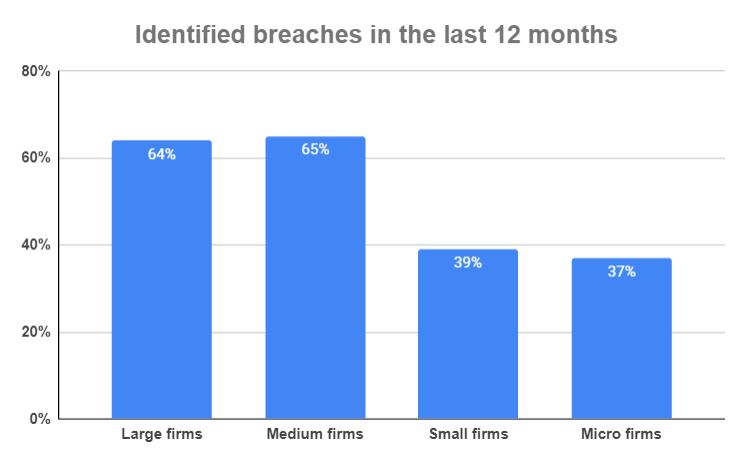 The same survey found that the most disruptive data breach was phishing. This was the case both amongst those who either only experienced phishing attacks and those who experienced other types of cybersecurity attacks as well. 
For more information on the nature of data breaches in the UK, see the surveys. Otherwise, contact our team today to find out more about the steps you can take after a data breach. 
What Could Be A City Of Wolverhampton Council Data Breach?
The UK-GDPR is in place to prevent organisations from using your personal data without a lawful basis. Personal data is defined as anything that could, on its own or in conjunction with other information, be used to identify you. 
The GDPR defines a data breach as a breach of security that leads to either an organisation accidentally or intentionally carrying out any of the following actions without consent or a lawful basis:
Destroying data

Losing data

Altering data

Disclosing data 

Accessing data
Personal data can be described as direct or indirect. Direct data might include your name, address or email address that someone could easily identify you with. On the other hand, indirect data might include your national insurance number or passport number that someone could trace back to you.
If the City of Wolverhampton Council data breach happened because data was exposed due to a lack of network or computer security could you make a claim? What happens if a data hack involves personal details being stolen and used in phishing scams? Would that be a valid reason for making a data breach claim? 
If you would like to know about what constitutes a data breach by a local authority, please get in touch with our team today. Otherwise, read on for more information on how the UK-GDPR applies to city councils.
Does The GDPR Apply To City Councils?
The GDPR is a piece of EU legislation. In short, it applies to all organisations that handle personal data relating to any EU citizen. Even if they're operating in another country, they still need to comply. The Data Protection Act 2018 is the piece of legislation that enshrines the GDPR into UK law.
In order to process data according to the GDPR, you must have a lawful basis to do so. The lawful bases that can apply are:
Consent. This is where the data subject has given consent for the organisation to process their data in this way.
Contract. The data controller might have a contract with the data subject and have to process the data to fulfil this contract.
Legal obligation. An organisation might need to process the data in order to comply with the law.
Vital interests. This is where the processing of personal data is necessary in order to protect someone from harm.
Public task. This is when the data needs to be processed in order for the data controller to perform a task in the public interest or for official functions.
Legitimate interests. Where the processing of the data is necessary for the legitimate interests of the data controller or a third party.
Usually, consent is the lawful basis used to justify processing data. However, in some instances, your consent may not be needed to process your personal information.
Ways In Which A City Council Could Breach Your Data Privacy
There are various ways in which a city council could breach your data. These include:
Sending letters or emails containing your information to the wrong person.

Failed to get your consent when passing your data to third-party marketing companies without another lawful basis.

Poor IT security, which could result in databases containing personal information being hacked.
Social services

documentation could cause serious damage to family life and relationships if processed incorrectly. Releasing something like adoption records without authorisation could cause serious psychiatric damage.

 

Passport or driving licence breach. Your local council could contain proof of your identity which, if stolen, because a filing cabinet was left open.
Medical record breaches could cause someone severe stress or anxiety if their confidential information has been exposed.
If you've been affected by a similar situation, contact our team for more information on the next steps you could take.
Tenancy Rent Statement Data Breaches
Local councils have a legal obligation under the UK-GDPR to protect the data they hold for you. For instance, they could hold your data if you're under a council tenancy agreement, renting a property from the council or a housing association. 
When renting a property, you'll often need to provide proof of your identity. This might include, for example, your passport, driving licence or visa. 
All of this information could be used to identify you and should be handled appropriately. For that reason, the council should only use it for the intended purpose, and only when the processing is necessary on a lawful basis.
There are a couple of ways a council could breach data protection. For instance, they could:
Use your data in a way that you didn't consent to

Fail to protect your data by not keeping it securely stored

Throw away documents containing personal information in a normal bin.
If they act unlawfully with your data, this could lead to identity theft which could become an ongoing issue that persists into the future. It could mean that you lose out financially, or suffer stress or anxiety because you're worried about the impact this could have on you. 
For more information, contact our team on the number above. Alternatively, continue reading to find out how compensation may be calculated in the data breach claim process. 
Do I Need To Inform The Information Commissioner?
You may be wondering how you report a data breach incident. The Information Commissioner's Office is an independent body set up to protect individual's data privacy. They can issue penalties and enforcement notices to organisations that don't comply with UK-GDPR rules. 
In order to raise a complaint with the ICO, you need to have done everything else to resolve the issue with the council first. For example, you could contact them with your concerns by sending an email or letter. However, you should be sure to send it to the correct department so as not to delay any response or action that the council may need to take.
Once three months have passed since your last meaningful exchange with the organisation, or if they fail to resolve the issue to your satisfaction, you can raise your concern with the ICO. However, it's important to note that the ICO may have difficulty investigating your claim if there is a delay in contacting them. So if you do raise your concern with the ICO, it should be done in a timely manner.
Although they can deliver sanctions, the ICO will not award you compensation. They will look into the case and come to a decision about whether a data breach occurred or not. 
An ICO decision on a data breach could help to support your claim.
What consequences would organisations face if they breach data protection?
If an organisation is found to be liable by the ICO, it may be fined. 
The Information Commissioner's Office fined Papa John's £10, 000  because of sending a high volume of nuisance emails to customers. 
In contrast, Ticketmaster received £1.25 million fine due to their failure to protect their customers' payment details. 
Additionally, Marriott International Inc was fined £18.4 million for failing to protect millions of customers personal data. 
The fine given will be dependent on how severe the data breach is. An ICO fine should also act as a deterrent to stop a company from breaching personal data again. 
How Do Data Protection Breach Claims Work?
You do need evidence to prove that the data controller failed to meet the Data Protection Act 2018 and protect your personal data in order to be able to make a data breach claim. 
It may be a good idea to write to the organisation you feel breached your personal data. If anything this can help with your data breach claim as their response could act as evidence. 
Once three months have passed since your last meaningful exchange with the organisation, or if they fail to resolve the issue to your satisfaction, you can raise your concern with the ICO. The ICO so that they can investigate and provide evidence that might support your claim. The ICO does not award compensation. 
Speaking to a data breach lawyer can also be a massive step in making a claim. Although by law it is not a necessity to have a solicitor represent your case they will have the knowledge and know-how on how to conduct the case correctly. 
If you would like to speak to someone about making a claim, get in touch with our team today. They could offer you free legal advice about pursuing compensation.
How To Calculate Damages
You may be able to claim compensation for both material as well as non-material damages. 
Material damages cover the monetary losses caused by the data breach. This can include money you have lost as a direct result of the breach, as well as a long-term impact on your finances caused by something like identity theft. 
For instance, if you were a victim of financial or identity theft, they could continue to use your identity and take your money. This could affect your credit score if they're using your credit card and racking up large debts.
Non-material damages may compensate you for the mental injuries you've suffered. For instance, this might include stress or anxiety brought on by the breach, or the psychiatric damage which results from you feeling like your information is no longer safe.
As it could be a permanent issue, the award may depend on how serious the breach was and how badly it's impacted you and your life. 
What evidence to collect to claim these damages?
In order to support your claim for the different types of damages, you will need evidence. For material damages, this might include bank statements and card statements
Evidence for non-material damages might include any medical records outlining the state of your mental health. Furthermore, you may be invited to attend an additional medical assessment which can provide an independent report on your psychological injuries.
Additionally, you will need evidence to support your claim that a council handled your data incorrectly. This might include correspondence with them about the data breach or ICO investigation findings if you complained to them initially.  
 Calculating Compensation For A Wolverhampton Council Data Breach 
Data breach compensation amounts will vary greatly depending on multiple factors, like the amount of money you lost or the severity of the psychiatric damage caused. To give an overall estimate of how much your claim might be worth is difficult. 
In 2015 Vidal-Hall and others v Google Inc [2015] resulted in the Court of Appeal deciding that compensation could be awarded to claimants who suffered psychiatric damage even if no financial harm occurred. This case changed the way claimants were awarded compensation with regard to data breach claims. Before claimants could only pursue non-material damages if they had also sustained material damages. 
For this reason, any psychological suffering could be valued with the help of a publication known as the Judicial College Guidelines (JCG) alongside a report from the independent medical assessment. 
We have created a table that provides an example of the types of non-material damages you could claim compensation for. Figures are taken from the JCG but must only be used as guidance. 
| Injury | Award |
| --- | --- |
| Severe Psychiatric damage | £51,460 - £108,620 |
| Moderate Psychiatric damage | £5,500 - £17,900 |
| Less severe Psychiatric damage | £1,440 - £5,500 |
| Severe Post-Traumatic Stress Disorder | £56,180 - £94,470 |
| Moderate Post-Traumatic Stress Disorder | £7,680 - £21,730 |
| Less severe Post-Traumatic Stress Disorder | £3,710 - £7,680 |
. 
No Win No Fee Compensations Claims For A City Of Wolverhampton Council Data Breach
At Legal Expert, our solicitors are funded on a No Win No Fee basis. This provides an opportunity to seek legal representation without having to worry about upfront fees. 
This type of agreement means that if your solicitor is unsuccessful with your claim, solicitor fees are not payable. You also won't be asked to pay for them to start work on your claim, or in the event that it doesn't succeed. 
You will pay a success fee to the solicitor if they are successful in winning your case. This will be agreed upon by you both before they start work on your claim.
The expertise of a data breach solicitor can help ensure your claim is filed correctly. 
Finding An Expert For Your Case
Hopefully, you're feeling more informed about how to make a local authority data breach claim after reading our guide. You may now be wondering where you can find a solicitor who can help you navigate the next steps. 
Legal Expert are here to help. If they feel your claim has a good chance of success, one of our advisors will appoint a solicitor if you have a valid claim. They can guide you through the next steps of your claim to ensure you have the best chance of getting the compensation you deserve.
If you require any further information about the solicitors our advisors may connect you with, see our review page or contact our team on the number above.  
Speak To Our Team
You can speak to our team of expert advisors for further clarification on anything you're unsure of. They are available 24/7 to answer any questions you may have.
For more information, get in touch using the details below:
Telephone on 0800 073 8804

Live chat using the feature at the bottom of the page

Organise a

call-back

at a time convenient to you
Extra Resources
The ICO provides resources on how organisations might be using your data to help you stay data-aware. 
If you're interested in taking control over how your data is used by different organisations, see the ICO website. 
Our guide could help you understand what your rights are after your personal data has been lost.
For more information on making a claim for a Blackbaud data breach, see this link.
Visit our guide to understand whether you may be eligible to claim for stress after a data breach compensation claim. 
Other Useful Compensation Guides
Data Breach Claim FAQs
See below for some answers to common questions;
What should I report to the ICO?
If you have any concerns about the way an organisation is using your data, you can raise your concern with the ICO. However, you may want to attempt to resolve the issue with the organisation that is potentially responsible for the breach.
Who is liable for data being breached?
Liability for a data breach may fall to whoever failed to comply with the GDPR under the Data Protection Act 2018. This could be the data controller or a data processor they have instructed to act on their behalf. 
Who is responsible for protecting my data?
Any organisation handling EU citizens data needs to follow the GDPR. This is the case even if the organisation itself is not in the EU. 
What are my rights?
You have the right for your data to be secure.
If you have questions about a Wolverhampton Council data breach please call our team today.
Written By Mitchell
Edited By Stocks