Nuneaton and Bedworth Borough Council Data Breach – Compensation Claims Guide
In this guide, we consider what you could do after a potential Nuneaton and Bedworth Borough Council data breach.
This guide will enable you to understand the claims process more clearly when making a compensation claim. It covers laws that apply, the nature of breaches, and how to file a claim.
In order to make a valid claim against a council, you'd need to be able to show that the council's positive wrongful conduct led to the data breach. You'd also have to prove that your personal information was involved and that you suffered financial loss or psychological damage as a result. This guide explains how it can be done.
Every claim is unique in its own way. Other claims might have similarities to yours, but they won't be identical. As a result, this guide may not address all of your questions. There is, however, a solution for you in this case: our advisors are available 24 hours a day, 365 days a year to give free legal advice.
To discuss your claim further, please call 0800 073 8804 today. Alternatively, use our live chat for a quick online response.
Select A Section:
A Guide On How To Claim For A Nuneaton and Bedworth Borough Council Data Breach
This guide aims to help you learn about the claims process. This will then give you the basis for making educated decisions.
First, it should be beneficial to explain a few terms:
Data subject: This is someone whose personal information is collected or shared.
Personal information/data: This is information that can be used to identify someone. It can either be used alone or in connection with other information to identify you.
Data breach: This is a security breach that causes unlawful access, disclosure, destruction, alteration or loss of personal information.
Data controller: The organisation that decides how and why personal information will be collected or processed. (For example, councils could be data controllers.)
It's also important to note that not every council data breach will be caused by a council's security failings. However, if it is and your personal information is exposed, you could claim, providing you suffered mental harm or financial loss as a result.
In this guide, we explain data breach compensation and what you could claim for. We also discuss how data breaches can occur. Furthermore, we include a section on how specific breaches can affect council tenants.
In addition, you will learn about the advantages of using a solicitor who works under a No Win No Fee agreement.
Time Limits To Claim
It is important to remember that there is a time limit for filing a claim for a personal data breach. This time limit can be affected by different factors. For this reason, you could call us and speak with one of our advisors for free legal advice with no obligation to continue with our services. You would be able to find out what the time limit is for starting your claim.

Cyber Data Breach Statistics
UK data privacy and security legislation is enforced by an independent authority. The Information Commissioner's Office (ICO) sees that organisations adhere to data protection laws. We will provide instructions later in this guide on how to file a complaint with the ICO regarding a data breach.
The ICO released statistics relating to data security incident trends. The graph below shows central government non-cyber security incidents in the first quarter of 2021-22.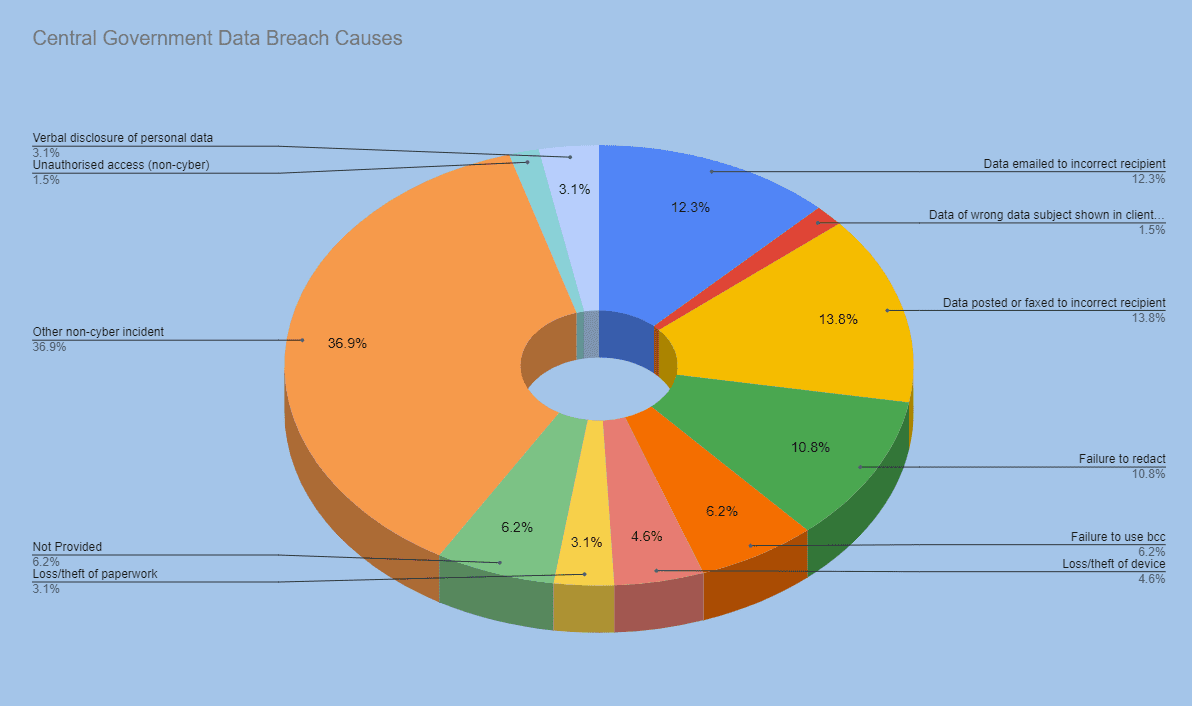 Nuneaton And Bedworth Borough Council Data Breach
If your personal data is exposed or used inappropriately in a council data breach, you might be able to make a data breach claim against the council. However, it must be proven that the council's failings led to the personal data breach and that you suffered mental harm or financial loss as a consequence.
Laws And Legislation
The Data Protection Act 2018, or DPA 2018 for short, is one of the main UK data privacy and security laws. It is, essentially, the EU General Data Protection Regulation (GDPR) enacted into UK law. Additionally, the UK GDPR sits with the DPA 2018.
From now on, if we discuss GDPR in relation to a personal data breach, we'll be referring to the UK-specific version, not the EU-specific version.
What Are Nuneaton and Bedworth Borough Council Data Breaches?
Local authorities are required to protect your personal information when they collect, store or process it. Additionally, your data should only be used for the purposes for which you have granted permission unless there's a lawful reason to share it without your consent.
Nevertheless, personal data security and privacy can be compromised accidentally or deliberately. If your personal data has been exposed due to the failings of a council, you may be able to claim compensation. Psychological injury or financial loss caused by the data breach could be compensated for.
You can contact our claims team if you have evidence of a valid claim. They're available 24/7 and give free legal advice with no obligation for you to proceed with the services of our solicitors.

Do Councils Need To Comply With The Data Protection Act?
The council should comply with the same data protection legal obligations as any organisation that stores or processes personal data. This includes compliance with the Data Protection Act 2018.
To be compliant, councils should follow the UK GDPR key principles. These are as follows:
Only store personal data for as long as is needed.
Act legally, fairly, and transparently when collecting or processing personal data.
Only collect the minimum amount of data required for the task.
Maintain the accuracy of the personal data.
Keep the personal data secured.
Be clear with data subjects about why the personal data is needed and how it will be used.
Be accountable for how personal data is collected and processed.
This guide on what you could do following a Nuneaton and Bedworth Borough Council data breach aims to help you. But if you have any questions, why not reach out?
Types Of Information Lost During A Data Breach
There are a variety of reasons why a data breach can occur. Physically stored data (such as paper records), as well as digitally stored data, can be compromised.
You could have a lot of information stored by your local council about you. For example, this could include:
Names
Phone numbers
Addresses
A data breach involving personal information could be:
You or members of your family may be the target of unauthorised access to personal data in social services data breaches.
A council employee sends an email to the wrong recipient that contains your personal information. The recipient doesn't have a legal basis to access this information but does anyway.
Records on paper are left on a desk or table in a place where unauthorised passersby see the personal information contained on them.
The council may be liable in any of these example scenarios if you can prove it was at fault for the data breach. For more information about such a claim, speak with a representative.

Social Work And Landlord Data Protection Breach
A council data breach could affect tenants of public housing in specific ways. It is common for records such as rent payments to be stored for many years. And if this personal data isn't properly secured, it may be compromised. Examples include:
The personal data stored on a computer screen, including scans of tenancy documents, is left open for everyone to see, though they don't have a lawful basis to access it.
Physical records containing personal information, such as tenancy documents are lost or stolen.
An employee of the council may discuss your rent payment history (along with personally identifiable information) with a person who doesn't have a lawful basis to know about it. This might be considered a rent statement data breach.
In cases such as this, you could file a claim against the council if you can demonstrate fault on the council's part and if you suffered financial loss or psychological damage as a result. For more information about filing a claim, contact our team.

Who Reports Breaches To The ICO?
You may wish to inform the ICO if you believe you have been the victim of a council data breach. You should, however, speak with the council first. It is possible to ask if a data breach has occurred, and which data has been compromised.
Depending on the circumstances, your local council may have already taken action to protect your personal data. They may also be able to resolve the issue directly with you.
A formal complaint to the ICO may not be necessary at this point. However, if the council fails to give a satisfactory response, you could contact the ICO. You should do so within 3 months of the council's last meaningful response. Waiting longer than this can affect how the ICO deals with the matter.
However, the ICO can't offer you compensation. However, you could receive this through a data breach compensation claim.

How Do I Sue For The Data Breach?
In the previous section, we discuss reporting a council data breach to the ICO and the council. These are two potential steps before launching a data breach claim. The stages are, however, not compulsory.
Whether or not you notified the ICO, you can still try to make a claim. You can also still attempt to make a claim if the ICO doesn't follow up on your complaint and doesn't take any action against the council. If the ICO does take action against the council, this could lend support to your claim.
Should you have become the victim of a personal data breach caused by a council's failings, we can help you. If you can prove you endured financial loss or mental harm as a result of the data breach, call us and speak with a member of our claims team. Your claim will be evaluated and our advisors could connect you with our solicitors.

Quantum Of Damages For A Nuneaton And Bedworth Borough Council Data Breach
There are two heads of claim. The first is for any mental injury resulting from the data breach. It's called non-material damages.
Data breaches can be stressful, especially if they result in a serious loss. They can result in mental health problems such as depression, anxiety, or you could find that post-traumatic stress disorder (PTSD) is worsened.
The Court of Appeal ruled on a case in 2015. This case was Vidal-Hall and others Versus Google Inc [2015]. The Court held that, despite not experiencing any financial loss, claimants could seek damages for mental harm caused by personal data breaches. Therefore, you may also be able to accomplish the same thing. Before this case, you could only claim for psychological injury caused by a data breach if you'd suffered financial loss too.
Thanks to Gulati & Others v MGN Limited [2015], psychological injuries for personal data breaches can be valued as they would be under personal injury law.
The second head of claim is called material damages and compensates you for financial losses that the data breach causes.
Cybercriminals could gain access to financial accounts by stealing your personal banking information. Consequently, they could buy items using your credit card or debit card.
In addition, if the cybercriminal is able to access enough personal information to commit identity theft, the financial losses could be ongoing.
Following a successful claim, you could recover these losses. You could use proof such as bank statements and credit scores to aid this.
Our advisors could help you determine which damages you may be entitled to receive. Call them and they will evaluate your claim for you for free.

How Much Compensation Can You Get For A Data Breach At Nuneaton And Bedworth Borough Council?
Each data breach claim is unique. Therefore, we cannot simply give you a rough estimate of the amount of compensation you might win if your claim is successful.
Rather, we have created the below table that shows possible compensation ranges based on how badly your mental health has been affected. We created the compensation table using guidelines produced by the Judicial College. Legal professionals use these for helping them when valuing injuries.
| Mental Problem | How Severe? | Possible Compensation | More Facts |
| --- | --- | --- | --- |
| Psychiatric damage | Less severe | Up to £5,500 | How long the disability lasted and the extent to which everyday activities and sleep were impacted will be considered when valuing this award. |
| Psychiatric damage | Moderately severe | £17,900 - £51,460 | The claimant would struggle to cope with life, education and work. However, the prognosis would be better than for a person who suffers symptoms in the severe category. |
| Psychiatric damage | Severe | £51,460 - £108,620 | The person's ability to deal with life, work and education would be significantly affected. The prognosis would be very poor. |
| Psychiatric damage | Moderate | £5,500 - £17,900 | There will have been a significant improvement, but the person would have suffered in relation to work, education and life. |
Our advisors could value your claim and give you a free estimate of the level of compensation you may be awarded. Get started by contacting our claims team.

No Win No Fee Solicitors For Nuneaton And Bedworth Borough Council Data Breach Cases
No Win No Fee agreements allow individuals to claim compensation with the guidance of a solicitor at a reduced financial risk.
You would not need to pay upfront or ongoing solicitor fees when you have a No Win No Fee arrangement. However long it takes to resolve the claim, your solicitor would not ask you to pay their fees unless they have won the case. What's more, you wouldn't need to pay any solicitor fees if your claim doesn't win.
If your claim does win, the solicitor would request a success fee. Success fees are capped by law and are a small percentage of the compensation. It'd only be deducted once the compensation has come through so that you're not left out-of-pocket. This way, you can benefit from the majority of the compensation.
Perhaps you'd like to learn more about the claims process, or how No Win No Fee works. You can get help from our claims team if you need it. Call them any time of the day or night, any day of the week, and they will be able to assist you.

Should I Find A Data Breach Lawyer Close To Me?
It is not necessary to hire a local lawyer in order to file a compensation claim for a council data breach. Our solicitors can work for you from anywhere in the country. You could have online meetings or communicate by email, phone or any other method suited to you. Essentially, you don't need to be restricted to the services of solicitors in your area.
Our solicitors have a wealth of experience in successfully pursuing claims. They also offer their services on a No Win No Fee basis. For more information, contact a claims advisor.

Please Contact Legal Expert
We've almost come to the end of this article on what you could do after a Nuneaton and Bedworth Borough Council data breach. Perhaps you need some free legal advice? You can contact a claim advisor using the contact details listed below for further assistance.
Telephone: 0800 073 8804
Use our live webchat for instant answers.
Fill in a claim online form to get a callback at a time best for you.

Similar Articles
Here are some other guides you might like to read.
Here are some external sources that could be of use too.
ICO advice on being data-aware.
Get in touch with the ICO on Live Chat
What Data Does An Organisation Have About You?

FAQ Examples
Here are some answers to commonly asked questions in relation to data breach claims.
Who Enforces The GDPR?
The Information Commissioner's Office (ICO) enforces data protection laws in the UK.
What Can You Do If Someone Breaches GDPR?
You could report the problem to the company involved and then the ICO if this proves unsuccessful. What's more, if the data breach was caused by positive wrongful conduct on the part of the company, you could potentially make a compensation claim if you suffered financial loss or mental harm as a consequence.
What Are My Rights If My Data Privacy Has Been Breached?
If your data privacy has been breached, you have the right to inform the company and (if that doesn't result in a satisfactory solution) you could inform the ICO. Under certain circumstances, you could also make a data breach claim.
Is Sharing An Email Address A Breach Of GDPR?
It would be a data breach if your email address is shared with somebody who does not have a lawful reason to have it.
Thank you for reading our guide on what you could do following a Nuneaton and Bedworth Borough Council data breach.
Written by Wheeler
Edited by Victorine