Bradford Council Data Breach Compensation Claims Guide – How Much Compensation Can I Claim?
Local councils need to hold a wide range of personal information for a number of purposes. For instance, they may hold data on tenants of council housing or those who are under the care of social services. But what happens when this data is exposed because the local authority failed to keep it secure? In this guide, we will look at what steps you could take if a Bradford Council data breach occurred and the steps you could take if you have experienced harm as a result of a breach.
Claiming Compensation For Breaches Of Data Privacy
There are a number of potential ways a data breach could occur in a local authority. Perhaps a council failed to keep their cybersecurity systems up-to-date, which meant that criminals were able to access personal data. Or maybe council staff were not properly trained in data security, meaning that data was accidentally exposed. In order to hold a valid claim for a data breach by Bradford Council, you need to have proof of how they failed to protect your personal data.
Our claims team are available to offer you free legal advice 24 hours a day. Just pick up the phone and dial 0800 073 8804 to be connected to an advisor that can answer any questions that you have. They can also explain to you how we can provide you with a specialist solicitor to process your claim for you.
Select A Section:
A Guide To Claims For A Bradford Council Data Breach
We begin this guide with some data breach statistics that have been provided by the Information Commissioner's Office (ICO). This is followed by a basic overview of what a data breach is, as well as what is classed as personal data.
In this guide, we will cover how regulations dictate the ways that organisations (including local councils) can use and process your data. We will also cover how data breaches might happen, including breaches that involve tenants.
Next, we move on to give general advice and information about the claims process itself. You will find an example compensation table along with a discussion of the types of damages you could be able to claim. We end this guide with a brief look at how No Win No Fee claims work. We'll also answer some frequently asked questions about making this kind of claim.
Time Limits
There is a time limit in place for you to start your data breach claim. You have as long as you need to finish your claim, but you must start it within this timeframe. This could be:
Six years to start your claim against a privately-owned company, or
One year for a claim against a council or another public body.
Note that some timeframes might differ depending o particular circumstances, including the nature of the data breach. And we wouldn't want you to miss out on compensation if you unknowingly take legal action too late. So, if you're not sure how long you have to start a data breach claim, why not get in touch with a member of our team today? They could offer you free legal advice about your situation.
Data Breach Statistics
The graph was created using data provided by the ICO and shows causes of data breaches in the Central Government. The graph shows the number of incidents that occurred from 01/04/2021 to 30/06/2021. It does not include any cyber security breaches.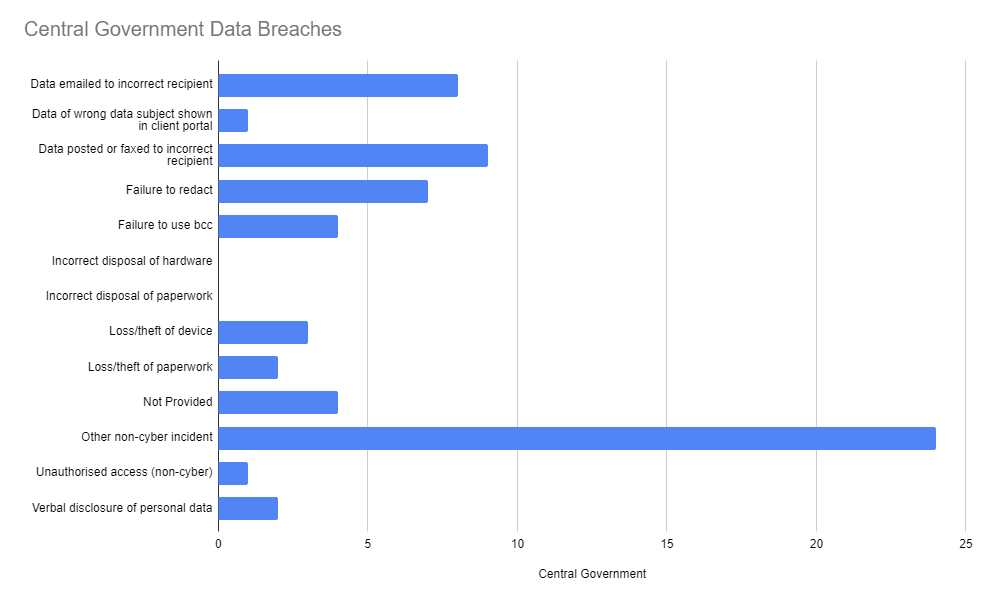 What Is A Council Data Breach Compensation Claim?
Personal data is protected by a number of different pieces of legislation. The General Data Protection Regulation (GDPR) came into effect in 2018 and dictated how personal data must be processed by data controllers. The Data Protection Act 2018 ratified this into UK law. Rather than referring to the EU GDPR, we use the UK GDPR since leaving European Union.
Personal data is classed as any information through which the data subject can be identified, either in isolation or when combined with other information.
It is the responsibility of the council to ensure that this legislation is adhered to at all times. So, if they fail to do so, this could result in your personal data being exposed. And if your data is exposed, this could cause you financial and emotional harm. If you have any questions about a council breaching your personal data do not hesitate to get in touch with our team.
Are City Councils Exempt From GDPR Rules?
All organisations in the UK that handle personal data must comply with the UK GDPR. This means that they have to follow the seven key principles that the UK GDPR sets out.
In addition to this, the organisation must have a lawful basis for processing your personal data. These are:
Consent– where you give your consent for the data to be processed. You may do this by ticking a box on an online form.
Contract– where the organisation must process the data in order for a contract to be fulfilled. For example, an online shop may need to pass your address details on to their courier company to fulfil the contract they have with you to deliver your item.
Legal obligation– where the organisation must process the data to comply with the law. For instance, your employer is legally obliged to share your details with HMRC.
Vital interests– where processing the information is necessary to protect an individual. For instance, medical records can be shared if doing so could save your life.
Public task- where processing the data is necessary for the public interest.
Legitimate interests- where your legitimate interests, or the legitimate interests of a third party, mean that processing the data is necessary. This lawful basis can only be used if there is no good reason for the person's data to be protected that overrides the organisation's legitimate interests.
If you have proof that your data was processed without a lawful basis for doing so because of a failing on the part of a council, and you have suffered harm as a result, contact our team today. They will be happy to offer you free legal advice.
Types Of Data Protection Breaches Affecting City Councils
How could a city council breach personal data? What are local authority data breaches? Data breaches can occur whether the data is stored digitally or physically.
Some potential examples of a data breach could include:
Sending you a letter containing personal information to the wrong address, despite having been given your correct address.
Not redacting your sensitive data when sending information to a landlord.
Previous employees retaining access to databases and accessing them without authorisation.
Cybersecurity having not being updated, meaning that hackers are able to access it.
A computer containing personal information being left unlocked and unattended in a public place.
Scans of tenancy audit documents that are left in an unlocked filing cabinet.
These are just a few examples of how a data breach could happen. There are, of course, many more. To find out about the kinds of data breaches that could entitle someone to claim, speak to our team today.
Council Tenant Rental Data Breaches
The local council is responsible for a number of different services that they need to hold personal data in relation to. One of these is council housing.
Some examples of potential data breaches that could affect tenants of social housing include:
Rent statements that are incorrectly sent to the wrong address.
Financial information, such as credit checks, is accessed by an ex-employee who retained access to the information.
Information is sent to a landlord without personal information being redacted.
A scan of the tenant's passport is accessed by hackers as a result of substandard cybersecurity. This could result in identity theft.
The list we have included above is by no means exhaustive. To find out if you have a valid data breach claim against a local council call our Legal Expert team today. They will assess your case in a consultation which is free of charge.
Do I Have To Notify The ICO?
If you have been the victim of a data breach, you can make a complaint to the ICO. They are responsible for regulating data protection in the UK. However, although the ICO can investigate the data breach and fine the organisation if they are responsible, they cannot award you compensation.
The findings of the ICO investigation could be used as evidence to support your claim for compensation. However, there is no guarantee that you will be awarded compensation just because the ICO has made a decision in your favour.
In order to complain to the ICO, you must do so within three months since your last meaningful communication with the council. However, the ICO may refuse to investigate your complaint if too much time has elapsed since the incident. Call and talk to our team of advisors to learn more about this.
How To Make A Claim Against A City Council
You could start by contacting the council directly about your concerns. The ICO provide a template that you can use when raising your concerns with the data controller.
If the council does not respond to your satisfaction or does not respond at all, you can report the problem to the ICO. You should also keep proof of any damage caused to you by the breach, such as harm to your finances and emotional harm.
There isn't any legal obligation for you to have a solicitor work on your behalf when making a claim. However, the process of claiming alone can be daunting, and you may find that the guidance of a data breach solicitor helps the process run more smoothly. A solicitor may also be able to advise you as to whether you should report an incident to the ICO or bypass this and start your claim against a council.
If you have any questions at all about the process of making a compensation claim, our team of expert advisors is just a phone call away. They're available 24/7 to offer you free legal advice.
Damages Your Compensation Could Include
When you make a claim for harm caused by an avoidable data breach, the compensation you receive may consist of two different kinds of damages. These are referred to as material and non-material damages.
Material damages are any financial harm caused to you by the breach. For instance, after a credit card data breach, you may have money stolen from your account, or your credit rating could be affected.
Non-material damages are any harm caused to you psychologically or emotionally. For instance, if your employer left details of your performance reviews on their desk for your colleagues to see, this could cause you a great deal of stress and anxiety. You may even experience post-traumatic stress disorder as the result of an incident where your data is exposed.
To find out what types of damages might be appropriate to claim based on your own circumstances, you can call and talk to our team. Explain to them your situation and what you can prove you have faced in the way of mental harm and financial loss. They will explain to you the types of damages you might be able to claim.
Calculate Compensation For A Bradford Council Data Breach
Vidal-Hall and others v Google Inc [2015] was a landmark case that changed the way compensation is awarded in data breach claims. The Court of Appeals held that you could claim for non-material damages even if you had not incurred any material damages. This is in contrast to before this case, where you could only claim for emotional harm like stress, depression and anxiety if you also experienced financial harm.
We cannot come up with an average claim amount for a data breach, as all claims are unique. What we have done is provide you with the example compensation table below. We used the guidelines produced by the Judicial College to create this table.
| Problem with Health | Severity | Potential Compensation | More Info |
| --- | --- | --- | --- |
| Psychiatric harm | Severe | £51,460 - £108,620 | All severe psychological conditions are included in this bracket. Victims would manifest symptoms that would affect their quality of life profoundly. Moreover, it impairs their ability to function normally. There is a good chance that the victim will continue to suffer some level of symptoms for a long time after treatment. |
| Psychiatric harm | Moderately severe | £17,900 - £51,460 | This category encompasses all moderately severe psychological issues. Victims would exhibit symptoms that would have a tangible impact on their quality of life. Their ability to function normally may also be affected. The most likely cause would have been serious trauma. Following treatment, it is likely that the victim will suffer some ongoing symptoms into the long term. |
| Psychiatric harm | Moderate | £5,500 - £17,900 | All moderate psychological issues fall under this category. There would be symptoms of these illnesses that would negatively affect the quality of life of the victim. The cause is likely to have been shock or trauma. |
| Psychiatric harm | Less severe | up to £5,500 | Psychological issues of a less severe nature fall into this category. Victims would manifest symptoms that would adversely affect their quality of life. |
If you would like to know more about the amount you could receive in compensation for the harm you can prove you've suffered, get in touch with our team today. They may be able to help you claim compensation for a breach caused by the failings of a council.
No Win No Fee Claims For A Bradford Council Data Breach
You might have heard the phrase No Win No Fee before, but what exactly does it mean? A No Win No Fee agreement is a contract between your solicitor and you. It dictates the terms under which they will be paid.
Under this type of fee agreement, you do not need to pay them to start working on the claim or while it's ongoing. If the claim isn't successful, your lawyer will not ask you to pay them anything at all. In the event that your claim is a success, your solicitor will deduct a capped fee from your settlement. This will cover their costs.
If you have more questions about being represented on a No Win No Fee basis, you can call and talk to our claims team. Furthermore, they may be able to connect you with one of our solicitors who offer No Win No Fee representation.
How Do I Find A Data Breach Lawyer?
Finding a good lawyer to help you to make a data breach claim doesn't need to be a complicated process. We can provide you with an expert lawyer who is completely familiar with the process of handling data breach claims.
We have years of experience in helping claimants such as yourself get the compensation that they are eligible for. And we can help you too. All you have to do is give our claims team a call and explain what has happened and the evidence you can provide, and they will take it from there.
We are always here 24 hours a day to keep you updated on the status of your claim. And we will do so using plain English with no legal jargon. Call us today to get your claim underway!
Start A Data Breach Claim
Has your sensitive data been exposed in some way? Have you been caused financial or emotional harm as a result? If you would like to know the steps you could take if a Bradford Council data breach occurred call our claims team today.
Our team is available 24 hours a day, 7 days a week using the contact information below.
Related Data Protection Guides
Below, we have included some additional internal and external resources that you may find helpful.
A Basic Guide To Making A Data Breach Claim
How To Make A Compensation Claim For A Data Breach Against An Optician
Information On How To Start A Data Breach Claim Against Your Local Authority
National Health Service (NHS) Information About Post-Traumatic Stress Disorder
The Basics Of The Data Protection Act
Other Useful Compensation Guides
Frequently Asked Questions About Data Breaches
Here are some short answers to some commonly asked questions that relate to making a compensation claim for a local council data breach.
What should I do if I discover my data was breached?
If your personal data has been exposed, you should make a complaint to the organisation responsible for the breach. If they do not respond to your satisfaction, then you could make a complaint to the ICO. You may also want to pursue a claim for compensation.
How long could a data breach claim take?
It is impossible to determine an average length of time for this kind of claim to be settled. The claim could take a few weeks to a few months, and potentially years in the most complicated cases.
Do I claim through the ICO?
If you want to make a compensation claim for a local council data breach, it is not the ICO that you will claim through. You will claim against the local authority that caused the data breach.
Can I claim even if I haven't lost any money?
It is now possible to claim compensation for the emotional harm caused by a data breach even if you have not lost out financially.
Contact our team to know your rights if a Bradford Council data breach was to occur.
Guide by Wheeler
Checked by Stocks