Can I Claim Compensation If No One Has Been Convicted Of The Crime? – Free Advice And Guide
Were you injured as a result of being the victim of a criminal act? If so, you may want to find out if you can claim compensation if no one has been convicted. No matter whether you were the victim of a criminal act such as rape, sexual assault, assault, or sexual abuse, and even if the perpetrator of your injuries was not found, or if the police or courts were unable to convict them, you could still be able to claim criminal injuries compensation.
If youhave been the victim of a violent crime, you have several different options for pursuing compensation for your injuries. The first and most common happens when the perpitrator of the offence is found guilty and is sentenced. They could also be ordered to pay compensation by the courts. The second way to make a claim is to sue the person responsible through the Civil Court system. This follows the standard personal injury claims time limit, meaning you have three years in which to make your claim. The final way you can make a personal injury claim for criminal injuries is through the Criminal Injuries Compensation Scheme.
In this guide we look at how you can successfully claim compensation if no one has been convited. To find out more, read our guide below and when you are readu to start your claim, call our team on 0800 073 8804.
Select A Section
A Guide To Claiming If Nobody Has Been Convicted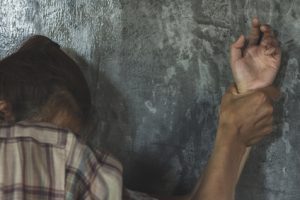 When you are making a claim for injuries suffered during sexual abuse, rape, assault, or sexual assault, to make the first two types of claim above, you need to know who is responsible for your injuries. In the case of a violent crime, this may not always be the case. A second problem with this type of claim is that the perpetrator must have enough assets, money, or income to cover your compensation claim settlement. If you were attacked as part of a mugging the perpitrator is unlikely to have this. And in the case of making a claim if nobody has been convicted, you may not even know who to bring the claim against.
The best way to make a claim, especially if the attacker wsa not convicted, is to seek damages through the Criminal Injuries Compensation Scheme.
Am I Eligible To Make A Claim If Injured In A Violent Crime?
You are eligible to make claims through the CICA (Criminal Injuries Compensation Authority) if you have been the victim of a violent crime, such as those listed above. There are two criteria which you must meet to make a claim through the CICA. These are, that you must have been injured as a result of the attack or assault, and that you are not liable in any way for it.
Personal injury claims can be made for injuries such as fractures or broken bones, or soft tissue injuries or for psychological trauma caused by the assault. The CICA does not allow claims for more minor injuries such as bruising or simpler cuts. You can also make a claim if no one was convicted of the crime.
What Evidence Do I Need To Support My Claim?
You can make a compensation claim through the CICA to seek compensation for being attacked. You don't even need to know who the perpetrator of your injures was. However, as with any personal injury claim, you will need to produce evidence to show that the incident, or in this case the crime, took place. Evidence can include your police report and statement, as well as any investigation they carried out. You can also use medical reports to show the extent of your injuries. The quicker you reported the attack or assault to the police and sought treatment, the better grounds you have for a claim. It can also help you claim compensation if no one has been convicted if you have cooperated with the police investigation.
Can I Claim Compensation For Sexual Abuse Or Rape If No One Has Been Arrested Or Convicted?
You can claim compensation if no one has been convicted of your rape or sexual assault and even if they have not been caught or arrested. The process of doing so can be difficult on an emotional and legal level and it can sometimes take a long time to do so. The most important things to remember are that you must have reported your attack to the police. This means that during that report, and your claim, you will need to go over what happened to you again. Doing so can be very difficult for many people to do, and the impact of doing so can be difficult to deal with.
What Is The Criminal Injuries Compensation Scheme?
If you need to make a criminal compensation claim without a conviction, one of the best ways to do so is through the Criminal Injuries Compensation Scheme. This was set up and funded by the government to provide compensation to the victims of violent crimes. This is the scheme which is managed by the CICA mentioned above.
How the scheme works and how payments are calculated are set by the government. Settlement figures are based on the same type of compensation awards which are used by the courts in other cases. Remember, the more serious your injuries and the greater the effect they have had on you, the bigger your settlement could be. This is the government's way of recognising your injuries and suffering.
If you have suffered an immediate financial impact as a result of your injury, you could apply to the Criminal Injuries Hardship Fund for help with immediate costs or loss of earnings or income due to time off work which you may not be able to afford.
What Can A Victim Of Crime Claim Compensation For?
As well as criminal injuries compensation for your injuries, you could also claim compensation for the financial impact this has had on you. These might include the cost of medical treatment and prescriptions, as well as related costs, such as physiotherapy. If you need some form of care, you could be able to claim the costs of this.
Other financial impacts of violent crime could be funeral costs for the death of a relative after a serious attack. If you had to take time off work due to the physical or psychological impact of your assault, you can claim for lost earnings, benefits, and any other income. This can be included be included in your claim to the CICA.
You may be able to apply for other costs. The personal injury solicitor we will be able to provide you with can best advise you on this.
Criminal Injuries Compensation Claims Calculator
The amount you can claim in compensation if no one has been convicted is, like any other type of claim, is set in compensation bands with a scale in it. The amount you could recieve in victim of crime compensation will depend on the nature and severity of your injures and the type of violent crime you suffered.
| Injury or illness type & severity | Settlement | Notes |
| --- | --- | --- |
| Psychological injuries - less severe | £3,150 to £6,520 | Accounting for trauma suffered and the effect this has had on day-to-day life as well as future effects. |
| Psychological injuries - moderate | £4,670 to £15,200 | More serious than the above category. There will be a greater effect on the claimant and their ability to live a normal life. There will be some imporvement over the medium and long-term. |
| Psychological injuries - moderately severe | £15,200 to £43,710 | Similar to the category above, but the recovery will take much longer to come into effect. |
| Psychological injuries - severe | £43,710 to £92,240 | The long-term view will be that there will be permanent damage which will not be recovered from. |
| Loss of income - earnings | £10,000 to £400,000 | Including income already lost as well as income with is expected to be lost in the future. |
| Loss of income - benefits | £5,000 to £500,000 | Including benefits already lost, as well as those which will be lost in the future. |
| Sexual assault | £1,000 to £22,000 | Awards can also be made to child victims. |
| Sexual assault + STD or STI | £5,500 to £22,000 | Not including more serious diseases. |
If you have suffered several different injuries and different types of injuries the criminal injuries compensation you are awarded will look at the most serious injury first, before then looking at others and awarding compensation for each of these.
No Win No Fee Criminal Injury Claims When No One Was Convicted
Whether you were injured as the victim of a crime, or in any other way, we believe it is not fair for you to have to pay out costs to recover the compensation that you deserve. This is why we are pleased to offer you a no win, no fee service. This means that you can work with the personal injury claims lawyer we can provide you without having to worry about taking on additional financial burdens when doing so. The solicitor or lawyer you work with will assume all the financial risks, only getting paid if and when they successfully conclude your claim. This means you can be assured that our team will always work hard and take your case seriously.
How Legal Expert Can Help The Victims Of Violent Crime
At Legal Expert we take pride in being able to offer you a specialist team of solicitors and lawyers with the experience in handling cases like yours. We work with solicitors across the country, so will always find the person who is best suited to your claim. We pay attention to detail and care about getting your the maximum amount of compensation possible.
Contact Us And Start Your Claim Today
Contact Legal Expert today by using the number above, or by using the contact us form on this page to request a call back. You can also get in touch with us by sending the details of your claim by email to info@legalexpert.co.uk.
Useful Links
Calculating Criminal Injuries Compensation
Our personal injury claims calculator for criminal injuries
Criminal Injuries Compensation
The government guide to getting compensation after suffering an assault or similar injury.