£55,000 Compensation For A Fractured Kneecap
By Daniel Archer. Last Updated 21st April 2022. Have you suffered a fractured kneecap, broken kneecap, or a knee injury that wasn't your fault? Whether this was an accident at work, a road traffic accident, or an accident that happened in a public establishment, such as a shop or a restaurant, the specialist legal solicitors at Legal Expert can help you claim for knee injury compensation awards. If you can prove that the accident was not your fault but was due to the negligence of another party, then you could claim compensation.
What is the average compensation payout for a knee injury? It varies from accident to accident but you could be entitled to thousands of pounds in compensation. We have more information about knee injury compensation amounts that you could be awarded for you to consult.
If you have suffered a knee injury then call us, Legal Expert on our free phone number for your free legal consultation. We are a trusted legal advisory service who work with expert personal injury solicitors, some of which have over 30 years of experience helping victims like you claim the compensation they are entitled to. Call us today to see whether or not you have a valid case and be matched to the right solicitor to handle your case, at no extra cost to you.
If you have any questions, you can reach our advisors by: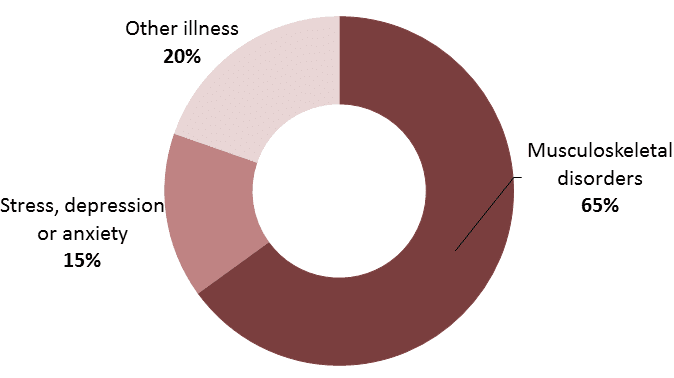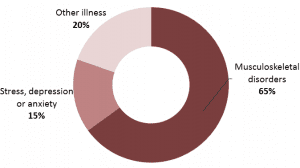 In this case study, we are going to look at the case of Mr B, whose name we have obscured for reasons of privacy. Mr B works in construction and suffered an accident at work, when he was working on the 11th floor of a building site in Paddington. Mr B slipped on a piece of aluminium that was on the floor, while he was carrying a large piece of plywood, suffering a trip injury. Unable to get up, Mr B was taken to the nearby St Mary's Hospital for treatment by ambulance. The graph here shows the causes of accidents and injuries in the UK's construction sector. Information is taken from the Health and Safety Executive.
Selection A Section
What Injuries were Sustained in this Knee Injury Compensation Case?
At the hospital, Mr B displayed fractured kneecap symptoms and was diagnosed with a fractured kneecap. His knee was operated on and he was kept in hospital for three days.
Following his operation, Mr B was eager not to let his broken knee go untreated Mr B sought compensation to cover the costs of private medical treatment. His legal team negotiated interim payments for Mr B, the Claimant, from his employer, the defendant, to pay for medical treatment in a private hospital, to remove metalwork from his knee.
The Allegation And The Fractured Kneecap Settlement
This claim for a fractured kneecap injury was complicated because the defendant disputed their liability in the case, throughout the process. Mr B's employer always alleged that he was at fault for the accident. The first offer of liability put forward by the defendant's legal team was a 50/50 split in liability, 18 months after the accident took place. Mr B's personal injury solicitor managed to negotiate this down to a split where the defendant accepted 90% of liability for Mr B's accident.
The defendant's team put forward an initial offer of £25,000 in compensation, which was less than what the Claimant's legal team felt a knee injury compensation award such as this was worth. Mr B's legal team managed to collect medical and legal evidence that Mr B was entitled to a higher offer. 3 days before the case was due to go out of trial, Mr B was awarded £55,000 out of court in broken knee injury compensation for his case.
How Is Compensation For A Broken Kneecap Calculated?
If you have fractured your patella, in the UK, legal professionals draw upon a number of resources to assist them when calculating how much compensation you should receive. Medical evidence is a key part of this process. Medical reports and assessments will aid them in determining the severity of your injury, which can influence the value of your settlement.
In addition to medical evidence, legal professionals will also turn to the Judicial College Guidelines (JCG). This publication contains a list of bracket compensation awards associated with various injuries and what they could be worth in personal injury compensation. The amount awarded for your physical and psychological injuries is called general damages.
Below, the table contains some entries from the JCG to illustrate how it is laid out. As an additional resource when getting an idea of how much you could be awarded, you can also head to our compensation calculator.
| Injury | Description | Amount |
| --- | --- | --- |
| Knee | (a) Severe - (i) the joint will have been seriously disrupted with loss of function of a considerable nature | £65,440 to £90,290 |
| Knee | (a) Severe - (ii) when a fracture to the leg has extended into the knee. Constant pain will be present, along with a lasting limitation of movement | £48,920 to £65,440 |
| Knee | (a) Severe - (iii) some continuing symptoms such as discomfort, pain and movement being limited | £24,580 to £40.770 |
| Knee | (b) Moderate - (i) torn cartilage and dislocation causing instability | £13,920 to £24,580 |
| Knee | (b) Moderate - (ii) Similar to symptoms in (b)(i) but not quite as serious | Up to £12,900 |
| Post-traumatic stress disorder (PTSD) | (a) Severe | £56,180 to £94,470 |
| PTSD | (b) Moderately severe | £21,730 to £56,180 |
General damages aren't necessarily all you may be eligible for. It's possible that you could also be awarded what's known as special damages. This figure is made up of costs and expenses that have taken place as a direct result of your injury. You will need evidence such as receipts and payslips to back them up.
Special damages can include:
Get in touch with our advisors today to see what other special damages can be linked to a broken knee cap.
No Win No Fee Personal Injury Solicitors
Have you considered using a No Win No Fee solicitor to help you win the knee injury compensation award you are entitled to? Whether you have suffered fractured kneecap symptoms or broken kneecap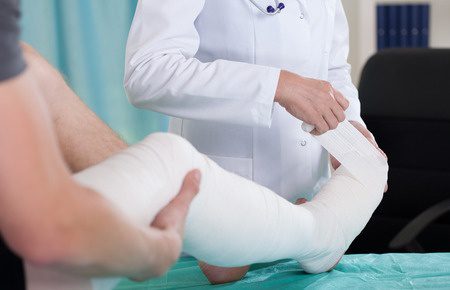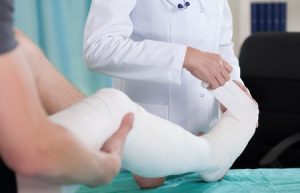 symptoms as a result of an accident that wasn't your fault, you could be entitled to broken kneecap compensation.
Using a no win no fee personal injury solicitor who offers a no win no fee service is a great option for making the whole accident claim process less stressful. With no win no fee, you will only pay the solicitor's fee if your claim for compensation is successful. This means there is no financial risk to you, so you can focus on winning your case. Enquire about working with a no win no fee solicitor today. Call or email Legal Expert today to begin your claim for a knee injury compensation awards.
Contact The Specialists At Legal Expert About Claiming Compensation For A Fractured Kneecap
If you have been involved in an accident that wasn't your fault where you suffered a fractured kneecap, then you could be entitled to broken kneecap compensation. Whether you suffered a broken kneecap, untreated fractured or broken kneecap due to medical negligence, and your accident was caused by the negligent behaviour of someone else then you could have a valid claim. Our friendly advisors are waiting for you to call to talk to you about your claim, the knee injury compensation amount you could be awarded and match you to the right expert solicitor to handle your case. You can also read the reviews of previous claimants.
Contact us here at Legal Expert today to begin your fractured kneecap compensation claim. You can do so by:
Frequently Asked Questions
How long does a broken knee take to heal?
This depends on your circumstances. A broken knee can vary in severity. In other words, some injuries may only be relatively minor and take shorter periods of time to heal. However, if a knee injury is severe enough, you may experience long-term issues.
How much compensation will I receive for a fractured knee cap?
The answer to this question will be different for everyone. No two claims are the same. Because of this, the value of your claim will also be unique. Various factors are taken into account when your settlement is calculated. This includes how severe your injury is, the length of your recovery period, and the overall impact it has had on your health and possibly even your finances.
Can I claim compensation for a broken knee cap if I was partly responsible?
Yes, this is possible. It's known as split liability. Whilst your injuries must have been caused by the negligence of someone who was legally obligated to uphold their duty of care, it could be that you were also partially to blame.
For example, if you were walking down the street and fell down a manhole, then you could make a claim for your injuries if the hazard was not properly signposted or cordoned off. However, if you were distracted (such as looking at your phone) then the responsibility could also rest partly with you as you have contributed to the accident.
In this instance, you may be awarded a partial payout that reflects how at fault you were for the accident.
Useful Links:
Further Helpful Guides